Lakes in Gunnison and Crested Butte
There's nothing more refreshing on a hot Colorado day than a dip in an alpine lake or a day at the reservoir. Luckily, there's plenty of water for recreation in Gunnison and Crested Butte. Whether you want to cool off in the water or hang out on the beach, Crested Butte and Gunnison offer many lakes to explore on a Colorado summer trip. There are also many fun things to do on the rivers in Gunnison and Crested Butte. Start planning all the ways to play in the water this summer!
Blue Mesa Reservoir
Things to do at Blue Mesa
Blue Mesa Reservoir is just west of Gunnison. The reservoir is filled by the Gunnison River and is part of Curecanti National Recreation Area. As the largest lake in Colorado, Blue Mesa is a great spot for boating. Known for Kokanee salmon and large lake trout, Blue Mesa is also a notable fishing destination. A potential world-record trout was caught in spring 2023. Blue Mesa is also a good spot for SUP, sail boating, water skiing, tubing and more. In winter, it is a popular ice skating and ice fishing destination when the water has frozen over.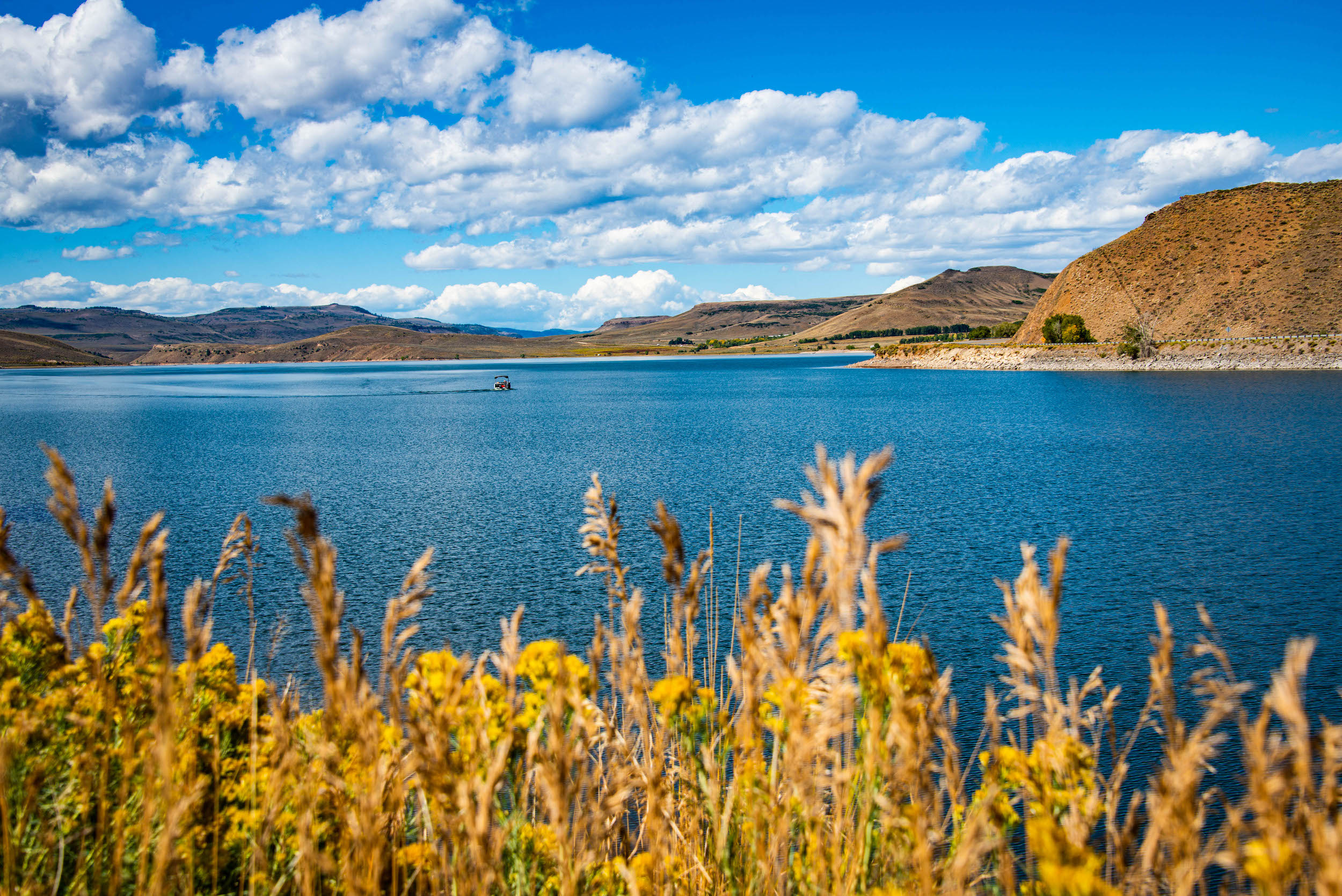 Hiking in Curecanti National Recreation Area
There are several hiking trails in Curecanti, many of which end at the water. Check out unique, spiny rock formations on the five-mile Dillon Pinnacles trail, which starts and ends on the shore of Blue Mesa. The trailhead is 21 miles west of Gunnison on Highway 50. There are several other Curecanti hiking trails along the Gunnison River west of Blue Mesa Dam. These include Curecanti Creek trail at Pioneer Point, Hermit's Rest and Crystal Creek. From Highway 92, you'll hike steeply down from the rim of the canyon to the river below.
Boat ramps at Blue Mesa
There are three boat ramps at Blue Mesa Reservoir—Lake Fork, Elk Creek and Iola. If you plan to launch a boat, please make sure you have the proper permits and inspections. Motorized boats such as pontoon boats and cabin cruisers are allowed on Blue Mesa. Sailboats, canoes, kayaks, tubes and stand-up paddleboards are also permitted. Small to medium-sized boats are most appropriate for Blue Mesa. There are marinas and other outfitters you can rent boats from if you don't have your own.
Black Canyon of the Gunnison National Park
Black Canyon of the Gunnison National Park isn't too far from Blue Mesa. This canyon isn't the most famous in the U.S, but it might be the most dramatic thanks to its steep and narrow walls. Black Canyon National Park also sees less visitation than other national parks, making it a good one to visit to beat the crowds. Drive the South Rim Road and stop at viewpoints along the way. At the bottom of the canyon, the Gunnison River thunders over rocky class V rapids on its way to meet the Colorado River. The rapids in the Black Canyon are suitable only for expert whitewater kayakers.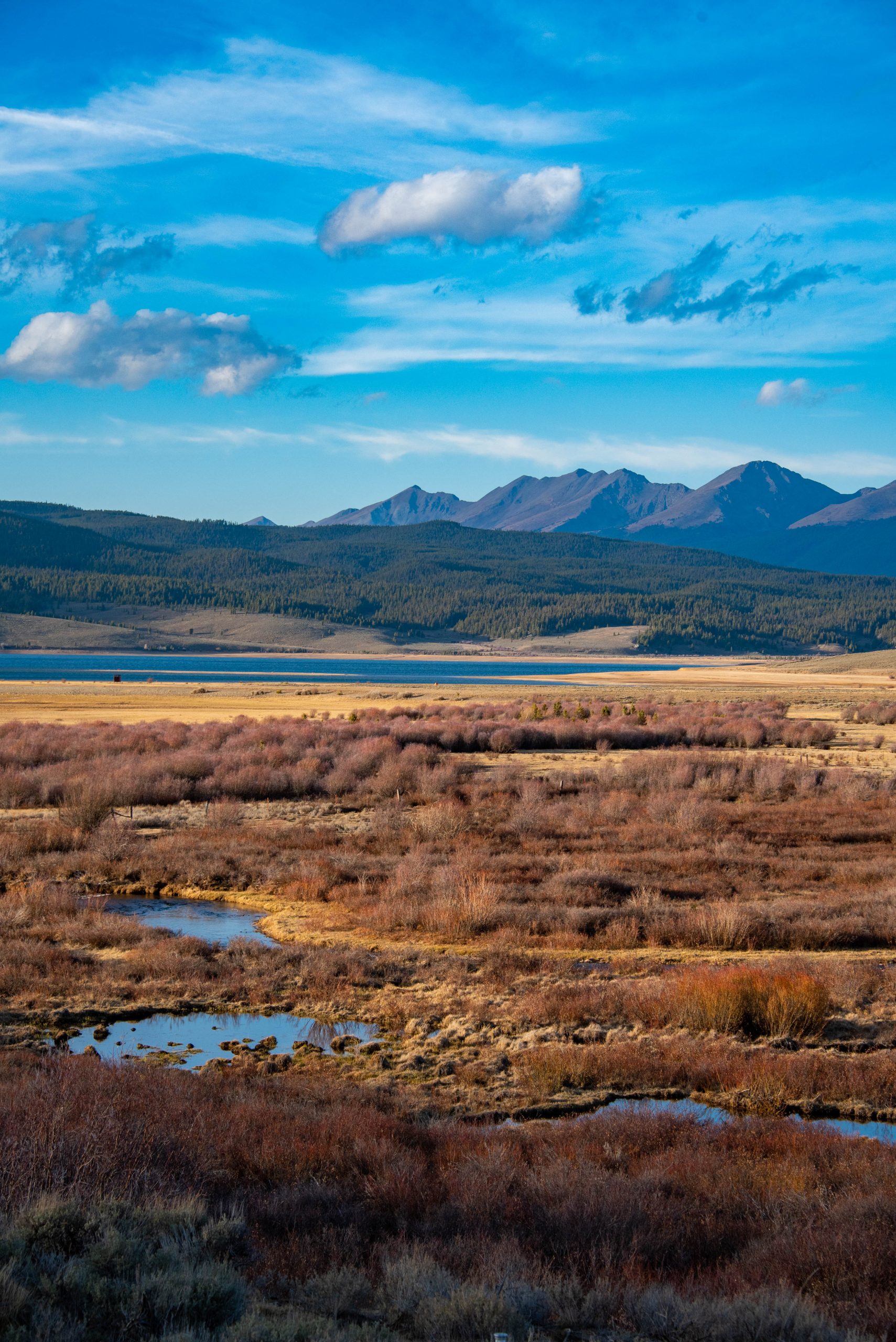 Taylor Reservoir
Taylor Reservoir is located in Taylor Park, 21 miles east of Almont, Colorado on County Road 742. The reservoir offers fishing and boating in the summer. Ice fishing is popular in the winter. The marina offers guided fishing and has a store where you can get anything you forgot. You can also rent boats, fishing equipment and paddleboards. You can fish for mackinaw, pike and trout in the reservoir. Taylor Reservoir feeds into Taylor River. The section of the river right below the dam is known for the large rainbow trout often caught there. If you plan to fish, make sure you have the proper license.
Other things to do at Taylor Reservoir
Taylor Park offers many kinds of recreation. It is especially popular with OHV enthusiasts. Hikers can find fun and challenging trails with great views. Timberline Trail, Italian Creek and Five Mile Creek Trail are a few trail options. Reno/Flag/Bear/Deadman's Gulch is a challenging 20-mile mountain bike ride through this area. This trail starts and ends at the Deadman Gulch trailhead on Cement Creek Road. The rock climbing and hiking up Taylor Canyon are also fun ways to get outside.
Spring Creek Reservoir
Spring Creek Reservoir is located up Spring Creek Road near Almont, Colorado. From Gunnison, head north on Hwy 135. Turn right on Co Road 742 after about 10 miles. Then turn right on CO Road 744, also known as Spring Creek Road, after about seven miles. The reservoir is 12 miles down this road. Stand-up paddle boarders, kayakers and canoers can enjoy a peaceful float in Spring Creek. Motorized boats are not permitted in Spring Creek Reservoir. Anglers can catch rainbow, brown and cutthroat trout and Kokanee salmon. There's hiking, mountain biking and OHV around the reservoir. Italian Mountain, a thirteener, can be hiked from Spring Creek. The upper trailhead of Doctor Park trail is also located on Spring Creek Road. This mountain bike ride is world-famous and some of the fastest downhill in Gunnison Valley.
Lake Hikes
Taking a dip in a scenic lake after a hike is a good feeling. If you don't feel like getting in, you'll still be rewarded with a great view and the opportunity to snap some photos. There are many lakes in the mountains around Gunnison and Crested Butte that can be reached via hiking.
Lake hikes in Gunnison
Rainbow Lake
Rainbow Lake Trail is west of Gunnison. Take Hwy 50 for 14 miles to Rainbow Lake Road, also known as Forest Service Road (FSR) #724. Go north on FSR #724 for about 12 miles, which is where the trail starts. It is 10.3 miles out and back and is considered a challenging hike. The first part of the hike is a dense, mossy forest. From here it opens into a meadow under South Baldy Mountain before descending back into forest. You'll reach West Elk Creek, which you'll have to cross. After about four miles you'll get to Soap Basin Trail, which is the end of the hike. You can also access the Baldys, a series of 12,000 foot peaks, from this trail. This hike is in the West Elk Wilderness, so wilderness area regulations apply.
Beaver Ponds
This 2-mile out and back trail is easy to moderate in difficulty. The trail winds gently through aspen trees and is great for families. From Gunnison, take Ohio Creek Road for about 20 miles. The trailhead is on the left. The hike up to the lake is on gentle switchbacks. Once at the lake, you can follow the path all the way around it to see the whole thing. In summer, enjoy the wildflowers blooming. Be sure to take in the views of the Anthracite Range above the lake as well. In the fall, the aspen leaves change to golden hues.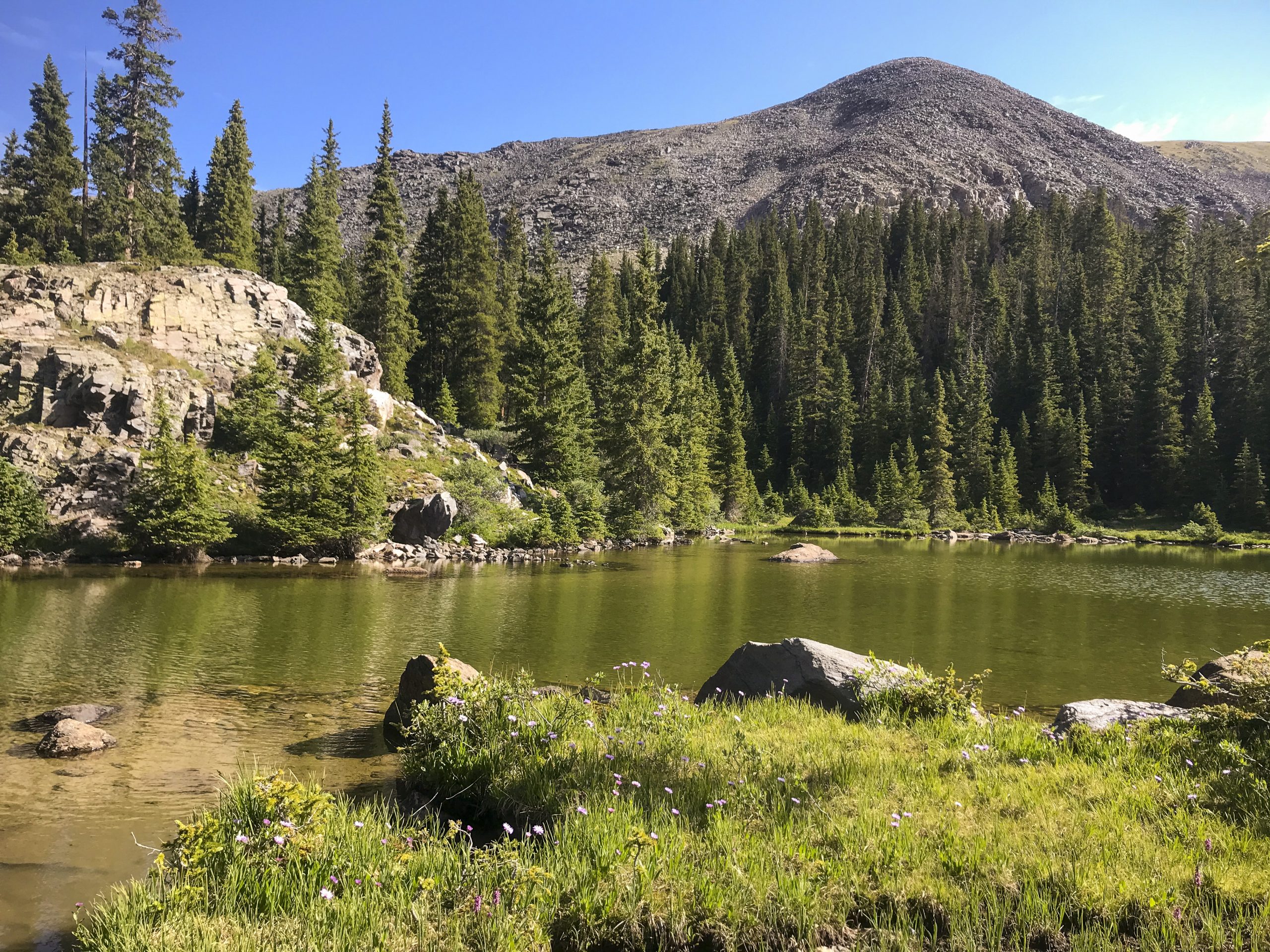 Mill Lake
Mill Lake Trail is 3.8 miles and out and back. It is not too long, but the elevation gain is high for a shorter hike. It is moderate to challenging in difficulty. From Gunnison, travel east on Hwy 50 for 11.5 miles. Turn left on Co Rd 76 towards Ohio City. After 8.7 miles, turn left onto Co Rd 771. Gold Creek Campground, the start of the hike, is 6.7 miles down the road. The road to Gold Creek Campground is a little rough, so make sure you have a high-clearance vehicle. The switchbacks at the beginning of the hike lead to a headlong approach. After this uphill the trail levels out for a short distance, before turning into switchbacks again. The final push takes you up to the lake. Mill Lake is in Fossil Ridge Wilderness.
Lake hikes in Crested Butte
Green Lake
Green Lake Trail can be accessed from Crested Butte behind the Crested Butte Nordic Center. It is 8.5 miles out and back. The first portion of it goes through private property before entering Gunnison National Forest. Please be respectful on private property and stay on the trail. It is well-marked with signs and easy to navigate. This hike is moderately challenging with a few steep ascents on the way to the lake. Once you start to get above treeline, the views open up to the peaks surrounding Crested Butte, including Crested Butte Mountain. Before you get to Green Lake, there is a small pond. Keep going past this to the actual Green Lake, aptly named for the hue of the water. You can swim in Green Lake, though the water is snowmelt and pretty chilly. This is also a mountain biking trail. Practice good trail etiquette and share the trail.
Emerald Lake
Emerald Lake is relatively easy to get to, making it popular for SUPing and kayaking. From the town of Crested Butte, head north towards Gothic. Keep going past Gothic. The road is a little rough, so a high-clearance vehicle is recommended. The road is also only passable by one car in some spots, so be mindful of traffic. Right before the lake, there is a turn-off for parking. Don't park on Gothic Road. The hike to the lake from the parking area is about half a mile and easy. Aptly named, Emerald Lake is vibrant blue. In the summer, wildflowers bloom brightly. On the far side of the lake, the trail heads up towards the road. Hike this if you want to get a view of the lake from a higher vantage point.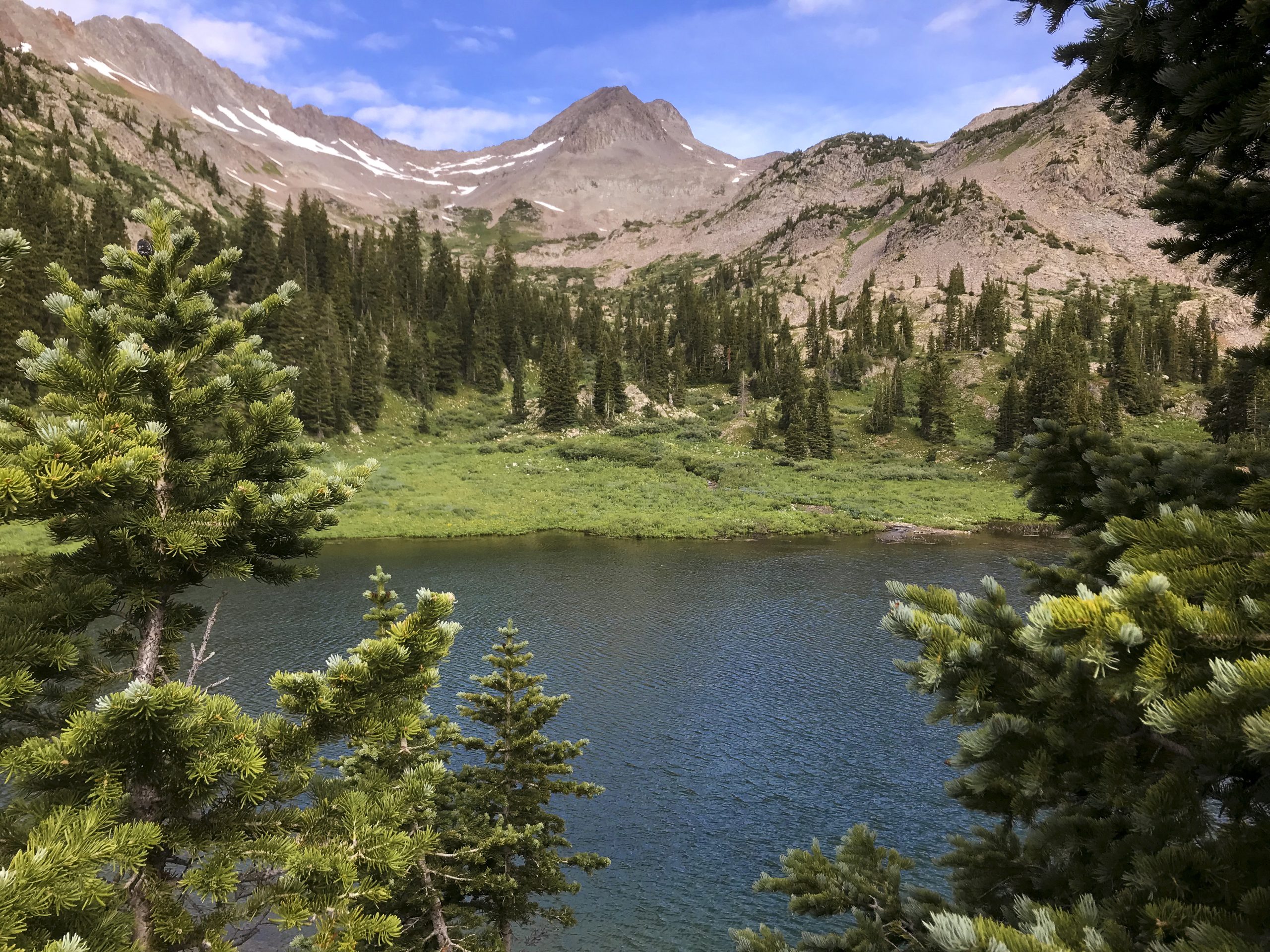 Copper Lake
Copper Creek Trail to Copper Lake is 12 miles and out and back. It is considered difficult. It can be accessed from Gothic, Colorado. From the town of Crested Butte, head north to Mt. Crested Butte on Gothic Rd. You'll drive through Rocky Mountain Biological Laboratory (RMBL). This field station researches ecology and the climate. If you stop in Gothic, stay on designated trails so as to not disturb any RMBL research. Just past RMBL is the trailhead and parking for Copper Creek Trail. The first two or so miles of the hike take you to Judd Falls. Continue past the waterfall for about four more miles to get to the lake. There are a few creek crossings on the trail so come prepared for those.
Rivers in Gunnison and Crested Butte
Along with great lake access, the Gunnison Valley is also home to several rivers. The East River and the Taylor River meet in Almont, Colorado to form the headwaters of the Gunnison River. The Slate River runs through Crested Butte.
The Taylor River
Taylor River is fed from Taylor Park reservoir. Along with fishing, the Taylor River is known for rafting. The Upper and Lower sections are the most rafted. The Upper Taylor, which runs from river mile 12 to 7, features a few Class III rapids. The Lower Taylor, which runs from mile 5 to 0, is more mellow. There are several guide services to choose from for fishing and rafting if you don't want to launch your own boat.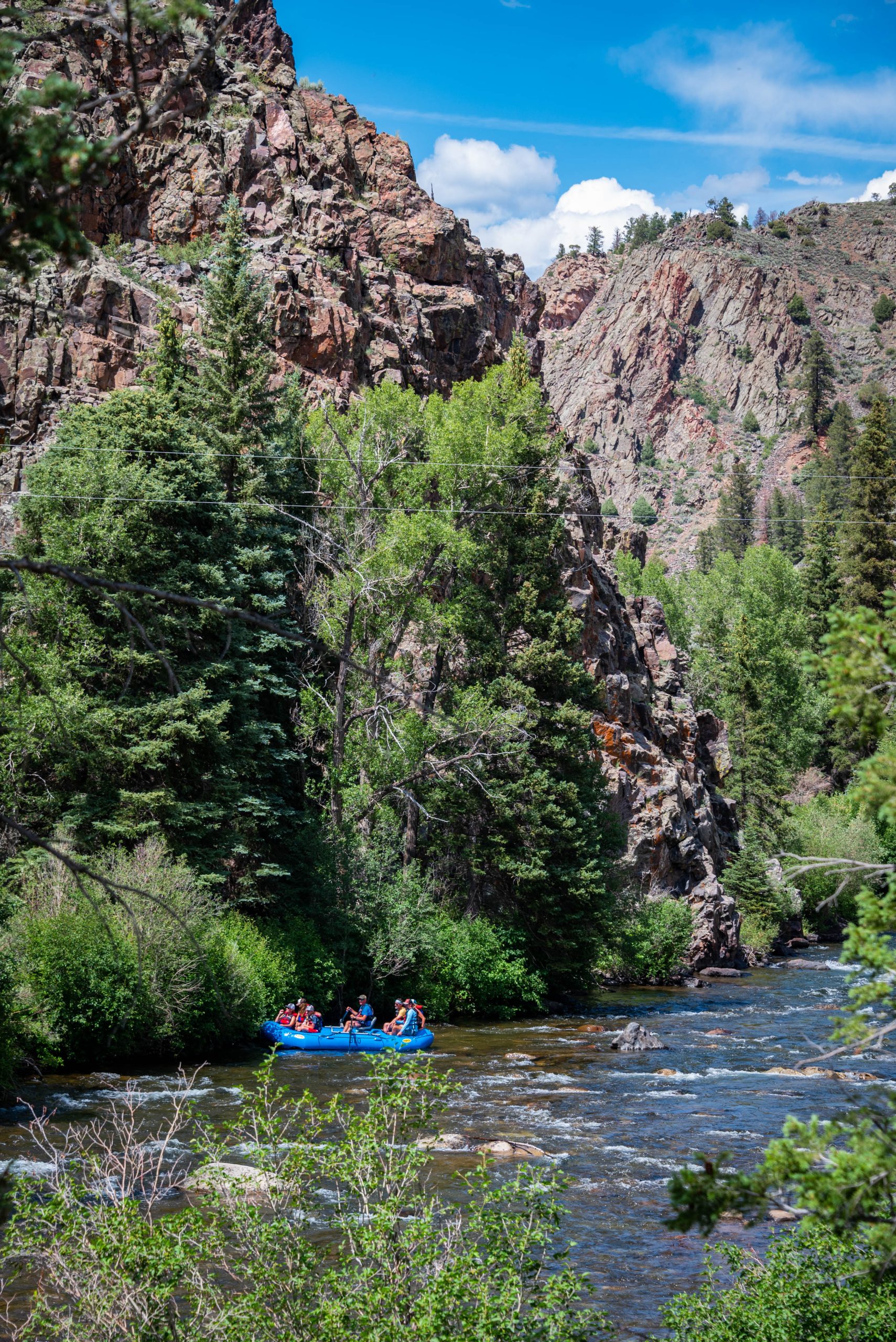 The East River
The East River begins near Emerald Lake in Crested Butte. Fishing is the most popular activity on the East River. The Roaring Judy Fish Hatchery is fed from the East River and stocks many nearby lakes and streams. Some fishing guides take trips down the East River. It can also be rafted.
The Gunnison River
The Gunnison River starts in Almont and flows to Blue Mesa Reservoir. One popular, class I-II stretch for rafting is Almont to Shady Island River Park in Gunnison. Another common one is from Shady Island River Park to the Gunnison River Whitewater Park. This section is all class I-II until you hit the large waves in the whitewater park, and Psychedelic Falls below. The Gunnison River is another option for anglers. You can hire a guide for fishing and rafting.
The Slate River
A section of the Slate River is mellow enough for SUP when flows peak in May, June and July. Popular put-ins for SUP are at Gunsight Bridge or Pyramid Avenue. The take-out is at Skyland just off the east side of Highway 135. This section has a beautiful view of Crested Butte Mountain. The Slate isn't as well-known for fishing as other rivers in the Gunnison Valley, but anglers can still enjoy casting their lines on it. Expert whitewater boaters can challenge their skills on Class V stretches of the Slate north of Crested Butte.
Creeks in Crested Butte
Every spring, the steep creeks around Crested Butte gush with snowmelt. Intrepid whitewater kayakers flock to Crested Butte for the runoff in April, May and June. Daisy Creek and Oh-Be-Joyful Creek are two popular routes with 10- to 20-foot waterfalls.
Planning your trip
Ready to cool off on your summer trip to Gunnison and Crested Butte? Start planning your trip! Book flights, find a place to stay, plan activities and more with our trip planning guide. Check out our summer guide for other things to do on your trip.