ICE SKATING
No matter where you're from, winter and ice skating are synonymous. Given how long our winters can be, it's no wonder that there are plenty of places to skate in Gunnison County. Town league hockey, figure skating, or just cruising around on the ice, you can pick your favorite way to ice skate.
SLEIGH RIDES
There are many ways to travel on snow and explore the outdoors in Gunnison and Crested Butte. Skiing and snowboarding are popular, but you may want to consider a peaceful trip across the snow in a horse-drawn sleigh. It's a wonderful, cozy way to explore winter at a slower pace.
Although you probably won't find a sleigh traveling down Elk Avenue in Crested Butte or Main Street in Gunnison, you can experience the joys of this old-fashioned way of getting around in Almont from the Almont Resort with Fantasy Ranch Outfitters. Their sleighs are traditional "one-horse open sleighs" (yes, just like the song) and can fit up to 4 adults and 2 small children. You might see wildlife such as elk, deer, or big horn sheep. Don't forget to cozy up by the fire with a hot chocolate when you get back.
If you want the full experience of ou winter wonderland, but don't want to miss out on precious daylight hours for skiing, we have you covered. Lazy F Bar Ranch and Crested Butte Mountain Resort offer sleigh ride dinners. Spend the day Nordic or Alpine skiing then bundle up and hop in a sleigh for a magical night featuring a gourmet dinner at an isolated cabin in the snow-filled woods! This unforgettable experience should not be missed while you're here in our little Rocky Mountain paradise.
DOG SLEDDING
Gunnison County has miles of unmaintained winter roads that are perfect for dog sledding. Consider taking a rest day from skiing to explore the mountains a different way: from the comfort of a sled guided by an expert and pulled by a team of beautiful sled dogs.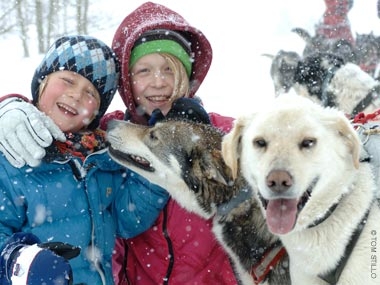 Our local sled dog outfitters will say there is no age limit on who can dog sled, but it is ultimately up to the parents' discretion. If you have a wide variety of skiing abilities in your group, consider a day dog sledding to ensure that everyone can spend some time together. Some trips even offer a mid-day picnic in a snowy meadow.
ACTIVITIES IN GUNNISON-CRESTED BUTTE
While you're here check out Crested Butte and Gunnison's other winter activities: skiing and snowboarding, snowshoeing, snowmobiling, Nordic skiing, and fat biking!
CRESTED BUTTE AND GUNNISON HOTELS
Whether you're looking for a cabin or a condo, a hostel or a traditional hotel, we've got you covered for a vacation rental. Visit our Lodging page to learn more!