Things to Do in Almont
Almont, Colorado is located between Gunnison and Crested Butte on Hwy 135. From Almont, you can access many of the things to do that Colorado is known for. This small town is a paradise for hunters and anglers because of the public lands and rivers and reservoirs in the area. OHV, hiking and mountain biking are other popular activities around Almont. The headwaters of the Gunnison River form in Almont, making it a great spot for boating, too. Along with all these recreation opportunities, Almont is also a great basecamp for visiting Crested Butte and Gunnison.
Boating in Almont
One of the most prominent activities in Almont is boating. This includes whitewater rafting and kayaking. The Taylor and East Rivers come together in Almont to form the Gunnison River. There are a few whitewater outfitters in the Gunnison Valley, and most of them are based in Almont.
What are the best sections to whitewater raft near Almont?
On the Taylor River, most people boat the Upper and Lower sections. The most popular route on the Gunnison River is the stretch from Almont to Gunnison. The Upper Taylor, which is the most commonly run section by local outfitters, features up to class III rapids. This section of the Taylor is quite technical, with many rocks to maneuver around. The Upper Taylor spans from river mile 12 to river mile 7. The put-in is located just upriver from the Initiation rapid. You take out at South Bank. The Lower Taylor, also a five-mile stretch, starts at Five Mile and ends at Almont. The Lower Taylor has fewer rocks and smaller class I-II rapids. The Gunnison River begins just south of Almont, at the confluence of the East and Slate rivers. There is a parking lot just south of Almont on the east side of Highway 135. The Almont to Gunnison stretch goes from Almont to Shady Island River Park in Gunnison.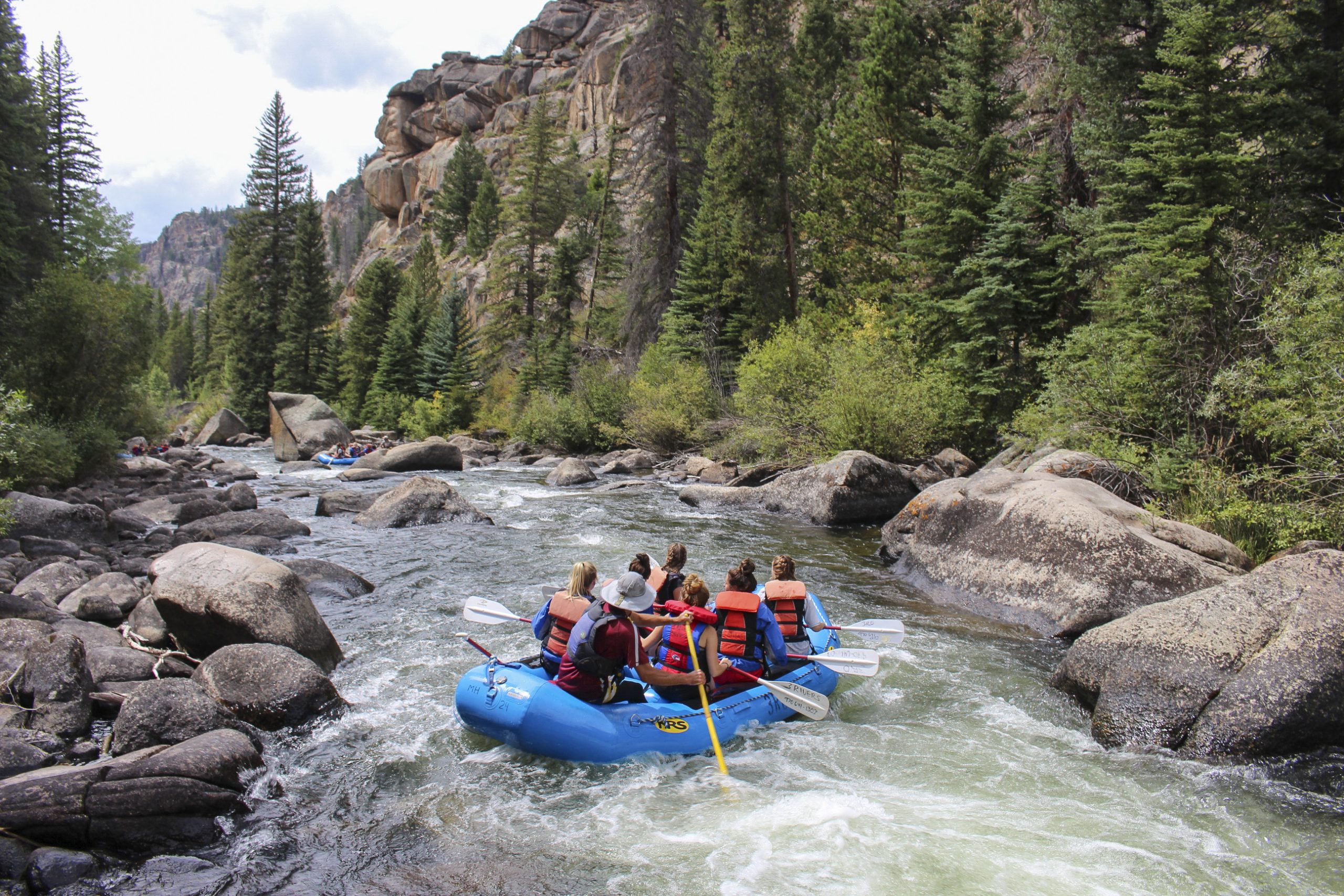 What kind of boat do I need to raft in Almont?
Whitewater rivers are not the typical lazy river. To navigate them safely and effectively, you need the proper kind of watercraft. Tubes and sit-on kayaks are perfect for flat bodies of water like Blue Mesa Reservoir. These types of crafts should not be used on whitewater. Common and appropriate crafts for whitewater include paddle boats, oar rafts, whitewater kayaks and catarafts. Learn more about these watercrafts and other less-common ones here. If you plan to take your own watercraft out on whitewater, please ensure you have the knowledge, skills and gear to be safe. This includes taking a swiftwater safety class, which can be done through both whitewater outfitters in Almont every spring. Every person on a boat should wear a type III, IV or V personal flotation device at all times. Each raft should be equipped with safety equipment such as a throw bag and a first-aid kit.
Do I need a guide to raft in Almont?
Winters with heavy snowfall in the Gunnison Valley produce runoff that makes river water levels very high. If you're a beginner paddler, years like that might not be the best to head out on your own. A good option would be to go with a guide. Guides provide all or most of the gear you need, are knowledgeable about the area, and can help keep you safe. A few guide services operate on rivers in the Gunnison Valley. Guides are also great if you want to try out an activity but don't want to commit to buying all the gear. They can also give you an experience you might not be able to have at home. If you are a seasoned whitewater boater, take all the usual precautions and have fun! It never hurts to chat with a local guide service before you go. They can tell you details about rapids and alert you to any hazards (such as strainers) that might be affecting the stretch of river you plan to run.
Are there any lakes near Almont?
Taylor Park Reservoir and Spring Creek Reservoir are near Almont. Both are great for stand-up paddle boarding and can be fished. Taylor Park Reservoir and Spring Creek Reservoir both contain Kokanee salmon and multiple species of trout. Taylor Park Reservoir feeds into the Taylor River. The half-mile of Taylor River below the dam on the reservoir is a favorite spot of many anglers for the trout it produces. Taylor Park Marina on Taylor Reservoir has boat rentals, fishing gear, a liquor store and a restaurant.
Fishing in Almont
Also thanks to the rivers in Almont, the fishing is abundant! Portions of the Taylor River and Gunnison River are Gold Medal waters. This makes them some of the best trout fisheries in the state. The waters of the Gunnison Valley have rainbow trout, brown trout, cutthroats and kokanee salmon, depending on the season. The fly shops in the area are a great resource for getting a fishing license, buying gear and learning about public versus private water. Before venturing out to fish make sure you have the proper license. Be sure you know where you're allowed to fish and where you could be trespassing. If you're unsure, do research or ask. There is also an app that helps you navigate public and private waters. Fishing is another activity where hiring a guide could be helpful and make for an enjoyable experience. Along with providing gear, guides know where the fish are.
Biking in Almont
The Gunnison Valley is known for mountain biking. There are over 800 miles of singletrack in the area. Doctor Park, one of Colorado's most famous mountain bike trails, is just a few miles up Taylor Canyon from Almont. The full Doctor Park loop is 20 miles and rated difficult. The Doctor Park downhill segment is some of the fastest and steepest downhill MTB trail in the valley. Reno/Flag/Bear/Deadman's Gulch is another ride in the area. It is 18.9 miles and difficult. For a shorter and easier ride, try Bear Creek trail. This 15-mile route starts on the north end of Bear Creek trail. Gunnison and Crested Butte are short drives from Almont. Hartman Rocks Recreation Area in Gunnison is home to high desert trails. Forty miles of singletrack allows you to explore fields of sagebrush and rolling ridges. Check out these three little-known trails in Gunnison, too. Many of Crested Butte's trails are in the alpine. Depending on the season, you could bike through fields of colorful wildflowers or golden stands of aspens. Plan some rides with this guide to trails in Crested Butte you've never heard of.
Hunting in Almont
Elk hunting is popular in the fall in Gunnison Valley. Mule deer, black bear, mountain lion, moose, big horn sheep, antelope and small game can all be hunted as well. With over two million acres of public lands in the Gunnison Valley, there is a lot of hunting in the area. There are three game management units (GMU) in the valley. Almont is part of two of them, GMU 54 and 55. Unit 54 is on the left side of Hwy 135 North in the middle of the West Elk Wilderness. Much of the land available for hunting in this unit is above treeline. Unit 55 is on the other side of Hwy 135 from Unit 54. This unit goes from Schofield Pass to Cottonwood Pass. Make sure you have the proper license for the animal and season you plan to hunt. Be mindful of private property. Only hunt where you have permission. Like fishing, you can also hire a hunting guide. Many of these guide services offer multi-day hunt camp expeditions.
OHV in Almont
Almont is close to Taylor Park, a popular area for OHV. The extensive trail system in the area is a dream for motorsports enthusiasts. Taylor Park stretches from Chaffee County to Cottonwood Pass. It also connects to the Cement Creek and Brush Creek motorized trails. This creates immense access to dirt roads and motorized singletrack. Almont is also a good basecamp for other 4×4 areas like Paradise Divide and Schofield Pass.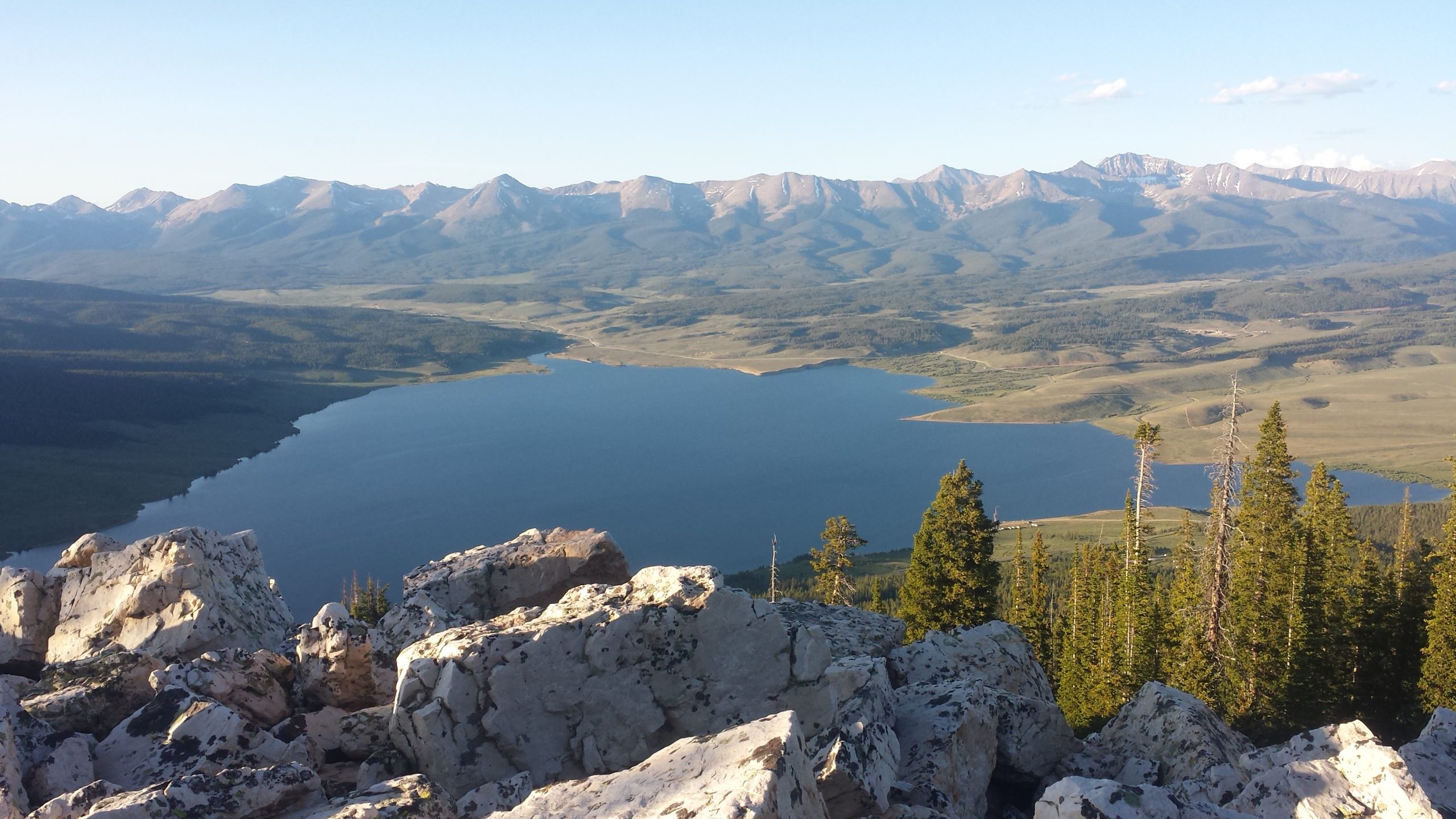 Scenic drives near Almont
If you want to take in the sights but aren't up for or able to hike or bike, consider taking a scenic drive. A sightseeing drive allows you to see more in a shorter time, including historical points of interest depending on the route you take. Scenic drives near Almont include the Taylor Park Loop, Cottonwood Pass and the West Elk Loop. If you want to see ghost towns, check out the Taylor Park Loop. This 90-mile drive takes you to Taylor Canyon, Almont and Blue Mesa Reservoir, along with a few other towns in the valley. You can also see the ghost towns Abbeyville, Hillerton, Quartz, Tincup and Woodstock. At the top of the Taylor Canyon Road, past Taylor Park Reservoir, is Cottonwood Pass. This scenic, high-altitude pass goes all the way to Buena Vista, Colorado. It is now completely paved. Cottonwood Pass is an alternative route to Buena Vista. The other route goes through Gunnison, over Monarch Pass and then north on Highway 285. This is a great drive for fall leaf peeping. The West Elk Loop is a Colorado scenic and historic byway. It takes you on a tour of the West Elk Mountains.
Hiking in Almont
If you're looking for a Colorado hiking experience, there are many trails near Almont. Summerville Trail is a 19.9-mile difficult out-and-back trail. You could hike the whole trail or turn back at any point to make it shorter. A short and easy hike is the loop near Mirror Lake Campground. Enjoy views of the lake and the 13,000-foot peaks of the Sawatch Range on this 0.1-mile trail. Taylor Park also has many trails to explore too, though be mindful while hiking since this area has a lot of motorized activity. Spring Creek is near Almont as well. The creek parallels Forest Road 744, also known as Spring Creek Road, which starts about nine miles up Taylor Canyon from Almont. This expansive area is mostly pine forest. If you're looking to bag some peaks, the thirteener Italian Mountain can be accessed from Spring Creek. Spring Creek Reservoir is nearby, too. Walk around the reservoir, fish or launch a non-motorized boat.
Where can I stay and eat in Almont?
There a few lodging options in Almont. Choices include private cabins, a campground with tent sites, RV hook-up sites and hotel-style rooms. Many of the cabins are situated right on the river, making for a tranquil place to stay. A couple of the lodging properties have restaurants and bars on-site. You can also find lodging accommodations and a couple of places to eat in Taylor Park near the marina.
Gunnison and Crested Butte
Almont makes a great home base for visiting the rest of the Gunnison Valley. Gunnison is 10 miles south of Almont. Crested Butte is 17 miles north of Almont. You can take advantage of the recreation opportunities, mountain towns and events that each town has to offer. Drive or hop on the free valley-wide bus.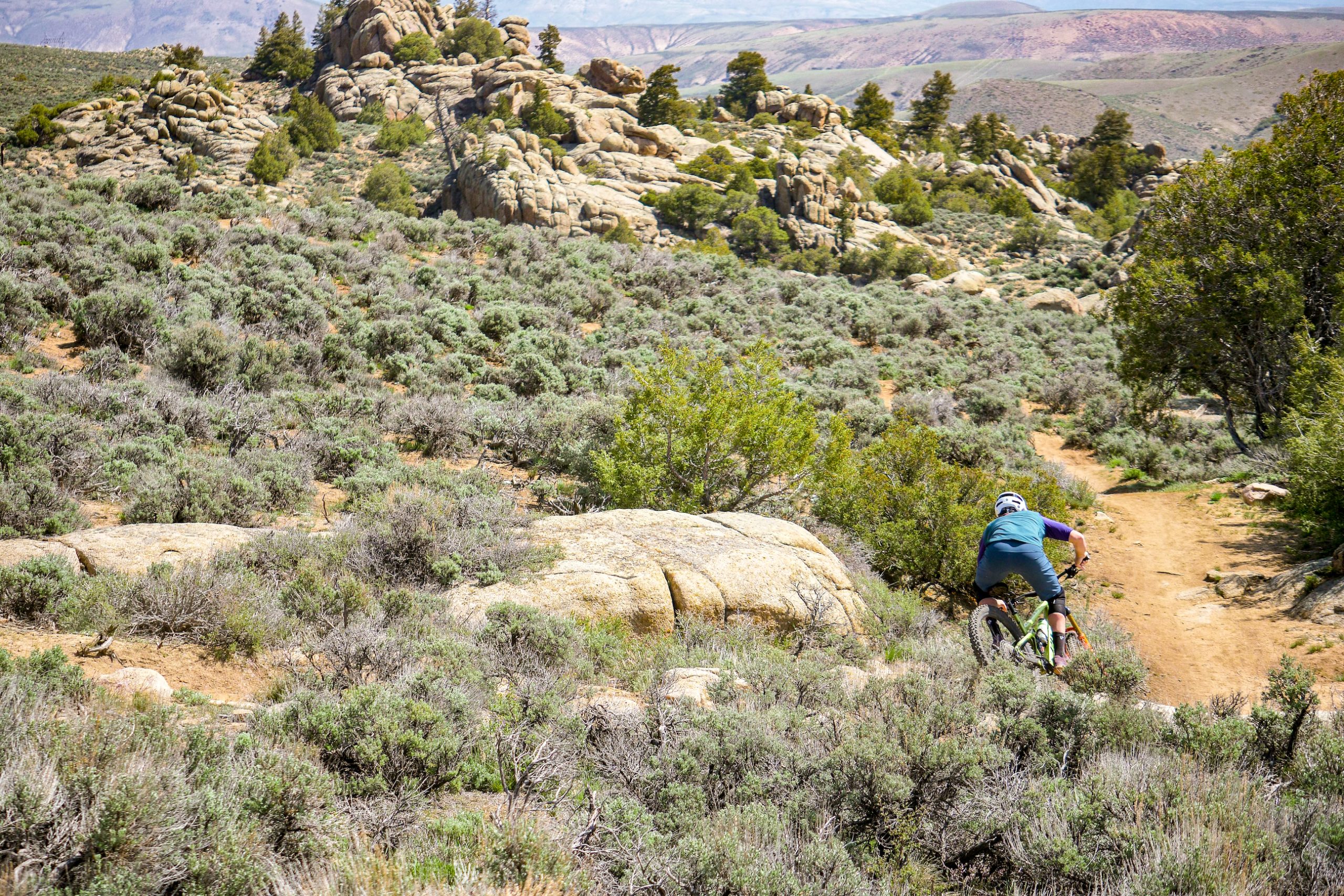 Summer outdoor recreation in Crested Butte and Gunnison
Summer is a beautiful season in Gunnison and Crested Butte. Summer activities include mountain biking, hiking, boating, rock climbing and more. If you're a gravel biker, there are 1,169 miles of bikeable forest service roads in the county, most of which are in Gunnison.
Winter outdoor recreation in Crested Butte and Gunnison
In the winter, Gunnison Valley is probably most known for downhill skiing at Crested Butte Mountain Resort (CBMR). CBMR is the birthplace of steep skiing. Gunnison and Crested Butte also have other winter activities. You can Nordic ski, fat bike and snowshoe. Some people even refer to Crested Butte as the "Nordic Skiing Capital of Colorado".
Downtown Crested Butte
Elk Avenue in Crested Butte is the town's hub. Most of the colorful buildings are left over from the mining days. There are stores, galleries and restaurants to explore. The Center for the Arts Crested Butte is also close to downtown. The Center does art classes, live music, trivia, gallery showings and more. Many bars downtown also host live music.
Downtown Gunnison
Main Street in Gunnison is home to most of the shops and galleries in town. You can also find a place to eat or get a cup of coffee here. IOOF Park also features a mural that highlights Gunnison's recreation and environment. The park features sculptures of wildflowers and a splash pad. The mural also has QR codes that link to information about wildlife in Gunnison. Learn about bees, butterflies and wildflowers, too.
Events in Gunnison and Crested Butte
On any given week there's usually a variety of events going on in Gunnison and Crested Butte. Enjoy live music, attend an art class, volunteer with a trails organization, play trivia and more. Depending on the season, attend or compete in a ski or bike race. Some of these events are beloved annual events. See if one is happening during your trip!
Planning your trip
Ready to check out Gunnison Valley's quaintest town? Start planning your trip! Use our direct booking tool to find a place to stay. Browse options with filters such as dates, location, amenities and more. Check out flights and book early for the best rates.