Best Places to Take Photos in Gunnison and Crested Butte
Beautiful mountain scenery is a huge draw for visiting Colorado. Many people reach for a phone or camera to take photos of the scene. With over two million acres of public lands, Gunnison and Crested Butte, Colorado have many outdoor recreation opportunities. Many of these spots also happen to be some of the most photogenic places in Colorado. It might seem like photography is an inherently low-impact outdoor activity, but this isn't always true. Read more to learn about engaging in photography sustainably, and find some of the most Instagrammable spots in Crested Butte and Gunnison.
How can photography be Leave No Trace?
Colorado is full of scenery that provides many opportunities for photography. Scenic vistas make for epic photos, but so can rocks, flowers, leaves and plants. When enjoying these natural elements, practice sustainable land use and good trail etiquette. One way to be low-impact while remembering everything you saw and experienced is to take pictures. Pictures allow us to remember that beautiful field of wildflowers that would have made a great bouquet, or that pile of stones we could envision lined up on our windowsill back home. It can be tempting to collect rocks or pick flowers, but these natural elements are part of the ecosystem. Every small part helps make up the whole, and it's important to leave what you find outside to help keep the ecosystem healthy.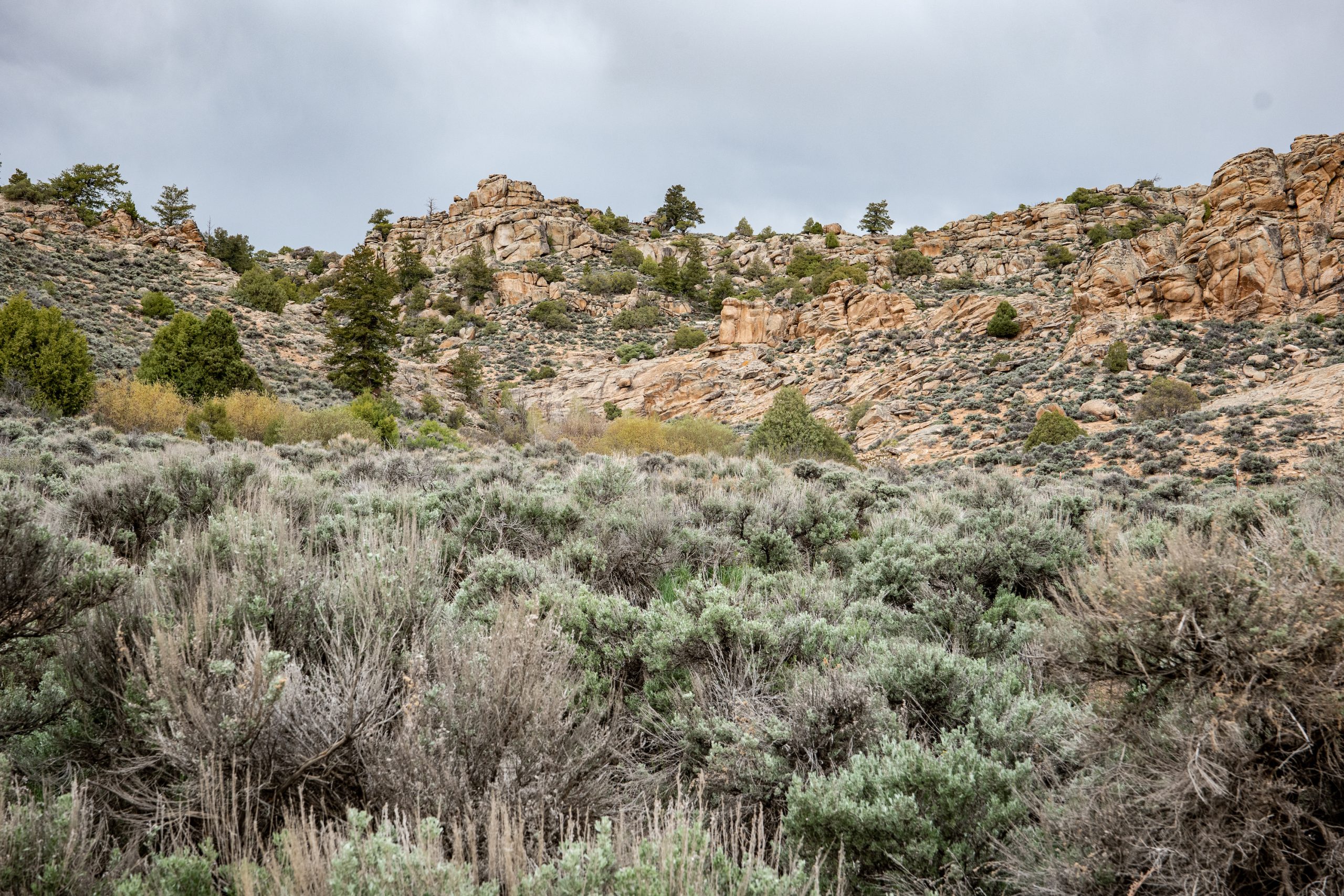 Why is trail etiquette in photography important?
The California Super Bloom
Though photos are usually a more sustainable way to collect memories on trips, they can sometimes cause issues. In the era of "pics or it didn't happen," getting the perfect shot can sometimes come at the expense of good trail etiquette and conservation. One such example of this is the California super bloom. Super blooms are a botanical phenomenon when massive amounts of flowers bloom at the same time. It only happens in years with heavy rainfall, making them a rare occurrence. California communities where super blooms happen have reported stories of visitors straying off the path and crushing the flowers by trampling them, laying on them, and jumping among them. This is often for the sake of a photo-op. It has been so bad in the past that some communities close their parks and hiking trails when a super bloom is happening to avoid the flowers experiencing harm.
Hanging Lake in Glenwood Springs, Colorado
Another example of overuse is Hanging Lake in Glenwood Springs, Colorado. This picturesque lake is a National Natural Landmark. Its water is tinted crystal blue because of travertine, a limestone mineral that reflects light. Travertine is very fragile and can be damaged by oils from human skin and sunscreen. As such, swimming and fishing in the lake are not permitted. There is a log that floats through the middle of the lake as well. Standing and walking across it is also not allowed. However, these are common occurrences and often end up immortalized in social media posts. Hanging Lake now operates on a permit system to keep overuse from becoming an even bigger issue.
Sustainable land use in Crested Butte and Gunnison
Respecting the land and practicing good trail etiquette can help situations like the California super bloom and Hanging Lake be avoided in Crested Butte and Gunnison. Every visitor is charged with leaving a place better than they found it so the next visitor can enjoy it. If we work together and are mindful of how we recreate, we can help keep the environment healthy. We can also preserve access to the beautiful places we love to enjoy.
Photography opportunities in Crested Butte and Gunnison
Due to the many acres of public lands and miles of trails, Crested Butte and Gunnison have many places to take cool pictures. These places also tend to be great mountain biking and hiking trails, which is a bonus!
Where are the best places to take pictures in Crested Butte?
Kebler Pass
Kebler Pass is home to one of the biggest aspen groves in the United States. It can be reached by taking County Road 12 from town in Crested Butte. It ends in Paonia. Kebler Pass is also part of the West Elk Scenic Byway scenic drive. The road isn't paved the whole way but is passable for most cars because of its gentle grade. In the fall the aspen leaves primarily turn bright gold, but they can also be found in red and orange. Many of these trees are massive in height and width. There is hiking and biking on Kebler Pass. Lake Irwin and Lost Lake can also be reached from the road. Only drive on the road and be mindful of other cars and people if you want to pull over to take photos. Kebler Pass closes seasonally, so check that it's open before heading out.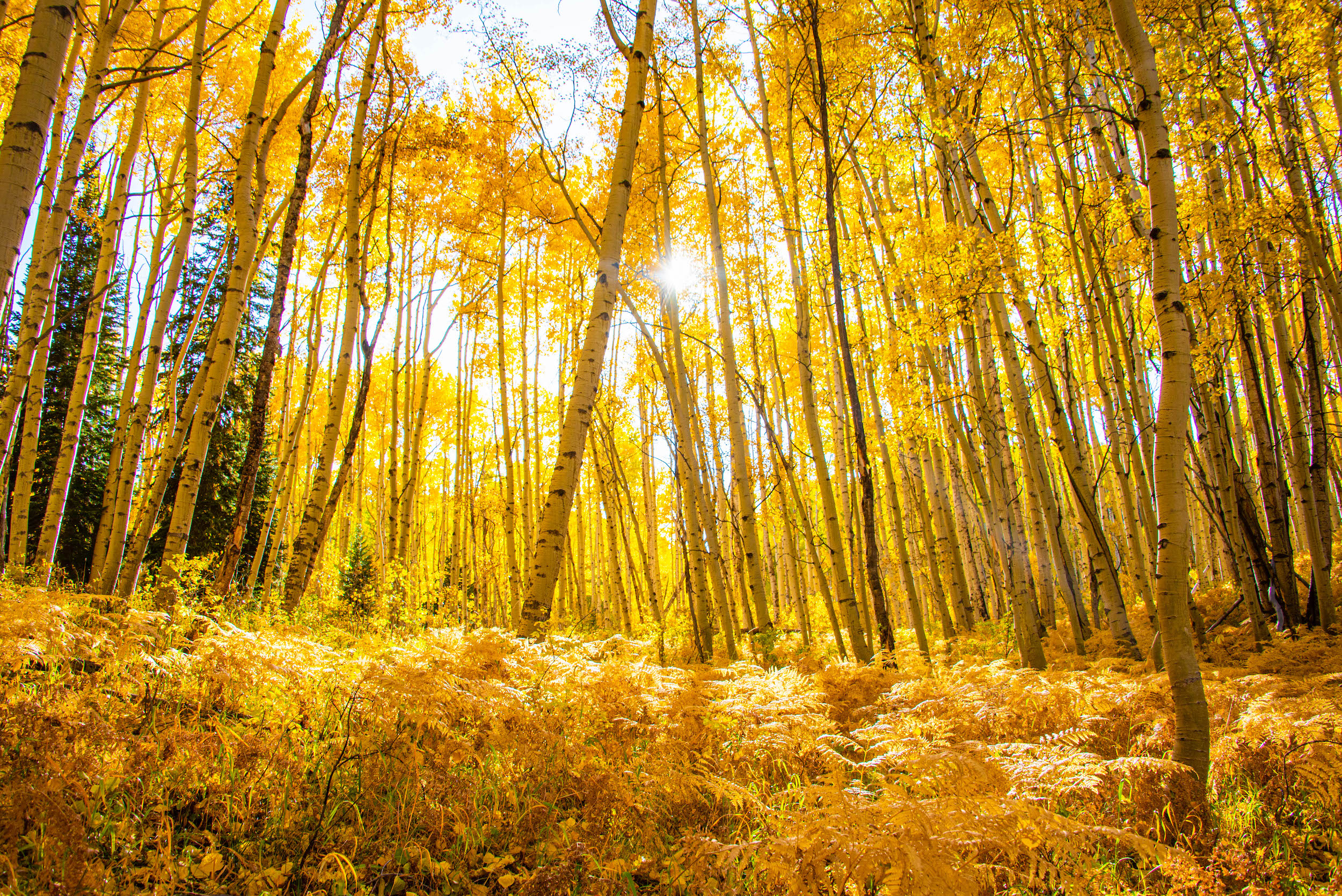 Snodgrass
Like much of Crested Butte, Snodgrass Trail comes alive with color from wildflowers in the summer. To get here, head north from Crested Butte on Gothic Road for 4.3 miles. The trailhead is just off the road at the fence line. The whole trail is 6.09 miles round trip and can be hiked or mountain biked. The first part of this trail goes through a meadow that flourishes with wildflowers. You also have views of Crested Butte Mountain and the Elk Mountains from here. Remember to stay on the trail when photographing wildflowers. If you leave the trail, you might crush the flowers and other plants. Past the meadow, the trail winds through aspen groves. These trees change colors in the fall and are vibrant green in the summer. You can also catch glimpses of the Elk Mountains from the right side of the trail through the aspens.
Downtown Crested Butte
Elk Avenue in Crested Butte is also picturesque. Most of the buildings are historic. Their colorful and Victorian fronts are reminiscent, and often leftover, from the mining days. Towering behind these cute buildings are high mountain peaks, giving the Instagrammable appearance of a mountain hamlet. In winter, the town of Crested Butte looks like a snow globe.
Where are the best places to take pictures in Gunnison?
Hartman Rocks Recreation Area
Hartman Rocks Recreation Area is west of town in Gunnison. This area is managed by the Bureau of Land Management. Hartman Rocks has many recreation opportunities. Thanks to the 40 miles of singletrack at Hartmans, it is a popular mountain biking and gravel biking spot. Another defining feature of Hartmans is the uniquely shaped granite ridges and boulders that riddle the landscape. These visually interesting rocks also have many climbing routes on them. The rolling ridges that characterize Hartmans provide views of the area. Hartmans is multi-use, so be conscious of sharing the trail with other trail users.
Gunnison National Forest
The West Elk Wilderness encompasses much of Gunnison National Forest. There are many hiking opportunities in this area. A popular and scenic hike is the Mill-Castle Trail. To get to this trail, head down Ohio Creek Road for nine miles. Take a left and then the trailhead is in three miles. This hike can be up to 25 miles long round trip (though you can turn back at any time to cut it short). Not far into the hike, you'll see a rock formation called The Castles, aptly named for the rocks that resemble towers on a castle. You can also spot wildflowers in the summer and colorful leaves in the fall.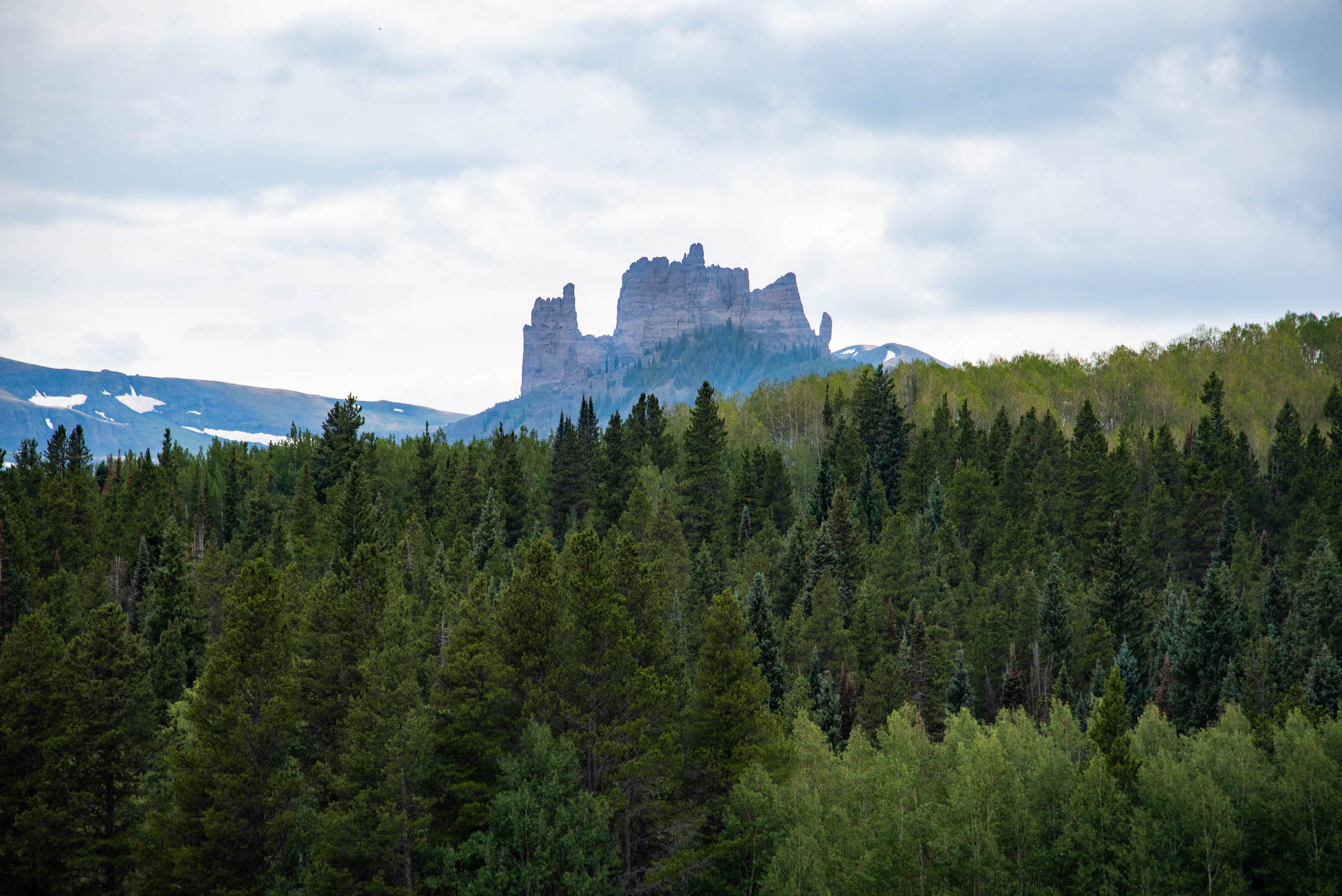 Wildlife photography in Gunnison and Crested Butte
There are many kinds of wildlife in Crested Butte and Gunnison. They can be spotted while hiking and biking, from the road, and even in town. Birds and wildlife can make amazing subjects, but give them a wide berth and never approach them. If you want to pull over to take a photo of an animal, do it safely. Signal your intent to pull over, and carefully drive off the road if there is room. Never stop in the middle of the road to view or photograph wildlife. Keep lots of distance between you and wildlife. Leave at least 100 yards between you and bears or wolves. For all other animals, including moose, leave at least 25 yards. The Gunnison Valley is also home to elk, marmots, red foxes, red-tailed hawks, Gunnison sage-grouse and more. Check out this guide to Gunnison's animals and birds to know what wildlife to look out for.
Is there a National Park near Gunnison?
Black Canyon of the Gunnison National Park
Black Canyon of the Gunnison National Park is on Hwy 50 between Gunnison and Montrose, Colorado. It is managed by the National Park Service. When these traits are combined, Black Canyon is the steepest and narrowest canyon in the U.S. It is named Black Canyon because its walls are so steep that sunlight cannot reach its depths, giving the rock a dark appearance. This dramatic landscape can be viewed from hiking along the rim or from the 12 overlooks along the road. You can also hike the inner canyon. Be advised this is a difficult hike and requires a permit. Please stay on designated trails and behind fences to avoid getting hurt or harming the environment. The Painted Wall overlook is one of the most scenic areas in the park. Painted Wall is the tallest cliff in Colorado. This massive wall is made of gneiss and pegmatite. Most of the wall is gneiss, a darker-colored rock, but pinkish bands of pegmatite run through it too. These ribbons of color are where Painted Wall gets its name.
Art galleries in Gunnison and Crested Butte
Crested Butte and Gunnison each have an arts center and an array of art galleries. You can find local paintings, handcrafted goods, photography and more in these galleries. Much of the art is a prime example of how inspiring and photo-worthy the landscape around the Gunnison Valley is.
Plan your trip
Ready to check out Crested Butte and Gunnison? Start planning your trip! Use our direct booking tool to find a place to stay. Browse options based on dates, location, amenities and more. Plan how you're going to get here and book flights.
Follow Gunnison Crested Butte on social media!
Looking for inspiration, planning a trip or just want to see some pretty photos? Follow Gunnison Crested Butte on social media! Gunnison Crested Butte is on Instagram, Facebook, YouTube and TikTok. On Instagram, we share updates about trail openings, events, weather conditions and more, along with beautiful photos of the area. You can find similar updates on Facebook. Check out YouTube for longer videos that can give you a good feel for the trails and scenery in the area. Continue to explore all that Gunnison and Crested Butte have to offer with shorter video clips on TikTok.