Best Places to See Fall Colors in Colorado
Crested Butte and Gunnison are some of the best places to see fall colors in Colorado. Fall is usually a time of mild temperatures, cool nights and colorful aspens in Gunnison and Crested Butte. As temperatures drop and the days get shorter, the fall colors come out. Most of Colorado's aspens turn gold, but there are also red and orange shades too. The best time to see fall colors in the Gunnison Valley is usually late September to mid-October. There are a few places to see aspens in Crested Butte and Gunnison. We've rounded up a list of the best places to see fall colors to help you plan your Colorado fall trip. There are also many things to do outside in fall thanks to the mild temperatures and colorful leaves. Colorado fall outdoor activities include mountain biking, fishing, gravel biking, hiking, hunting, OHV, taking a scenic drive or e-biking.
Where can I see aspens in Crested Butte?
Kebler Pass
Kebler Pass is one of the best places for fall colors in Colorado. It is also home to one of the largest aspen groves in the U.S. The trees here are large in width and height, making them an impressive sight. To get to Kebler Pass from downtown Crested Butte, drive west on Whiterock Avenue. At the edge of town, Whiterock becomes County Road 12, also known as the Kebler Pass Road. The road ends in Paonia, Colorado on Highway 133. The road isn't paved, but the gravel and grade is gentle enough to be passable for most cars. It makes a great scenic drive and is part of the West Elk Loop Scenic Byway. This is one of the best fall drives in Colorado. There are also many things to do along the pass. There are a number of hiking and biking trails that can be accessed from the road. Scenic overlooks also provide opportunities to take in the view and do photography. Lake Irwin and Lost Lake are accessible from the road too.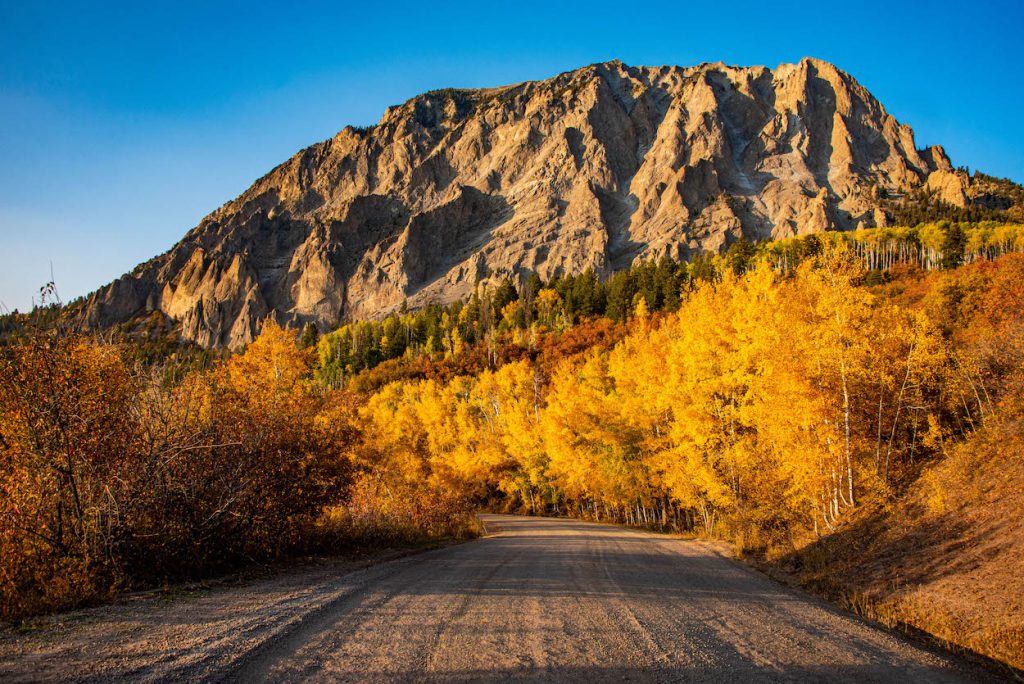 Gothic
The townsite of Gothic is located past Mt. Crested Butte. From the Snodgrass trailhead in Mt. Crested Butte, it is three miles to Gothic. The view from this drive is lined with aspens. The Rocky Mountain Biological Laboratory (RMBL) is in Gothic. It is very important to stay on the trails in this area as RMBL has experiments set up. Past RMBL there is a parking area and trailhead that provides access to a few hiking and biking trails. Some trails in the area include Judd Falls, Trail 401 and Copper Lake. Those with a high clearance and 4-wheel drive or an off-roading vehicle can continue past this parking area to drive Schofield Pass. Schofield Pass connects to Paradise Divide. From there you'll pass the historic mining town of Pittsburg before heading back to Crested Butte on Slate River Road.
Around town
Looking to see fall colors close to Crested Butte? There are a few trails that can be walked or biked to from town or are just a short car ride. The trailhead for Green Lake Trail is right in town at the Crested Butte Nordic Center. This difficult trail is about 9 miles out and back. It ends at Green Lake, which is at the base of Mt. Axtell. Woods Walk is another trail close to town. It is about 2.8 miles long and easy. Head down Whiterock Avenue as it turns into Kebler Pass. The trailhead is 0.2 miles down the road. This short trail offers beautiful views of Crested Butte Mountain, Peanut Lake, Gothic Mountain and the Slate River Valley. The numerous aspens on the trail change to gold, orange and red. If you're just looking for a good view, Crested Butte Mountain, home of Crested Butte Mountain Resort (CBMR), is visible from Crested Butte. The aspens that cover the mountain change colors and can be seen from almost anywhere in Crested Butte and Mt. Crested Butte.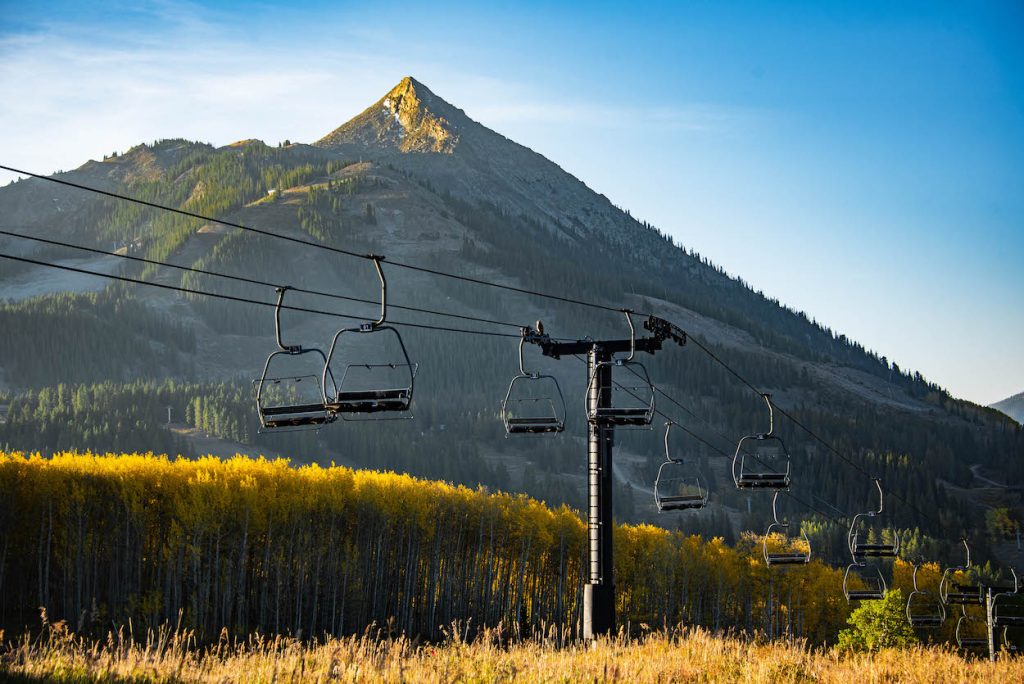 Where can I see fall colors in Gunnison?
Ohio Creek Road
This road goes through ranches with views of the Elk Mountains in Gunnison National Forest. It connects to Kebler Pass via Ohio Pass. If you don't want to drive the whole pass to Crested Butte, there are plenty of trails along this road to stop at and enjoy. Wildlife like elk and foxes can often be seen from Ohio Creek Road. Mill Creek is a popular area for hiking, biking and OHV. It is nine miles down Ohio Creek Road on the left. The parking area is in three miles. Many of the trails that can be accessed from this trailhead wind through aspens, putting you right among the colors. There are also several vistas that give you stunning views of mountainsides covered in fall colors. The Mill-Castle trail is especially beautiful in the fall. The full hike is about 25 miles round trip. However, you don't have to hike the whole way for spectacular views.
Pitkin
Pitkin, Colorado is a historic mining town nestled within Gunnison National Forest and the Fossil Ridge Wilderness. This little town makes a great basecamp for mountain biking, OHV, gravel biking, hiking and e-biking. There are many motorized trails in the area, giving access to e-bikes, side by sides, Jeeps, 4-wheelers and other OHVs. Many of these trails ascend above treeline, giving you excellent views of fall colors. Some popular passes in the area for off-roading are Cumberland Pass and Hancock Pass.
Taylor Canyon
The drive through Taylor Canyon, County Road 742, is beautiful no matter the time of year. The granite walls of the canyon, the river and the trees make a picturesque view. Taylor Canyon also provides access to hiking and biking and other scenic drives. Spring Creek can be reached from Taylor Canyon. Spring Creek has a reservoir and biking and hiking trails. It's probably best known for Doctor Park, a local favorite mountain bike trail. Taylor Park can also be reached from Taylor Canyon. This area is popular for off-roading. From Taylor Canyon you can also take Cottonwood Pass, a scenic mountain pass that connects the Gunnison Valley and Buena Vista.
Planning your trip
Fall in Gunnison and Crested Butte
Along with all the fall things to do outside in the Gunnison Valley, there are several annual fall events. Opening day at Crested Butte Mountain Resort, the Crested Butte Film Festival and Western Colorado University's homecoming are just a few fall events in Crested Butte and Gunnison. Plan your trip around a fall event!
Fall outdoor activities in Gunnison and Crested Butte
If you're here to enjoy the fall colors in Colorado while being outside, we have some suggestions. Go on a fall hike to experience the fall colors up close. Take advantage of the mild weather to go on a fall mountain bike ride among the aspens. Along with hiking and biking, fall is a great time of year to fish. You don't want to miss the kokanee salmon run. Hunting season is also in the fall. The Gunnison Valley has several game management units to hunt.
Fall things to do in Crested Butte and Gunnison
Fall weather is milder than summer or winter, making it a great time to recreate outdoors. As you plan your trip, don't forget to think about lodging, travel plans, and the weather. Fall weather ranges from sunny and warm to cold and snowy. Usually, it is somewhere in-between. Make sure you pack layers to be prepared for changes in the weather. You have some options for lodging depending on your aspen-viewing itinerary. Staying in Crested Butte or Mt. Crested Butte allows you to be close to the alpine where there are many aspen groves. Lodging in Gunnison is more affordable than Crested Butte. This also puts you closer to the fall colors in Pitkin, Ohio Creek Road and Taylor Canyon.