Wildflower Guide: The Sunflowers and Other High Season Blooms
Sometimes called "the Colorado Wildflower Capital," Crested Butte comes alive with colorful wildflowers in the summer. The flowers often hit their peak in July. They cover Crested Butte in vibrant yellows, whites, greens, purples and reds. This article can help you identify a few high-season wildflowers around Crested Butte. There are many ways to enjoy the wildflowers. The Gunnison Valley has over two million acres of public lands. If you're a mountain biker, tackle some of the 800+ miles of singletrack and see some flowers. There are also many hikes along wildflower-lined paths. However you choose to enjoy the wildflowers, please only take pictures of them. Practice Leave No Trace and good trail etiquette and leave what you find. Looking for other things to do? Check out our summer guide and start planning your summer Colorado trip.
Sunflowers in Crested Butte
There are many species of sunflowers in Colorado. Sunflowers tend to be bright yellow, with petals that fan out around the center. Much of the yellow that dots Crested Butte's landscape in the summer comes from sunflowers. Learn more about the different types of sunflowers and how to identify them.
Mule's Ear Sunflower (Wyethia amplexicaulis)
Mule's Ears Sunflowers are common and easy to spot around Gunnison Valley. They are named after their leaves, which are the size and shape of a mule's ear. The leaf is the easiest way to identify this flower from other sunflowers. They also typically grow from the base and not the stalk. They grow in big groups and blanket the ground from mid-June to early August.
Aspen Sunflower (Helianthella quinquenervis)
The Aspen Sunflower is fairly common Colorado wildflower around Crested Butte, but its population can decrease in years with heavy June frosts. The best way to identify the Aspen Sunflower from other sunflowers is the five distinct lines in each petal. The flowers also grow eastern-facing. Aspen Sunflowers have a symbiotic relationship with ants. The ants eat the nectar and in return chase away other insects whose larvae might eat the seeds. They like to grow in wooded areas and beside streams in the montane to subalpine. They typically grow all summer.
Alpine Sunflower (Hymenoxys grandiflora)
The Alpine Sunflower grows in the alpine, as the names suggests. These flowers can be found on many of the ridges around Crested Butte. They prefer sedimentary rock, specifically limestone. The best places to find this geology are Fossil Ridge and Cement Mountain. They can also be found throughout the Ruby Range and Elk Mountains wherever sedimentary rocks are exposed.
Other Peak-Season Blooms in Crested Butte
Along with sunflowers, many types of wildflowers grow in Crested Butte. Some grow right in town. To see others you'll have to hike above treeline. Learn about more peak-season wildflowers and how to identify them.
Heartleaf Arnica (Arnica cordifolia)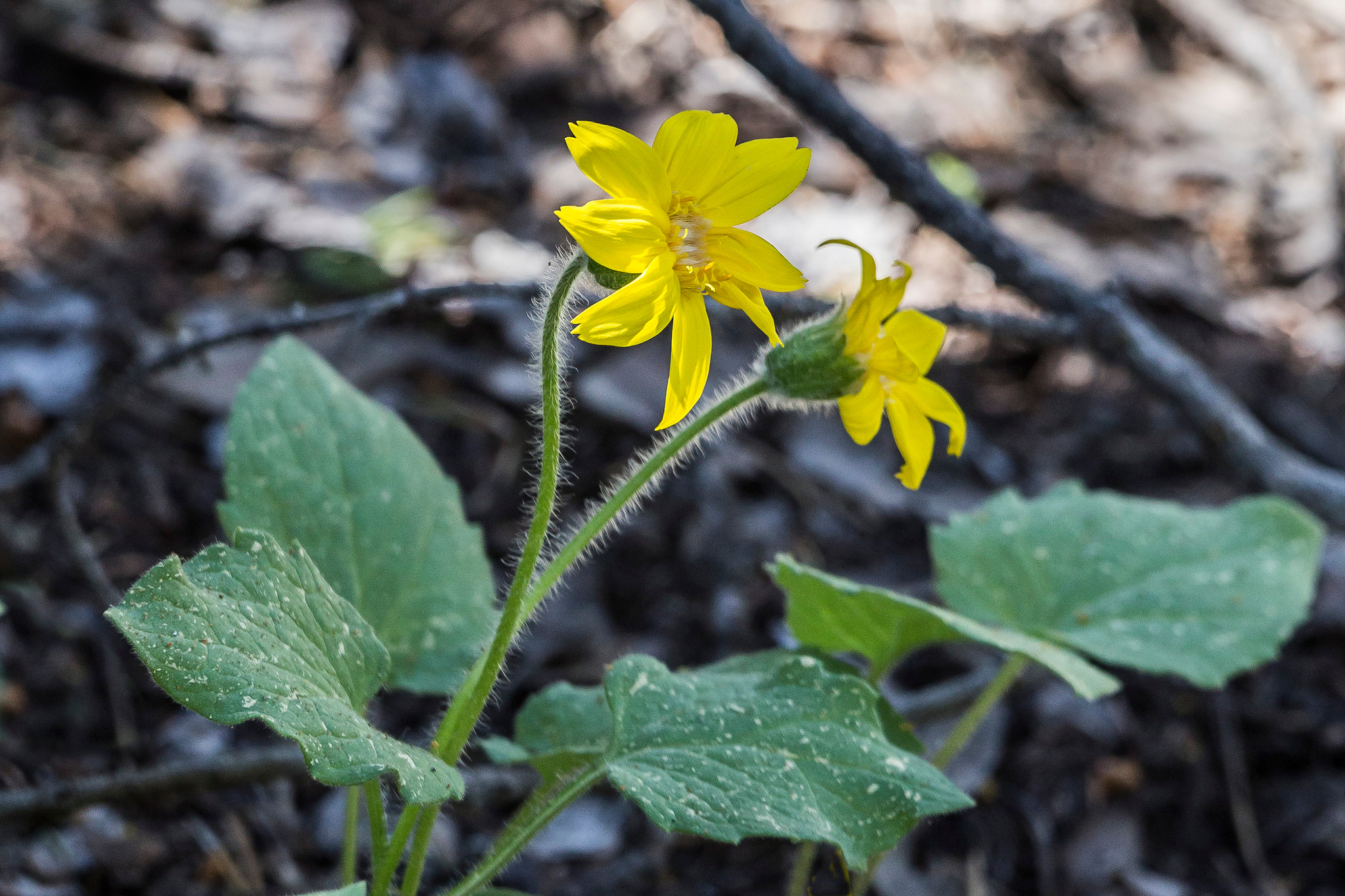 Another common Colorado wildflower in the Gunnison Valley is the Heartleaf Arnica. It grows in darker coniferous forests in the foothills to subalpine. This is a deviation from other sunflower species that prefer direct sunlight. Arnica has been used for centuries in a variety of cultures for medicinal purposes in relieving swelling and mild pain. Though they are very common, do not pick them. Leave them for the next visitor to enjoy.
Sneezeweed (Hymenoxys hoopesii)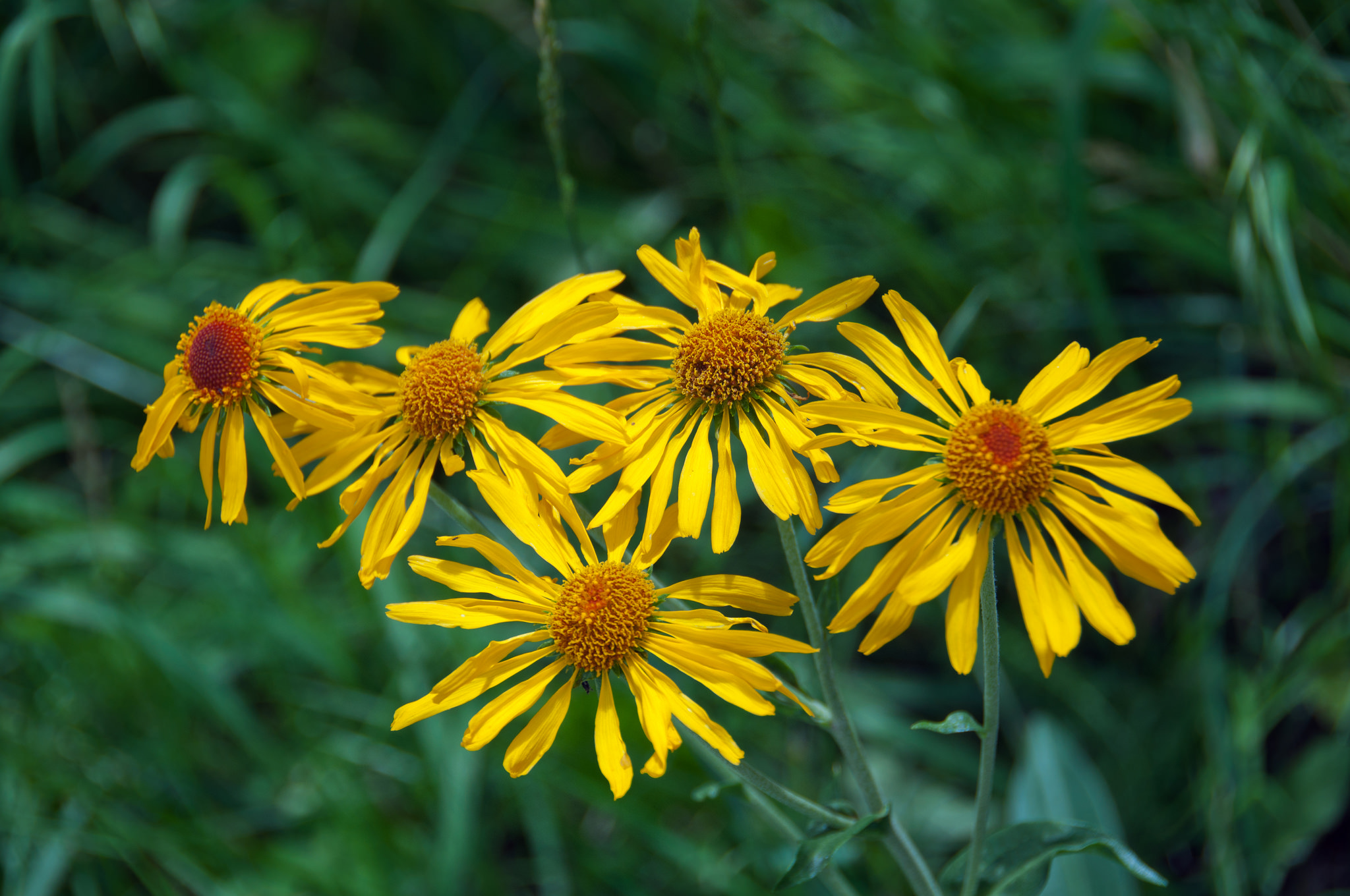 Sneezeweed is often recognized in high alpine meadows by its drooping petals. These flowers can be spotted all over the valley, but especially in the landscape along the Green Lake Trail and along Flag, Bear, and Deadman's Gulch Trails. It grows in open wooded areas and sunny meadows in the subalpine and alpine. Why does this wildflower have such a funny name? Sneezeweed used to be an additive in snuff.
Sky Pilot (Polemonium viscosum)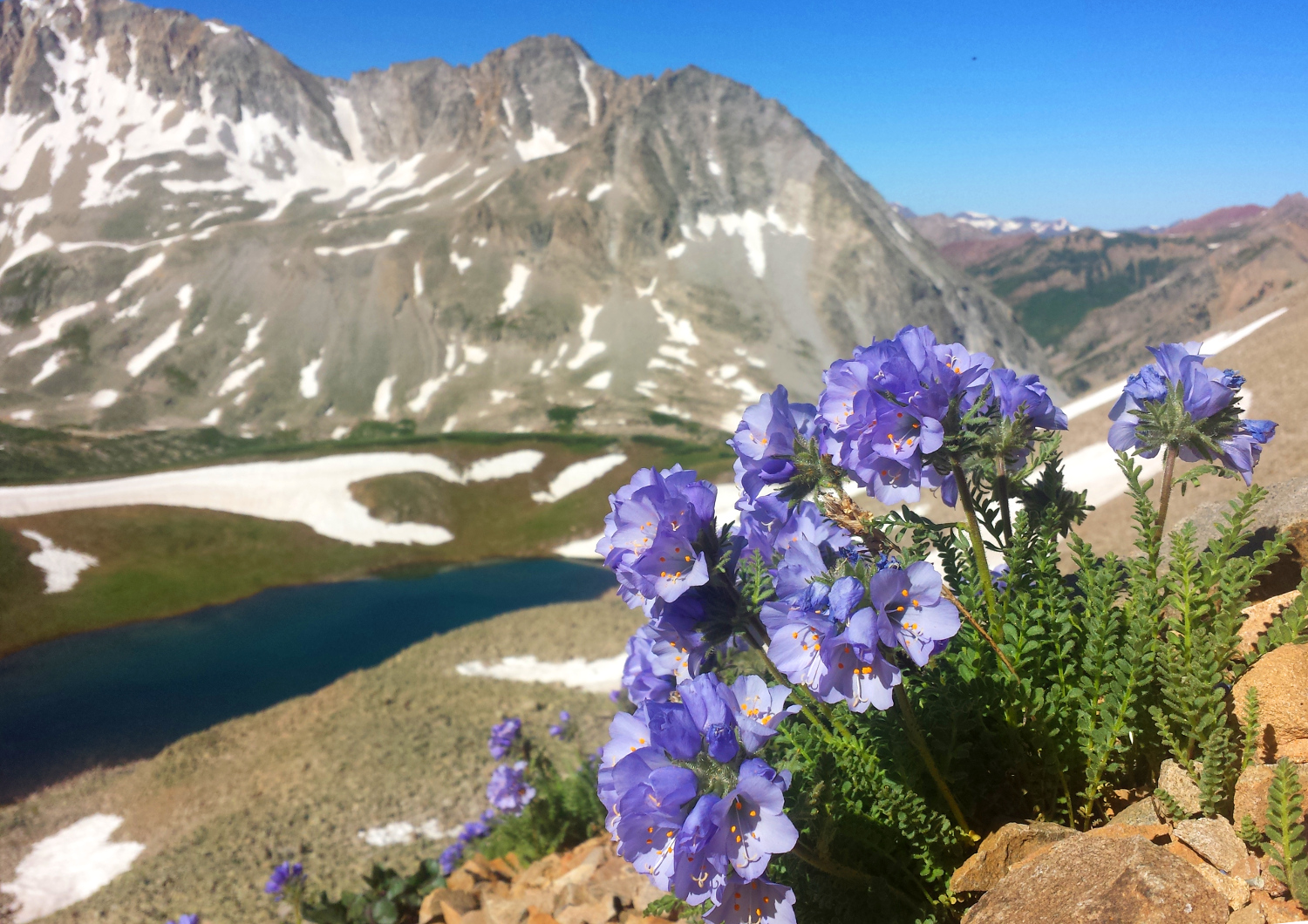 Sky Pilot is another high alpine dweller. Their pinnately compound leaves are a good way to distinguish them from other species. They grow high in the alpine and usually grow alone. They like open and rocky areas. This flower is also sometimes white. It is also known as "skunkweed" because of its strong smell.
Blue Columbine (Aquilegia coerulea)
The Blue Columbine is Colorado's state flower. They have five triangular petals on the outside and five white rounded petals on the inside with pale yellow stamens in the center. They can also be found in red and yellow and turn white with age. Columbines grow in a variety of places. You can see them on ridges, riverbanks and woodland edges. It is considered bad luck to give columbine to a lover or friend. It is also illegal to uproot Columbines in Colorado.
Elephantella (Pedicularis groenlandica)
Elephantella are also known as Elephant Head, because they look like an elephant in miniature. They love water. Their preferred habitat is river bottoms, marshes and any moist areas. You can usually find them near rivers, creeks, and ponds and almost anywhere with water below 10,000′. They usually bloom early in the season and are all gone by August.
Purple Fringe (Phacelia sericea)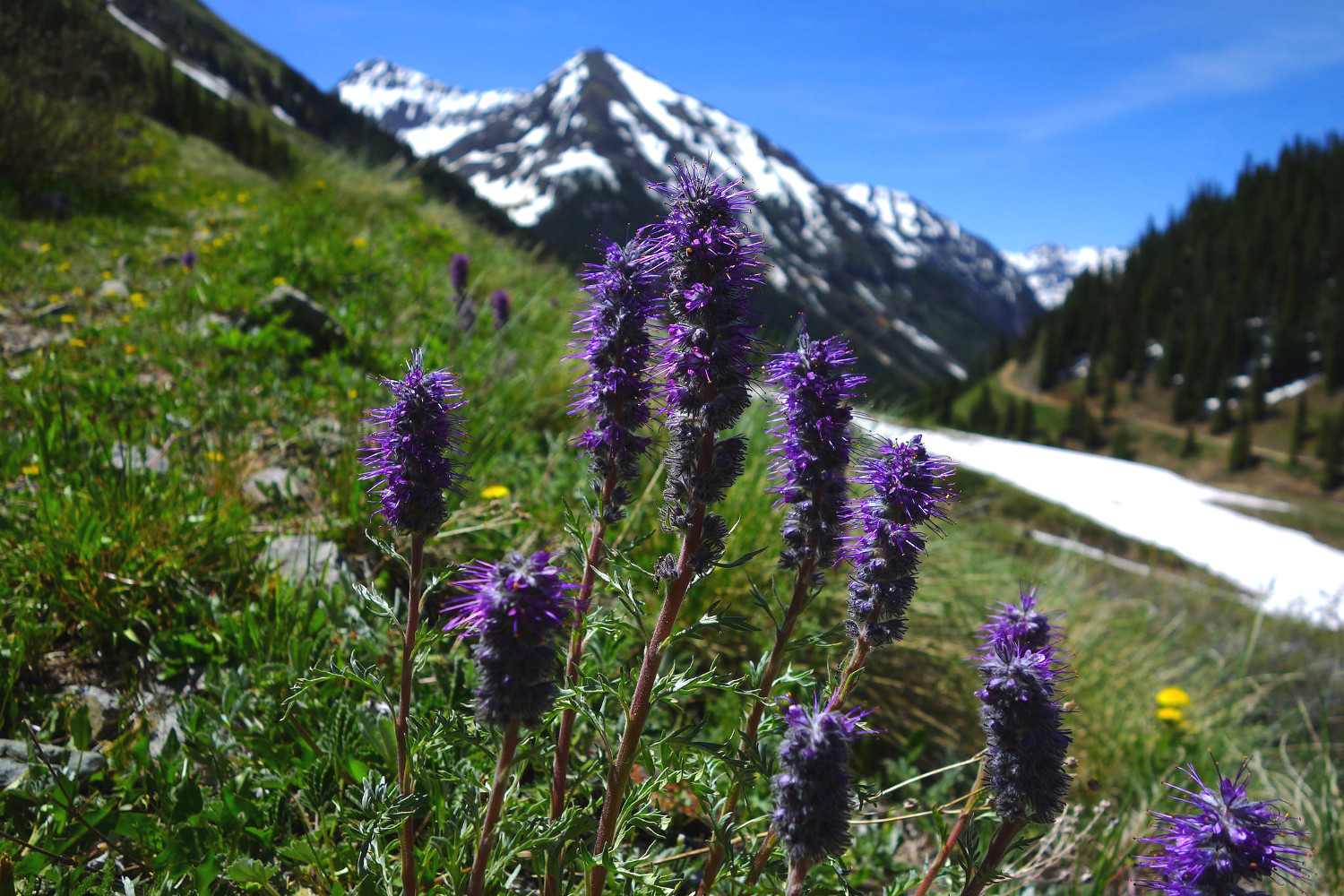 Purple Fringe is another dweller of the high alpine and can frequently be found above treeline on rocky slopes and ledges. They grow in clumps. They are distinct because of the stamens that extend outward and make the flower look fuzzy. The color and stamens of this Colorado wildflower are where they get the name Purple Fringe from. Purple Fringe is very popular with bees because of its potent smell.
Crested Butte Wildflower Festival
Want to learn more about a Colorado wildflowers? Check out the Crested Butte Wildflower Festival. The festival usually happens in mid-July. The festival hosts classes, group hikes, photography and art workshops, and more!
Wildflowers in Gunnison
Gunnison, Colorado is south of Crested Butte. Gunnison offers numerous outdoor recreation activities. You can mountain bike, gravel bike and hike at Hartman Rocks Recreation Area. Hartman Rocks also has rock climbing. There is boating in Gunnison as well. Check out Blue Mesa Reservoir west of town to enjoy more boating and hiking. Wildflowers grow in Gunnison as well. You can spot them while doing many of these activities. Check out this guide to learn more about plants and wildflowers in Gunnison.
Visiting Crested Butte
Start planning your trip to the Gunnison Valley! Find a place to stay with our direct booking tool. Filter options such as dates, group size, amenities and more. Check out summer flights and book early to get the best rate to get here.