Wildflower Guide: The Sunflowers and Other High Season Blooms
This post focuses on the Colorado wildflower peak season that bloom in Crested Butte. This usually begins sometime in late June and lasts through July. By August the wildflowers aren't gone, but a different set of species is found. For May/June blooms check out our other posts on Hartman Rocks and Early Season wildflowers.
It's often said that Crested Butte is at its peak during the week of 4th of July. Not only is the tourist season in full effect, but the natural splendor reaches its apogee somewhere around this time. From Cement Creek to Scarp Ridge and beyond, everywhere we go for the next few weeks will be colorized in vibrant yellows, whites, greens, purples, and reds.
We've selected some of our favorite Colorado wildflower peak season winners to share with you. We've included many of the sunflowers because of how prevalent they are throughout the valley. We've also selected a few of our other favorites. Some of these others may not be the most common or easy to find, but that's part of the magic of botany in Crested Butte and the Gunnison Valley.
The Sunflowers
Mule's Ear Sunflower (Wyethia amplexicaulis)
It's hard to walk anywhere in the Gunnison Valley without seeing at least of few of these beauties. They are named after their leaves which are the size and shape of a mule's ear. The leaf is the easiest way to identify this flower from its look-a-likes due to its shape, but also that it typically grows from the base and not the stalk. It is one of our Colorado wildflower faves!
Aspen Sunflower (Helianthella quinquenervis)
While this sunflower may be one of the most common in the Crested Butte area, its population can take a decline in years with heavy June frosts. If you get to see this Colorado wildflower, the best ways to identify it from other sunflowers are the five distinct lines in each flower petal and their eastern-facing flowers. Another interesting fact is that Aspen Sunflowers have a mutual relationship with ants. The ants eat the nectar and in return chase away other insects whose larvae might eat the seeds.
Heartleaf Arnica (Arnica cordifolia)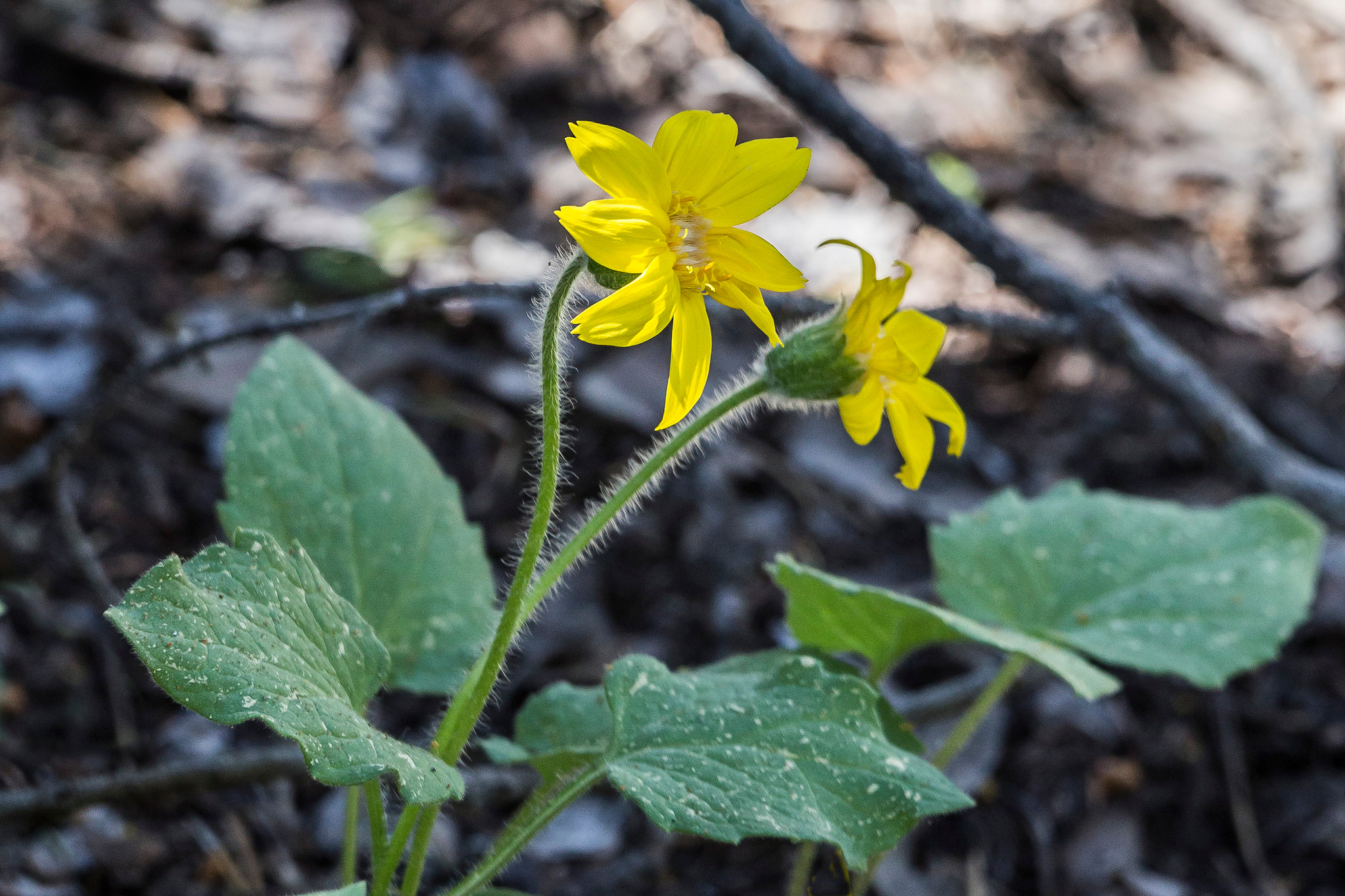 One of the most useful Colorado wildflower plants in the Gunnison Valley is the Heartleaf Arnica. It grows in the darker coniferous forests around town and in the Taylor Park area, a deviation from other sunflower species which prefer direct sunlight. Various types of arnica have been used for centuries among a variety of cultures for medicinal purposes in relieving swelling and mild pain. While they can be quite common please don't pick them. Leave them for the next visitor to enjoy.
Alpine Sunflower (Hymenoxys grandiflora)
The Alpine Sunflower lives exactly where its name suggests. These beautiful little flowers are found above treeline and on many of the ridges around Crested Butte. They prefer sedimentary rock, and specifically limestone. The best places to find this type of geology are on Fossil Ridge and Cement Mountain, but Alpine Sunflowers can be found throughout the Ruby Range and Elk Mountains wherever sedimentary rocks are exposed.
Sneezeweed (Hymenoxys hoopesii)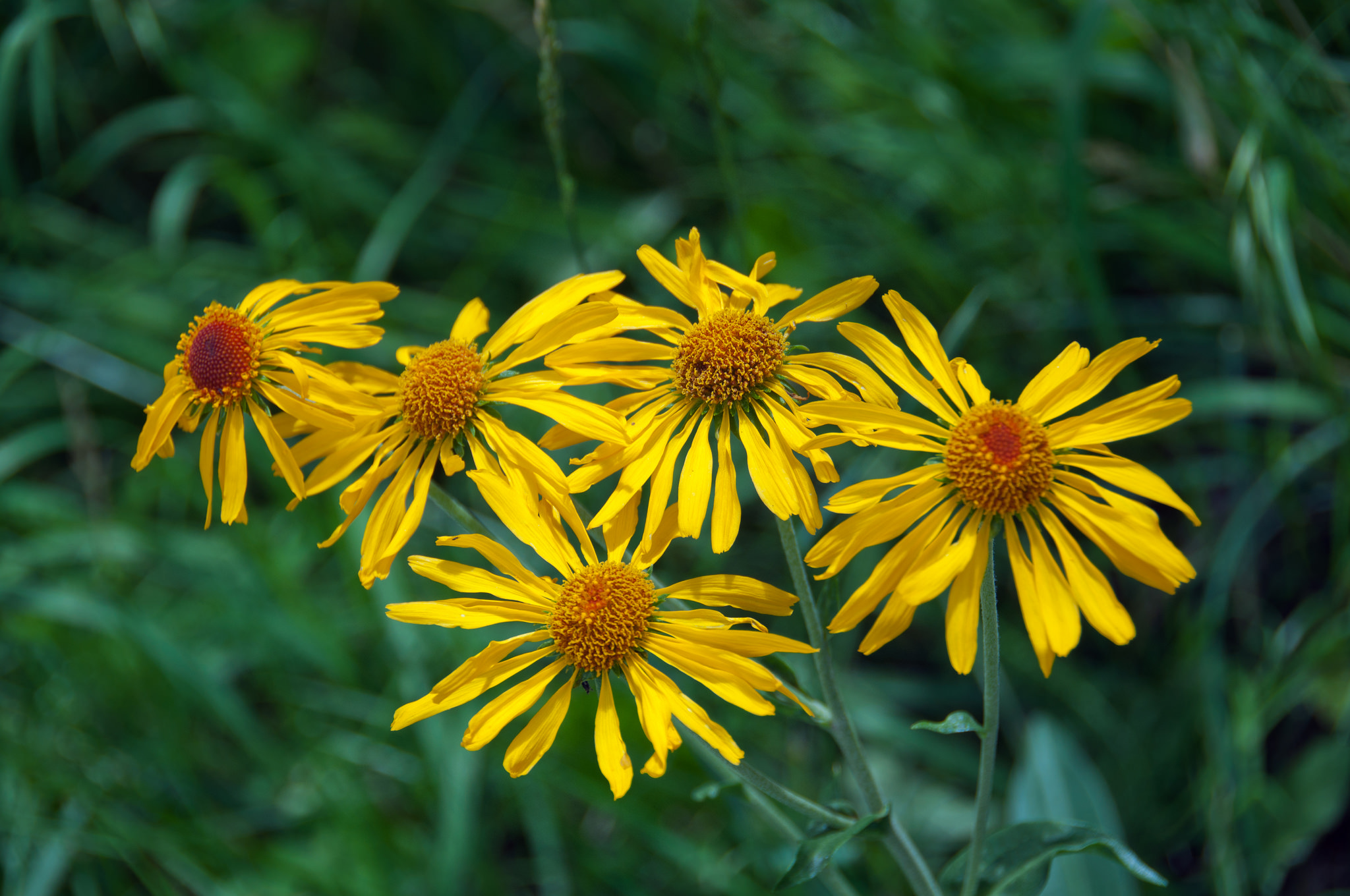 Sneezeweed is often recognized in high alpine meadows by its drooping petals. Large plots of this flower dot the landscape along the Green Lake Trail, and along Flag, Bear, and Deadman's Gulch Trails. Why is this Colorado wildflower called its funny name? Sneezeweed gets its name from its former life as an additive to snuff.
Other Peak-Season Blooms
Sky Pilot (Polemonium viscosum)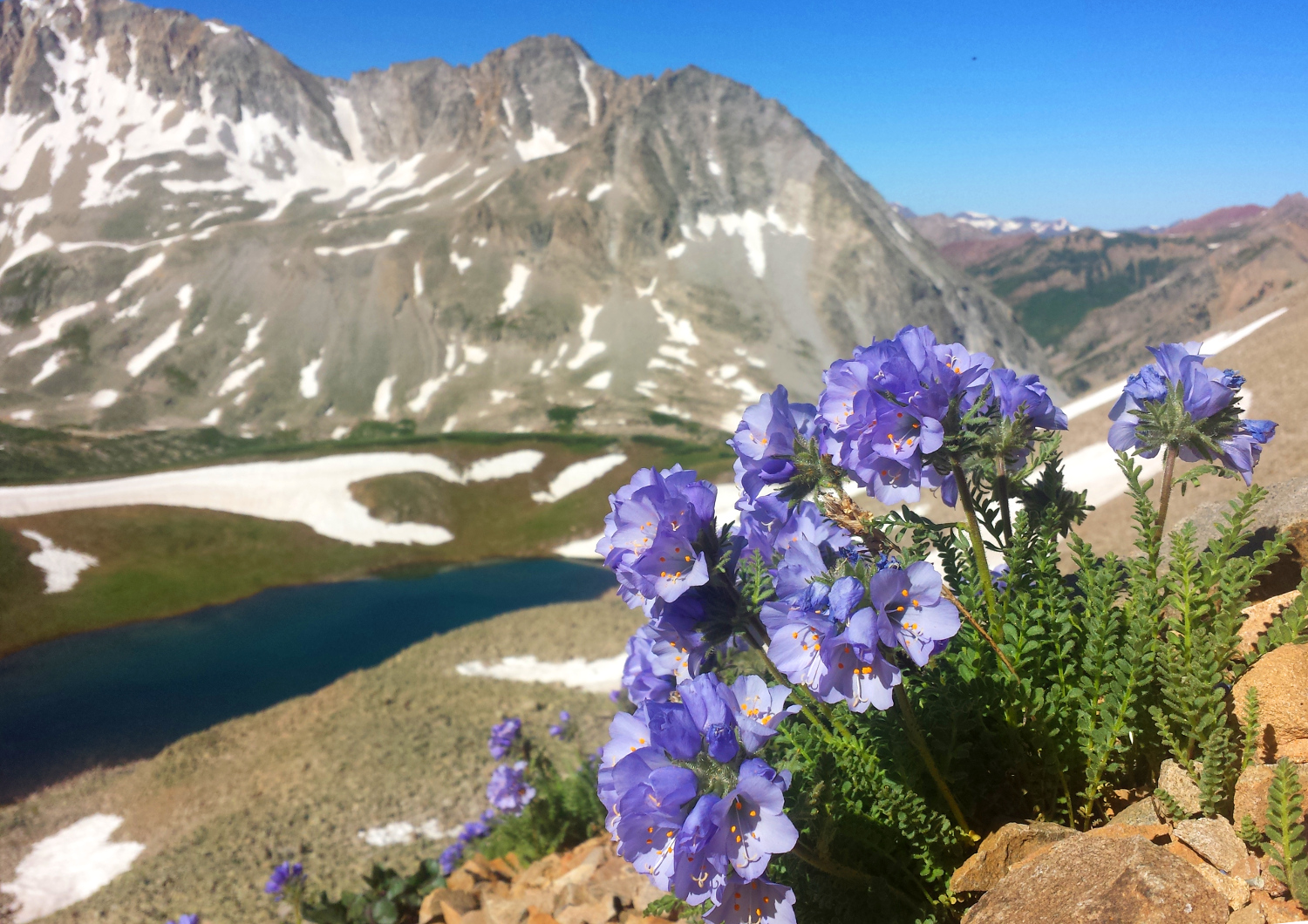 Another high alpine dweller, the Sky Pilot might have one of the coolest names in the wildflower world. Their leaves may be the best way to distinguish them from other species with pinnately compound leaves, but there aren't a lot of flowers that like to live as high as the Sky Pilot does.
Blue Columbine (Aquilegia coerulea)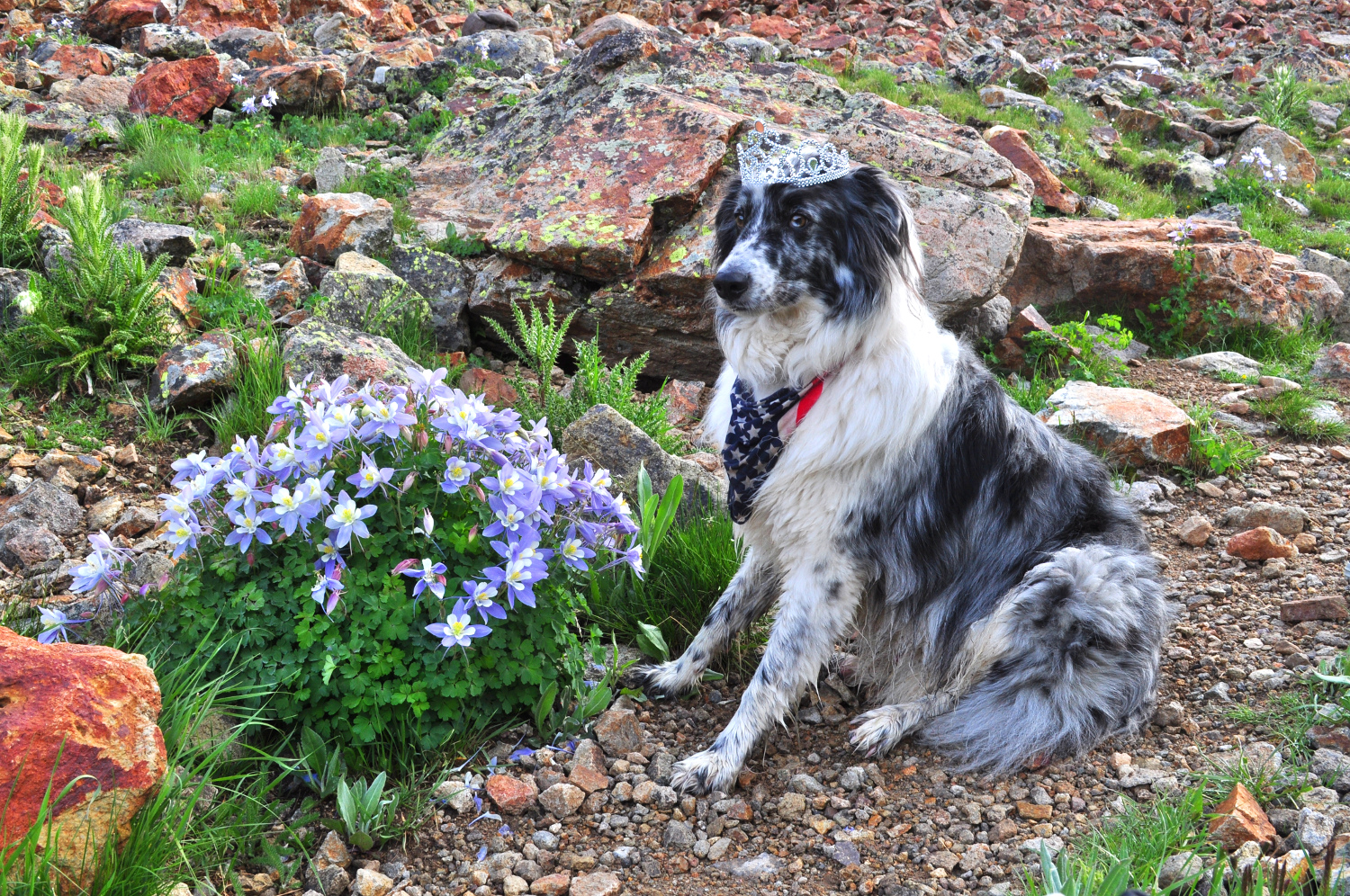 The Blue Columbine is the state flower of Colorado, and one of its most prevalent Colorado wildflower species. While its beauty is widespread, especially when found in huge groups, it is considered bad luck to give columbine to a lover or friend. In fact, the state made it illegal to uproot a Columbine in the 1920s.
Elephantella (Pedicularis groenlandica)
Elephantella are common throughout much of North America and even in Greenland. Their preferred habitat is in swampy and moist areas near rivers, creeks, and ponds. The East River close to the Ditch Trail may house the largest population of these flowers in the valley, but rest assured you can find them any time you might be getting your feet wet. If you notice a magenta carpet from the rec path between Mt. Crested Butte and Crested Butte, you're likely seeing a swath of elephantella.
Purple Fringe (Phacelia sericea)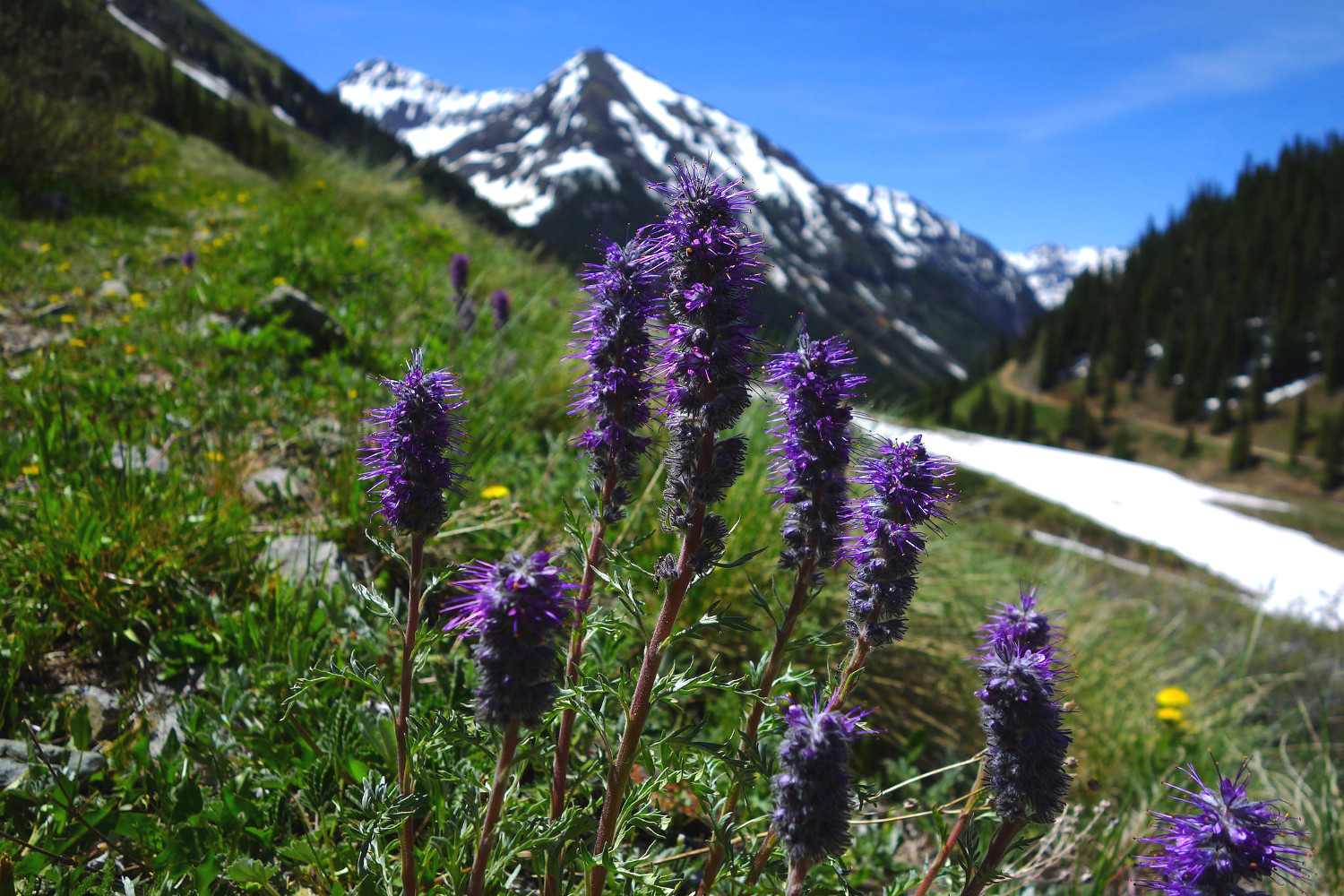 Purple Fringe is another dweller of the high alpine and can frequently be found above treeline. Once discovered you'll probably find the bees are already there. This is a result of the potent smell produced by the Purple Fringe.
Crested Butte, Colorado Wildflower Festival
The Crested Butte Wildflower Festival also hits peak schedule during July. If you're interested in learning more about the wildflowers here in the Gunnison Valley, check out the Crested Butte Wildflower Festival website and sign up for a tour or class.