Colorado Elk Hunting Tips
Words and photos by Danica Bona
Colorado elk hunting is on many hunters' bucket lists across the country for good reason. With over two million acres of public land spanning across national forest, Bureau of Land Management (BLM) lands, and designated wilderness, the Gunnison Valley is an elk hunter's paradise. There are a few things you should know before coming out on a hunting trip to Gunnison. Here are some Colorado elk hunting tips to help you get ready for your hunt. We've also included resources for small game hunting and general hunting information.
What game can you hunt in Gunnison and Crested Butte?
Many types of wildlife make their home in the Gunnison Valley. As evidenced in the name, the West Elk Mountains are a famous Colorado elk hunting destination. This corner of Colorado's Rocky Mountains is also known for other big game animals like mule deer, black bear, moose and even the more elusive mountain lion or mountain goat. The Gunnison Valley is also home to smaller game like rabbits and birds. Options include upland hunting for grouse, the occasional turkey and even waterfowl hunting on public waters.
Plan your hunting trip to the Gunnison Valley
If you would like to plan a hunting trip to this corner of the state, there are a few things to consider before you arrive.
Colorado hunting resources
While Colorado does honor hunter education certificates from other states, hunters are encouraged to find out more about Colorado-specific rules and regulations as there may be differences from their home state.
Types of hunting in Colorado
Know what types of hunting you'd like to do before you get here. While some seasons do overlap; specific tags, licenses and possibly even reservations may be required for specific species or categories of game animals.
Colorado licensing and tagging
If you are planning to hunt big game in the Gunnison Valley, be sure to familiarize yourself with the intricate licensing and tagging system for Colorado hunting. Colorado Parks & Wildlife (CPW) explains this in detail, and has all the information for figuring out the when's, why's and how's for applying to the weighted lottery system that is in place. If you plan on hunting through one of the outfitters in the Gunnison Valley, they can usually walk you through the process as well.
Does Colorado offer OTC tags?
OTC elk tags
Keep in mind that while some species and seasons are completely relegated by the lottery system, Colorado is one of the last states in the country to still offer over-the-counter (OTC) elk hunting opportunities during specific seasons in specific units. These tags don't require hunters to apply to the lottery and can be bought at any time before or during an OTC season.
Other types of tags
Archery, Muzzleloader and First rifle seasons are usually all draw tags, meaning you have to enter a lottery application (usually between March and early April). Second and third rifle seasons are over the counter tags in units 53, 55, 54, and 551, meaning they can be purchased without entering a lottery. An OTC tag allows you more flexibility than being tied to a single unit with a draw tag.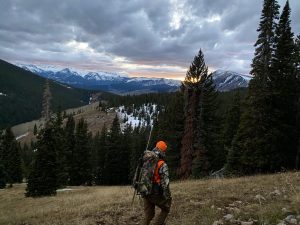 What hunting units are in Gunnison and Crested Butte?
Colorado is divided into hunting areas called game management units (GMUs). Here in the Gunnison Valley, the main units for OTC rifle hunting are 54 and 55, located on either side of Highway 135 between Gunnison and Crested Butte. 54 lies on the west side of 135, stretching across the West Elk Wilderness while 55 lies on the east side, stretching from Schofield Pass to Cottonwood Pass. Each has their own special geography and their perks/disadvantages based on your hunt. Both are vast, with over 75% public land covering diverse terrain from steep peaks with alpine basins, drainages flowing through ranch land and rimrock canyons, and deep forest with sporadic open fields. It is generally recommended to hunt above tree line in early seasons, moving down as it gets colder. Be prepared to work hard to find elk or other big game while you are here. Understand that it is your responsibility to know the unit boundaries, including private land boundaries.
When is hunting season in Gunnison County?
There are several big game hunting seasons in Colorado, and there are nine game management units accessible from Gunnison County that allow public land hunting from the beginning of archery season (early September) through the fourth rifle season (mid-November).
Hunt sustainably and responsibly
Once you have the correct licensing, an understanding of where you are going, and what the Colorado hunting laws are when you get here, the next step is following the rules of being in the backcountry. Everyone must work together to protect the Gunnison Valley through individual stewardship values and organized conservation efforts. Some important individual stewardship tips are outlined below.
How to tread lightly in the backcountry
An often-overlooked Colorado elk hunting tip is how to keep Colorado's public lands pristine for future generations to enjoy. As hunters and users of the public lands here, it is imperative to follow land stewardship principles while out in the backcountry. These have been outlined specifically for hunting below:
Plan Ahead and Prepare – this one may be the most important rule when hunting
-When hunting here, you will be in rugged terrain usually from sunrise to well past sunset as you settle into your hunt camp. Make a plan with maps, bring a GPS, and pack layers for all kinds of weather – it can be unpredictable in the fall months.
-Understand Colorado's hunting laws including your own license boundaries
-Know what you are hunting – Most big game animals require that you maintain proof of sex when packing out your harvest.
Travel & Camp on Durable Surfaces
-These include established trails and campsites, rock, gravel, dry grasses or snow.
-Do not alter existing sites.
-Plan ahead and research places to camp before you arrive. Make a reservation if possible.
-Not interested in camping? Browse traditional lodging options instead.
Dispose of Waste Properly
-Stop by one of the visitor centers in CB or Gunnison and grab a PACT backcountry bathroom kit for pooping in the backcountry.
-Pack it in – Pack it out. Inspect your camp and resting sites for trash, spilled food, shotgun shells, spent brass, etc.
-Make sure to dispose of unwanted carcasses far from water sources, highly visited areas, and trails.
Leave What You Find
-Do not build blinds out of native vegetation. Do not build structures or dig trenches
-Do not use rocks, signs, or trees for target practice
Minimize Campfire Impacts
-Keep fires small.
-Heed any fire bans that may be in place.
Respect Wildlife
-Take only clean kill shots. If unsure of the outcome of a shot, follow any blood trails and do your best to find the animal.
-Retrieve and properly handle your game.
Be Considerate of Others
-Be aware of your field of fire. Do not shoot near developed areas, campsites, or roads.
-Be aware of your firearm around others. Follow all safety guidelines.
-Be courteous and yield to other trail users.
-Be courteous and yield to other trail users.

How does hunting help conservation?
Not only do individual efforts go a long way in keeping the land protected, but just being a part of the hunting world here helps in conservation efforts. With recruitment efforts from state and national organizations like Colorado Parks and Wildlife (CPW), Backcountry Hunters and Anglers (BHA), and CO Wildlife Council, hunters and anglers are leaders in conservation efforts in the state, bringing in over $3.25 billion every year through hunting and fishing licenses. These fees provide means to protect and manage Colorado's abundant wildlife population by supporting the state's wildlife management efforts, including threatened and endangered species programs, wildlife reintroductions, habitat conservation and securing public easements on private land.
The Gunnison Valley's local chapters of these conservation organizations create events, raise funds, and work together to keep this beautiful part of Colorado healthy for future generations to enjoy. With the vast amount of public lands and unique geography, the abundant and diverse wildlife, and the plentiful hunting opportunities, hunting during a visit to this mountain paradise is sure to be the experience of a lifetime.