Fat biking has practically exploded in our valley. Almost every bike shop in Gunnison and Crested Butte offers fat bike rentals at reasonable rates. You can even rent fat bikes at some of the rental shops in the ski area. Fat biking can be an excellent family adventure as well. If you can ride a regular bike, you'll probably like fat biking!
WHERE TO RIDE YOUR FAT BIKE
FAT BIKING FOR BEGINNERS
Crested Butte Nordic Center's trail system and Crested Butte Mountain Resort (CBMR) are the best places for a consistent fat biking snow surface. The Nordic Center requires you to have a trail pass (either a season pass or day pass), and fat bikes are limited to the trails on the east side of their grooming area. Although its a little pricier, this is the best option for beginners since it's mostly flat and the trails are groomed almost every day.
Fat biking on Mt. Crested Butte requires an uphill pass and is only allowed before and after hours. Although the climbs are steep in places, the snow is fantastic and well-packed, making for a consistent riding surface. Consult the uphill guide on CBMR's website for maps and other information.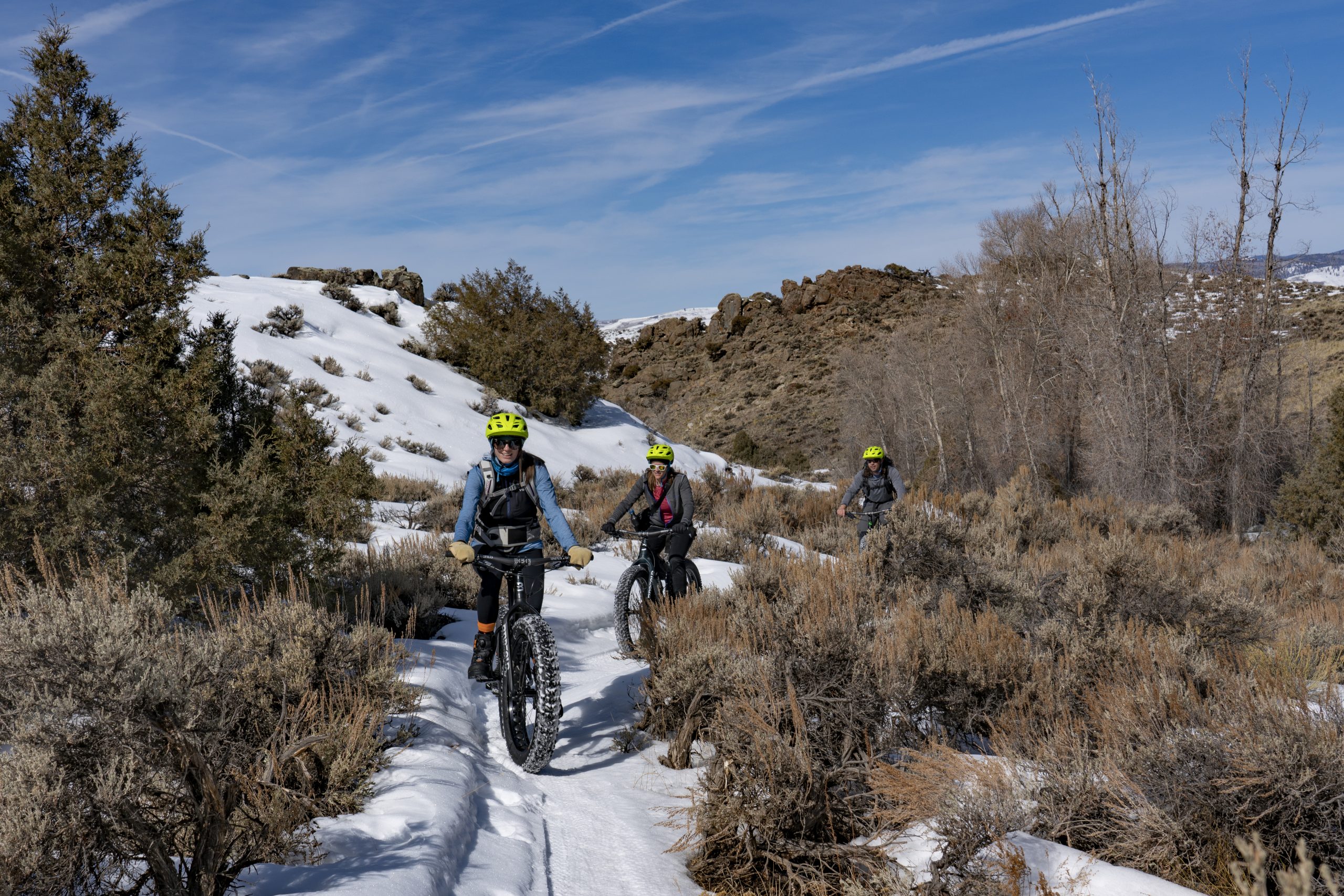 OTHER PLACES TO FAT BIKE AROUND CRESTED BUTTE
Every drainage around Crested Butte has a road that does not have winter maintenance or plowing. These roads have long been popular with cross-country skiers, snowmobilers, and other backcountry users, so please be courteous and share these places with other users. Avalanche danger increases significantly on some of these roads, so it is important to read the avalanche report the day you plan to go out. Check out these roads for the best fat biking experiences around Crested Butte:
Slate River Road
Brush Creek Road
Washington Gulch Road
Gothic/Schofield Pass Road
Kebler Pass Road
Splains Gulch Road
Cement Creek Road
FAT BIKING NEAR GUNNISON
Hartman Rocks is hands-down the best place to ride a fat bike near Gunnison, and might even be the best spot in the whole county for winter riding. The trails are groomed primarily for Nordic skiing, so make sure the conditions are right before setting out on a ride. Spectacular user-maintained singletrack is also available for your riding pleasure if you park at the Gold Basin Road (CR 38) parking lot.
The Signal Peak trails behind Western Colorado University are another great place to get a fat bike ride in. Trails here are not groomed and are only user-maintained, which means they get better as more people ride them. Access to these trails can be gained from the east side of Western's campus. Signal Peak is closed to mechanized usage from March 15-May 1 each year for sage grouse.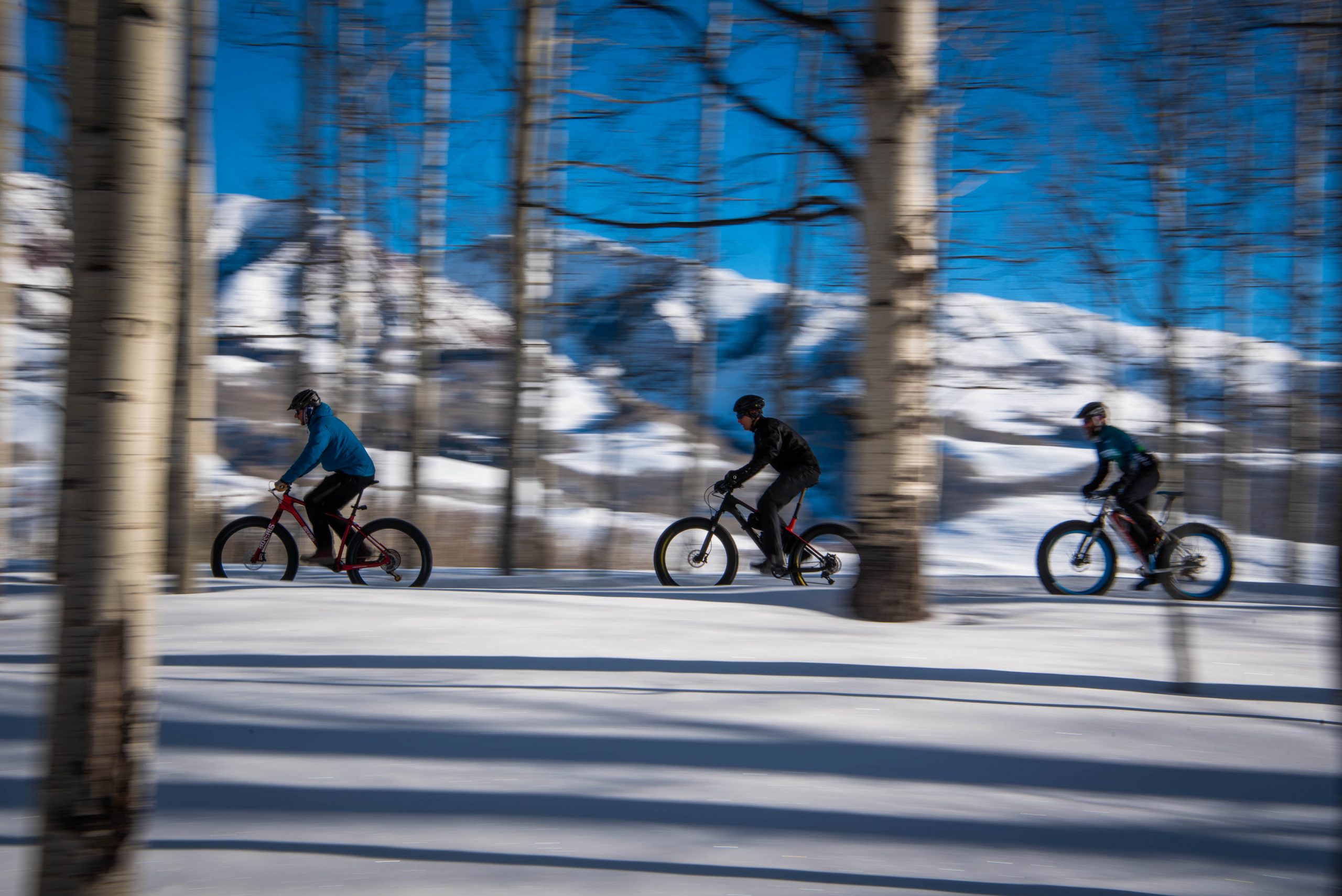 FAT BIKE TRAIL ETIQUETTE
Fat biking is a relatively new sport, so etiquette for riding is still being developed. Help maintain the image of fat biking by following these guidelines:
Respect trail closures and paid trail systems. Buy a pass and only ride where you are allowed.
If a trail is groomed for

 

Nordic skiing, don't ride in the classic tracks. These are the two parallel lines on the side of the trail. Try to ride on the outside of the groomed track opposite of the classic track.
Always ride a minimum tire width of 3.5″ and maximum PSI of 10.
Clean your tires if you are transitioning from mud or dirt to snow.
Ride single file, especially on groomed trails.
If you leave a rut more than one inch deep, turn around. Try to ride in the mornings while the track is still firm. Avoid riding on warm, sunny afternoons and powder days.
Yield to

 

snowshoers

 

and

 

Nordic skiers. Be courteous and communicate when passing

 

snowmobiles.
ACTIVITIES IN GUNNISON-CRESTED BUTTE
While you're here check out Crested Butte and Gunnison's other winter activities: skiing and snowboarding, snowshoeing, snowmobiling, Nordic skiing, ice skating, dog sledding, and sleigh riding!
CRESTED BUTTE AND GUNNISON HOTELS
Whether you're looking for a cabin or a condo, a hostel or a traditional hotel, we've got you covered for a vacation rental. Visit our Lodging page to learn more!