Three awesome Gunnison MTB trails you've never heard of
If you're planning a summer mountain biking trip to Gunnison, Colorado, you probably already know about the legendary cross-country trails at Hartman Rocks. Hartman's has many popular trails, but there are many other great trails in the area that you've probably never heard of. Here are three of our favorite Gunnison MTB trails.
Canyon Creek Trail (#481)
Difficulty: Extremely difficult
Distance: 20-mile loop
Canyon Creek is a gorgeous, high-altitude trail deep in Colorado's backcountry. It's also what's known as a "sufferfest." To an expert rider, the pain will be worth it. Beginners should not attempt this trail. There are plenty of other Gunnison MTB trails for you to pick from. You might go the entire ride without seeing a single other person, so bring plenty of food, water, layers and everything you might need for on-the-go bike repairs.
To get to Canyon Creek from Gunnison, drive east on Highway 50 for 33 miles. Turn left (north) on County Road 888 and drive for another eight miles. Park on the road near Snowblind Campground.
This loop should be ridden counterclockwise. You'll start by riding north on County Road 888 for a few miles past the town of Whitepine. The Canyon Creek trail is clearly marked on your left. The trail is covered with small rocks ("baby heads") that are difficult to ride through. Eventually the trail becomes so strenuous and gravelly that it is impossible to ride. You'll have to carry your bike to the top. The hike-a-bike portion of Canyon Creek culminates at about 12,600 feet near the peak of Granite Mountain. At this point you will have climbed for eight straight miles. Take in the view of the Sawatch Range and the Collegiate Peaks to the east and north while you catch your breath. Now it's time for the downhill. The next 12 miles are a moderate descent down into the trees and back to your car.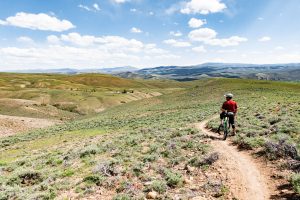 Chicken Wing Trail
Difficulty: Beginner
Distance: 1.6 miles one-way
Chicken Wing is in the Signal Peak trail system. These cross-country trails are built into the rolling, sagebrush-covered hills east of town. The farther back you get, the prettier the views of the surrounding mountains are. Chicken Wing is suitable for riders of all abilities. Be aware that Signal Peak trails are closed to bikes at certain times in winter and spring.
The Signal Peak trails are located on the east side of Gunnison, directly adjacent to the ICELab and Western Colorado University. You can ride there from town, or park in the lot by the Western football field.
There are more than a dozen trails in the Signal Peak system, so there are many different ways to incorporate Chicken Wing into a loop. Here's our favorite route for a short ride: From the parking lot, take Contour to Rasta Gulch. From there, ride the Ridgeline trail east for a mile or so. Turn right (south) onto Chicken Wing. This trail is just fast enough to give you some adrenaline, but slow enough that you'll be able to enjoy the panoramic view of the peaks surrounding Gunnison. Take the dirt road back to Cemetery trail, which will bring you back to where you started.
Bear Creek Trail (#415)
Difficulty: Intermediate
Distance: 6 miles one-way
Bear Creek trail is one of many Gunnison MTB trails in the Spring Creek drainage northwest of Gunnison. Wildflowers bloom in the meadows in summer, and the leaves on the aspen trees turn bright yellow in fall. This area is fairly remote, but you'll share these trails with motorcycles.
To get to Bear Creek trail from Gunnison, drive north on Highway 135 for nine miles. When you get to the town of Almont, turn right (east) onto the Taylor Canyon road (County Road 742). Drive about seven miles and turn left (north) onto Spring Creek Road (County Road 744). Drive for about 12 miles. After you pass Spring Creek Reservoir, you'll encounter a fork in the road. Take the left side of the fork. In less than half a mile you'll see the trail on the left (west) side of the road.
This trail is best ridden north to south. With many different trails in this area, there are lots of options for loop routes. The most popular route is known as Reno Flag Bear Deadman, which connects those four trails for a 19-mile advanced ride. Here's an intermediate 15-mile route idea: Start on the north end of Bear Creek trail and make a short climb up to the top of the ridge. Keep climbing—you'll pass the Reno Ridge trail on your right. Then you'll begin to descend into the lush valley west of Boston Peak. The downhill is steep and long—about three miles—but it flies by. Turn left (south) onto Deadman Gulch trail, then left again on Rosebud. Turn left once again onto the Spring Creek road, which will take you back to your car.
Planning your trip
Visit our mountain bike trip planning page for information on flights, lodging, trail conditions and things to do during your visit to the Gunnison Valley. Looking for under-the-radar MTB trails in Crested Butte? Check out these advanced trails in Crested Butte you've never heard of.