Awesome Trails in Crested Butte You've Never Heard of
Crested Butte is famous for being the home of Colorado's best mountain bike trails. The classic alpine trails in Crested Butte (like Trail #401 and Teocalli Ridge) consistently top the lists of best mountain bike trails in the world. These well-known trails live up to the hype, but with more than 800 miles of singletrack in the Gunnison Valley, there are a lot of other great trails here most people don't know about. To help you plan your summer trip to Crested Butte, we're highlighting three advanced mountain bike trails you've never heard of. Not an expert rider yet? Check out the intermediate trails at Hartman Rocks in Gunnison or some mellow spring rides in Crested Butte.
Mogul Storage Trails
Distance: .3 miles
Difficulty: Intermediate or advanced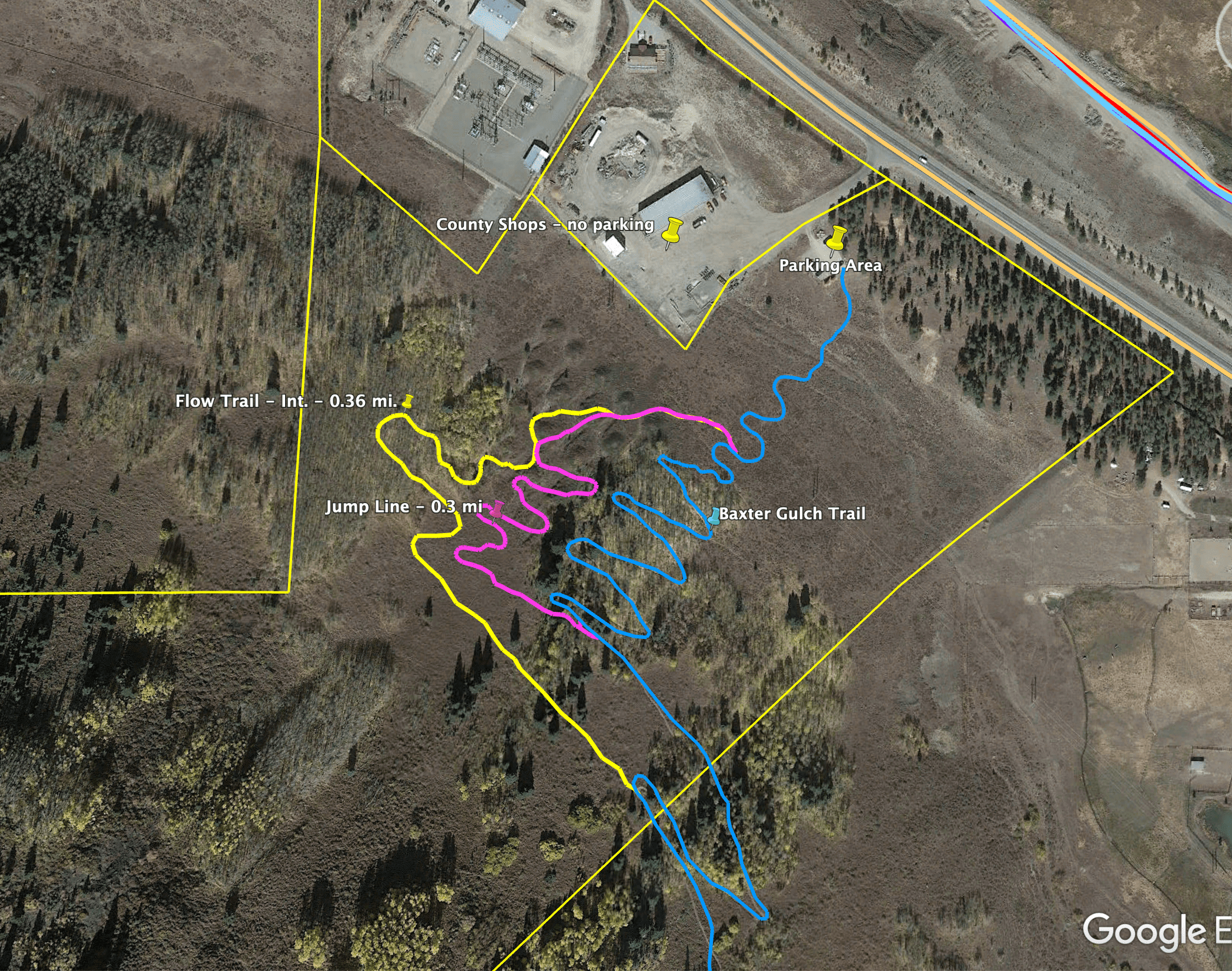 The Mogul Storage trails are the newest trails in Crested Butte. There are two trails—an intermediate flow trail and an advanced jump line. Both trails are downhill-only, making them the only downhill-specific trails in Crested Butte outside the lift-served trails at Crested Butte Mountain Bike Park. The trails can be accessed by riding up the Baxter Gulch trail. The Baxter Gulch trailhead is located less than a mile south of the town of Crested Butte on the west side of Highway 135. Park in the small parking lot near the trail map or just ride from town. You'll ride up Baxter Gulch for about a mile. At the top of the switchbacks, there are two turnoffs. The first one is for the advanced jump line, and the second is for the intermediate flow trail.
The Mogul Storage trails were built in early June 2022, mostly during a volunteer event National Trails Day. Nearly 100 people turned out to help build the trails! If you love biking in Crested Butte and want to give back to the Crested Butte Mountain Bike Association—the organization that maintains them—there are several ways to do so. Join or donate, volunteer at a trail work day, or become a business sponsor.
Strawberry Trail #627
Distance: 2.6 miles
Difficulty: Intermediate/advanced
Strawberry trail is located east of the town of Crested Butte in the shadow of the butte itself. This steep, difficult trail snakes through conifer forest and features large rollers covered in rocks and roots. Most features have several line options for different ability levels.
To get there, take Highway 135 to Brush Creek Road. Park at the Brush Creek trailhead. Please be aware that there is no parking on Brush Creek Road beyond this trailhead. There are many ways to incorporate Strawberry into a loop, but here's one idea: From the Brush Creek trailhead, ride east on Brush Creek Road for a mile or so. Ride up Canal trail, then turn right on Farris Creek trail. From Farris Creek, turn left (north) onto Strawberry trail. Strawberry ends at Brush Creek Road. Follow the road west until you see a fork on the left. That's Death Pass (not as scary as it sounds) which you'll take back to the Strand trail system. Ride Canal or Strand Bonus to Brush Creek Road and back to your car.
Trail #409.5
Distance: 3 miles
Difficulty: Advanced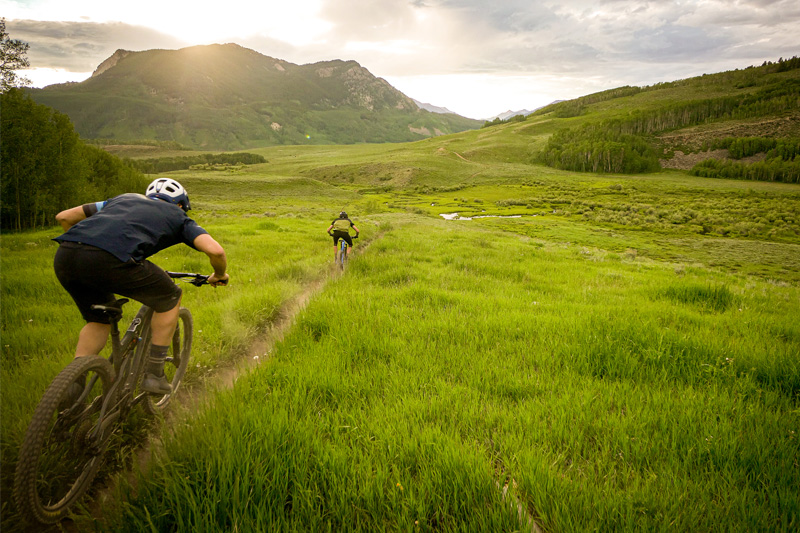 Trail #409.5 is tough to get to, but worth the effort. This three-mile trail is all downhill if ridden south to north. (It's not recommended to ride it the other way.) The fast-paced trail is full of big drops over tree roots. It's not super technical, but it is very steep, and you'll be moving at high speeds. The trail begins in the aspens and descends into a meadow at the intersection with Farris Creek trail, at which point we guarantee you will be whooping and hollering. You'll share this trail with e-bikes and motorcycles.
The easiest way get to 409.5 (disclaimer: it's not easy) is to ride up Farris Creek Road to Farris Creek trail (#409). Then ride up Point Lookout trail. This is about eight miles of uninterrupted uphill, so it's not a climb for the faint of heart. Another way to get to 409.5 is via the trails in the Cement Creek drainage. Ride Walrod Road to The Wall (Trail #412) to Dark Side to Double Top, or ride Caves Trail to Farris Creek to Point Lookout. No matter which way you go, you're in for a climb. But you're also in for some of the best downhill riding in the entire Gunnison Valley.
Taking a trip to Crested Butte
Check out our summer trip planning page for information on flights, lodging and other things to do in Colorado's coolest mountain towns. Looking for the best mountain bike trails in the Gunnison Valley? Check out these hidden gems in Gunnison.