FAMILY-FRIENDLY SNOWSHOE ADVENTURES
Snowshoeing is a perfect, family-friendly activity to enjoy while visiting our winter wonderland. Equipment rentals are inexpensive, we have beautiful, well-groomed trails, and there's no learning curve. If you can walk, you can snowshoe. Gunnison Nordic Club and the Crested Butte Nordic Center trail systems are open to snowshoers and you can even take your dog along on some trails. Avalanches are always a danger in the winter, so be sure to check the avalanche forecast before heading out.
GUNNISON AND CRESTED BUTTE SNOWSHOEING
SNODGRASS
Drive up Gothic Road from Crested Butte past the ski area until the road dead ends at the trailhead. The trail follows the road up the mountain. Take the one on the left as the one to the right leads to Gothic. This trail is groomed and an easy climb on snowshoes. It is popular with Nordic skiers and fat bikers as well, so be prepared to share it. The walk all the way to the top is about 3 miles, making it around 6 miles round trip.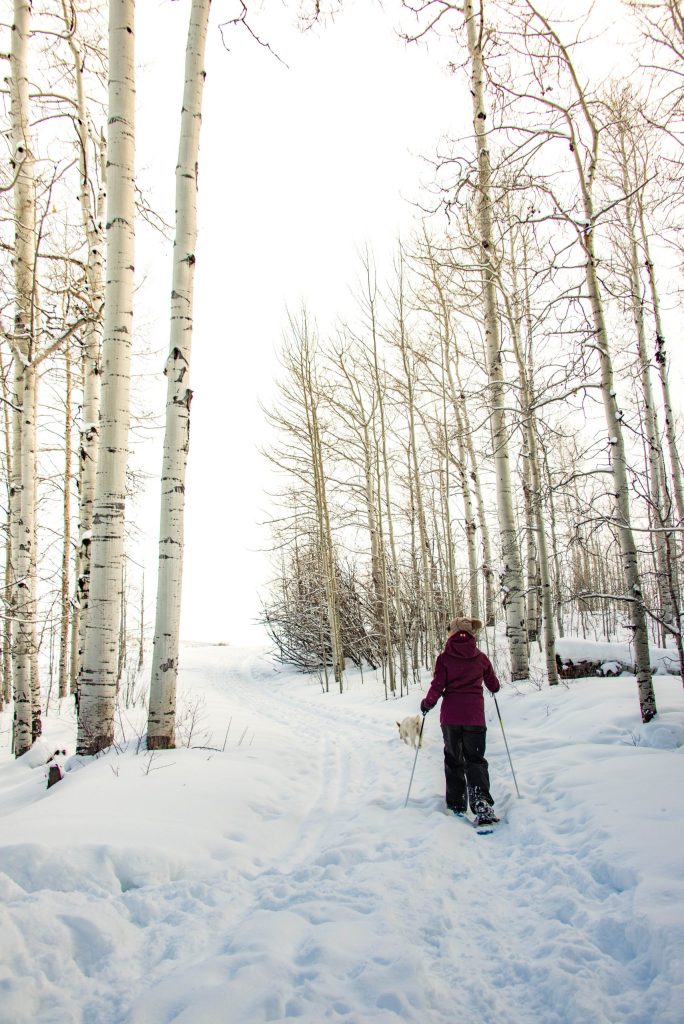 CEMENT CREEK ROAD
Located about seven miles from Crested Butte in Crested Butte South, Cement Creek Road climbs through a rocky canyon into an open meadow. To get there turn on Cement Creek Road off Highway 135 and drive straight for 3.8 miles until you reach the parking area. The initial climb up the trail is fairly steep, but the meadow is relatively flat and easy for snowshoeing. This trail is shared with skiers and is especially popular with snowmobilers. However, if you go early enough you might not see anyone. The length depends on how you decide to go before turning around.
MILL CREEK
Located between Gunnison and Crested Butte, Mill Creek is a popular winter area. Theres a network of trails that wind through aspen and spruce groves. Be mindful of avalanche dangers as you get higher up in the canyon.  You'll likely be sharing the trail with skiers, fat bikers, and dogs. To access Mill Creek Road you'll turn onto Ohio Creek Road and after nine miles turn left on Mill Creek Road. You'll reach the parking area after 3 miles.
HARTMAN ROCKS
Hartman Rocks Recreation Area in Gunnison offers biking, hiking, camping, and rock climbing in spring, summer, and fall, but the fun doesn't have to stop in the winter. There are 16 miles of groomed roads in the winter that are easy to piece together if you're looking for a longer trip. There are options for all skill levels. Hartmans offers unique and expansive views of interesting rock formations, making it one of the most distinct snowshoeing trips you could have in the valley.
BLACK CANYON OF THE GUNNISON
The road on the South Rim of the Black Canyon is closed to cars past the visitor center in the winter. Snowshoeing is an excellent way to see one of America's most unique canyons. It's not very busy in the summer, and winter is even better. The National Parks Service recommends the upper part of the Oak Flat Loop and Rim Rock Trail for snowshoeing, though any part of the rim would provide a beautiful trek. Do not descend the canyon. The road is also groomed for Nordic skiing, so be sure to watch out for skiers and avoid walking in the ski track.
ACTIVITIES IN GUNNISON-CRESTED BUTTE
While you're here check out Crested Butte and Gunnison's other winter activities: skiing and snowboarding, snowmobiling, fat biking, Nordic skiing, and other winter activities!