Gravel Biking in Taylor Park, Colorado with Nick Gould
Follow professional gravel cyclist Nick Gould as he explores Taylor Park, Taylor Canyon and Spring Creek near Almont, Colorado. As Nick trains for the Gunni Grinder gravel race in September, he is sampling gravel rides around Colorado's Gunnison Valley. This video features a steep, scenic gravel ride on the east side of the valley.
Watch Gravel Biking in Taylor Park, Colorado with Nick Gould
The route
Nick's gravel biking route through Almont and Taylor Park is a mix of gravel and paved roads. To ride this route, start in the small town of Almont, 10 miles north of Gunnison on Highway 135. Begin the ride by climbing up into Taylor Park on County Road 742 ( the Taylor Canyon road) for 25 miles. The 300-foot walls of Taylor Canyon tower over you as you ride along the Taylor River. When you get to Taylor Park, the road surface changes from asphalt to dirt. You'll pass Taylor Reservoir with its breathtaking backdrop of the Collegiate Peaks. Turn left onto County Road 748 (Rocky Brook Road) and ride for seven miles. Then turn left onto Spring Creek Road (County Road 744) near Spring Creek Reservoir. The descent on Spring Creek Road follows crystal-clear Spring Creek east to its confluence with the Taylor River at the intersection with County Road 742. The ride finishes with a scenic 20-mile descent on the Taylor Canyon road back towards Almont.
The views and surrounding area
Taylor Reservoir, Taylor Park and and Taylor Canyon are all part of the vast Gunnison National Forest. Looking north from Taylor Park, you'll see the Collegiate Peaks, which are part of the Sawatch Range of the Rocky Mountains. This range contain's some of Colorado's famous fourteeners, including Mt. Harvard, Mt. Princeton and Mt. Yale. Henry Mountain (13,254′) and Fossil Ridge, both part of Fossil Ridge Wilderness, peek out over the trees east of Taylor Park. Park Cone (12,100′) towers over the south end of the lake.
About Nick Gould
Nick is a Mazda Lauf Factory gravel team member. He has over 20 years of experience racing in cross-country, marathon and ultra-marathon events. In addition to racing, he coaches other professional athletes.
The Gunni Grinder
An annual gravel bike race in Gunnison, Colorado
The Gunni Grinder is an annual gravel biking event that showcases some of Gunnison Valley's best gravel and dirt roads. This gravel bike race has options for 30-, 60- and 120-mile routes. Each course travels through the network of gravel roads through the high desert landscape south of Gunnison. Nick is going for the gold in the Gunni Grinder 120.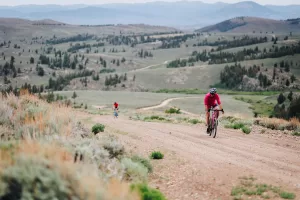 Gravel biking in the Gunnison Valley
Gravel biking in Taylor Park, Gunnison and Crested Butte
You might know the Gunnison Valley for the 800+ miles of mountain biking singletrack, but did you know there are hundreds of miles of roads for gravel biking, too? There are over two million acres of public lands with a variety of routes for gravel biking in both Gunnison and Crested Butte. There are 1,169 miles of National Forest Service roads in Gunnison County. Bureau of Land Management and county roads provide hundreds more. Gravel bikes are versatile in terms of what terrain they can be ridden on, making them a good option for areas with roads and trails.
Gravel biking at Hartman Rocks
Follow Nick on another Colorado gravel bike ride at Hartman Rocks Recreation Area near Gunnison.
What is gravel biking in Gunnison and Crested Butte like?
Much of the gravel riding in the Gunnison Valley is steep and challenging, especially in Crested Butte due to the high elevation. Rides in Gunnison take you by high desert views. Rolling hills covered in sagebrush provide challenging climbs and fun descents. In Crested Butte, where the rides are in the alpine, expect pine and aspen trees and towering mountain peaks. In the summer, wildflowers bloom abundantly. Aspen leaves change in September.
Gravel biking in Gunnison
Most of the gravel roads in the Gunnison Valley are located near Gunnison. Hartman Rocks Recreation Area and Signal Peak are gravel biking options close to town. Gunnison National Forest is another option. Taylor Park, Pitkin and Tincup are areas in Gunnison National Forest to gravel ride in. These easy gravel rides can get you started.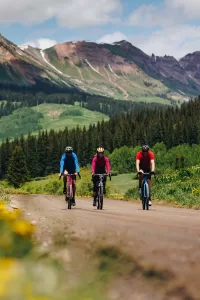 Gravel biking in Crested Butte
Crested Butte is more known for mountain biking, but there are also plentiful gravel and hybrid routes. Pearl Pass, Kebler Pass and Gothic Road are a few options for gravel biking in Crested Butte.
What is there to do in Taylor Park?
A recreation paradise
Taylor Park is full of recreational opportunities for outdoor enthusiasts of all types. It's one of the biggest designated areas for motorized off-road travel, making it a popular destination for OHVs like dirt bikes and side-by-sides. Doctor Park is a famous advanced mountain bike trail in Taylor Canyon. The gold medal waters of the Taylor River attract anglers from all over the world. The Taylor River contains whitewater rapids up to Class IV. Hire a raft guide or launch your own boat for a whitewater adventure. Taylor Reservoir allows motorized boats, kayaks, canoes and stand-up paddle boards (SUPs).
What is a gravel bike?
Gravel bikes vs. mountain bikes
A gravel bike is a drop-bar bike that has the capability to ride over a variety of surfaces. Gravel bikes have wide tires, low gearing and stable handling. You can think of them as in-between a road bike and a mountain bike. They can be ridden on roads, but also on dirt and gravel trails that are not super technical. Compared to mountain bikes, gravel bikes typically have a taller headtube, steeper headtube angle and a lower bottom bracket. Most gravel bikes also don't have a suspension fork or shock, which makes them more efficient than a mountain bike for long rides on dirt and gravel.
What kind of trails are best for a gravel bike?
Gravel bikes are versatile in terms of what terrain they can be ridden on. Gravel roads, of course, are preferred. Dirt doubletracks, fire roads, forest service roads, pavement and mellow singletrack are other options. Gravel bikes are usually not suitable for technical trails.
Other types of biking in Crested Butte and Gunnison
Mountain biking
The Gunnison Valley boasts over 800 miles of singletrack for mountain biking. From the technical, high-desert trails of Gunnison to the flowy, alpine trails of Crested Butte, there are a variety of trails for mountain bikers of all skill levels. Check out these lesser-known rides in Gunnison. Or plan a weekend mountain biking trip in Crested Butte.
E-biking
Electric bikes (e-bikes) are becoming more common on trails and not just paved roads. E-bikes are classified as motorized vehicles and are only allowed on motorized trails. Before taking an e-bike out, please be aware of the rules and regulations for the trail you want to ride on.
Visiting the Gunnison Valley
FAQS
Ready to start planning your gravel biking in Taylor Park trip but still have some questions? Our FAQ guides can give you answers to questions like "What are kid-friendly activities in Crested Butte?" or "Where can I shop and eat in Gunnison?" Find out this information and more as you plan your trip.
Get ready to gravel ride in Crested Butte and Gunnison
Whether you're a seasoned gravel biker or looking to give it a try, the Gunnison Valley has much to explore. Use our trip planning guide to find a place to stay, choose activities, book flights and more.