Trip Itinerary: A Weekend of Mountain Biking in Crested Butte
Heading to Gunnison Valley for the weekend? We've put together a trip itinerary for two days of activities and amenities in Gunnison and Crested Butte—some of Colorado's coolest mountain towns. Mountain biking in Crested Butte is probably at the top of your list of things to do, so you'll find recommendations on the best beginner, intermediate and advanced bike trails in Crested Butte. Head over to our mountain bike trip planning page for even more info!
Day 1: Friday Night
Today is your travel day. Getting to Gunnison and Crested Butte can be done by car or plane. The best way to maximize time on the trails is to fly into Gunnison-Crested Butte Regional Airport (GUC), which is in Gunnison. Nonstop flights are available from Denver and Texas. Another option is to fly into Denver International Airport (DEN) and make the four-hour drive over several of Colorado's scenic mountain passes. Before you visit, check if there are any local travel alerts, including road construction and weather advisories.
Things to do in Gunnison, Colorado
If you have time and energy when you arrive in Gunnison, head out for a quick afternoon mountain bike ride at Hartman Rocks Recreation Area, just a few minutes' drive from town. Check out our guides to beginner and intermediate Hartman's trails before you ride. If you have extra time and a desire for adventure, ride one of these Gunnison mountain bike trails you've never heard of.
Need to work while you're here? Purchase a day pass at the ICELab, the coworking space in Gunnison.
Nightlife in Gunnison
Grab dinner at one of the casual restaurants in downtown Gunnison. Wherever you eat, you'll likely find Colorado craft beer, a sunny patio and laid-back college town vibes. Check into your lodging and get some sleep—you're in for a busy weekend!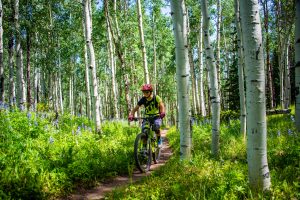 Day 2: Saturday
Today is all about mountain biking in Crested Butte! Gear up, brush up on the rules of the trail, and get after it. Expert riders will enjoy the 15-mile, high-altitude Baxter-Carbon-Greek Lake loop, which starts in downtown Crested Butte. Another advanced loop is Reno-Flag-Bear-Deadman, which is accessible from Cement Creek Road. Want to get off the beaten path (metaphorically)? Check out these three advanced trails in Crested Butte you've never heard of. Intermediate mountain bikers will find gorgeous views and aspen-lined trails on Strand Hill or the fields of wildflowers on Snodgrass Trail in Mt. Crested Butte. Beginner riders have tons of mileage options on the Lower Loop trail system, which is conveniently accessed off Peanut Lake Road, just west of the town of Crested Butte.
Things to do in Crested Butte
After your ride, wash up at your hotel or vacation rental, and hit the town! There is just as much to explore in this vibrant Colorado mountain town as there is in the two million acres of public lands that surround it. Downtown Crested Butte is an old mining town that is now the epicenter of nightlife and culture in the Gunnison Valley. Crested Butte's colorful, historic buildings house one-of-a-kind restaurants and cute shops. Museums, art galleries and events are another way to entertain yourself.
Day 3: Sunday
You've got time for another awesome mountain bike ride on Sunday morning. Doctor Park in Almont is an advanced ride with some of the valley's fastest downhill. Beginners can take a quick cruise in the Signal Peak trail system in Gunnison instead. Need to give your biking muscles a break? Take a guided rafting trip or go hiking instead. After lunch, it's time to head back home, where it's never too early to start planning your winter ski trip!
Visiting Crested Butte and Gunnison
With just a couple days to spend in the beautiful Gunnison Valley, it's important that you plan ahead to maximize your time spent here. Visit our mountain bike trip planning page to learn more about lodging, flights, trail conditions, and other tips for visiting Crested Butte and Gunnison. See you on the trails!