Easy Gravel Rides in Gunnison
If you're just getting into gravel biking, you might be looking for some easy gravel rides in Gunnison and Crested Butte. Gravel biking is gaining popularity all over Colorado, and Gunnison has thousands of miles of bikeable gravel roads. Gravel riding can be an alternative to mountain biking and road biking. It still allows you to get outside and be in more remote places, but tends to be more mellow than other kinds of biking. There are 1,169 miles of gravel Forest Service roads in Gunnison County. Other public lands offer even more options. Gravel riding is also accessible because you don't need a gravel bike to do it. You can ride gravel on mountain bikes and road bikes as well. Along with these easy gravel rides, there are a number of intermediate and advanced gravel rides in Gunnison and Crested Butte as well.
Gravel Riding at Hartman Rocks
Hartman Rocks is a multi-use Bureau of Land Management recreation area located outside of Gunnison. This alpine desert is characterized by fields of sagebrush and uniquely shaped rock formations. The trails range from rocky and technical to flowy gravel paths. Hartmans is a big mountain biking spot, but is also used for hiking, horseback riding, rock climbing, e-biking, off-roading and gravel biking. Hartmans has 50+ miles of singletrack, but there are also hundreds of miles of gravel roads open to biking. You could ride one of the roads or check out one of these trails to explore Hartman Rocks.
What are easy gravel rides at Hartman Rocks?
Sea of Sage to Luge
Distance: 2.6 miles
Difficulty: Easy
This easy cross-country route avoids the technical rock slabs typical of Hartmans. Aptly named, it winds through a field of sage brush. It has gentle downhills that are perfect for beginners. The trail is wide and flowy with a great view. It is about 2.5 miles long. This trail is great for beginners learning how to increase their downhill speed without having to worry about rocks and other technical features.
Evan's Loop
Distance: 2.8 miles
Difficulty: Easy
This mellow loop is 2.8 miles long. If you ride it counterclockwise, you'll begin with a gradual incline, go around some rock formations and end with a gradual decline. The trails are wide and don't cross any roads. Keep left at each intersection and you'll stay on the trail. Evans Loop includes Broken Shovel (.9 miles), Lost Dog (.9 miles) and Sea of Sage (1.4 miles).
Gravel Riding at Signal Peak
The Signal Peak trail system has over 20 miles of trails and is right in town. Access it on the east side of Western Colorado University's (WCU) campus. These trails are also right out the door of the ICELab, so you can get some work in and then easily hit the trail. Many Signal Peak trails are built and maintained by one of the local trails organizations. Gunnison Trails works with public lands managers to maintain existing trails, propose and construct new trails and educate visitors and residents on responsible trail use.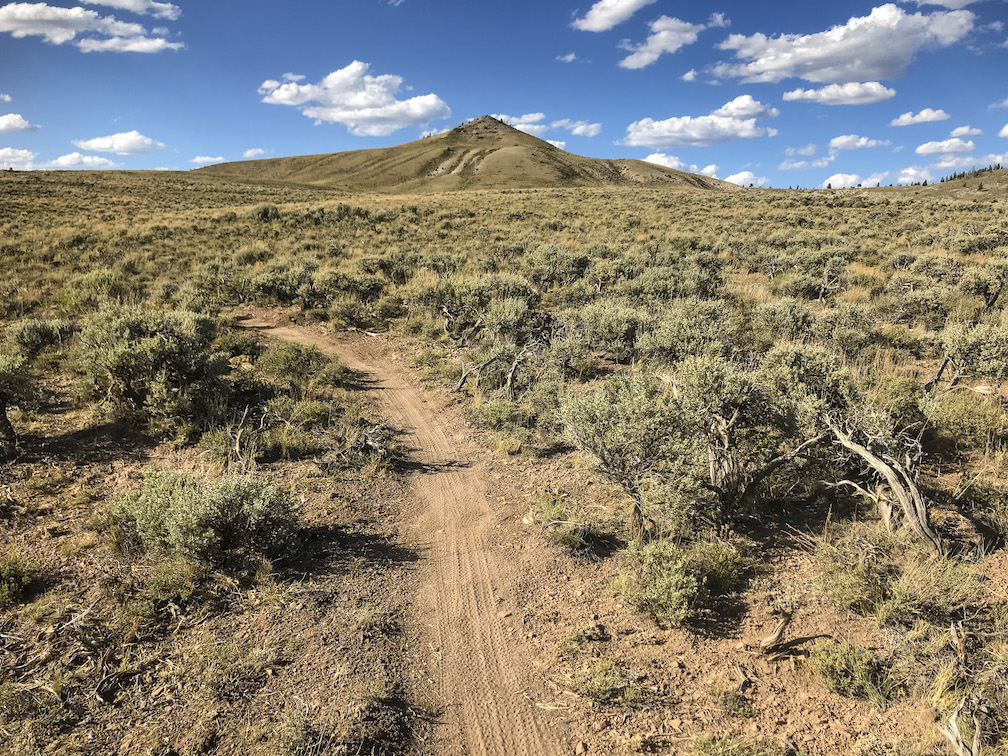 What are easy gravel rides on Signal Peak?
Cemetery Trail
Distance: 1.5 miles one way
Difficulty: Easy
This trail is 1.5 miles long. There is parking on WCU's campus just west of the trailhead. Watch out for the three cattle guards along the trail. This trail is wide, flat and well-maintained. It's a good trail if you're looking to get a feel for gravel riding. On the south side of the trail there is a small irrigation ditch. To the north you have views of sagebrush-covered hills. In summer wildflowers bloom along the trail. You can also access the Contour Trail from either the west or east side of this trail.
Contour Trail
Distance: 6.5 miles one way
Difficulty: Easy
This 6.5 trail is easy to intermediate. It begins on the valley floor and traverses up. You can access it from the parking at WCU or in the parking area by the Mountaineer Bowl. It connects almost all the trails in the Signal Peak area. The top of this trail gives you a great view of Gunnison. You can also see peaks in the Anthracites and the West Elk Wilderness in the distance. This trail can be ridden as an out and back or used to get to other trails in the area.
Gravel Riding in Pitkin, Colorado
This area of Gunnison Valley has few year-round residents, but for what it lacks in people it makes up for in access to the outdoors. OHV is especially popular in this area. County roads and Forest Service roads provide many miles of gravel roads to ride. There are also a number of mountain passes in the area that are popular for off-roading. Cumberland Pass and Hancock Pass are two of the most well-known. The road up to the Alpine Tunnel makes for a good e-bike or gravel ride, too.

What is an easy gravel ride in Pitkin?
County Road 76
Distance: 3.5 miles one way
Difficulty: Easy
This ride begins in the town of Pitkin on Main Street. In about half a mile turn left on State Street. This road turns into Forest Service Road 765. After three miles you will reach a fork with a sign for the Alpine Tunnel National Historic District, where you will turn around. For a longer ride you could begin on Highway 50 and ride the paved road into Pitkin through Parlin and Ohio City. This adds 23 miles and goes along Quartz Creek. The road winds through ranches and by views of Gunnison National Forest before reaching Pitkin.
Gravel biking in Crested Butte
Most gravel riding in Gunnison Valley is in Gunnison, though there is some in Crested Butte too. While Gunnison is mostly high desert, Crested Butte is a high alpine environment. You're more likely to encounter alpine lakes, meadows of wildflowers and stands of aspens in Crested Butte.
What is an easy/intermediate gravel ride in Crested Butte?
Gothic Road
Distance: 3 miles one way
Difficulty: Easy/Moderate
This ride is 3 miles one way. It starts at the Snodgrass trailhead in Mt. Crested Butte and ends at the townsite of Gothic, which is home to the Rocky Mountain Biological Laboratory (RMBL). The road is twisty and has a few small hills. In summer it is lined with wildflowers. In fall the aspens turn bright shades of yellow. The views of the Elk Mountains are spectacular. It is important to stay on the road so you don't disturb any of RMBL's experiments.
Mountain Biking in Gunnison and Crested Butte
If mountain biking is your thing, you won't run short of ride options in Gunnison and Crested Butte. There are 1200+ miles of trails in Gunnison Valley and 800 of them are singletrack. In Gunnison you can ride technical high desert at Hartman Rocks. There are over 50 miles of trails to bike at Hartmans, ranging from beginner to expert. Many trails in Crested Butte can be ridden to right from town. At a higher elevation than Gunnison, Crested Butte's environment is alpine. Flowy trails wind through meadows and aspen forests. Come in summer for the wildflowers or fall to see the aspens turn gold.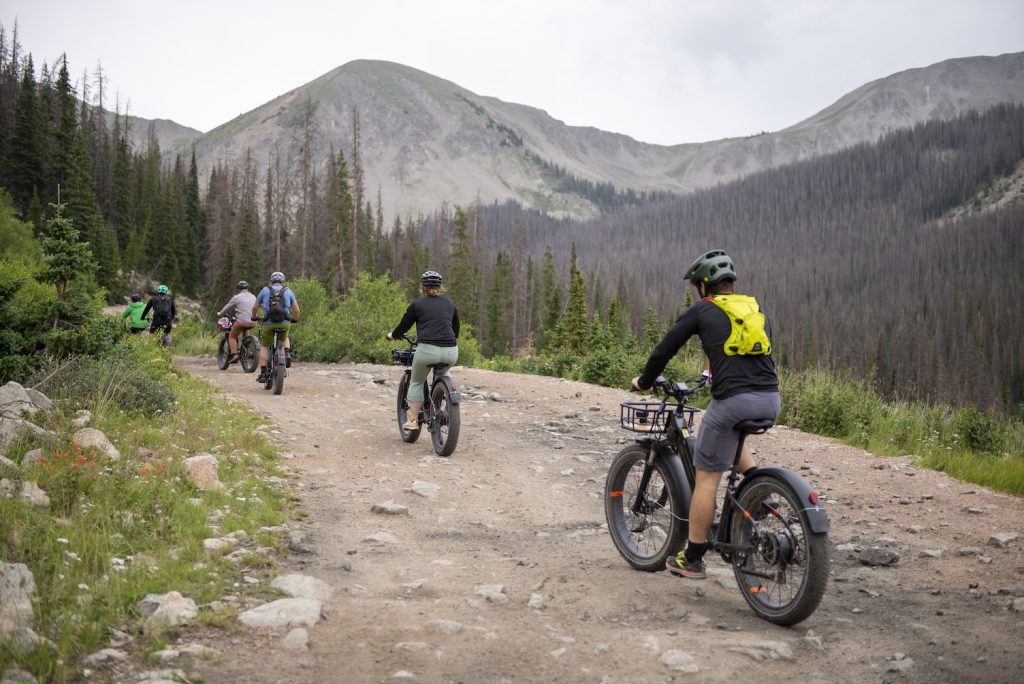 E-Biking in Gunnison and Crested Butte
E-bikes, or electric bikes, are another way to get out on the trails. Though similar to mountain biking, e-biking is not allowed on all the same trails as mountain bikes because e-bikes have motors. They are classified as motorized vehicles by most land managers. Make sure a trail allows motorized traffic before taking your e-bike out. If you're unsure or the signage for a trail isn't clear double check with the trail's local land management agency. The Crested Butte Mountain Bike Association has a complete list of trails that allow e-biking in the Gunnison Valley.
Bike Etiquette
Practicing proper bike etiquette helps keep you and others safe and protects the use of trails for biking. It's important to practice Leave No Trace for all outdoor recreation. First and foremost is to plan ahead and prepare. Know the route you plan to take and let someone know where you're going and how long you expect to be gone. Bring plenty of water, snacks and sunscreen. In the summer Colorado often has afternoon thunderstorms, so try to go early or bring rain gear. Know your equipment and how to repair it if necessary. Follow instructions on all trail signs. Don't ride a trail if it's closed or your type of bike isn't allowed on it. If biking on a road, ride with the flow of traffic. If you're in a group, form a single file line if a car is passing. Signal your turns, and make yourself visible with a red light on the back of your bike and a white light on the front. On the trail know who yields to whom. All bikes yield to hikers and horses. Uphill bikers have the right of way.
Planning Your Trip
While you're here, check out other things to do. Plan your trip ahead of time to find lodging, a route for getting here, and restaurant and shopping options. Check our events calendar to see what's going on while you're in town.