Crested Butte vs. Moab
Trying to decide between Crested Butte vs. Moab for your next mountain bike trip? Crested Butte, Colorado, and Moab, Utah, are two of the best places in the world to mountain bike. Both destinations have huge mountain biking trail systems and are surrounded by vast public lands. Moab is famous for being southern Utah's slickrock playground. Crested Butte is known for its scenic alpine trails through Colorado's wild Rocky Mountains. The best time to go mountain biking in Moab is during spring and fall, whereas the Gunnison Valley has a much longer and more diverse biking season due to the mild summer weather. We've compiled a guide to these two epic mountain biking destinations to help you find the perfect spot for your next mountain bike trip.
Gunnison vs. Moab
Gunnison and Moab both have extensive mountain bike trail systems in desert environments. Both towns are surrounded by public lands that contain scenic hiking trails and challenging climbing crags. Rivers run through both Gunnison and Moab, making them great places to go fishing, rafting, kayaking or stand-up paddleboarding. We've highlighted more similarities and differences below.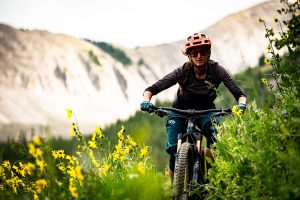 Locations
Where is Crested Butte?
Crested Butte, Colorado, population 1300, is in west-central Colorado, deep in the heart of the Rocky Mountains. It is situated at the north end of Highway 135, about 28 miles north of Gunnison. It is also located on the east end of Kebler Pass, a dirt road that is only open during the summer. Mount Crested Butte is just a few more miles up the road. Aspen lies about 15 miles north of Crested Butte as the crow flies. For more information on how to get to Crested Butte, including flight information, visit our Getting Here page.
Where is Gunnison?
Gunnison, Colorado, population 6,700, is located on the Western Slope of the Rocky Mountains. It is situated on Highway 50 between Salida and Montrose. Crested Butte lies 28 miles north of Gunnison on Highway 135. Gunnison is home to Western Colorado University. For more information about how to fly or drive to Gunnison, visit our Getting Here page.
Where is Moab?
Moab, Utah, population 5,300, is in east-central Utah. Moab is situated on Highway 191. Nearby cities include Green River and Monticello, Utah, as well as Grand Junction, Colorado.
Altitude and geography
What is Crested Butte's elevation and geography?
The town of Crested Butte lies at 8,909 feet in elevation. The rocky, mountainous terrain surrounding Crested Butte is covered in conifer and aspen forests. Above tree line (around 11,000'), the alpine zone is sparsely vegetated. Crested Butte is known as the wildflower capital of Colorado. Dozens of species of brightly colored wildflowers bloom around Crested Butte in July and August.
What is Gunnison's elevation and geography?
Gunnison is located at 7,703 feet in elevation. The area surrounding the city is classified as a high-desert ecosystem characterized by rolling hills of sagebrush that rise into crags covered by coniferous forest.
What is Moab's elevation and geography?
Moab is located at 4,026' in elevation. The area around the city is a desert landscape characterized by red sandstone cliffs and canyons.
When to visit
When is the best time to visit Crested Butte?
If you're coming to Crested Butte to mountain bike, keep in mind that the snow stays on the ground long into spring in the mountains. After a winter with average snowfall, trails in Crested Butte begin to dry out in May. High-altitude or shady trails usually open in late June or early July. The riding season extends into the fall. The season usually ends in October once snow starts to fall.
When is the best time to visit Gunnison?
Gunnison is at a lower elevation than Crested Butte and receives less snowfall on average, so trails open earlier in the spring. After a winter with average snowfall, trails in Gunnison usually dry out in April. Depending on snowfall, the riding season sometimes extends into November or even December.
When is the best time to visit Moab?
The most popular time to visit Moab for mountain biking is in the spring. Temperatures tend to be pleasant and mild in April and May. From June to September, highs can reach into the 100s, making biking less enjoyable. Temperatures drop in the fall, luring mountain bikers back to the desert in October and November.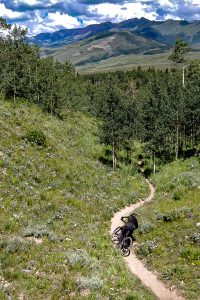 Mountain bike trails and trail systems
Crested Butte MTB trails
Mountain biking was pioneered in Crested Butte. Hundreds of miles of trails snake through the Gunnison National Forest and the other public lands surrounding Crested Butte. At lower elevations, trails wind through shady groves of aspens and Douglas-firs. Tree roots crisscross over the singletrack, creating natural steps. Higher up, the forest gives way to rocky hillsides and wide-open alpine meadows.
Easy Crested Butte bike trails
Lower Loop
Gunsight Connector
Lupine
Intermediate Crested Butte bike trails
Strand Hill
Snodgrass
Middle Cement Creek
Trail #401
Advanced Crested Butte bike trails
Green Lake
Mogul Storage
Farris Creek
Trail #409.5
Strawberry
Teocalli Ridge
Doctor Park
Deer Creek
Trail #403
Gunnison MTB trails
Gunnison is surrounded by a huge variety of spectacular Colorado mountain bike trails. Biking season in Gunnison varies year to year with snowpack, but generally trails are dry from mid-April to early November. Two large trail systems—Hartman Rocks Recreation Area and Signal Peak—are near Gunnison. The rolling hills around Gunnison make excellent cross-country mountain biking terrain. The trails at Hartman's are rocky and technical, whereas Signal Peak trails are smoother and more flowy. The high desert landscape is open, so you'll be rewarded with sweeping views of the surrounding mountain ranges when you gain a ridge.
Hartman Rocks Recreation Area
Hartman Rocks Recreation Area is a multi-use playground with more than 40 miles of singletrack trail. Hartman's is rocky and technical, but has trails for beginners, experts and everyone in between. Can't-miss trails include Bambi's, The Ridge, Top of the World, Josho's, Rattlesnake and Beck's. Check out our round-ups of the best beginner and intermediate Hartman's bike trails. Interested in trying other outdoor sports with wheels? Hartman's is also open to gravel biking, e-biking and OHV use.
Signal Peak
Signal Peak is home to dozens of miles of flowy, low-angle mountain bike trails. Its convenient location on the east side of Gunnison makes it a great spot for a mellow afternoon ride, perhaps after a day of remote work at the ICELab or a campus tour of Western Colorado University. Don't miss the gorgeous views and exhilarating downhill cruise on the 1.6-mile Chicken Wing trail. The Signal Peak area is closed for part of the spring for Gunnison sage-grouse conservation. Check out our spring trail restrictions page for more information.
Moab MTB trails
When comparing Crested Butte vs. Moab,  some of Utah's best mountain bike trails surround Moab. If you're an avid mountain biker, you've probably heard of Moab classics like The Whole Enchilada, Captain Ahab and Slickrock. Moab also has several MTB trail systems, including Klondike Bluffs, Klonzo, Navajo Rocks and the Moab Brand trails. Trails in Moab are often built entirely on slickrock. Mountain bike tires grip securely onto the slickrock, which allows for easier climbing. Trails are marked with cairns or paint stripes.
National Forests, National Parks and other public lands
Public lands in Crested Butte
Crested Butte is literally surrounded by public lands. Most is Gunnison National Forest. There are several wilderness areas in the Elk and West Elk mountains, including the Raggeds Wilderness, the West Elk Wilderness and the Maroon Bells-Snowmass Wilderness. The unique trails organizations in Crested Butte have also worked to build trails through private lands in several areas. Be sure to stay on the trail in these areas so everyone can continue to access these beautiful places.
Public lands in Gunnison
In Gunnison, both Hartman Rocks and Signal Peak are mostly managed by the Bureau of Land Management (BLM). Black Canyon of the Gunnison National Park is about 60 miles west of Gunnison on Highway 50. The Gunnison National Forest also encompasses much of the land near Almont, Taylor Canyon, Taylor Park, Pitkin and Gunnison.
Public lands in Moab
Moab is also surrounded by a wide variety of public lands. Two national parks—Arches and Canyonlands—are nearby. There are also several state parks, the most famous being Dead Horse Point. BLM land is in great abundance, including the vast Behind the Rocks Wilderness Study Area south of town.
Water
Lakes and rivers in Crested Butte
Crested Butte is surrounded by fresh water. The East and Slate rivers flow on opposite sites of Crested Butte. High alpine lakes dot the landscape, the largest being Lake Irwin, Lost Lake, Long Lake and Peanut Lake. Hundreds more small lakes and creeks can be found in the high country. Cutthroat, rainbow and brown trout live in the cold water of Crested Butte's lakes, rivers and streams.
Lakes and rivers in Gunnison
The Taylor River near Almont is a popular rafting and fishing spot. The Class II and III rapids on the Taylor are fun for the whole family. The Gunnison River begins in Almont where the East, Slate and Taylor rivers converge. It flows south through Gunnison and into Blue Mesa Reservoir. The water then flows through the Black Canyon and then into the Colorado River, which eventually runs through Moab.
Lakes and rivers in Moab
The Colorado River runs along Highway 128 and Potash Road in Moab. This section of the Colorado is a somewhat mellow and very scenic float through a deep red-rock canyon. The water in this stretch of river is brown and silty.
Wildlife
Wildlife in Crested Butte
Common wildlife in Crested Butte includes marmots, mule deer, elk, mountain lions, bears and occasionally moose. Birds flourish in the high alpine environment, so you'll likely see hawks, eagles and herons. Follow the principles of Leave No Trace and give all wildlife a wide berth. Keep food secure and hidden to prevent bear encounters.
Wildlife in Moab
Moab is home to many types of desert fauna, including mule deer, desert bighorn sheep, bats, coyotes, mountain lions and jackrabbits. Bears are not commonly seen in this area, but the large population of mice, chipmunks and squirrels means it's still necessary to keep food secure.
Dogs
How dog-friendly is Crested Butte?
Crested Butte is a dog-friendly town. You'll see leashed pooches on every block if you take a walk down Elk Avenue. Dogs are also allowed on all trails surrounding town. The mild summer climate and soft dirt around Crested Butte means dogs are generally comfortable outdoors. Visit our dog-friendly activities page for information on pet boarding facilities and pet-friendly things to do. Please leash your dog when required, and always pick up after your pet.
How dog-friendly is Moab?
Moab is a fun place for people, but it might not be the best spot to take your dog. Hot summer temperatures can be hard on pets, and slickrock can hurt their paws. Crowded trails are sometimes overwhelming or even dangerous for dogs, especially with bikes moving at high speeds. Consider leaving your pooch at a boarding facility or at home when you visit Moab.
Crested Butte hotels
No matter your style or budget, there's a great place to stay in Crested Butte. Cozy bed-and-breakfasts, slopeside hotels and pet-friendly condos can be found in Crested Butte and Mount Crested Butte. Visit our lodging page to book your stay, or check out our trip planning page for even more ideas. Looking to sleep outside instead? Plan ahead on our camping page.