Five Beginner Mountain Bike Trails at Hartman Rocks
Increase in popularity of mountain biking
During the pandemic, many people turned to mountain biking as a socially distanced and fun way to spend time outdoors. Mountain bike sales are way up, and interest in mountain bike trails and trips has increased.
MTB in Gunnison, Colorado
If you're a beginner mountain biker, Gunnison, Colorado is a great destination to hone your skills. Hartman Rocks, located just a few minutes' drive from the city of Gunnison, has nearly 50 miles of bike trails, many of which are rated as beginner (green). Hartman's is a sprawling, high-desert playground that feels similar to Moab, Fruita and Grand Junction. It's especially enjoyable to ride in the spring, when higher-altitude trails are still covered in snow. Due to the extensive trails, plentiful parking and multiple access points, Hartman Rocks rarely feels crowded. It's a great place to ride on either a hardtail or full-suspension mountain bike. In addition, the many miles of dirt roads at Hartman's are ideal for gravel biking. Hartman's is open to e-bikes and motorcycles, too.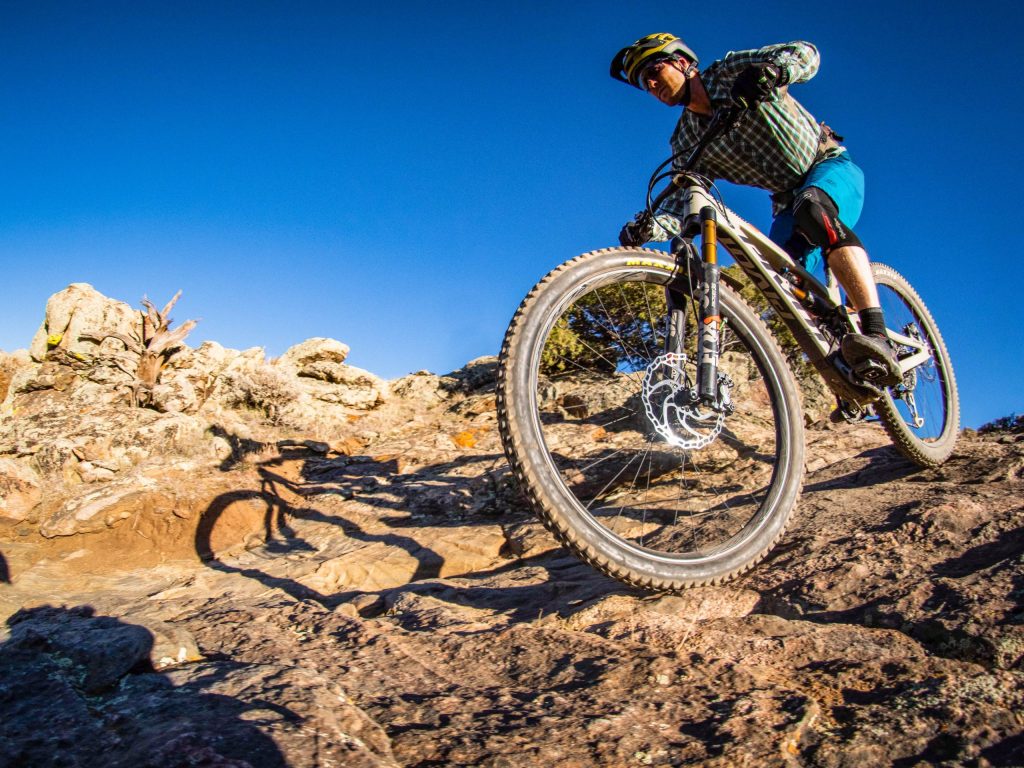 Best beginner MTB trails at Hartman Rocks
1. Evan's Loop
This 2.8-mile loop can be ridden clockwise or counterclockwise and is appropriate for any ability level. Kids, beginners and experts alike will enjoy the flowy trails through sagebrush. Evan's Loop consists of Broken Shovel (.9 miles), Lost Dog (.9 miles) and Sea of Sage (1.4 miles).
2. Luge
The Luge is a 1.2-mile flowy trail right in the heart of Hartman Rocks. It's best ridden south to north for maximum downhill enjoyment, but it can be ridden either direction. This trail will help beginner riders learn to increase their speed on a smooth trail with no rocks or technical features to worry about.
3. Nine-0
Nine-0 is a 1-mile trail on the south side of Hartman Rocks. For a fun descent, ride south to north. For an intermediate loop, ride Bambi's to 3560 Road to Nine-0 to Back In and back to Bambi's. Keep in mind that Nine-0 and all the other trails south of Powerline Road at Hartman's open May 15 for wildlife conservation measures.
4. Buddy Bear
Buddy Bear is an easy 1.2-mile trail with several mellow uphill and downhill sections. It can be ridden either clockwise or counterclockwise. This trail will let you get to know your bike and work on basic skills in a low-consequence setting. Connect with Sandy Wash, Luge or Josie's if you're feeling adventurous.
5. Enchanted Forest
Enchanted Forest is named for the many trees along this shady, .8-mile trail. Most of the rest of Hartman Rocks is covered in rock formations and sagebrush, so this is a unique and beautiful corner of the zone. Connect with Outback for an intermediate ride, or ride this trail as a warm-up for Aberdeen Loop.
Intermediate Mountain Bike Trails at Hartman Rocks
Ready for the next level? Check out some of our favorite intermediate mountain bike trails at Hartman Rocks.
Mountain Biking in Crested Butte
Crested Butte and the north end of the Gunnison Valley hold hundreds of miles of high alpine mountain bike trails. Learn more about the Crested Butte mountain biking on our mountain biking page.
Hotels in Gunnison, Colorado
Gunnison has tons of affordable hotels and vacation rentals. Find a great place to stay on our lodging page