Trip Itinerary: A Fall Weekend Trip to Crested Butte and Gunnison
It's time to start planning a Colorado fall weekend trip to Gunnison and Crested Butte! Though the Gunnison Valley is primarily known for summer and winter outdoor recreation, fall is also one of the best times to visit this part of Colorado. After Labor Day, the weather begins to cool off. The aspen leaves start changing and create amazing views. Mountain biking, hiking and fishing are excellent fall activities in Colorado. The trails are beautiful, and the weather is crisp. Don't let the season end and the leaves drop without getting outside to experience the fall colors! This guide is full of activities and amenities to help you plan a fall weekend trip to Crested Butte and Gunnison.
Day 1: Friday night
Arrive in Gunnison and head to Crested Butte
This is when you'll arrive in the Gunnison Valley for your Colorado fall weekend. Flying into Gunnison-Crested Butte Regional Airport (GUC) is the most convenient option for getting here. Fall flight schedules begin after Labor Day. There are car rental and shuttle services that can take you to your hotel or vacation rental. Check for any travel alerts, such as weather advisories and road construction, before traveling.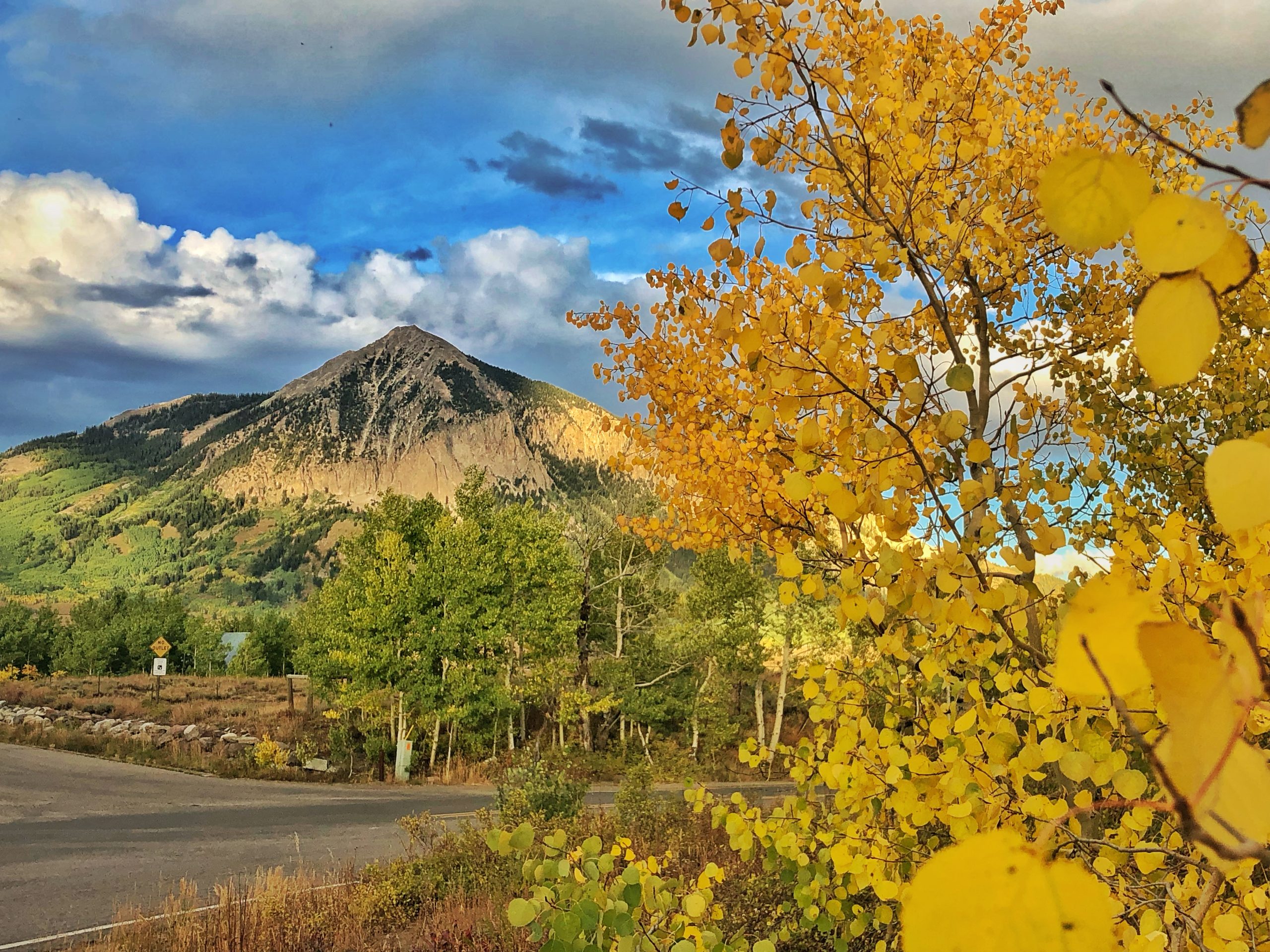 Hike on Woods Walk
Head out for a quick hike after arriving. Colorado weather can change quickly, so check it before heading out on any adventures. Pack extra layers, water and snacks. Woods Walk is an easy 1.4-mile out-and-back hike accessible from downtown Crested Butte. Head west where Whiterock Avenue turns into Kebler Pass Road. The trailhead is across from the parking lot on the north side of the road. This trail provides views of an aspen grove to the south and Crested Butte (the mountain) to the north. Grab a drink or bite to eat on Elk Avenue after.
Day 2: Saturday
Go mountain biking on Teocalli Ridge
Today is the day to go on a long mountain bike ride! The alpine environment of Crested Butte is perfect for aspen trees. In fall the aspens change from bright green to vibrant shades of gold and yellow. Sometimes they turn orange or red, though this is not as common. There are many rides to choose from that take you right through aspen groves. Brush Creek is an especially good zone for fall mountain bike rides because of the dense aspen groves in this area. Teocalli Ridge, one of the most famous trails in Colorado, is in Brush Creek. This ride is best for advanced mountain bikers. There are other fall trails to choose from for riders of varying skill levels.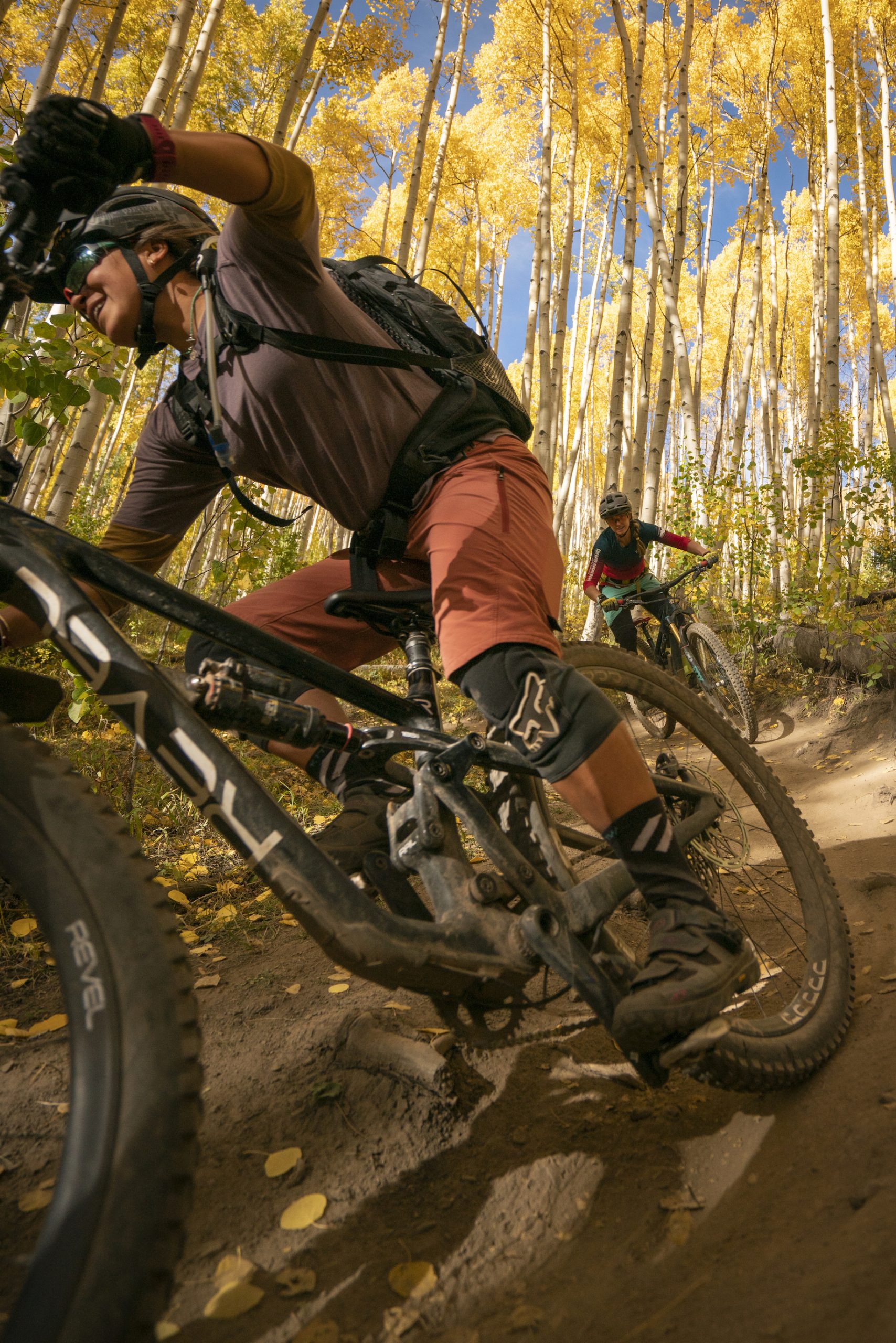 Other fall mountain bike rides in Crested Butte
Strawberry Trail (intermediate/advanced)
Star Pass (advanced)
The Dyke Trail (advanced)
Strand Hill Trail (intermediate)
Lower Loop (beginner)
Explore downtown Crested Butte
Head into town after your ride. Crested Butte is a former mining town turned quirky mountain town. Many of the colorful and brick buildings downtown are original. Grab something to eat and check out the many shops and galleries on Elk Avenue. There are also museums and venues for live music. Catch a show at a bar or the arts center.
Day 3: Sunday morning
Hike Oh Be Joyful trail
Use this morning to go on a hike before heading home from your Colorado fall weekend. Fall hikes allow you to be immersed in the fall leaves at a slower pace than you would on a bike ride. There are many hikes to choose from thanks to the 1200-plus miles of trails in the Gunnison Valley. One of the best fall hikes in Crested Butte is Oh Be Joyful. This intermediate trail is 6.5 miles out and back. It winds up to the top of the Slate River Valley. The entire hike has views of aspens from both sides of the trail. The full mileage of this trail ends at a crystal-clear alpine lake called Blue Lake. Oh Be Joyful has incredible views the whole way, so you can turn around whenever you want.
Other fall hikes in Gunnison and Crested Butte
Judd Falls (beginner)
Beckwith Pass (intermediate)
Green Lake (advanced)
Oh Be Joyful (intermediate)
Caves Trail (advanced)
Beaver Ponds (beginner)
Head back to Gunnison
Your Colorado fall weekend trip has come to a close, and it's time to head back to Gunnison to catch your flight or drive home. If you have time to kill before your flight, explore the laid-back college town of Gunnison. This charming mountain town is surrounded by trails and water to explore—not to mention a cute downtown area to relax in.
Things to do in Gunnison
Other things to do in Gunnison on a Colorado fall weekend include mountain biking, gravel biking, fishing, off-roading and going on a scenic drive. The best place to mountain bike ride in Gunnison is Hartman Rocks Recreation Area. Hartman Rocks is made up of distinct rock formations, fields of sagebrush and rolling ridges. The riding here is rocky and technical. The ridges provide excellent views of Gunnison.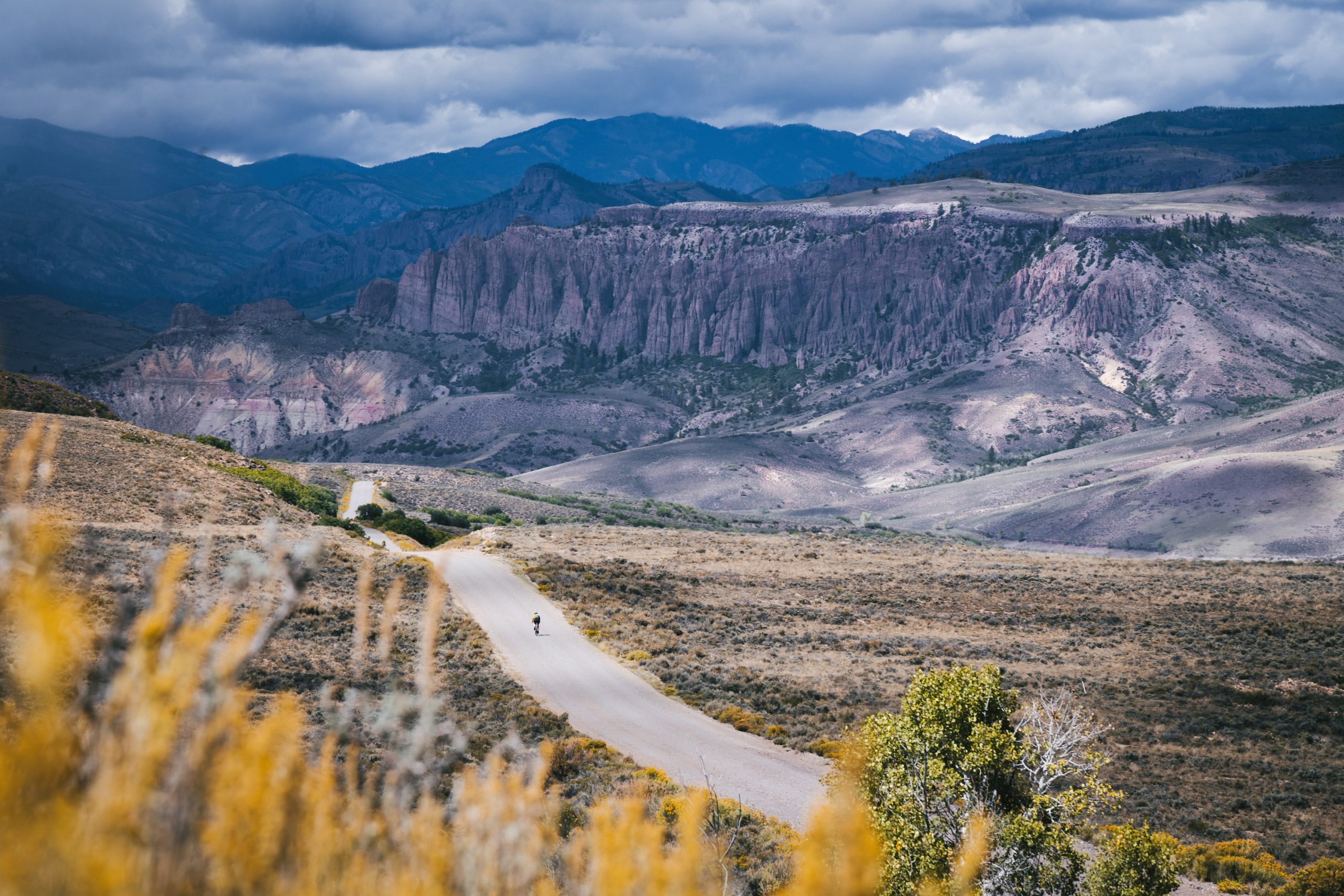 Gravel biking
Hartman Rocks is also one of the places you can gravel bike in Gunnison. There are over a thousand miles of gravel and dirt roads in the Gunnison Valley that are suitable for gravel biking. Many of these roads are in Pitkin, Taylor Park, Tincup and Ohio City. These are small communities on the outskirts of Gunnison.
Fishing
Fishing is another great fall activity in Gunnison. Gunnison is one of the few places in the U.S. you can experience an inland salmon run. Kokanee salmon swim upstream from Blue Mesa about 30 miles to the Roaring Judy Hatchery on the East River.
Off-roading
There are miles of motorized trails in Gunnison and Crested Butte for off-roading. Routes near Gunnison include Taylor Park, Waunita Pass, Cumberland Pass and Alpine Tunnel Road. Popular off-roading routes near Crested Butte include Paradise Divide, Schofield Pass, Cement Creek and Brush Creek.
Scenic Drives
Scenic drives allow you to see a lot in a shorter period. A few of Colorado's Scenic Byways go through the Gunnison Valley. Popular scenic drives include Kebler Pass, The Silver Thread Scenic Byway and Taylor Park Loop. Kebler Pass is home to one of the largest aspen groves in the U.S. The trees on Kebler Pass are massive in height and width. This is one of the best places in the Gunnison Valley to see fall colors.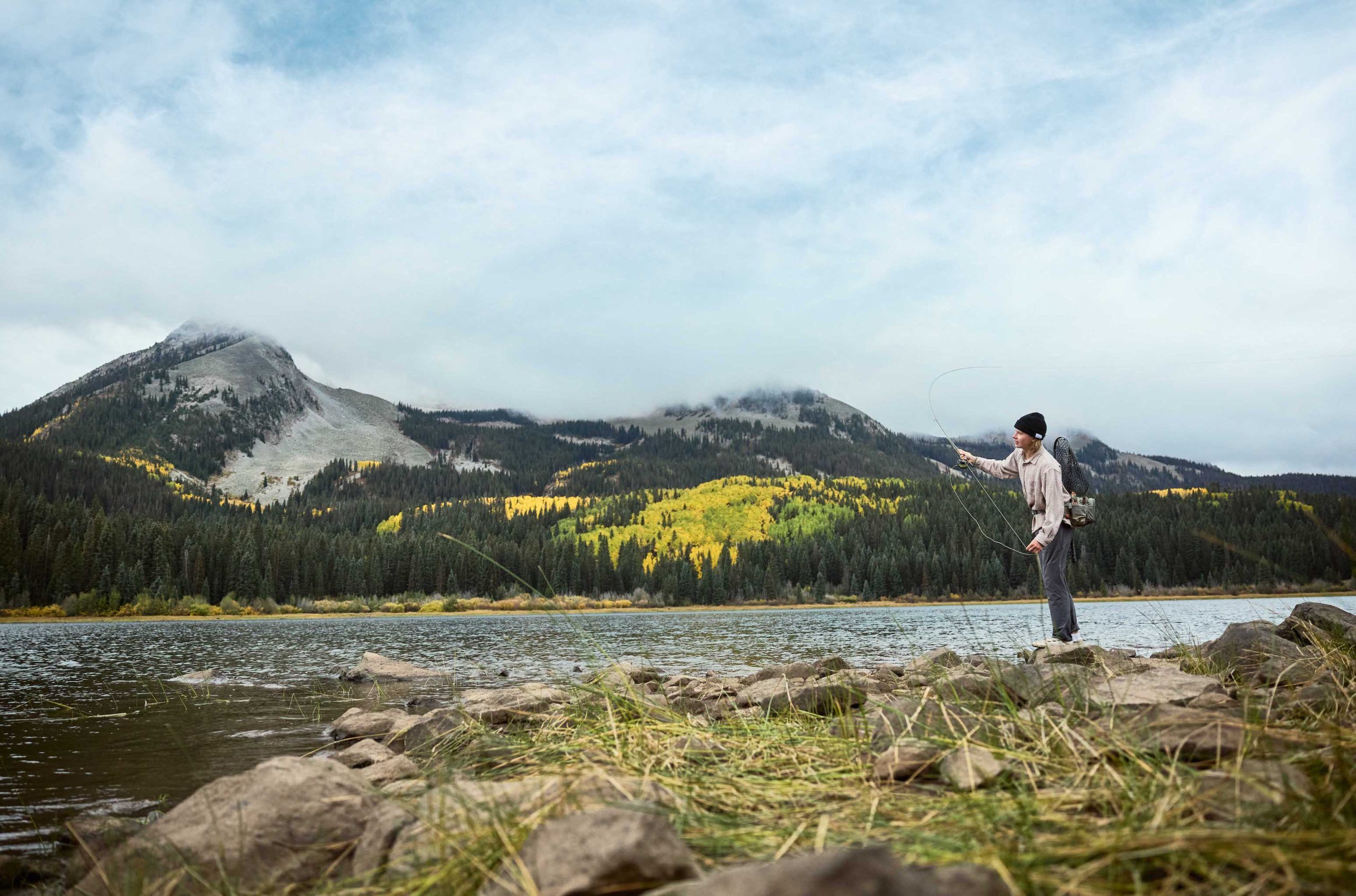 Fall events
Check out our fall guide to find out what fall events might be happening during your visit. Crested Butte Nordic's Thanksgiving Camp and opening day at Crested Butte Mountain Resort happen in November.
Annual fall events
Chili and Beer Festival
The Gunni Grinder
Crested Butte Film Festival
Western Colorado University homecoming
The Grand Traverse Mountain Run and Bike
Bridges of the Butte
When do aspen trees change in Colorado?
You usually begin seeing fall leaves in September. They tend to hit their peak in mid-September and are done by late October in Crested Butte. This varies by year based on factors like sun exposure and temperature. Elevation is also a factor. Lower elevation cities such as Colorado Springs will change later in the season. Higher elevation cities like Leadville will have fall leaves earlier. It is impossible to predict when exactly the leaves will change because of these factors. However, because they change over the course of weeks, you're in for spectacular views and colors even if you miss the peak.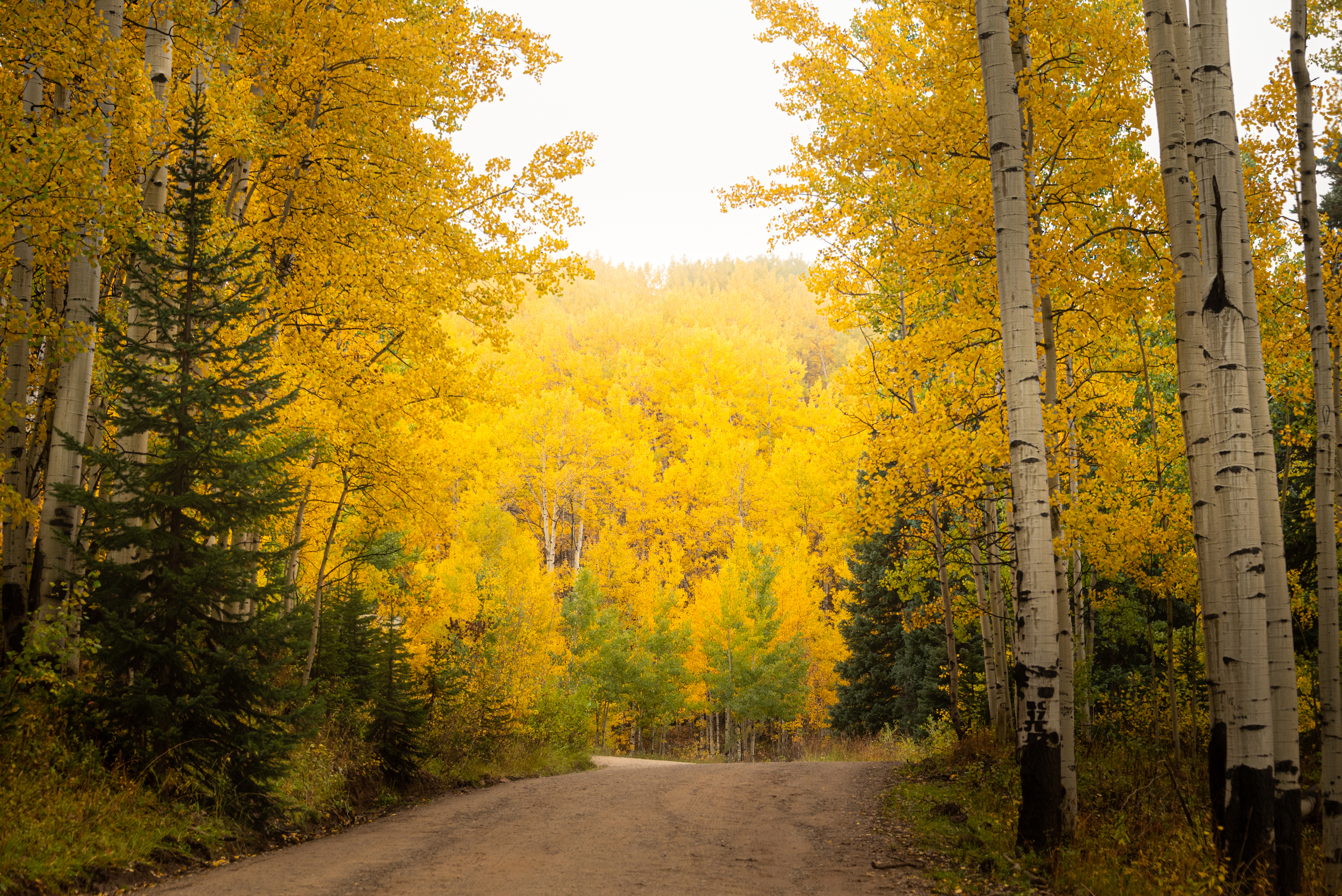 Where is the best place to see aspen trees in Colorado?
Aspen trees grow between 5,000 and 12,000 feet in elevation. They are characterized by smooth white bark and trembling leaves. Aspens grow in groups that are clones of each other. Clones grow because of a process called root sprouting. In the fall you can tell which trees are clones because the leaves change at the same time. The mountains around Gunnison and Crested Butte are some of the best places to see fall colors in Colorado.
What is fall weather like in Gunnison and Crested Butte?
Fall weather tends to be cold at night and brisk during the day. Gunnison highs during September and October range in the high 50s to low 70s. Lows are in the 20s and 30s. The highs in Crested Butte range from the 50s to low 60s. Lows are in the 20s and 30s. Fall is usually dry and sunny, but rain and snow are also possibilities. Pack lots of layers and warm clothes. Always check the weather before heading out on an adventure, and come prepared for changes in the weather.
Planning your fall trip to Colorado
Most of the aspen trees in the Gunnison Valley are in Crested Butte because of its elevation. If you're visiting primarily for fall leaves Crested Butte is a good option for a place to stay. Choose Gunnison for a more affordable option. No matter where you stay, you'll have access to the two million acres of public lands in the Gunnison Valley. Book flights early into GUC to get the best rate. Utilize the free public transportation options to get around.