Fall Mountain Biking in Crested Butte
Fall mountain biking in Crested Butte and Gunnison allows you to enjoy Colorado's fall foliage while riding some of the world's best bike trails. This guide will answer all your questions as you plan your Colorado fall mountain biking trip. Nearly any trail in the Gunnison Valley will give you at least a glimpse of the changing aspen leaves, but we've put together a list of the best Crested Butte MTB trails for fall foliage. You'll also find information about other Colorado fall activities, including kokanee salmon fishing, scenic drives, and fall events in Crested Butte and Gunnison. Check out our mountain biking trip planning page for information on lodging, flights and even more trails!
Best Mountain Biking Trails to Ride in Fall
The best mountain bike trails to ride in fall are mostly located around Crested Butte, because that's where most of the Gunnison Valley's aspen trees are concentrated. Here are some of the best fall rides in CB.
Teocalli Ridge
In addition to being one of the most popular trails in Crested Butte, Teocalli Ridge is one of Colorado's top mountain bike trails. To ride Teo Ridge, you'll park near the intersection of Brush Creek Road and West Brush Creek Road. There is limited parking available here, so park farther west on Brush Creek Road if necessary. You'll ride up West Brush Creek Road for a few miles before the road dead-ends at Teocalli Mountain Trail #554. This two-mile climb is brutally steep. Most mortals will alternate between riding and hike-a-bike. Take in the views of the Pearl Pass area when you reach the top. As you begin the steep and fast descent, you'll face south towards the Brush Creek drainage and Strand Hill. This is where you'll see the most foliage during Fall mountain biking season. Be sure to take a few breaks during the downhill to soak in the scenery.
The Dyke Trail
The Dyke Trail is located near Kebler Pass, west of Crested Butte. Kebler Pass is known for its large aspen groves that change dramatically from green to gold in fall. The Dyke Trail itself is 5.5 miles long but can easily be made into a 12-mile loop by linking it with the Kebler Pass road, Kebler Wagon Trail #606, and County Road 826. The best direction to ride the Dyke Trail is from east to west, starting on end closer to Lake Irwin. The Dyke is a sharp, toothy ridge that is the apex of the climb. Enjoy the views of the Ruby Range at the top. The descent will have you flying through a huge aspen grove that is unbeatable during fall.
Strand Hill
On the Strand Hill trails, you'll ride through thick aspen groves that give way to meadows where you can take in views of the golden, aspen-covered hillsides that surround you. It's one of the best places in Crested Butte to view the changing leaves. The Strand Hill trail system is appropriate for intermediate riders and above. A popular short ride is to park at the Brush Creek trailhead and ride northeast on Brush Creek Road. Turn right (east) onto Canal Trail and enjoy a mellow climb to the Strand Hill Road, which becomes steeper and leads to the top of Strand Hill trail. Strand Hill trail descends steeply over aspen tree roots and rocks. Ride down Canal Trail and back to your vehicle on Brush Creek Road. If you're looking for an expert route in this area instead, ride up Trail #409 to Point Lookout and down Trail #409.5, one of the Gunnison Valley's rowdiest downhill segments.
Star Pass
Star Pass (Trail #400) is a challenging trail that lies deep in the backcountry of Crested Butte, up the Cement Creek drainage. Star Pass is a rocky, high-altitude trail with high exposure. It can be linked with many other nearby trails, including Upper Cement Creek, Hunters Creek, Crystal Peak, Double Top, Block & Tackle and Waterfall Creek. Whichever route you choose, be prepared for some serious elevation gain and lots of small rocks on the trail. Many of the trails in this area are above treeline, so on the ridges you'll have panoramic views of changing aspen leaves in the West Elk Mountains and Maroon Bells.
More MTB info
For more information on places to ride your bike in Crested Butte and Gunnison, visit our mountain biking page. We also have guides to gravel biking and e-biking.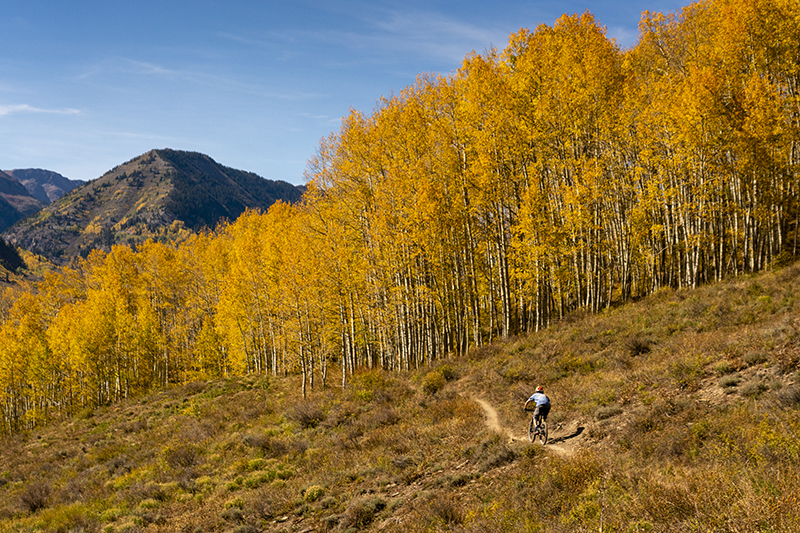 When do aspen trees change in Colorado?
Aspen trees in Colorado change from late August to late October. Peak fall foliage season in Crested Butte is mid-September. Leaves mostly turn gold, but sometimes turn orange or red. Colorado cities at lower elevation, such as Durango, will experience the changing leaves later in the season. Leaves in higher-elevation towns, like Leadville, will change earlier. Exactly when aspen leaves will change is impossible to predict. It can be affected by many factors, including temperature and sun exposure. The good news is, the foliage changes over the course of many weeks, and it's beautiful even if you don't catch it at its peak.
Where do aspen trees grow?
Quaking aspens (populus tremuloides) grow across North America but are most common in Utah and Colorado. They are known for their smooth, white bark and distinctive trembling leaves. Aspen trees are usually found between 5,000 and 12,000 feet in elevation. Aspen trees are known for their ability to clone through root sprouting. This results in groups of trees that are all clones of each other. It's easy to spot the clones in fall since the leaves of cloned trees all change at the same time.
Other Colorado fall activities
Scenic drives
Enjoy the fall foliage from the comfort of a vehicle. There are many scenic drives in the Gunnison Valley, including Cottonwood Pass, Cumberland Pass and Ohio Pass. Visit our scenic drives page for more information.
Kokanee salmon fishing
Kokanee salmon swim upstream from Blue Mesa Reservoir every fall to spawn in the Gunnison and Taylor rivers. These large fish provide a unique experience for anglers in a place already famous for world-class trout fishing. Learn more about the fall salmon run in Gunnison.
Fall events
The Mt. Crested Butte Chili and Beer Festival is an annual celebration held every September at the base area of Crested Butte Mountain Resort. Sample many different types of chili and Colorado's famous craft beer, all while enjoying the changing aspen leaves in beautiful Mt. Crested Butte. The Crested Butte Bike Park is open Friday through Sunday in fall, so ride some lift-served Crested Butte downhill trails while you're there.
For more fall events, check out the events calendar.
Fall weddings in Crested Butte
Fall is a great time to hold a Colorado wedding due to the picturesque fall foliage and fair weather. Crested Butte and Gunnison are far more affordable than other mountain towns like Aspen, while providing the same gorgeous scenery and outdoor activities for guests. Learn more about venues and vendors for your fall wedding on our weddings and events page.
Planning your fall Mountain Biking trip to Crested Butte and Gunnison
Learn more about flights, hotels and insider travel tips on our mountain bike trip planning page.