Road Biking in Crested Butte and Gunnison
Colorado Bike season is here! You could practically never run out of miles to cycle in Gunnison and Crested Butte. Gunnison Valley in Colorado's Western Slope is known for having over 750 miles of mountain biking trails, but did you know we also have some beautiful and fun road biking? If mountain biking isn't your thing, or you're looking for a smoother ride, bring your road bike along on your visit to Crested Butte and Gunnison and see what we have to offer. Our roads have even been part of Ride the Rockies in years past! If you want to ride while visiting Gunnison and Crested Butte but can't bring your bike, several bike shops in town offer rentals. Be sure to use their expertise if you have questions about routes or need repairs done on your bike too. To get you started, here are six Colorado road bike routes in the Gunnison Valley.
Ohio Creek Road
For a quick ride in Gunnison, check out Ohio Creek Road. This is a partially paved road that runs along ranches and has views of the Anthracites in the West Elk Mountains. You'll also see the Castles, which are large rock formations resembling towers and pinnacles in the West Elk Wilderness of Gunnison National Forest, one of Colorado's many public lands areas. With a few hills and possible views of wildlife in the pastures along the way, it makes for a fun and interesting ride. You could get there from pretty much anywhere in town by getting on the Gunnison Bike Path, which begins in the City Market parking lot and will take you right to Ohio Creek by running alongside the highway and going under an underpass by the river. Head north and stay on the bike path for three miles before taking a left onto Ohio Creek Road. There's also a parking lot at the beginning of Ohio Creek Road. After 12 miles of pavement, the road turns to dirt but is still passable on a road bike. You could continue to Crested Butte and use Highway 135 to loop back to Gunnison, which is about a 56-mile ride. If you do this be aware that eventually the road turns into Kebler Pass Road at the Y intersection near Irwin. Or you could turn around at any point depending on how far you want to go. The farther you go, the better the views of the West Elk Mountains you'll see.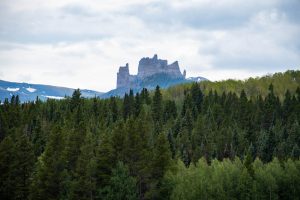 Taylor Canyon
Are you looking for a scenic ride on winding roads through a rugged canyon? Taylor Canyon may be a good choice. This road, also known as County Road 742, goes past popular rock-climbing routes and along the Taylor River. It can be shortened or lengthened depending on what kind of ride you're looking for. If you're starting in Crested Butte, expect a 63-mile round trip. You could take the alternate Almont route (all paved), making it 70 miles.
Coming from Crested Butte, follow Highway 135 south past Crested Butte South and take a left at Jack's Cabin Cutoff. The road turns to dirt after a mile and begins to climb. The road isn't the smoothest, but skinny tires will be OK. After about six miles Jack's Cabin Cutoff becomes Taylor River Road. Take a left and keep climbing. You'll reach the reservoir after a final climb up the dam. The road will level out just past the dam. You'll reach a parking lot on the left after about .5 miles. Don't forget to take in the views of the Collegiate Peaks before turning around. For the longer route keep going south on Highway 135 to Almont and take a left onto Taylor River Road. This road is fully paved.
To start from Gunnison, head north on Highway 135 and take a right onto Jack's Cabin Cutoff and follow the same route up. Round trip from Gunnison is about 60 miles. For a shorter ride, park at Almont and ride for 42 miles. Be mindful of the wind on this ride. To add even more miles to your ride, at Taylor Reservoir you could get on Cottonwood Pass which is about 31 miles and goes to Buena Vista, Colorado. The top of the pass offers excellent views of the east and west sides of the Continental Divide. This road is beautiful but very steep and twisty; caution should be exercised when riding on it. Your ride will end in Buena Vista.
Mt. Crested Butte Climb via Gothic Road
This ride will take you through the town of Mt. Crested Butte, giving you views of the valley at the end. Begin this ride in Crested Butte on Highway 135, which is called Gothic Road in town. The road starts with some switchbacks and levels out as you pass Saddle Ridge on your left. Once you pass the' "Welcome to Mt. Crested Butte" sign, the road becomes very steep. Keep climbing as you pass the ski resort and see Elk Mountain come into view. The pavement ends at the Snodgrass trailhead parking area. Be sure to take in the view before turning around. Watch out for gravel and loose rocks on your descent. Round trip this ride is about 8.5 miles. For more miles, and a good workout, you could do intervals, or add it on to another route.
Kebler Pass
If you're looking for a ride along a mountain pass, check out Kebler Pass. This ride will take you through spectacular aspen groves and offers views of big peaks. It's especially lovely in the fall when the aspen leaves are changing! To begin head west down Whiterock Avenue in Crested Butte. The road becomes Kebler Pass and begins with an immediate climb that takes you above Crested Butte. The beginning is the steepest part. The road begins paved and turns into packed dirt a few miles in. It is generally in good shape and fine for skinny tires. After a few more miles it becomes pavement again. Kebler Pass Road is 30 miles one way. You could turn around at any point depending on how long a ride you're looking for. On the way back expect views of Mt. Crested Butte and the town of Crested Butte as you get closer to the end.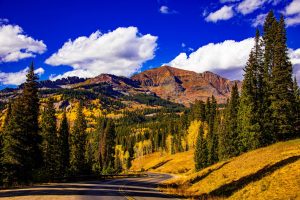 The Million Dollar Highway
Highway 550 runs from Bernalillo, New Mexico, to Montrose, Colorado. A 25-mile stretch of this highway in Colorado is known as The Million Dollar Highway and goes between Silverton and Ouray. It is part of the San Juan Skyway. The scenery on The Million Dollar Highway is amazing and iconic, but the road is steep and busy, and has no guardrails. Be prepared to watch out for cars and other potential hazards, and don't be afraid to stop to safely take in the views. This section of road has been featured on Ride the Rockies several times over the last few years. This event gives riders a tour of some of Colorado's most beautiful views and takes them through some of our most unique mountain towns.
If you want to ride The Million Dollar Highway but prefer the idea of avoiding cars, check out the Iron Horse Classic. This ride goes from Purgatory Ski Resort in Durango, Colorado to Silverton, Colorado, and the highway closes to cars for it.
Black Canyon of the Gunnison
Have you ever ridden alongside a canyon in a national park? Your trip to Gunnison and Crested Butte could give you the chance to. Located about two hours from Crested Butte and an hour from Gunnison, the Black Canyon of the Gunnison National Park in Colorado has some of the sheerest walls, narrowest openings, and long depths of any canyon in the United States. All of these combined makes it a one-of-a-kind canyon. Its dark, painted-looking walls with a river at the bottom offer breathtaking views for a ride.
To ride the South Rim, you could start from the park entrance off Highway 50 or at the visitor center. To start at the entrance, you'll begin with a six-mile climb to the entrance station. Take note that you will have to pay an entrance fee to use the national park. From the entrance station, it is six miles to the turnaround at High Point. There are several scenic overlooks and a Visitor Center along the way. The Visitor Center has water and bathrooms and several of the overlooks also provide bathrooms. The road is paved the whole way, but is twisty and doesn't have a bike lane, so be mindful of cars and sharp turns while riding. The descent back to Highway 50 is fast and twisty, but not too technical. Continue to watch out for cars and also deer. This ride is about 24 miles round trip. If you start from the Visitor Center and go to High Point, it will be about 10 miles round trip. We recommend hitting this ride earlier in the morning or the evening to avoid vehicles.
For a quieter ride with less traffic but equally stunning views, you could ride the North Rim, though we recommend only doing this ride if you have a gravel bike as the road isn't paved. From the parking area, it's about six miles to the end, making it 12 miles round trip.
Summer activities in Gunnison-Crested Butte
Whether you're looking for an easy ride close to town, something with fantastic views, or steep climbs and descents, we're confident Gunnison and Crested Butte have what any visiting roadie is looking for. Whatever route you choose we hope you'll wake up feeling refreshed and excited to see Crested Butte and Gunnison by bike.
There are so many things you could do on your visit to Crested Butte and Gunnison, Colorado. If you're feeling a different type of biking you could check out some mountain biking trails. We also have an abundance of hiking trails, rivers to raft and fish, rocks to climb, good food to eat, and cool towns to see. Check out our activities page to learn more!
Crested Butte and Gunnison hotels
Whether you're looking for a cabin or a condo, a hostel or a traditional hotel, we've got you covered for a vacation rental. Visit our Lodging page to learn more!