Crested Butte vs. Wolf Creek
Considering Crested Butte or Wolf Creek for your Colorado ski vacation? Crested Butte is a quirky ski town in the heart of Rocky Mountains. It's known for steep and extreme ski terrain. Wolf Creek is a ski area in southwestern Colorado known for high snowfall. When you're deciding on a spot for your next ski trip, consider the type of terrain, how to get there and other things to do. Keep reading to learn more about Crested Butte vs Wolf Creek.
Where is Crested Butte, Colorado?
Crested Butte, Colorado is located at the literal end of the road—Highway 135 to be exact. It's in Gunnison County in the Rocky Mountains of west-central Colorado. It's about a four-hour drive from Denver. Crested Butte is about 30 miles north of Gunnison, Colorado on Highway 135. Crested Butte Mountain Resort (CBMR) is in Mt. Crested Butte, Colorado, which is just a few miles north of Crested Butte. The base elevation at Crested Butte Mountain Resort is 9,375 feet. The elevation of the peak is 12,162. CBMR's average annual snowfall is 234 inches.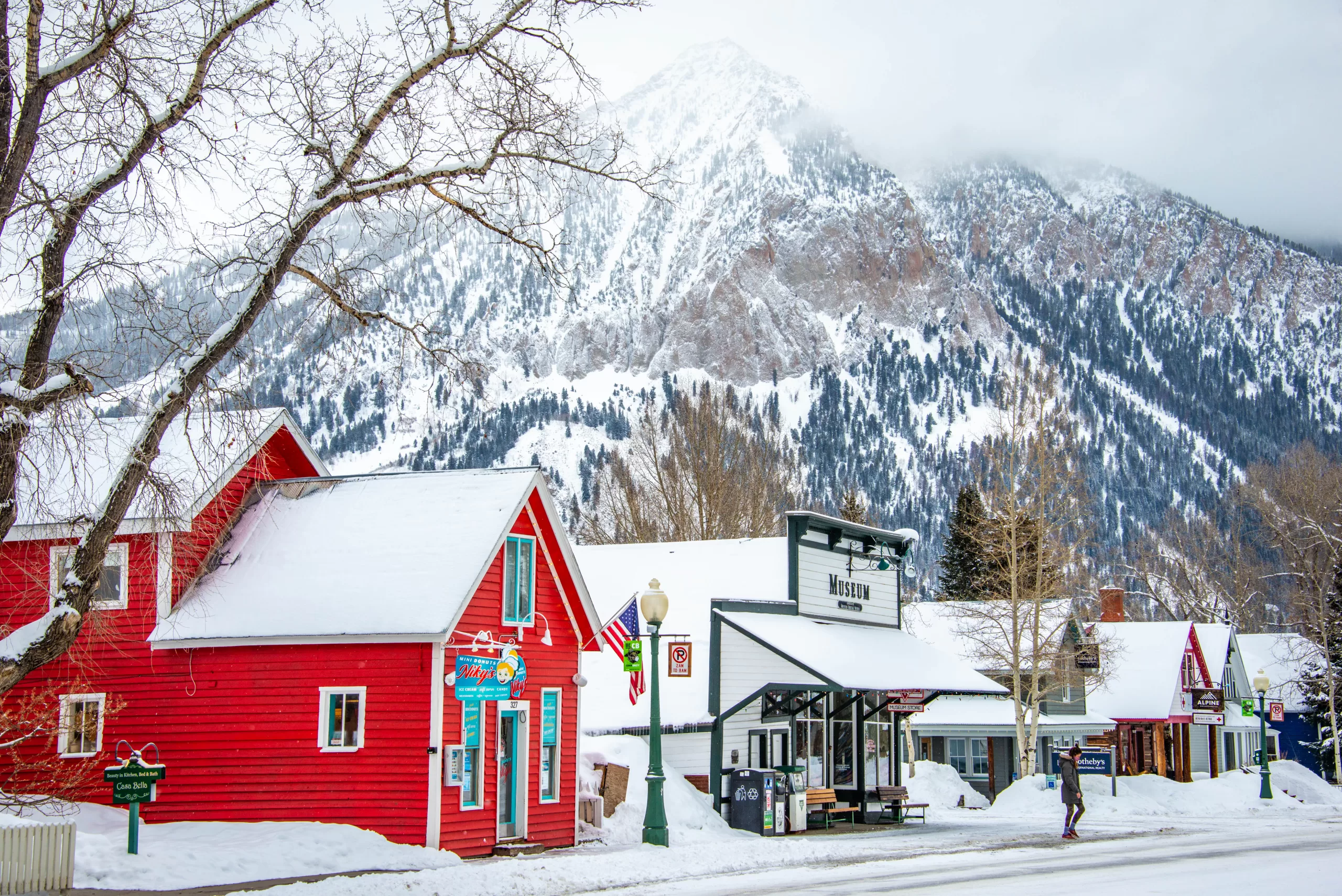 Where is Wolf Creek in Colorado?
Wolf Creek Ski Area is at the top of Wolf Creek Pass on Highway 160. It's between Del Norte and Pagosa Springs, Colorado. It is about 24 miles northeast of Pagosa Springs. The ski area is located right off the highway. The drive from Denver takes about four and a half hours. The base elevation is 10,300 feet and the summit is 11,904 feet. Wolf Creek receives 430 inches of snow on average every year—the most in Colorado.
How to get to Crested Butte, Colorado
Flying is the easiest way to get to Crested Butte. Gunnison-Crested Butte Regional Airport (GUC) is located in Gunnison. GUC has multiple arrivals and departures every day. To get to Crested Butte from the airport you can hire a shuttle, rent a car or take the free bus. There is also a free shuttle in Crested Butte that goes right to the base area of CBMR. If you're driving from Denver, take U.S. Highway 285 S through Buena Vista to Highway 50 W over Monarch Pass. Highway 50 connects to state Highway 135 N in Gunnison, which ends in Crested Butte. You can avoid I-70 to get here! If you're visiting in the summer, you can also take Cottonwood Pass from Buena Vista.
How to get to Wolf Creek
Wolf Creek Ski Area is located at U.S. Highway 160 E, Pagosa Springs, Colorado. From Denver you can take U.S. Highway 285 S, Interstate 25 S, or Interstate 70 W to get to Wolf Creek. You will have to drive on Wolf Creek Pass to get to the ski area. Wolf Creek Pass is on U.S. Highway 160. Check road conditions and closures before driving in the winter. Durango-La Plata County Airport (DRO) is the nearest airport.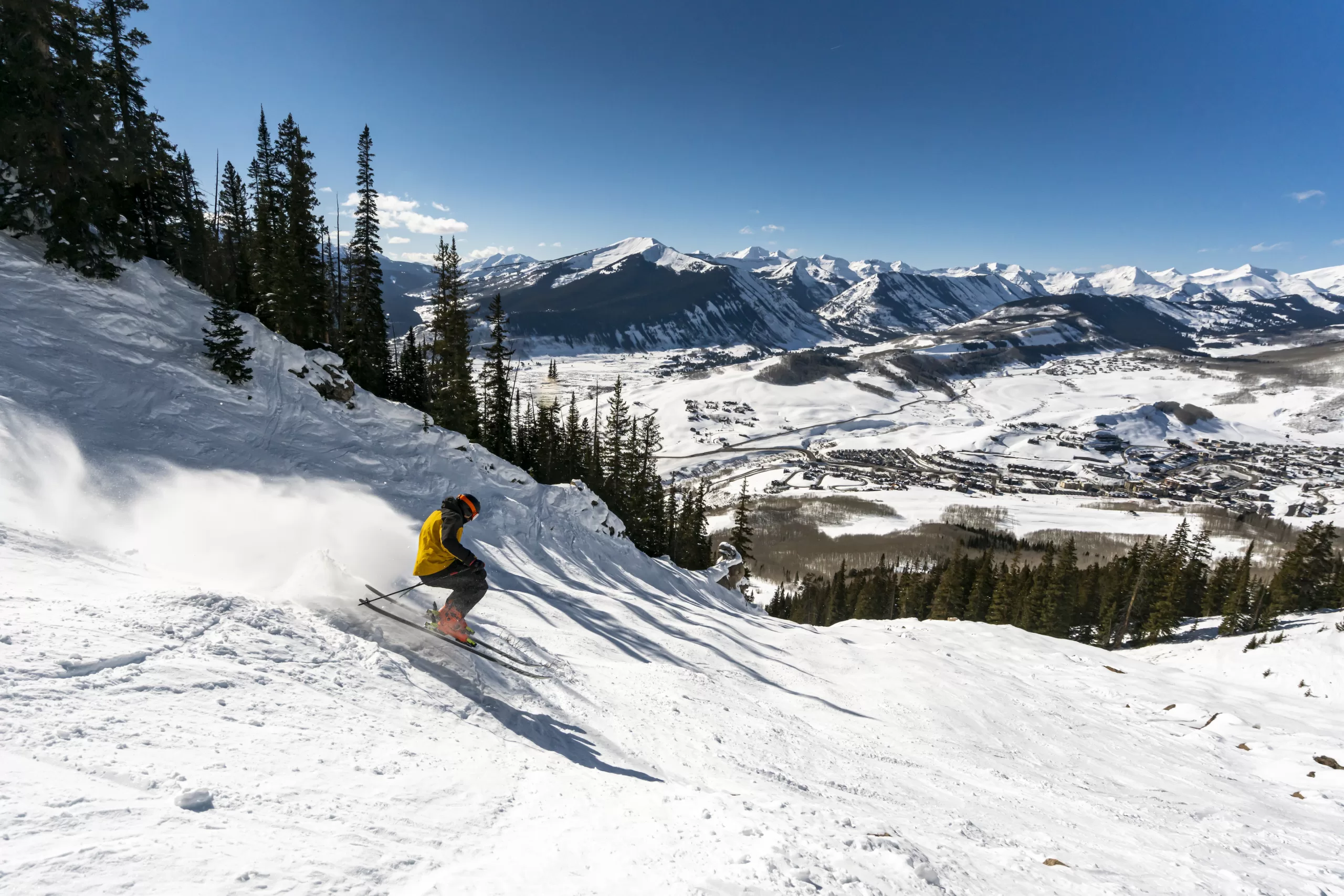 Skiing at Crested Butte vs Wolf Creek
Skiing at Crested Butte
Crested Butte Mountain Resort has some of the steepest in-bounds skiing in the U.S. CBMR is known for this terrain. This is the place to ski if you're an expert skier and love challenging yourself on steep and extreme terrain. Check out some of the best double-black runs at Crested Butte Mountain Resort. However, there is terrain for skiers of all abilities on CBMR's 1,547 skiable acres. 14% of the mountain is beginner, 24.6% is intermediate, 24.8% is advanced and 36.6% is expert. Start planning what blue runs you want to try with this guide to intermediate runs at Crested Butte. Brand new skiers can take advantage of the Crested Butte Ski and Ride School to sharpen their skills. Crested Butte Mountain Resort is on the Epic Pass. CBMR doesn't have any backcountry or side-country access, but the Gunnison Valley has over two million acres of public lands. There is plentiful backcountry skiing in the area for you to check out by yourself or explore with a guide service. If you plan to be in the backcountry, please ensure you have the necessary skills, knowledge and equipment to safely navigate avalanche terrain.
Skiing at Wolf Creek
Wolf Creek Ski Area has a variety of runs for skiers of many abilities. Many of the runs are mellow and family-friendly. It has 1,600 skiable acres. 20% of the terrain is beginner, 35% is intermediate, 25% is advanced and 20% is expert. Wolf Creek is privately owned and on private land. They have flexible opening and closing dates. Most ski areas are on leased Forest Service land and have strict opening and closing dates. Wolf Creek also gets the most snowfall in the state. They don't have any snowmaking operations because they don't need to!
Après at Crested Butte vs Wolf Creek
Après at Crested Butte
Crested Butte has a few après spots on the mountain and in the base area. Get some turns in, and then take a break and check them out! Once the lifts stop spinning and the ski day is over, head to Elk Avenue in the town of Crested Butte. Check out bars with a local flair, Crested Butte-made rum and yummy cocktails. Choose from places to eat that range from pizza, burritos, French cuisine, fried chicken and more.
Après at Wolf Creek
There is no town at the base area of Wolf Creek. The mountain is off the highway at the top of Wolf Creek Pass. There are a couple places to eat and get drinks on the mountain. The main après scene is in Pagosa Springs, which is about 24 miles away. Downtown Pagosa has breweries, places to eat and bars.
Nordic skiing in Crested Butte vs Wolf Creek
Nordic skiing in Crested Butte
Often referred to as "the Nordic ski Capital of Colorado," Crested Butte is home to many miles of pristine cross-country ski trails. The Crested Butte Nordic Center grooms 50 kilometers (about 31 miles) of trails for cross-country skiing, snowshoeing and fat biking. Most of the trails require a pass. Not all of them are open to snowshoeing and fat biking. Some are also dog-friendly. Please double check before heading out, and purchase any necessary passes (for you and your pup). Though the Nordic Center trails are close to town, it won't take you long to get away from the noise and people of town. Many popular summer hiking and biking trails can also be cross-country skied in the winter. These trails won't have a groomed track. Gunnison Nordic grooms a few places to ski in Gunnison. Mill Creek and Hartman Rocks Recreation Area are a couple miles outside of town. Van Tuyl Ranch, Dos Rios Golf Club and the Western Colorado University practice field are all in town.
Nordic skiing at Wolf Creek
The Alberta Park Area at Wolf Creek has 10 kilometers (about six miles) of trails groomed for Nordic skiing. These free trails are located on the same property as the downhill ski area. This area is also dog-friendly. These trails are available for snowshoeing, too.
Fat biking in Crested Butte vs Wolf Creek
Fat biking in Crested Butte
Fat bikes are bikes with extra-wide, low-pressure tires that can be ridden on snow. There are 10 kilometers (about 6 miles) of trails that can be used for fat biking at the Crested Butte Nordic Center. You can also fat bike at Crested Butte Mountain Resort with an uphill pass before and after the lifts spin. The Crested Butte Mountain Bike Association also grooms some trails around Crested Butte for fat biking. One of the best places to fat bike in the Gunnison Valley is Hartman Rocks in Gunnison. Gunnison Trails grooms 16 miles of trails for fat biking at Hartmans. Enjoy snowcapped sage brush and unique rock formations on your ride.
Fat biking in Wolf Creek
There is fat biking in Pagosa Springs. Some trails include Turkey Springs, Plumtaw, East Fork and Yamaguchi Park. Many of these areas are groomed, though some are not. The cross-country ski trails at Wolf Creek Ski Area are not open to fat biking.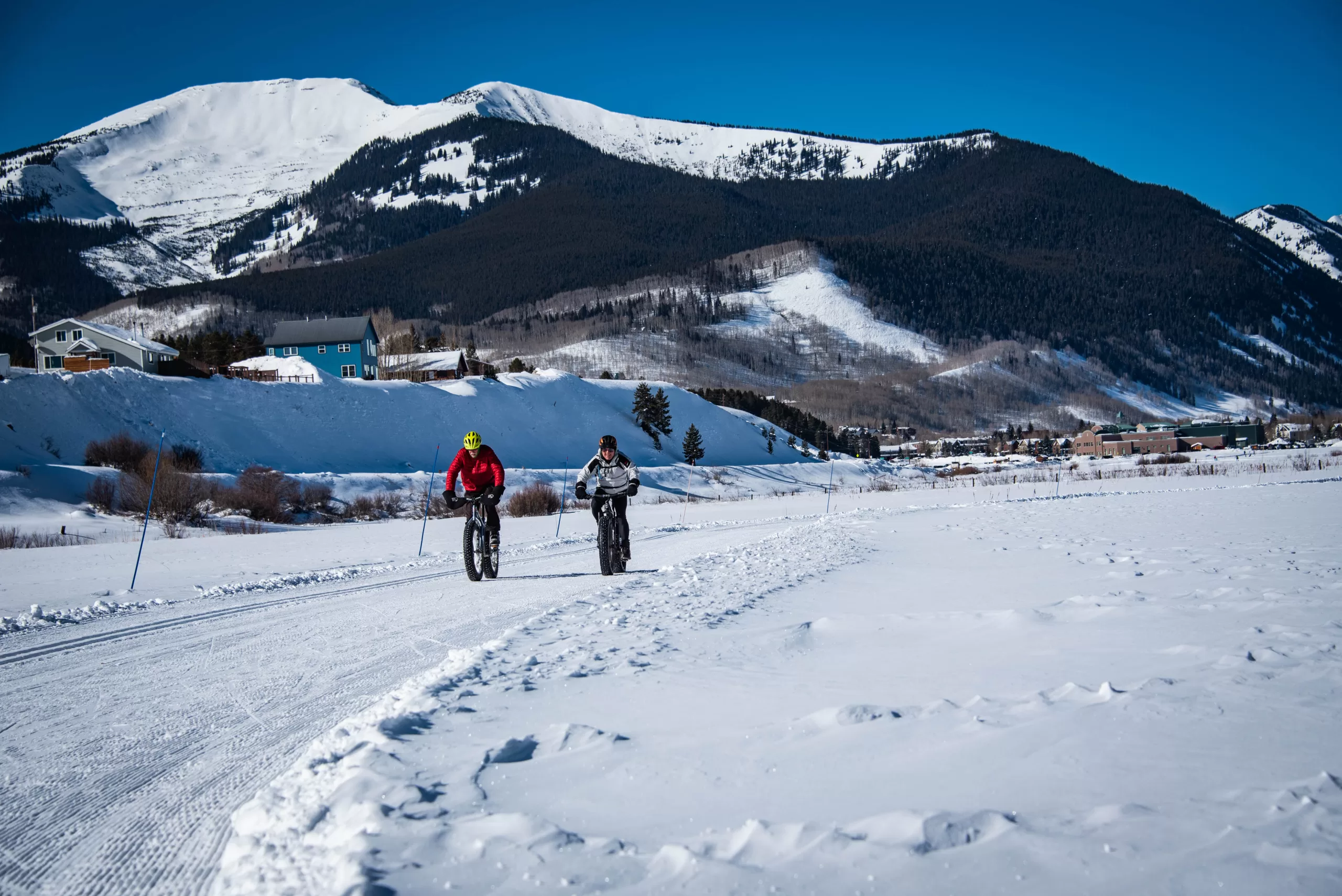 What is Crested Butte like?
Crested Butte is a former mining town turned quirky ski town. It's sometimes described as a surf town in the mountains. Elk Avenue is the main drag in town. It is lined with colorful Victorian buildings that have been here since the mining days. Crested Butte doesn't have many chains. Except small businesses instead. You can find art galleries, shops, restaurants, bars and more! Many bars also double as music venues. The arts center hosts classes, gallery viewings, live music, film showings and more. Looking to get a feel for the local culture? Check out the events calendar to find a local event to attend.
What is Wolf Creek like?
Wolf Creek Ski Area is in Pagosa Springs, Colorado. Pagosa Springs is about 24 miles from Wolf Creek Ski Area. It is known for its hot springs. Pagosa Springs also has an arts scene, historic trains, a history museum and outdoor recreation opportunities. Downtown also has many places to shop and eat.
Similar Colorado ski areas
There are a few ski areas in Colorado similar to Wolf Creek and Crested Butte. Most of these resorts are smaller. They also have similar terrain or comparable amounts of snowfall. Steamboat Ski Resort is located in Steamboat Springs, Colorado. It is known for being a family-friendly mountain. Winter Park Resort is in Winter Park, Colorado. It receives an average 344.6 inches of snow every season. Purgatory Resort in Durango, Colorado is another privately owned resort. Sunlight Mountain Resort in Glenwood Springs, Colorado is a smaller mountain. It also has cross-country ski trails as well as downhill skiing. Telluride Ski Resort in Telluride, Colorado is an Epic Pass partner and is also known for steep terrain.
Winter Events in Crested Butte
Take a break from skiing or try something new by checking out a winter event or activity! Though Crested Butte is known for downhill skiing, there are many other winter activities to enjoy. Try ice skating, cross-country skiing, dog-sledding, snowshoeing and more. Events include ski races that double as costume parties, testing gear with pro skiers, ice fishing tournaments and more.
Plan your trip
If you're still not convinced to try Crested Butte, here are even more reasons to ski Crested Butte Mountain Resort. Start planning your trip to Crested Butte! Check out this winter weekend itinerary for ideas. Find a cozy lodging option from choices of ski-in, ski-out resorts, inns, bed and breakfasts, and traditional hotels. Use our direct booking tool to filter options such as dates, amenities and number in your group. Explore other things to do and plan how you're going to get here. Be aware of road closures and weather if you plan to drive. Better yet, skip driving and fly into Gunnison-Crested Butte Regional Airport.