Best double-black ski runs at Crested Butte
So you've heard about the famous double-black ski runs at Crested Butte, and you want to learn more. Get ready for an exciting and athletic trip to this classic Colorado ski resort! There are many reasons to visit Crested Butte in the winter, but the extreme ski terrain at Crested Butte Mountain Resort tops the list. 37% of the trails at Crested Butte are rated expert, so this is a mountain where advanced skiers thrive. The double-black runs at Crested Butte are technical and steep. Be prepared to encounter trees, rocks, cliffs and other elements inherent to expert terrain. It's tough to choose the best double-black ski runs at Crested Butte, but this list is a good place to start!
How do you get to the double-black runs at Crested Butte?
Crested Butte has two T-bar lifts, the High Lift and the North Face Lift. These lifts access almost exclusively expert terrain. The High Lift gives you access to the Headwall, Teocalli Bowl and the Peak. From the North Face Lift, you can ski many more of Crested Butte's double-black runs, including Phoenix/Spellbound bowls and Third Bowl. More double-black terrain on the front side of the mountain is accessible via the Silver Queen Express Lift. Check Crested Butte Mountain Resort's lift and terrain status page to see which runs are open. There are also signs at the top and bottom of the Silver Queen Express lift that show the status of each extreme run.
What gear do I need for skiing Crested Butte?
You can ski Crested Butte with any equipment you feel comfortable using, but there are a few tweaks for Crested Butte's unique qualities that might help you perform better. If you plan on skiing the double-black runs at Crested Butte, you might benefit from a wider ski. Wide skis provide stability over uneven terrain and variable snow conditions. Fat skis also float better on powder than narrow skis. Many people who ski Crested Butte often prefer a slightly shorter ski. With shorter skis, you'll be more nimble on technical terrain. Being able to make tight turns quickly will benefit you as you navigate through obstacles like moguls, trees and rocks.
Where can I get a winter trail map of Crested Butte?
One thing every expert skier or snowboarder needs at Crested Butte is a trail map. Winter trail maps of Crested Butte are available for free at the base area and on Crested Butte Mountain Resort's website. Detailed maps of the extreme limits are available for purchase at the base area and at gear shops in Crested Butte and Gunnison. These maps are also posted at the top of the T-bar lifts. Check out the maps and make a plan before you hit the slopes!
What are other ski resorts like Crested Butte?
Here in Colorado, the mountains most similar to Crested Butte are Telluride and Arapahoe Basin. These ski resorts are small- to medium-sized, and they contain steep, technical, rocky runs at high elevation. The ski-obsessed culture in Crested Butte is also present in farther-flung places like Big Sky, Jackson Hole, Alta and Snowbird. These Western mountains all attract visitors and residents who are passionate about big-mountain skiing. The long tradition of skiing off cliffs in Palisades Tahoe is reflected in the stunts you might observe on a powder day in the Crested Butte extremes.
What are the best double-black ski runs at Crested Butte?
This list of our favorite expert ski runs at Crested Butte contains runs from all over the mountain. This collection contains a wide variety of trails to give you an authentic Crested Butte skiing experience.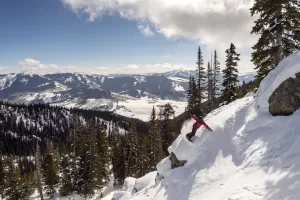 Teocalli Bowl
You'll find sheltered snow and huge views in Teocalli Bowl, which is accessible from the High Lift. From the top of the High Lift, traverse south across the ridge to access Uecker Glades, Main Street or Duey's, or drop into Morning Glory right away. Ski through low-density trees and around (or over!) rocks and cliff bands. The hike out takes 10-15 minutes and drops you into Paradise Bowl.
Funnel
Funnel is one of several front-side double-black runs at Crested Butte. Its neighbors include Forest, Peel, Banana, Flatiron and Sunset Ridge. These west-side runs are accessible from the top of Silver Queen, where there is an access gate. Funnel's defining characteristic is the huge rock walls on the sides of the run. The walls give the sensation of skiing down a steep hallway, with the picturesque little town of Mt. Crested Butte at the bottom. A short traverse through Hockey Rink takes you back towards the base area.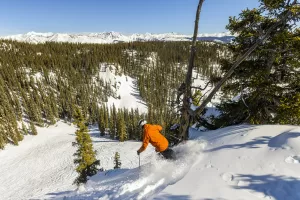 North Face Glades
The Glades off the North Face Lift encompass a large swath of double-black runs on the north end of the area served by this lift. The trees in the Glades are mostly Douglas fir and other conifers. They are tightly spaced in some spots, making for exhilarating technical tree skiing. Groves of trees are punctuated by open faces where you can pause to take in the view of the West Elk Mountains. From the Glades, you can continue skier's right through more extreme terrain and down to the East River Lift, or bear left and head over to Paradise Bowl.
Sock It to Me Ridge
Sock It to Me Ridge is the last ridge at the bottom of the zone served by the North Face Lift. This area is not for the faint of heart. It is steep, rocky and incredibly technical. Any skier who ventures onto this ridge should feel comfortable with small- to medium-sized drops. On far skier's right of the ridge is Sock It to Me proper, which has medium and large cliff options. The next run over is Little Hourglass, which contains a decent-sized mandatory drop in the middle of the run (the center of the hourglass). The next run is Cesspool, which also contains a mandatory air near the bottom of the run. This one is slightly smaller. Next over is Phaser, which is slightly less steep and contains more trees. The last run, far skier's left of Sock It to Me Ridge, is Last Steep. Last Steep is a treeless bowl with moguls. It is still steep and technical, but it's the easiest option on the ridge. Whichever run you take off Sock It to Me Ridge, you'll eventually pop out onto Black Eagle, which will take you down to East River Lift.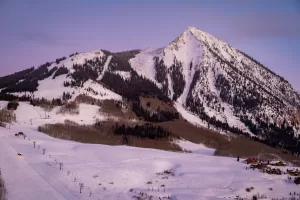 The Peak
Check out the view at 12,612 feet from the summit of Crested Butte! From the top of High Lift, go right and follow the tracks towards the saddle. At first, keep your skis on and traverse. At the top of the saddle, take your skis off and hike up the steps until you get to the top, about 15 minutes. A rope leads to the summit. Leave your skis on the ridge and climb up the rope to get to the tippy-top of Crested Butte. Grab a snack or a photo of the panoramic mountain view before climbing down the rope and putting your skis back on. The Peak run is a steep, south-facing slope that has a few rocks, but no trees. It's one of the easiest double-black runs at Crested Butte. From here, ski into Forest, Banana or the other west-side extremes.
Big Chute
Big Chute is one of the shorter double-black runs at Crested Butte, but also one of the best. To get to Big Chute, get off halfway up High Lift—you'll see a sign that says, "release tee here." Take a deep breath before plunging into this precariously steep run. The glades on either side of the chute are just as fun as the main run. To skier's left of the main chute, there are several medium-sized rocks you can jump off if you dare. At the bottom, you'll exit into Paradise Bowl.
Third Bowl
Third Bowl is perched on the southeastern edge of the ski area boundary. Go straight off the top of North Face Lift and turn left into the entrance to Phoenix and Spellbound Bowls. Continue to traverse past the top of Phoenix/Spellbound. Keep traversing to ski the steep, seldom-skied little run called High Nowhere, or drop in at the more popular entrance lower down. The first few turns into Third Bowl are high-consequence and technical. Below the first ridge, the terrain opens up. Here you'll find enormous boulders and pillow lines galore. The hike out takes 15-20 minutes and returns you to East River Lift.
Where can I find more information about skiing Crested Butte?
Want to explore more of the mountain? Check out the best spots for tree skiing at Crested Butte. Venturing into the Gunnison Valley's beautiful backcountry? There are plenty of tips in our guide to backcountry skiing. Looking for info about flights, lodging and other things to do in Crested Butte and Gunnison? You'll find it all on this Crested Butte ski vacation planning page.