Crested Butte and Gunnison Winter Guide
While downhill skiing is one of the most popular winter activities in Crested Butte and Gunnison, there are also many other winter events and thing to do. This winter guide will help you navigate it all! Winter brings ski races that double as costume contests, skiing at Crested Butte Mountain Resort, a Christmas tree lighting and an ice fishing tournament. There are also several other beloved annual winter events in the Gunnison Valley. Despite the cold, there are many fun things to do in Colorado in the winter.  Use this winter guide to help you plan your Colorado winter trip to Gunnison and Crested Butte.
Alley Loop Nordic Marathon
Race in the best costume party of the year
This Nordic ski race is a beloved winter tradition and tops our winter guide because of it. The course takes racers through downtown Crested Butte and on pristine Crested Butte Nordic Center trails in the area. Racers can choose from six courses with a kid only course also available. It is also an American Birkebeiner Qualifying event. Perhaps the most important aspect of the Alley Loop is that it's also a costume contest!
When: February 3, 2024
Where: Crested Butte, CO
Alley Loop
Night of Lights
Watch Santa light the tree
Night of Lights is the annual tree lighting in downtown Gunnison. Main Street closes down and is decorated with festive lights. Local businesses and organizations set up booths to share information. Get a cup of cocoa, learn about the community and welcome the holiday season as Santa lights the tree.
When: December 1, 2023
Where: Main Street, Gunnison
Night of Lights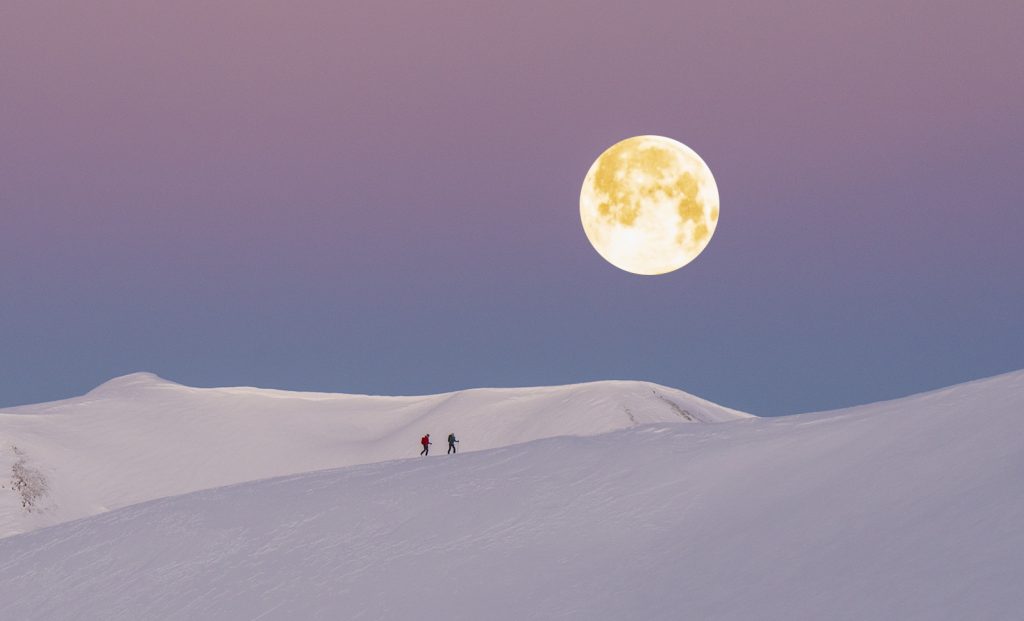 The Grand Traverse
Ski from Crested Butte to Aspen
This point-to-point backcountry ski race begins in Crested Butte and ends in Aspen. For safety considerations, the race begins at midnight. The weekend will include other events such as a vendor expo, live podcast recording and an athlete lunch. Compete in the Grand Traverse Mountain Run and Grand Traverse Mountain Bike to complete the triple crown.
When: March 30-31, 2024
Where: Crested Butte, CO
The Grand Traverse Ski
Blister Summit
Test new ski gear with professional skiers
Blister Summit is an annual consumer-focused gear test and demo event. Attendees can test ski and avalanche safety gear in the backcountry and at Crested Butte Mountain Resort. The event will also include panels and talks with company founders and athletes.
When: February 4-8, 2024
Where: Mt. Crested Butte, CO
Blister Summit
Torchlight Parade
Celebrate the New Year
Watch as the ski and ride school instructors at Crested Butte Mountain Resort wind down the mountain carrying torchlights to light their way. Fireworks will accompany the parade to ring in the New Year.
When: December 31, 2023
Where: Crested Butte Mountain Resort
Torchlight Parade
Gothic Mountain Tour
Train for the Grand Traverse
This backcountry ski race is 22 miles with 5,000 vertical feet. Racers circumnavigate the backcountry around Gothic Mountain. It ends with a party at the Crested Butte Nordic Center Backcountry Yurt. This is also a Grand Traverse training race.
When: February 18, 2024
Where: Crested Butte, CO
Gothic Mountain Tour
Al Johnson Memorial Telemark Race
Don a costume and free the heel
This race memorializes mail carrier Al Johnson. In the 1880s Johnson carried the mail to and from Crystal, Colorado to Crested Butte every week. Competitors must race on telemark skis and have to finish the race with both skis and poles, even if they're broken. The race also has a tradition of outrageous costumes.
When: TBD
Where: Crested Butte Mountain Resort
More information
Avalanche Awareness night
Practice your avalanche safety skills
This event is a fundraiser for the Crested Butte Avalanche Center (CBAC). It includes education about avalanches, food and drinks, raffles, and practice with avalanche equipment. Kick off the season by brushing up on your backcountry safety skills.
When: December 1, 2023
Where: Center for the Arts Crested Butte
More information
Ice Addiction Ice Fishing Tournament
Test your ice fishing skills on Blue Mesa Reservoir
This annual ice fishing event gives participants the chance to compete, learn or just have fun fishing. Winners receive cash and prizes. Check back to our winter guide for more info.
When: January 13, 2024
Where: Blue Mesa Reservoir, Colorado
Ice Addiction
Ice Masters Ice Fishing Tournament
Test your ice fishing skills on Taylor Park Reservoir
This tournament allows anglers to compete for cash and prizes on Taylor Park Reservoir.
When: TBD
Where: Taylor Park Marina
Ice Masters Tournament

Gunnison Art Walk
Explore Gunnison's art galleries
Every first Friday view art at the Gunnison Arts Center and other galleries in town. Galleries participating in the Art Walk frequently feature live music, food and drinks, and sometimes art talks.
When: The first Friday of every month
Where: Gunnison, Colorado
Gunnison Arts Center Art Walk
Freeride World Qualifier
Watch the best skiers and snowboarders compete
The Freeride World Qualifier allows skiers and snowboarders to compete for a chance to be in the Freeride World Tour. Competitors get to test their skills on legendary and challenging terrain at world renowned ski resorts, including Crested Butte Mountain Resort. Mountain Sports athletes from Western Colorado University will also compete.
When: TBD
Where: Crested Butte Mountain Resort
Freeride World Qualifier
Western Ski Weekend
Western Colorado University Alumni, parents and family are welcome for Western Ski Weekend. Receive discounts on lift tickets, lodging and rentals.
When: February 9, 2024
Where: Crested Butte Mountain Resort
Western Ski Weekend
Winter Songwriter Shuffle Series
The Winter Songwriter Shuffle Series will provide the 2023-2024 winter season with music in the mountains! Brought to you by Gunnison Tough Enough to Wear Pink to support cancer programs, the Winter Songwriter Shuffle Series will showcase singer-songwriter legends along with the latest & greatest from Nashville. Come one and come all, from near and far, Mt. Crested Butte is where the music will be this winter! This winters acts include Emma Zinck, Marla Cannon-Goodman & Ava Paige, Dean Dillon & Larry Gatlin, and Brent Cobb and Matt McDaniel.
When: December 16, 2023 – Emma Zinck, Marla Cannon-Goodman & Ava Paige
January 20, 2024- Dean Dillon & Larry Gatlin
February 24, 2024- Brent Cobb and Matt McDaniel
Where: Mt. Crested Butte
Winter Songwriter Shuffle Series
Winter activities
There are so many things to do in the Gunnison Valley in winter! We've shared some favorite winter activities in this winter guide to Gunnison and Crested Butte below.
Ski the steeps at CBMR
Crested Butte Mountain Resort is known for its steep and extreme terrain. Expert and advanced skiers can choose from some of the steepest in-bounds skiing in the U.S. at Crested Butte. Beginner and intermediate skiers will also find plenty to ski. With 1,547 skiable acres, CBMR has a variety of runs for every skill level in your group. Be sure to check out the après scene on the mountain too. CBMR also offers lessons and rentals. Crested Butte is on the Epic Pass.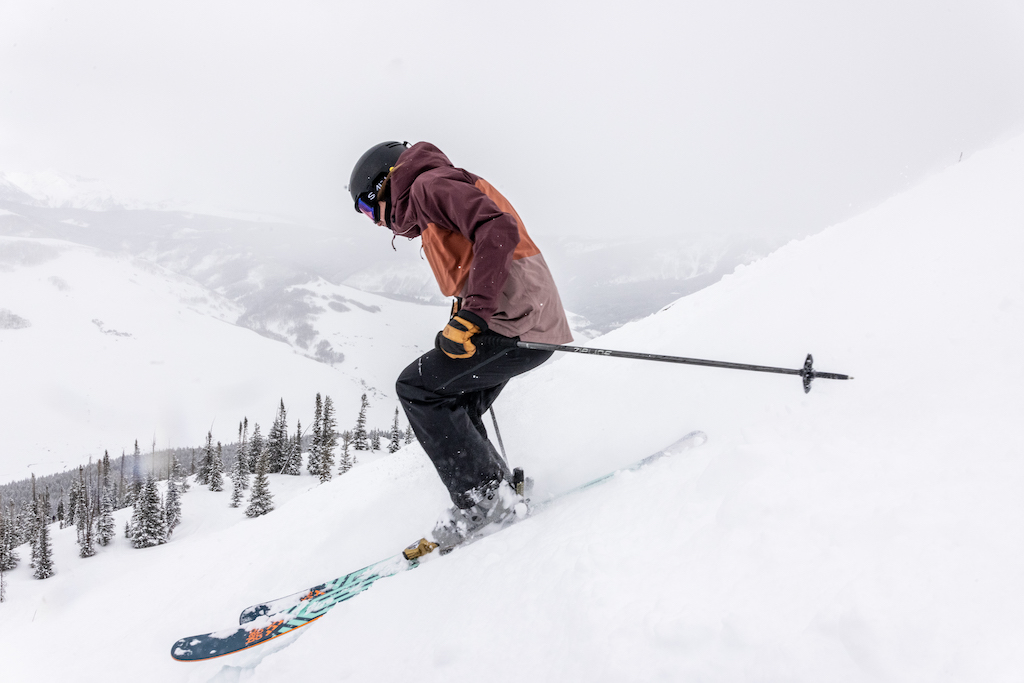 Nordic ski in Crested Butte
Crested Butte has an impressive offering of Nordic ski trails. The Crested Butte Nordic Center grooms a network of 50 kilometers of trails for classic and skate skiing. Some trails are also open to fat biking. You must purchase a pass to experience these scenic and pristine trails. The Nordic Center also offers rentals and classes.
Snowmobile in Pitkin
Pitkin, Colorado is a historic mining town located north of Highway 50 between Gunnison and Monarch Pass. It is surrounded by Gunnison National Forest, making it a great basecamp for snowmobiling day trips. Peaks in the area include Cross Mountain, Copper Mountain and Little Baldy Mountain. There is a large network of Forest Service Roads to sled in the area as well. If you plan to travel through avalanche territory, please ensure you possess the necessary skills, equipment and knowledge to stay safe.
Snowshoe at Mill Creek
Snowshoeing is an accessible and easy way to get outside in winter. Mill Creek is located between Gunnison and Crested Butte and is a popular area for winter activity. Trails in Mill Creek wind though spruce and aspen groves. Some of them also give you impressive views of the surrounding mountains. Mill Creek can be accessed by turning onto Ohio Creek Road, driving nine miles and then turning left on Mill Creek Road. The parking area is three miles down the road. Gunnison Nordic also grooms a track for Nordic skiing at Mill Creek.
Fat bike at Hartman Rocks
Hartman Rocks Recreation Area in Gunnison is a popular summer mountain biking spot. When it's covered in snow in the winter it's great for fat biking too. This high desert is known for distinct rock formations that dot the landscape. Gunnison Trails grooms over 14 miles of singletrack for fat biking. Groomed trails can be accessed from Gold Basin Road or McCabe's Lane. Hartman Rocks is also used for Nordic skiing.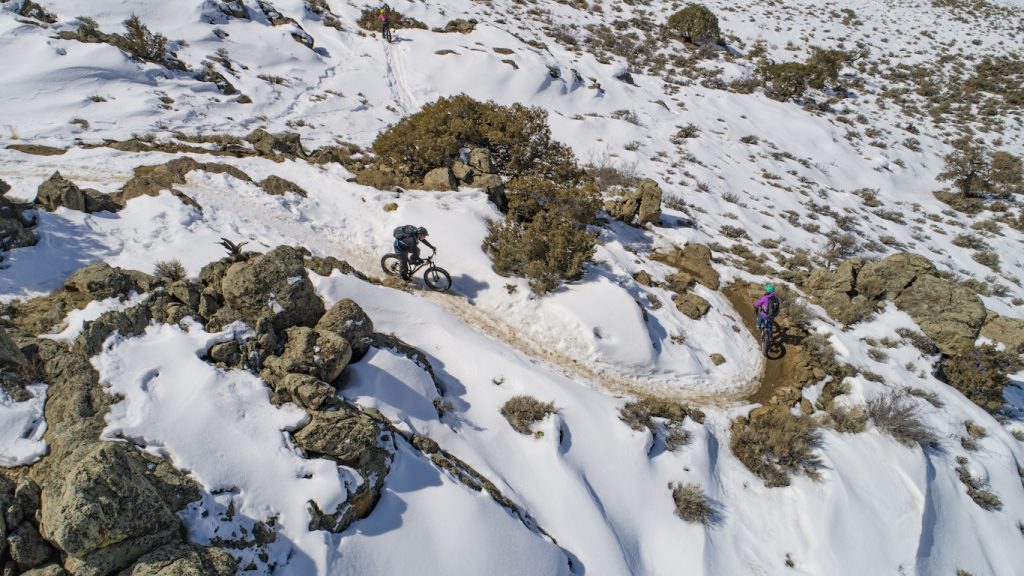 Planning your trip
Winter in Gunnison and Crested Butte offers so many things to do. Make sure you plan your trip ahead of time. Check the weather and be aware of winter road closures to ensure getting here goes smoothly. Lodging options include cozy inns, ski-in/ski-out on the mountain, traditional hotels and homey bed and breakfasts. Utilize the free public transportation to get around and not worry about driving in the snow. Both make stops at the base area of Crested Butte Mountain Resort. Main Street in Gunnison and Elk Avenue in Crested Butte also offer an array of local restaurant and shopping options to check out.