How to Avoid I-70 for Your Ski Vacation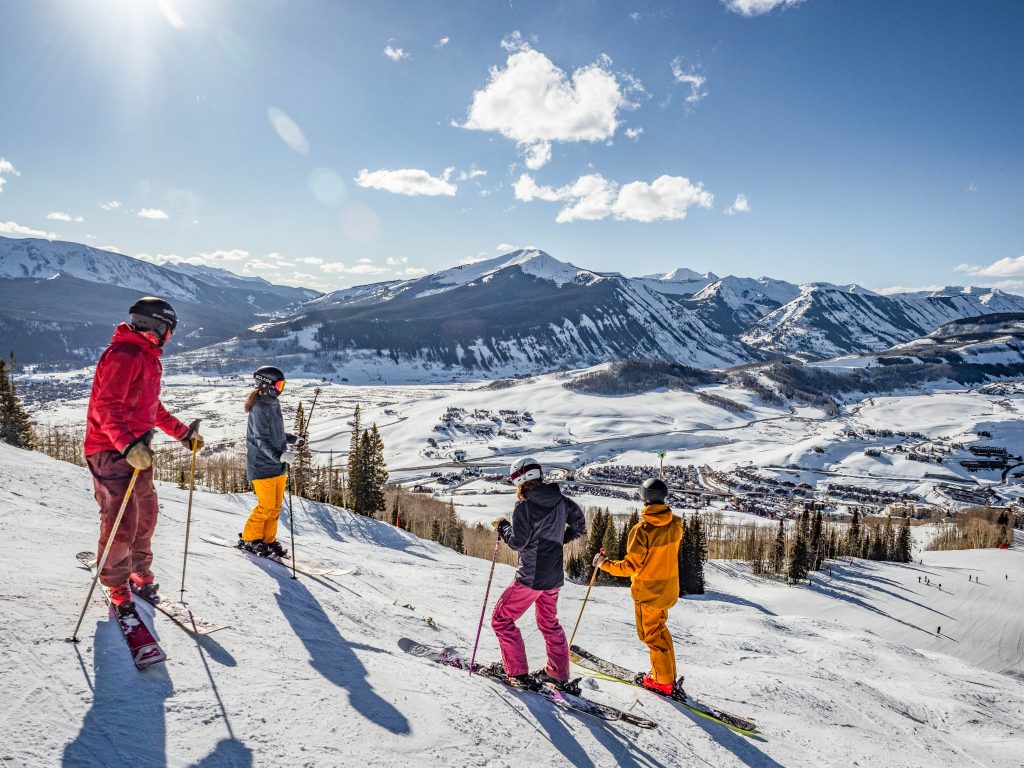 You've finally got your 2022 Colorado ski vacation planned. There's nothing like the anticipation of hitting the slopes in Colorado: your skis are packed into the car, you have your driving playlist queued up, and you've already decided what apres spot to hit when the skiing is done. You excitedly put the car in gear and head out…only to find yourself sitting in a line of traffic on I-70 even longer the lift lines in the ski resorts near Denver you're driving to. There's nothing that will deflate the excitement of a ski day like being stuck in traffic. Even worse you might find I-70 closed because of bad road conditions or accidents. This summer's I-70 closure due to mudslides reminded us all how many people depend on I-70 for work and play and how tenuous relying on the road can be. Instead of dealing with this hassle, choose a ski resort with the least amount of traffic for your Colorado ski vacation. Crested Butte is one of the best places to ski in Colorado, and you'll avoid traffic by coming here.
Make the Most of Your Epic Pass at Crested Butte
One of the best parts about skiing at Crested Butte Mountain Resort (CBMR) is the ability to get here without having to contend with poor winter road conditions, possible closures and a high number of accidents by taking I-70. Epic Pass skiers have a lot of options for ski areas off I-70, but because of their proximity to the interstate and Denver they are often crowded and have long lift lines to wait in. Crested Butte might be a further drive, but the chance of bad traffic making it longer than you expect is low, and our location at the literal end of the road means lift lines tend to be shorter than resorts off the interstate. You can get here faster and ski more runs. There are also no blackout dates or limits on your Epic Pass at CBMR, so you could come anytime—there's no need to plan around these inconveniences like you might have to at other Epic Pass resorts.
Driving to Crested Butte and Gunnison
The drive to Crested Butte is also easy and scenic, even in the winter. You'll pass through Fairplay, Salida and Poncha Springs, and could make a short detour to Buena Vista. There are a few mountain passes on the drive: Kenosha Pass, Red Hill Pass, and Monarch Pass. Monarch Pass is the longest and steepest but is plowed regularly in the winter. It will take you over the top of the Continental Divide—take advantage of the pull-off at the top for the view! Some of the ranges you'll drive past between Denver and Gunnison include the Sawatch Range, the Collegiate Peaks and the Mosquito Range. From Gunnison to Crested Butte you'll see the Anthracites and the Elk Mountains.
Road Conditions in Gunnison and Crested Butte
Winter driving can be tricky. Before you head out on your trip check the road and weather conditions. Webcams of key roads and passes for Gunnison and Crested Butte can be found here. Please note that some passes, such as Kebler Pass and Cottonwood Pass, are closed in the winter. Make sure you plan your route accordingly.
The Culture of Crested Butte and Gunnison
Called Colorado's last great ski town, Crested Butte exudes ski town charm—and it is a true ski town. Unique among Colorado ski towns, Crested Butte was once a mining town and the historic brick and Victorian buildings make for a scenic downtown, especially in winter when its covered in snow. The town's vibe is laid back and the locals are quirky.Crested Butte is the perfect place for a relaxed ski vacation.
During your trip you can also check out Gunnison, which is a college town half an hour down the road with a mellow nightlife and more affordable lodging. Historically a ranching town, downtown Gunnison feels like the wild West. The fields full of cows outside town also display this proud heritage. Gunnison receives less snowfall than Crested Butte, but that doesn't stop it from being just as picturesque in the winter.
Downtown Gunnison and Crested Butte
If you're looking for more traditional hotel lodging options, Gunnison will be where you want to stay. You can find chain hotels, locally owned inns and motels, and a hostel. Main Street has a nice variety of restaurants and bars, from Asian fusion to pizza with surprising toppings, and brewery beer to fancy cocktails. Main Street is full of fun shops to explore and a few gear stores if you forget anything you need for your trip. Staying in Gunnison is more budget-friendly and will give you the chance to explore the whole valley. You might be further from the ski area, but that doesn't mean getting to the mountain will be inconvenient—you and your skis can ride the free bus and be on the slopes in about 45 minutes.
Elk Avenue, the main drag in Crested Butte, is just a short drive or free bus ride from the ski area. You'll find a wide selection of places to eat for every budget, art galleries, coffee shops, gear stores, and a variety of locally owned shops that sell everything from vintage clothes to herbs. There are many charming and convenient lodging options, from ski-in/ski-out amenities in Mt. Crested Butte, or local inns and hotels in the town of Crested Butte. You could start your day with a relaxed cup of locally roasted coffee and end with dinner and a drink without feeling like you have to sacrifice any skiing time since everything is so close by.
The Terrain at Crested Butte
The terrain breakdown at CBMR is 18% beginner, 29% intermediate, 21% advanced, and 32% expert. Where the mountain really shines is its steep and expert terrain; it has some of the steepest in-bounds ski terrain in Colorado and has drawn expert and professional skiers from all over the world. If steep skiing isn't your thing, there is plenty for beginner and intermediate skiers too. The variety of terrain makes it perfect for families or groups with skiers of all skill levels.
Coming from Denver
If you're coming from Denver, you can expect about a 4.5-hour drive. From US-6 W take the exit onto I-70 towards Grand Junction. Take exit 260 to merge onto CO-470 E. Get on US Hwy 285 S toward Fairplay and continue for 110 miles before turning right onto US-50 W. Follow CO-135 N to Gothic Road in Mt. Crested Butte.
Coming from Denver International Airport
If you're flying into Denver International Airport (DEN), head north on Pena Blvd and keep left to continue on New Castle St. Then take exit 6A until you merge onto E-470 S to get on CO-470 W. From there you'll head towards Fairplay and follow the same directions as above. There is also a shuttle from the Denver airport to Gunnison.
Coming from Other Colorado Destinations
If you're coming from Fort Collins, Colorado Springs, Boulder or Grand Junction, you can skip I-70 entirely without even needing to worry about accidentally ending up on it to get to Crested Butte. The drive from Fort Collins is about 5 hours by taking US Hwy 285 S. From Colorado Springs plan for about 3 hours and 45 minutes via US-24 W and US-50 W. Boulder is about a 4.5-hour drive on US Hwy 285 S. Grand Junction is about 3 hours away on US-50 E. Please note that these are generally the fastest routes, but times could vary.
Flying to Gunnison Crested Butte
Better yet, skip driving all together and fly into Gunnison-Crested Butte Regional Airport (GUC) in Gunnison. There are daily flights from Denver and Houston on United and daily flights from Dallas on American. If you're worried about not having a car—don't be! Shuttles are available to get you from the airport to your lodging anywhere in the valley. Even if you stay in Gunnison, you're only about 45 minutes away from the skiing via the free RTA bus. You'll save money by not renting a car and won't have to worry about driving in the snow. There is also a town shuttle called the Mountain Expressthat runs between Crested Butte and Mt. Crested Butte. If you choose a ski-in/ski-out lodging in Mt. Crested Butte, you won't have to worry about transportation at all. Most things in Crested Butte are within walking distance anyway. However, if you want to rent a car there are several options available for that too.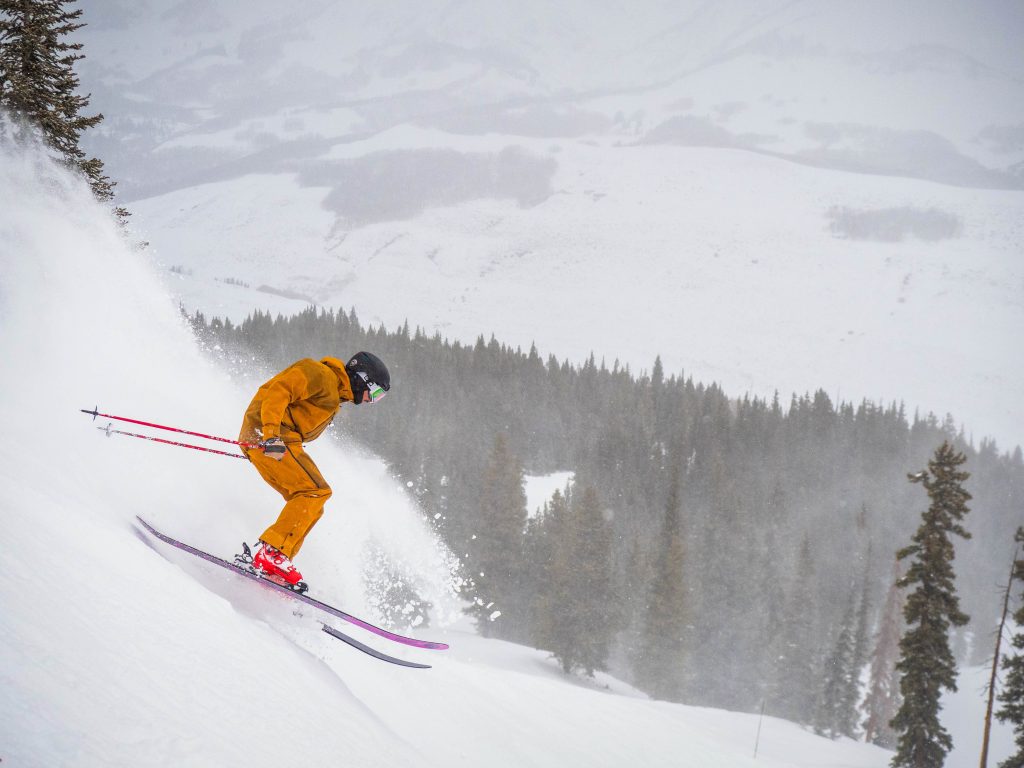 Lodging in Gunnison and Crested Butte
You have so many options for places to stay during your Colorado ski vacation to Crested Butte! From cozy inns and converted mining houses in Crested Butte, to ski-in/ski-out and resorts in Mt. Crested Butte, to riverside cabins in Almont, and traditional hotels to a hostel in Gunnison, your lodging options are varied and endless.
Winter Activities in Crested Butte and Gunnison
While you're here check out Crested Butte and Gunnison's other winter activities: Nordic skiing, fat biking, snowshoeing, snowmobiling, ice skating, dog sledding and sleigh riding!