Intermediate Ski Runs and Trails at Crested Butte Mountain Resort
As you're planning your Colorado ski trip, Crested Butte is a destination that should be at the top of your list. You might have some questions based on what you've heard about it. Is Crested Butte good for beginners? Is Crested Butte good for families? What are some good intermediate ski runs at Crested Butte? Crested Butte Mountain Resort (CBMR) in Mt. Crested Butte, Colorado is world-renowned for steep and extreme terrain, but there is plenty for intermediate and beginner skiers as well. 24.6% of the mountain is intermediate, so don't let its reputation scare you off if you're not an expert skier. These blue runs are great for intermediate skiers looking to grow and challenge themselves. There is also a variety of terrain for skiers of all abilities. You and the whole family can find trails to ski. Follow along on the CBMR trail map while you read these descriptions of the best intermediate runs at Crested Butte.
Crested Butte and Gunnison
Along with Crested Butte Mountain Resort, Mt. Crested Butte is also home to many lodging options that put you close to the ski area. Just a few miles from CBMR is Crested Butte, a historic mining town turned quirky ski town. Elk Avenue, the main drag in town, is a great après spot thanks to the bars and restaurants that line the street. There are also local shops, galleries and a museum to explore. Gunnison, Colorado is about 30 miles down the road. The airport is in Gunnison, as well as more affordable and traditional lodging options than Crested Butte or Mt. Crested Butte. Main Street in Gunnison has shopping and dining options as well. Staying in Gunnison doesn't mean you have to sacrifice time on the slopes, though. Take the free bus right to the base area.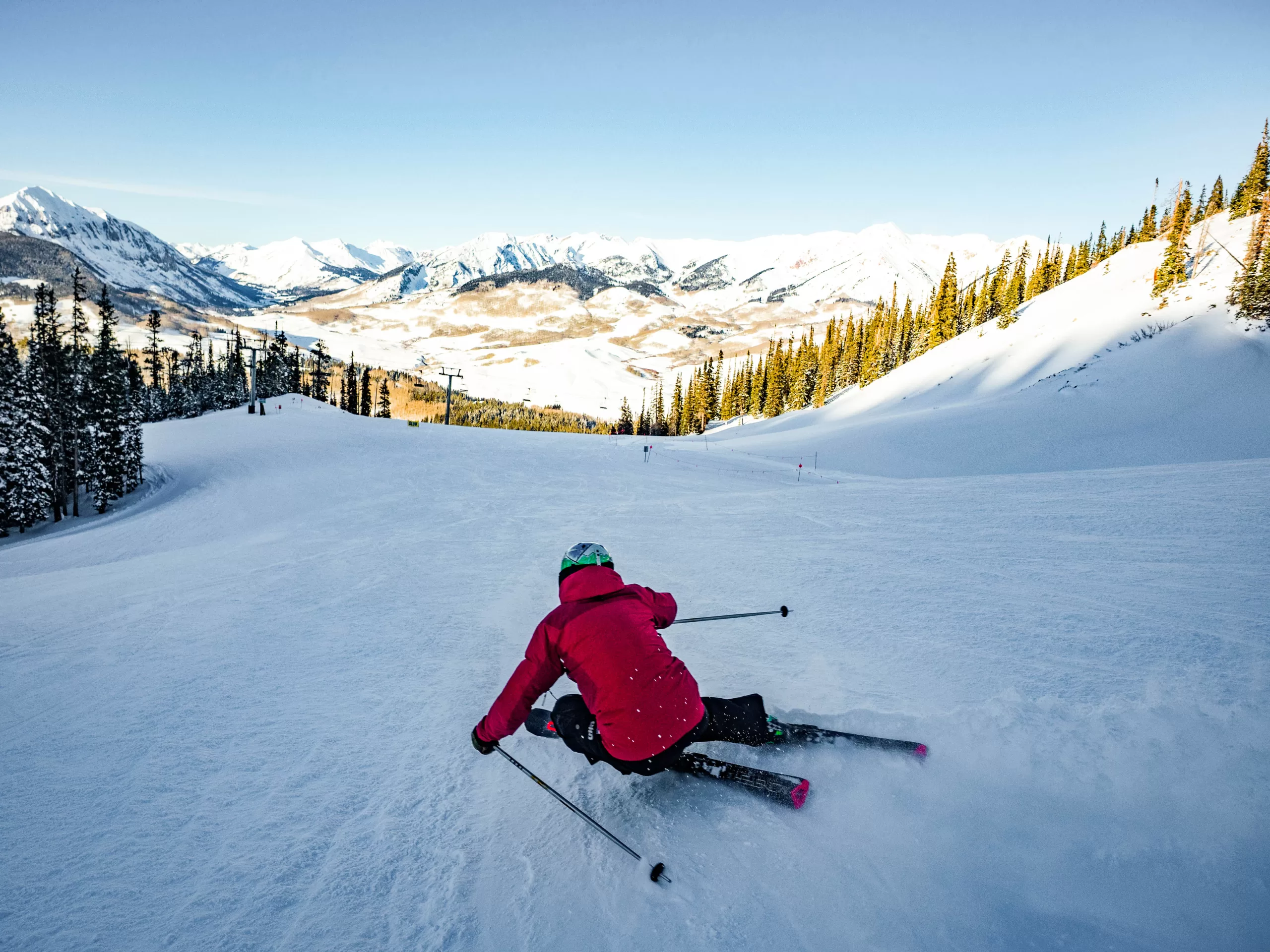 Black Eagle
Black Eagle is located off the East River lift. With shorter runs, East River is a good spot to get quick laps in. When you get off the lift, turn left and follow the smooth, groomed road to get to Black Eagle. Half of Black Eagle is groomed, while the skier's left side of the run is bumpy. This gives you the option to practice on bumps or stay on groomed snow.
Floresta
Another blue East River run is Floresta. Once you get off the East River lift, take a right. The next right takes you to the run. Floresta is another good trail for intermediate skiers to practice steeper skiing. A portion of the run has bumps on skier's right. It connects to Lower Treasury which will take you to the bottom of the East River lift.
Upper and Lower Smith Hill
For a shorter lift ride to intermediate runs than the Silver Queen Lift, take the Red Lady lift to Smith Hill. Exit the lift to the left. Upper Smith Hill is straight ahead. This trail is wide, and tree lined. After a steeper section it levels out. Head right for Lower Smith Hill. From here you can continue down to the base area or take the Painter Boy lift for a few runs.
Paradise Bowl
This area is idea for intermediate skiers who are comfortable with speed. Many of the runs around Paradise Bowl are blue. The most direct way to access Paradise Bowl from the base area is taking the Silver Queen lift and skiing Silver Queen Road to the top of the Paradise Express lift. Paradise Bowl, Upper Forest Queen (groomed) and Upper Ruby Chief (bumpy) are a few runs that can be accessed from the top of Paradise Express Lift. All these trails funnel down to the Paradise lift. You could easily explore this area all day without going back to the base area. You could also connect to East River from here. To get to East River from Paradise Bowl, take Upper Canaan to Treasury, which are groomed. You could also take Upper Canaan to Gallowich.
At the base of Paradise lift is Paradise Warming House, which has a full bar, cafeteria-style restaurant, bathrooms and a deck for those sunny bluebird days. Use this spot as a rendezvous point for your crew for lunch.
Elko Park
This groomed blue run can be accessed by taking the Painter Boy lift. From the top of the lift, head right and follow the signs. This run slopes gently downhill, with patches of trees on either side. Take in the views of the West Elk Mountains and the Ruby Range while you're there. This back area of the mountain is lesser-known than the rest—you're likely to find stashes of soft snow in the trees. Take advantage of this to do multiple laps. At the bottom of the run, take Gold Link Lift up.  Towards the bottom you could also head right through some widely spaced trees on Deer Pass and take the Gold Link lift up. The Umbrella Bar is located at the top of the Painter Boy lift. Enjoy drinks and snacks in the sun or inside a yurt. There is also a bathroom.
Prospector
This groomed run is accessed by riding the Painter Boy lift and heading right. It goes right under the Prospect lift and is one of the easiest blue runs at CBMR. It has a few small rolling hills and isn't super long. Towards the end of the run you'll ski through a small tunnel before getting to the lift.
Bushwacker
To access Bushwacker from the base area, ride Red Lady Express up and head straight. Follow the signs and eventually take a left onto Bushwacker. One side sometimes has moguls, but these can be avoided if bumps aren't your thing. This run is also super wide. You can ski under the lift, or on skier's right away from view of the lift if you'd rather not have spectators. Take the Teocalli lift back up, or connect to East River.
Gus's Way
Another run off Teocalli lift is Gus's Way. Take Meander to the left off Bushwacker, then bear left to stay on Gus's Way. You can continue on the groomed run or duck into the trees at any point. This area is sheltered from the wind, so snow tends to accumulate here. If you chose to ski the trees, you can connect Gus's to Rosebush Glades, where the trees are less dense.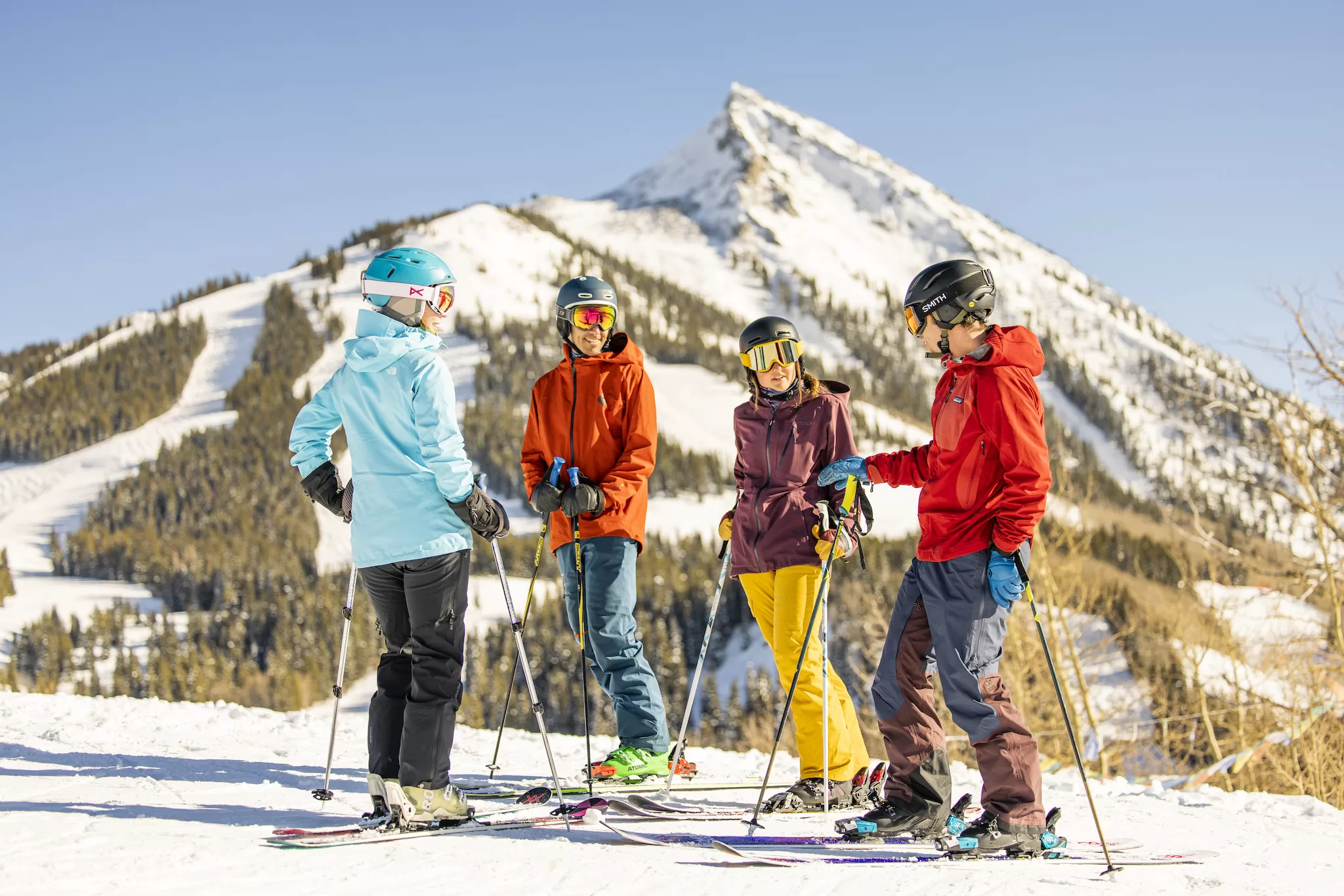 Upper Park
Upper Park is located where Keystone and Jokerville intersect. It can also be accessed from Paradise. It's wide and perfect for big turns. The skier's right side of the run is shaped like a bowl and is covered by medium to large moguls. This run heads back down to the base area.
Plan your ski trip to Crested Butte
Feeling stoked on skiing? Here are seven more reasons to ski at Crested Butte this winter. Get started on planning your trip now with our weekend ski trip itinerary. Check out lodging, flights and other trip planning tips, too.