Colorado Mountain Biking: Fruita vs. Hartman Rocks
Gunnison and Fruita are home to some of the best mountain biking in Colorado. While you're planning your spring 2021 Colorado mountain biking vacation, you might be comparing these two destinations. We've put together this handy guide to help you find the best place in Colorado for trail riding that suits your style and ability level. Gunnison, which is home to Hartman Rocks, and Fruita, which is near Lunch Loops and 18 Road, are connected by Highway 50 and are only 135 miles apart. We've outlined the similarities and differences between Gunnison and Fruita and compiled the best mountain bike trails in these two classic Colorado destinations. MTB Hartman Rocks vs. Fruita:
Where is Gunnison, Colorado?
Gunnison is a small city on Colorado's Western Slope. It is located at the junction of Highway 50 and Highway 135. Gunnison is 28 miles south of Crested Butte, 65 miles west of Salida, and 65 miles east of Montrose. The population of Gunnison is about 6,500. The elevation of Gunnison is 7,703 feet, classifying it as high desert.
What is Gunnison known for?
Gunnison is the home of Western Colorado University, a small public university offering both undergraduate and graduate programs. The area has a rich history of ranching and a more recent reputation as an outdoor recreation hub for mountain biking, hiking, boating and fishing. Blue Mesa Reservoir, the largest reservoir in Colorado, is located just a few miles west of Gunnison on Highway 50. Black Canyon of the Gunnison National Park is 61 miles (about an hour's drive) west of Gunnison.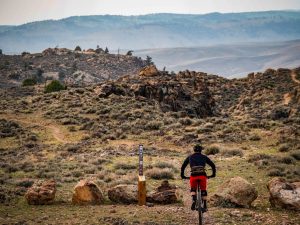 Mountain biking at Hartman Rocks
Parking lots and trailheads for Hartman Rocks
Hartman Rocks Recreation Area is located five miles southwest of Gunnison. The main parking lot is about a 10-minute drive from Gunnison via Highway 50 and Gold Basin Road (County Road 38). There is also a parking lot and trailhead on the west end of Hartman's at McCabe's Lane. The McCabe's entrance can be accessed farther west on Highway 50. Limited parking is available at the base of Bambi's trail a couple miles farther south on Gold Basin Road from the main parking lot. The Bambi's trailhead is a good access point for the trails south of Powerline Road.
Where is Hartman Rocks?
Hartman's lies just a few miles east of where the Gunnison River flows into Blue Mesa Reservoir. Most of the 14,000 acres of land at Hartman Rocks is managed by the Bureau of Land Management. The area contains 45 miles of multi-use trail, 45 miles of dirt road and 50 designated dispersed campsites. Due to its large size, Hartman's rarely feels crowded. The terrain is covered in sagebrush, small trees and large rock formations that give the area its name. Hartman Rocks is more of a cross-country biking experience than anywhere else in the valley. The cool temperatures of Gunnison make this area comfortably rideable from spring to late fall. Other popular activities at Hartman's include hiking, trail running, dirt biking and shooting. In winter, the roads and trails are groomed for nordic skiing and fat biking.
Best MTB Trails at Hartman Rocks
The trails at Hartman Rocks are mostly technical, but there are several flowy trails, too. There is a wide range of bike trails to accommodate all ages and ability levels. Here are some of our favorites, categorized by difficulty.
Best advanced trails at Hartman's
Rattlesnake
Collarbone
The Ridge
Sawtooth
Best intermediate trails at Hartman's
Bambi's
Beck's
Cat's Castle
Dave Moe's
Best beginner trails at Hartman's
Nine-0
Evan's Loop
The Luge
Biking events in Gunnison
There are two annual events at Hartman Rocks' the Gunni Grinder and the Original Growler. The Gunni Grinder is a gravel and dirt road race with 30-, 60- and 118-mile routes. It is held in September. The Original Growler is an endurance mountain bike race held at the end of May. Multiple mileage options are available. The Growler is the main fundraiser for Gunnison Trails, a local trails organization.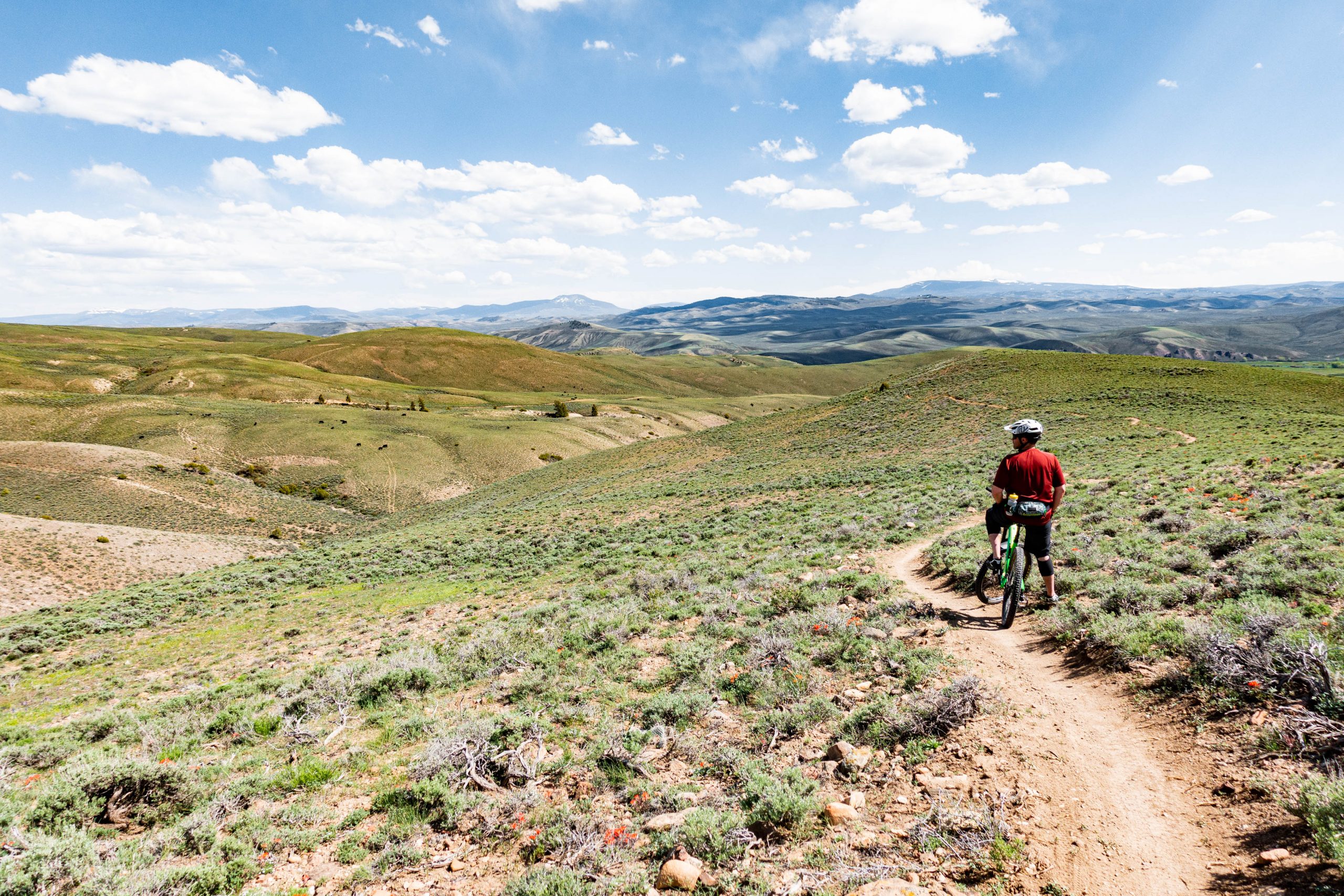 Mountain biking at Signal Peak
The Signal Peak trail system is a newer trail system. The land is managed by the Bureau of Land Management, and the trails are maintained by Gunnison Trails. Signal Peak bike trails are less technical and relatively easier than the trails at Hartman Rocks. For spring trail restrictions, visit the Gunnison Trails website.
Best trails at Signal Peak
Chicken Wing
Shoelace
Music Rocks
Mountain biking in Crested Butte
Some of the best mountain rides in Colorado are located near Crested Butte. The Crested Butte mountain bike trails usually open later than Gunnison trails (usually around late spring) due to the higher elevation and deeper snowpack of Crested Butte. The first trails to open in Crested Butte are usually the south-facing trails near CB South. This includes Caves Trail and Walrod Gulch trail. In Mt. Crested Butte, the Crested Butte Mountain Bike Park (the Evolution Bike Park) normally opens in June.
Gunnison hotels
There are about 10 large hotels in Gunnison. There are also many other types of accommodations in Gunnison, Almont, Crested Butte and Mt. Crested Butte, including condos, cabin rentals, bed-and-breakfasts and vacation rentals. Learn more on our lodging page.
Where is Fruita?
The city of Fruita, Colorado is located on the western edge of Colorado where Highway 50 and Interstate 70 (I-70) meet. It is 12 miles west of Grand Junction and 21 miles east of the state line between Colorado and Utah. The population is about 13,200.
What is Fruita known for?
The elevation of Fruita is 4,514 feet, so it is much warmer than Gunnison, and the trails tend to thaw out a bit earlier in spring. Fruita and the surrounding area have a rich archaeological history. Hiking and mountain biking are popular sports, as well as rafting on the nearby Colorado River. Due to the warm weather, spring is the busiest season for visitation.
Mountain biking at 18 Road trails (North Fruita Desert)
The trails off 18 Road are sometimes referred to as the North Fruita Desert trails and are some of the most popular bike trails near Fruita. The main trailhead is located about 11 miles north of Fruita (about a 20-minute drive). Trails in this area are short and fairly flowy. The North Fruita Desert trails are often ridden in a series of small loops starting at trailhead. Pumps, Bumps & Rollers (PBR) is the most famous downhill trail in this zone. The 18 Road trails provide a scenic view of Fruita's famous geology. The surrounding cliffs are striped with different colored layers of rock, giving these bike trails a dramatic backdrop.
What are the best trails in the North Fruita Desert?
Pumps, Bumps & Rollers (PBR)
Zippity Do Da
Joe's Ridge
Mountain biking at Lunch Loops
The Lunch Loops are a technical, rocky trail system located four miles west of Grand Junction (a 10-minute drive from the city). The main trailhead is on Monument Road, which is accessible by taking Highway 340 west out of Grand Junction over the Colorado River. More parking is available at two locations off Little Park Road. The Lunch Loops are adjacent to Colorado National Monument. You can clearly see the towering red rock cliffs of the monument from the tops of the ridges in the Lunch Loops area.
What are the best trails in the Lunch Loops?
Pucker Up (directional)
Free Lunch
Miramonte Rim
Curt's Lane
Kokopelli Trail and Kokopelli Loops
The Kokopelli Trail itself is 140-mile mountain bike route between Fruita, Colorado and Moab, Utah, comprised mostly of jeep roads. Kokopelli Loops is a bike trail system centered around a section of the Kokopelli Trail on the Colorado side. Kokopelli Loops is located in McInnis Canyons National Conservation Area just west of I-70 between Loma and Mack. It's about 7 miles (15-minute drive) from Fruita. The trails in Kokopelli Loops are flanked on the southwest by the section of the Colorado River known as Ruby Horsethief. Most of the Kokopelli mountain biking trails are intermediate. This trail system is a bit easier than other Fruita trails and might be good to ride near the end of a trip when your legs are tired. The trails and roads are a mix of dirt and slickrock, with small rock shelves throughout.
Access points and parking for Kokopelli Loops
There are three trailheads by which to access the Kokopelli Loops. One is called the Kokopelli trailhead and is near Loma just off I-70. Another is the Mack Ridge trailhead, which is between Loma and Mack on Hawkeye road just west of I-70. The third is the Hawkeye trailhead, just off the Mack exit on I-70.
Best trails in Kokopelli Loops
Mary's
Horsethief Bench (ride clockwise)
Wrangler
Rabbit Valley
The Rabbit Valley trails are another Colorado bike trail system centered around a section of the Kokopelli Trail. The Rabbit Valley trails are also located in McInnis Canyons National Conservation Area, just off I-70 west of Fruita on the Colorado-Utah state line.
Gunnison vs. Fruita
Both Gunnison and Fruita have a variety of excellent spring mountain bike trails. They are two of the best places to go mountain biking in Colorado. We hope this guide has been helpful as you plan your Colorado spring mountain bike trip!