Gunnison Valley holds the records in Colorado for kokanee salmon and brown, rainbow, and lake trout. You can find the best fishing in the state here. Our valley offers great river and stream fishing as well as lake fishing. Colorado's largest body of water—Blue Mesa Reservoir—is just ten minutes west of Gunnison. Other popular stretches of river are the Catch and Release section of the Taylor River and the East River at the Roaring Judy State Fish Hatchery.
Lake and stream fishing follow their own annual cycles and patterns. Knowing these cycles will ensure that you have the most successful fishing trip to the Gunnison Valley possible.
Gunnison Valley Fishing Records
By Weight
| Species | Weight | Length |
| --- | --- | --- |
| Rainbow Trout | 19lbs. 10oz. | 34″ |
| Brown Trout | 30lbs. 8oz. | 36.4″ |
| Mackinaw | 50lbs. 6oz. | 44.25″ |
| Tiger Trout | 8lbs. 3.68oz. | 27.5″ |
| Kokanee (Snagging) | 7lbs. 5oz. | 27″ |
By Length
| Species | Length |
| --- | --- |
| Brook Trout | 26″ |
| Cutbow | 33.5″ |
| Cutthroat Trout, Snake River | 31″ |
| Mackinaw | 46.9″ |
| Rainbow Trout | 40.25″ |
| Tiger Trout | 28″ |
Crested Butte and Gunnison River & Stream Fishing
The Gunnison Valley is home to some of the finest fly fishing in Colorado, if not the entire Rocky Mountain west. Use our hatch chart below to plan your visit.
Looking for fishing guides and outfitters?
Tips for Fishing the Taylor River
The Taylor River is a prime fishery located halfway between Gunnison and Crested Butte and is a main stem of the Gunnison River. The secret behind the Taylor's success is the reservoir upstream that controls the flow all year long and makes the gradient of the river downstream consistent. Large boulders and bedrock riffles litter the run and provide perfect spots for trout to congregate. These same features also help aquatic insects flourish. Huge hatches of Caddis, BWO, and PMD can cover you in the evenings.
In the winter the Taylor River is the only place to fly fish in the valley. Downstream below the dam for a 1/3rd mile stays ice free due to the temperature of the water. This is the Catch and Release section of the Taylor, often referred to as the C&R. The primary fly to use here most of the year is the Mysis Shrimp in a variety of ties. The big fish here will rise to a well-presented single dry fly if a hatch is happening and your tippet is tiny. If these techniques aren't producing for you try some small midges and emergers. The last resort is always to try something outside the box. Maybe that fly you've been carrying unused for 10 years is the one that pays off.
The rest of the Taylor fishes normally for a western river. Most people use 4X-5X leaders and tippets. Fish the hatch as it comes off and then be ready to switch back to a dry-dropper as necessary. Hare's Ears, Zebra Midges, and Psycho Princes are just a few of the large selection of nymph patterns that will catch fish on the Taylor. These are often hung off the back of large foam flies like Pool Toys and Chubby Chernobyls.
Tips for River & Stream Fishing
Our Valley's moving water is not pastoral and much of it is fast-flowing. Being in decent physical shape helps us get through days of fighting currents and fish. Metal cleats are popular here because of their grip for the rocky river bottoms.
Most of our guides offer dory or raft float fishing on the Gunnison River. Half the Gunnison is private land and floating is the only way to access some superb water that is otherwise unavailable to wading anglers.
Nets are useful. Fighting a fish and trying to maneuver to shore can often pose a difficult task. Many big fish have been lost because there wasn't a net to catch them.
Wear sunscreen and keep some bug spray handy. Mosquitos and biting flies are usually not much of a problem, except when they are.
A wading staff is a helpful tool for an unsteady angler.
Gunnison Valley Lake Fishing
The Gunnison Valley is home to the Blue Mesa Reservoir, Colorado's largest lake. We also have a few other smaller lakes that offer very good lake fishing. Our calendar will help you plan your trip.
For more details about fishing in the Blue Mesa Reservoir go here.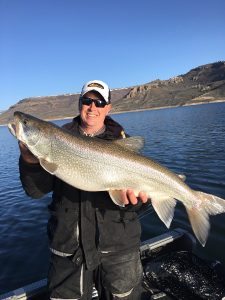 Tips for Lake Fishing
Fish early and late in the day during summer time:
Surface temperatures in lakes and reservoirs can vary as much as 10-15 degrees in a single day, unlike rivers that constantly flow cold water. All the fish species in the valley are considered cold water species and do not respond well to warming water. Fish will often be more active during times when the sun isn't directly warming the water.
Other species:
Taylor Reservoir is home to some truly large northern pike. Try casting the shallow weedy areas in June through October for a chance at a 20+lb toothy trophy. Blue Mesa Reservoir has seen an explosion of perch. These fish, though small, are very tasty and easy to catch. In late summer months and into the fall when other fishing may be tough, take the kids perch fishing. Fish in coves with structure like weeds or trees and use small jigs tipped with small pieces of earth worm. Fish in 10'-20' and keep moving until you find a school, then enjoy non-stop action.
CPR for Fish:
Trophy fish are a true prize for all anglers in the Gunnison Valley and are typically very old (it's not uncommon for large trout to be over 20 years old!). Modern day replicas can be made that last longer and look more realistic than skin mounts. The use of Catch – Photo –Release (CPR) will help preserve our valley's fisheries and give all anglers the opportunity to catch trophy sized fish.
Fishing Outfitters, Guides, & Shops
As you plan your Gunnison Valley fishing vacation, you may want to book a professional angler who can guide you to the holes, tie the flies, and untangle the line. Some of our local guides even provide you with lunch and private land access.
Activities in Gunnison-Crested Butte
Be sure to check out the other summer and fall activities Crested Butte and Gunnison have to offer. We have stellar mountain biking trails, an abundance of hiking trails, rivers to raft and fish, rocks to climb, good food to eat, and cool towns to see. Check out our activities page to learn more!
Crested Butte and Gunnison hotels
Whether you're looking for a cabin or a condo, a hostel or a traditional hotel, we've got you covered for a vacation rental. Visit our Lodging page to learn more!