You may already know that Crested Butte is the Wildflower Capital of Colorado, but did you know it's the Nordic Skiing Capital, too? Every year the Crested Butte Nordic Center grooms 50 kilometers of trails in the upper Gunnison Valley, while Gunnison Nordic grooms a large trail network in Hartman Rocks and other places further down the valley.
Between Gunnison and Crested Butte are several forest service roads that are left un-plowed during the winter. These roads become popular multi-use areas, and are fantastic for access farther into the backcountry. They may or may not be groomed for Nordic skiing,
If you plan on cross-country skiing outside of the Crested Butte Nordic Center or the area surrounding Gunnison, please check the Crested Butte Avalanche Center to learn about the avalanche risks of the day.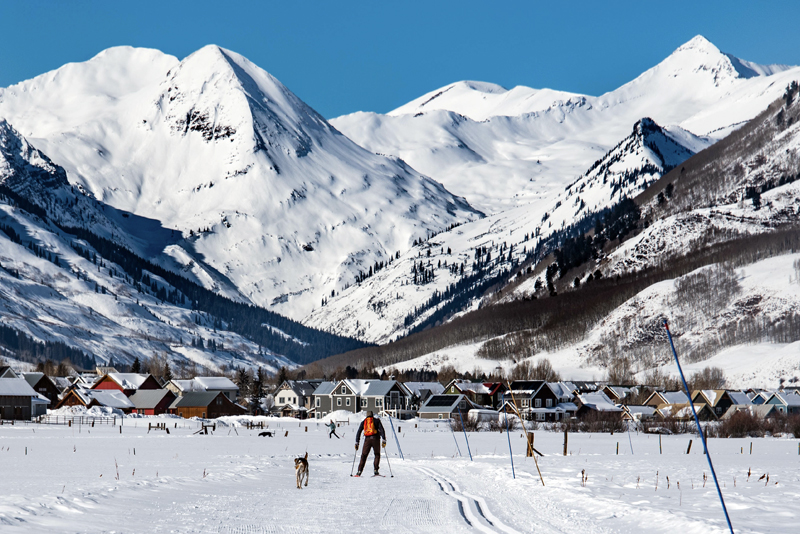 Places to Nordic Ski Near Crested Butte
Places to Nordic Ski Near Gunnison
Difficulty:
Medium to difficult
Other Users: Snowshoers, fat bikers
Dog Friendly?: Yes
Directions from Gunnison: From the stoplight at the corner of US 50 and Hwy 135 go north on Hwy 135 for 3.5 miles. Turn left on Ohio Creek Rd. In 9 miles turn left on Mill Creek Rd. Follow Mill Creek Rd. for 3 miles until you reach the parking area.
Description: Skiing in Mill Creek is downright impressive. As you travel up the canyon on any one of the trails in the area you become slowly enclosed by massive spires and columns of weathered rock. There are lots of trail options winding through the spruce and aspen groves, but judgment must be used to avoid avalanche hazard, especially in the upper canyon. Gunnison Nordic occasionally grooms trails in Mill Creek.
Difficulty: 
Easy to difficult
Other Users: Snowmobilers, fat bikers, snowshoers
Dog Friendly?: Yes
Directions from Gunnison: Follow US 50 West from the center of town. Just before crossing the Gunnison River turn left on CR 38 (Gold Basin Rd.). Follow this for a couple miles to the Hartman Rocks parking area. Access also exists off CR 32 (McCabe Lane) a couple miles further down US 50 West.
Description: With acres of shrubland, unique rock formations and endless views, Hartman Rocks offers a more expansive Nordic skiing experience than many places in the valley. Gunnison Nordic focuses most of their grooming efforts at keeping the miles of trails in the area in tip-top shape, and long loops and day trips are easy to piece together here. Maps of the area are available at the trailhead and online here.
Difficulty: Easy
Other Users: Snowshoers
Dog Friendly?: No
Directions from Gunnison: Follow US 50 West from the center of town for 57 miles. Turn right on CO-347 and drive another 4 miles. Park at the South Rim visitor center.
Description: Even in summer, Black Canyon is one of the least-visited National Parks. In winter, you'll pretty much have the place to yourself. The South Rim Road is groomed starting at the visitor center. Call the park before you go to inquire about conditions and whether enough snow has fallen to ski on. From the visitor center, you can ski or snowshoe along the road for as far as your legs will take you. Be sure to stop at the overlooks to check out the views of the canyon and eat a snack. The mellow grade of the road is appropriate for any ability level. This is an unforgettable way to experience the beauty of one of the country's most unique National Parks.
Nordic Ski Trail Maps
You can download the free CBGTrails map app to your phone and carry this map with you on all your Gunnison Valley adventures!
Gear Shops, Rentals and Lessons
Want to go Nordic skiing on your vacation, but didn't bring any gear or experience? Don't worry! We have you covered with multiple gear and rental shops as well as awesome instructional programs.
Nordic Skiing Lessons
Crested Butte Nordic Center
Gunnison Nordic
Adaptive Sports Center
Search Gear shops and Rentals