Spring activities in Gunnison and Crested Butte
What is there to do in spring in Crested Butte and Gunnison?
April, May and June in the Gunnison Valley bring warmer temperatures and melting snow. The best spring activities in Gunnison and Crested Butte include gravel biking, backcountry skiing and boating. The availability of many activities depends on how much snow is left on the ground. Lots of winter snow often provides great conditions for kayaking and mountain biking in spring and early summer. When planning your spring trip to Colorado, bookmark this page for ideas on things to do, places to go and how to get to the Western Slope.
Closing day for winter sports
Skiing at Crested Butte Mountain Resort is a fun, active way to spend your spring break. Closing weekend at CBMR, which usually happens in early April, is always a party! Come out and celebrate another epic downhill ski season in Mt. Crested Butte. Don your wildest costume, dance to live music and try to stay afloat at the annual pond skim. As winter comes to an end, Crested Butte Mountain Bike Association stops grooming fat bike trails, and Crested Butte Nordic closes as well. The end of the fat biking and cross-country ski seasons are contingent upon snow and vary each year.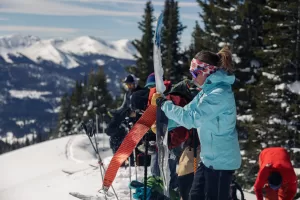 Credit: David Van Atta / Air Sense Creative
Backcountry skiing
Spring in the Gunnison Valley is a popular time for backcountry touring. As other Colorado winter activities wind down, the call of the backcountry can be strong. There are many spots for day tours around Crested Butte and on Monarch Pass, and several backcountry huts are accessible from the Gunnison Valley. A snowmobile can get you farther out into the mountains around Crested Butte but isn't mandatory—the two million acres of public lands in the Gunnison Valley ensure easy skiing access without a sled. If you venture into the backcountry in spring—whether it's on skis, a splitboard, a snowmobile, snowshoes or nordic skis—please ensure you have the knowledge and equipment suitable for traveling through avalanche terrain.
Boating
As the snow melts in spring, the creeks, rivers and lakes around the Gunnison Valley rise, and boaters flock to the water. Flows vary each year due to seasonal snowpack and weather conditions, but generally peak in late spring. This is the most exciting time to kayak the steep creeks around Crested Butte and raft the larger rivers in Almont and Gunnison. The waves at the Gunnison whitewater park are a gathering spot for river surfers and play boaters. Commercial rafting outfitters begin operating around Memorial Day. Lakes begin to thaw out, drawing stand-up paddleboarders and motorboats.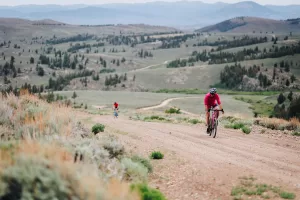 Gravel biking
Gravel biking is one of the best spring activities in Gunnison. In spring, while many trails are still muddy or covered in snow, the 1,000-plus miles of gravel roads in Gunnison are usually dry and ready to ride. The roads around Crested Butte take longer to melt out than the roads around Gunnison but are usually good to go by late spring. Road conditions are variable due to weather and snowpack depth, so please do your research before heading out on a ride. Local bike shops are a good resource for road condition information. If you encounter snow or mud during a gravel ride, please turn around to preserve the road.
Road biking
Road biking is also a great option for spring activities in Gunnison and Crested Butte. Barring spring snowstorms, the pavement generally dries out in early spring. Every year is different, so check our webcams and travel alerts pages for live weather cams and road condition reports before you hit the road. Highway 135, Highway 50, Highway 114 and County Road 742 through Taylor Canyon and Cottonwood Pass all offer scenic road biking routes.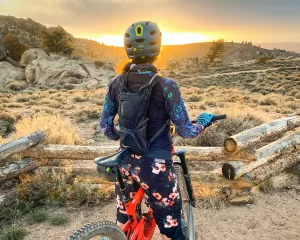 Hiking and MTB
Generally, Hartman Rocks and the other trails around Gunnison are the first to melt out in early spring due to the dry, high desert ecosystem. Most years, spring is the best time to ride (and race) at Hartman Rocks due to tacky trail conditions and spring greenery.
Spring can be hit-or-miss for hiking and mountain biking in Crested Butte. The speed at which the snow melts off is different every year. Trails can dry out as early as mid-March or as late as early July, especially in the high mountains around Crested Butte. Alpine trails like West Maroon Pass and Trail #401 are usually some of the last to melt out. This guide to spring mountain biking in the valley highlights some of the trails in Gunnison and Crested Butte that tend to dry out first.
If you encounter mud or snow on a trail, please turn around and return on a drier day. Let's work together to keep the Gunnison Valley trails in good shape! Learn more about how to travel responsibly in Gunnison and Crested Butte.
Gunnison and Crested Butte spring trail reports
The two trails organizations in the Gunnison Valley do a stellar job of informing trail users about conditions and trail openings as they happen. Before you embark on your spring activities in Gunnison and Crested Butte, visit Crested Butte Mountain Bike Association's trail conditions page and follow Gunnison Trails on social media to stay updated on the latest trail openings. During your hike or ride, keep an eye out for spring wildflowers, including glacier lilies and pasqueflowers.
Gunnison spring trail restrictions
Some trails at Hartman Rocks and Signal Peak are closed to some uses during certain dates in spring to protect wildlife. Plan your route before heading out onto the trails. Stay off closed trails to help protect Gunnison's unique animals and birds.
Western Colorado University graduation
Western Colorado University is a small public university in Gunnison. This tight-knit school attracts students from all over the world for its personalized, hands-on learning opportunities and proximity to the Gunnison Valley's incredible outdoor recreation. The unique offerings at the Paul M. Rady School of Computer Science and Engineering are also a draw for undergraduates interested in working in the outdoor industry. Commencement at Western is held every May. After cheering for your grad at the graduation ceremony, head to downtown Gunnison to celebrate!
Shopping and restaurants in downtown Crested Butte and Gunnison
As you plan your spring trip to Colorado, keep in mind that spring is off-season in the Gunnison Valley and much of the Rocky Mountains. Some restaurants and retail shops might be closed or have different hours than usual, especially in downtown Crested Butte. Businesses in downtown Gunnison generally stay open, but it's still good to check before you arrive. The good news is, the historic buildings and bright storefronts of the two towns are Instagrammable during any season. Enjoy the peace and quiet of off-season in the Gunnison Valley's quirky and cute mountain towns!
Gunnison Valley events calendar
Looking for a specific spring event? Browse upcoming events in our events calendar!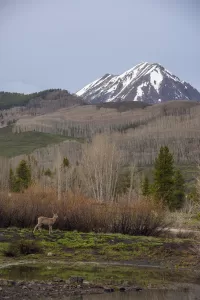 Wedding planning
Planning a wedding, corporate retreat or other event in Crested Butte or Gunnison? Check out this handy guide to local vendors, scenic venues and great places to stay. There's even a cash rebate program for holding your event in Colorado. You'll find the prices on lodging and event services in Gunnison Valley to be significantly lower than similar mountain towns like Telluride and Aspen.
Gunnison and Crested Butte lodging
Need a vacation rental, hotel or condo during your spring trip to Crested Butte and Gunnison? Use our helpful comparison tool to browse places to stay. Filter by price, number of occupants, pet-friendly options and other amenities.