Reasons to visit Crested Butte for spring break
Why should you take a spring break ski trip to Crested Butte, Colorado? Crested Butte is an epic spring skiing destination and one of the best places in Colorado to visit during spring break. With new flights into the Gunnison airport (GUC), it's easier than ever to fly here. Also, Crested Butte Mountain Resort has gotten way more snow than usual this season! You'll have just as much fun enjoying the fun and funky après-ski scene in downtown Crested Butte as you will shredding the slopes. Plus, there are several ski-themed parties and events planned in the Gunnison Valley in March and April.
Nonstop flights to Colorado
Did you know there's an airport in Gunnison, Colorado, less than 30 miles from Crested Butte? It's called Gunnison-Crested Butte Regional Airport (GUC), and there are more flights there this winter than ever before! Fly from anywhere to Denver, then take United's short nonstop flight into Gunnison. This easy flight will save you four hours of drive time! Flying from Texas? Check out United's nonstop flight from Houston, or American Airlines' nonstop flight from Dallas. JSX, a hop-on jet service, offers nonstop flights from Austin, Dallas and Houston. Start planning your trip now!
How to avoid I-70 traffic
Avoiding I-70's infamous traffic can be the difference between a stressful Colorado ski vacation and an enjoyable one. To drive to ski areas like Vail, Copper, Breckenridge, Winter Park and Arapahoe Basin from Denver, you must brave the gridlock and notoriously bad accidents on Interstate 70. This is not the case when driving from Denver to Crested Butte! From Denver, you'll take Highway 285 to Highway 50, and finally to Highway 135, one of Colorado's beloved Scenic Byways. You'll avoid the traffic surrounding the city and the Front Range. Instead of brake lights, you'll enjoy open roads and picturesque views of the Rocky Mountains. Keep tabs on winter closures and road conditions before you hit the road.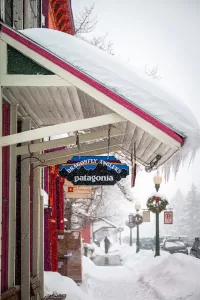 How much snow has Crested Butte gotten this season?
Crested Butte has seen snowfall well above average this winter. To be exact, USDA reports that the snowpack in the Gunnison Valley is about 143% of average for this time of year! 98% of the terrain at Crested Butte Mountain Resort is open, and coverage is excellent. Don't miss this chance to ski epic Colorado powder! Keep an eye on the Pow Cam and other local weather webcams for current conditions on the mountain and in Gunnison.
Spring weather in Colorado
March and April bring longer days and more hours of sunlight. March in particular is known for being a very snowy time of year in Crested Butte. Z Rankings ranks March as the best month for snow in Crested Butte. Due to its high elevation and cold temperatures, the snow at Crested Butte is preserved longer than it would be at a lower altitude. Much of the terrain on the resort faces north (away from the sun), so that also preserves the snow. OpenSnow's Crested Butte Insider's Guide offers even more insight into the snow and weather in the Gunnison Valley.
Where to ski at Crested Butte Mountain Resort
There are plenty of reasons to ski Crested Butte, but the mountain is known for its gnarly extreme skiing. If you're an expert skier, don't miss the famously steep double-black runs on the mountain! Not quite ready for the extremes? Check out the resort's intermediate terrain. If you love skiing in tight trees, explore Crested Butte's glades. Wherever you choose to ski on the mountain, you can use your Epic pass or buy a day pass. If you are purchasing a day pass, buy online in advance for a discount.
The Al Johnson race is a telemark ski race held every year in Crested Butte. As with most Crested Butte events, costumes are encouraged. Photo credit: Taylor Ahearn, Crested Butte Mountain Resort. 
Spring events in Crested Butte
There are many winter events in Crested Butte and Gunnison, and several of them are held in late winter and early spring. Crested Butte Mountain Resort usually closes after the first weekend in April, and the events on the mountain that weekend are not to be missed. Closing weekend events include a pond skim (also known as a slush huck) and live music at the base area. The epic Grand Traverse ski mountaineering race is also held during closing weekend. Whether you're participating in this grueling skimo race or just cheering on the athletes, the Grand Traverse's midnight start is one of Crested Butte's best parties. The Al Johnson telemark race is also held during closing weekend. Grab your tele skis and don a costume for this iconic race celebrating a historic local mail carrier. Spectators can watch from the bottom of The Last Steep. Keep an eye on the events calendar for even more spring events in Crested Butte and Gunnison.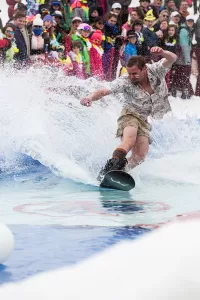 Crested Butte's annual pond skim is held closing weekend. Photo credit: Taylor Ahearn, Crested Butte Mountain Resort.
Après-ski in Crested Butte, Colorado
For a spring break ski trip to Crested Butte, the après scene is almost as important as the skiing! If you're looking for nightlife, Elk Avenue is where it all happens. Elk Avenue, which is Crested Butte's main street, is crammed with eclectic bars and unique restaurants. You won't find any chain restaurants here! Many establishments offer live music during the dinner hour. If music is what you're looking for, check out the event calendars at the Public House, the Eldo and the Center for the Arts. Musicians from all over the world play at Crested Butte. Dancing is encouraged!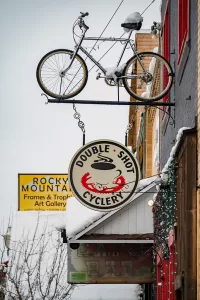 Gunnison travel tips
Gunnison, a small city located 28 miles south of Crested Butte at the intersection of Highway 50 and Highway 135, is another one of Colorado's awesome mountain towns. Restaurants, cafes and retail shops line Main Street in Gunnison. In Gunnison you'll also find affordable lodging options and large grocery stores. From town, outdoor adventurers will find easy access to fat biking and Nordic skiing at nearby Hartman Rocks. There's also a free bus to Crested Butte that runs about every hour during the day.
Western Colorado University
Gunnison is the home of Western Colorado University, arguably the best school in the U.S. for skiers and snowboarders. Spring break is a great time for prospective students to visit campus and see what makes this small, tight-knit university so special.
More spring break Crested Butte trip planning tips
Looking for more ideas for your Crested Butte spring break ski trip? SnowBrains planned out an action-packed six-day trip itinerary. If you're just looking to stay for a few days, check out this guide to a weekend trip to Crested Butte, Colorado. Check out this comprehensive guide of outdoor activities and things to do in Crested Butte and Gunnison, too.