Spring mountain biking in Crested Butte
Planning a spring mountain biking trip to Crested Butte? Spring in the Gunnison Valley brings early-season wildflowers and a growing list of mountain biking trails that have melted out and are ready to ride. To get you started, we've compiled a list of some of our favorite spring MTB trails around Crested Butte and Gunnison. There are lots of other things to do here in spring too, including boating, hiking, gravel biking and fishing. Spring is an affordable time to visit the Gunnison Valley because lodging rates in May and June tend to be lower than during the peak summer season of July and August.
Spring trail openings and conditions
Plan your route before you ride
For up-to-date spring trail openings, check out Crested Butte Mountain Bike Association's trail conditions page.
Some trails in Gunnison, including trails south of the Powerline Road at Hartman Rocks, are closed until May 15 for wildlife conservation. Check out our spring trail restrictions page for more detailed information.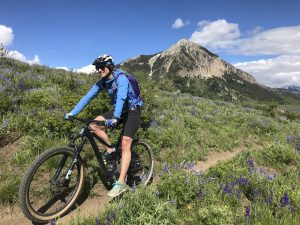 Spring mountain bike trails in Crested Butte
Where to mountain bike in May and June
Due to elevation and sun exposure, the trails listed below tend to open earlier in the season than the others. In spring, you may encounter snow and mud. Ride through it, not around it. If biking on the trail is causing damage, stop and turn around. Crested Butte is special because it is pristine. Help us keep it wild by planning your trip ahead of time and treading lightly on the land.
Snodgrass
Difficulty: Intermediate
Distance: 4 miles
Snodgrass is one of the classic Crested Butte MTB trails. It can be ridden either direction, but the more popular way (with a larger parking lot and less uphill) is to ride from east to west. Snodgrass is unique in that it is located on both public and private lands. The trail opens in spring when the snow melts and closes in late August for cattle grazing. Snodgrass is of one many successful collaborations between Gunnison Valley trails organizations and private landowners. To learn more about the collaborative effort towards balanced land use that is unique to Gunnison and Crested Butte, visit our trails organizations page.
Start at the well-marked Snodgrass trailhead about two miles north of Crested Butte Mountain Resort on Gothic Road (Highway 135). On the very first hill you'll be greeted with a spectacular view of the ski area. You'll continue to ascend over rolling hills. The trail tops out in an aspen grove and descends, ending at Washington Gulch Road (FS Road 811).
Tack on Teddy's Trail at the beginning of the ride for an easier ascent and more beautiful views. Snodgrass can be linked with many surrounding trails in Mt. Crested Butte, including Meander and Lupine.
Crested Butte Mountain Bike Park
Difficulty: All levels
Distance: Varies
The Crested Butte Mountain Bike Park at Crested Butte Mountain Resort offers lift-served access to more than 30 miles of downhill mountain bike trails. A downhill mountain bike and full-face helmet are helpful, but not required. Crested Butte's bike park also links to many surrounding trails, including Happy Hour and Snodgrass, so you're not limited to the resort. The bike park at Crested Butte usually opens in early June.
Lupine
Difficulty: Easy
Distance: 4 miles
Lupine is another popular Crested Butte mountain bike trail. Due to the lack of parking at the top of the Lupine trail (the east end), it's best ridden as part of a loop. Start in the town of Crested Butte and ride north on Gothic Road (Highway 135) towards Mt. Crested Butte. Turn left at the Saddle Ridge neighborhood. The trail begins in the dead-end cul-de-sac. Lupine starts with a climb and then descends gently down towards Slate River Road. You'll ride through fields of wildflowers in the spring and enjoy views of the Slate River from the ridge. Combine the Lupine trail with Gunsight Connector and Lower Loop for a mellow 13-mile loop. Substitute the Upper Lower Loop and Budd trail for the Lower Loop to increase difficulty. Either way, you'll end up back where you started in Crested Butte. You've definitely earned a beer or a bite to eat!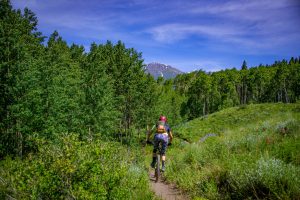 Strand Hill trails
Difficulty: Intermediate
Distance: Varies
The Strand trail system, located several miles east of the town of Crested Butte, is a small intermediate trail system. There is very limited parking near the Strand trails, so start your ride at the Brush Creek trailhead on Brush Creek Road. From there, ride about a mile east until you get to the trails. Strand Hill trail is the highlight of this trail system and flows best south to north. To get there, you have several options. The fastest and steepest way is to ride up Farris Creek road and Strand Hill road. The other option is to ride up the Canal and Strand Bonus trails to Strand Hill Road. The south end of Strand Hill trail is a good place to grab a drink of water and enjoy the view of Teocalli Mountain before descending on the steep, chunky singletrack.
The Strand trails are located close to many other great Crested Butte mountain bike trails and can be worked into several longer rides. If you're done riding Teocalli Ridge or Strawberry trail and still thirsty for more downhill, tack Death Pass and Canal trail onto the end of your ride. The Strand trails are also a great warm-up or cool-down for the advanced 409 (Farris Creek), Point Lookout and 409.5 loop.
Middle Cement (Stumpjumper)
Difficulty: Intermediate
Distance: 1 mile
The "Stumpjumper" segment of Middle Cement trail is a newer trail in Crested Butte and can be linked with many other nearby trails for a fun intermediate ride. It is located up Cement Creek Road about 10 miles southeast of the town of Crested Butte. This segment of Middle Cement is a fast downhill trail best ridden north to south. It is full of technical rock features, berms, jumps and a few tight switchbacks at the bottom.
For a five-mile ride, take Lower Cement Creek trail to the Walrod Road. Turn south onto Warm Springs and then stay right at the fork to get onto Middle Cement. Take Lower Cement Creek trail back to where you started. Expert riders might enjoy a long, challenging loop starting on the Walrod road and linking Walrod Cutoff, Farris Creek (409), Point Lookout, Double Top, Dark Side, The Wall and Middle Cement. Many trails in this area are multi-use, so be prepared to share the trails with dirt bikes and e-bikes.
Hartman Rocks
Difficulty: All levels
Distance: Varies
Ride more than 40 miles of epic cross-country singletrack at Hartman Rocks Recreation Area. It's located just a few miles from Gunnison. Keep in mind that trails south of the Powerline Road are closed until May 15 for wildlife conservation. Check out some of our favorite intermediate trails here.
Planning your trip
Need info on flights, activities and lodging? Check out our mountain bike trip planning page!