The best tree skiing at Crested Butte
Love skiing in the trees? Although Crested Butte Mountain Resort's most famous feature is its extreme terrain, there are also some unique tree skiing opportunities on the mountain. We've put together a list of the best tree skiing spots at Crested Butte to help guide you during your visit. Whether you're just learning how to ski in the trees, or you're an old pro, you'll find something to love on this list. Follow along on Crested Butte's winter trail map as you browse this list.
What makes tree skiing at Crested Butte special?
Relative to other ski areas, the trees at Crested Butte tend to be tightly spaced. This makes for challenging and exhilarating tree skiing. Coniferous trees grow on about half the mountain. On the other half is aspen groves. Aspen trees have bright white bark and few low-hanging branches. Skiing through a grove of aspens is a unique experience. It's bright because the bark reflects light. It can also be easier than skiing through other types of trees because you can see farther due to the lack of low branches.
What are the best places for tree skiing at Crested Butte?
Sylvanite
Rating: Black
Access from: Silver Queen Lift
Sylvanite is a hidden gem on Crested Butte Mountain. It's easy to miss if you don't know what you're looking for. The best way to get to Sylvanite is to ride the Silver Queen Express Lift from the main base area. Take Triangle or Monument to Upper International. About halfway down, take a right onto Lower Twister. Then take an immediate left onto Sylvanite. The top of the run is quite flat; if you're a snowboarder, keep your speed up here. Farther on, the run gets steeper. The center of Sylvanite is clear-cut and bumpy, which is quite enjoyable if that's what you're looking for. However, if you dip into the trees on the left side, you'll find one of Crested Butte's best glades. The aspens here are perfectly spaced to cruise through. When you pop into a clearing, you'll be met with a stunning view of Red Lady, Mineral Point and the rest of the mountains west and north of Crested Butte. Take in the scene before continuing back down through widely spaced trees towards the base area.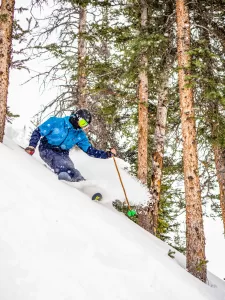 The Glades
Rating: Double black (extreme)
Access from: North Face Lift
The terrain off the North Face lift showcases everything Crested Butte is famous for, including steep faces, cliffs and tight tree skiing. Nearly all the trees in this zone are conifers, and in some places, they're quite close together. The snow tends to stay chalky in the area off the North Face lift due to higher elevation and protection from wind. The Glades, which are accessible from the North Face via Rachel's, encompass a large area that contains nearly two dozen runs. Expert skiers will enjoy picking a different line through The Glades every time they ski there. If you stay in the center, on runs like Honey Pie, Stevie's and Paradise Lift Glade, you'll encounter fewer trees. The farther left you ski, the tighter the trees become. The trees are also thicker on skier's right, including in the run known as No See Um. For maximum adrenaline, tack on Rambo Glades at the end of your run.
Gus' Way and Rosebush Glades
Rating: Blue
Access from: Teocalli Lift
Explore Gus' Way if you're new to tree skiing. This run is most easily accessible from the Teocalli or Red Lady lifts. From the top of Bushwacker, you'll keep bearing left until you see a sign marking Gus' Way. Gus' proper is a groomed run. Dip into the trees on your right from anywhere along the run. You'll find widely spaced spruce, fir and aspen trees. If you encounter a house, don't be alarmed—you're still in-bounds. You've entered the run known as "Some Guy's Backyard." Continue down past the house and into Rosebush Glades, where you might find deep snow that tends to blow in from the front side of the resort.
Powder 8 Gully
Rating: Double black (extreme)
Access from: High Lift
Powder 8 Gully is a short but sweet run off the High Lift. It's on skier's left of the Headwall, which is a large bowl and the central terrain feature off the High Lift. Powder 8 is characterized by neatly spaced Douglas fir trees. Next door, Headwall Glades offers a similar experience.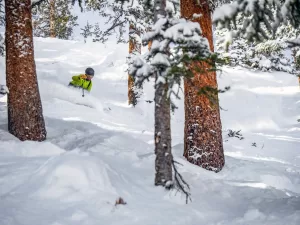 Teocalli Bowl
Rating: Double black (extreme)
Access from: High Lift
Another stellar forested area off the High Lift is Teocalli Bowl. From the top of High Lift, follow the signs and traverse south across the ridge. From the ridge, nearly anywhere you choose to drop in will contain low-density trees. The farther south you traverse, the more cliffs and rocks you'll encounter. This area is less steep than the Headwall or any terrain off the North Face. You'll find plenty of cliffs and rocks to jump off if you choose. A 10- to 15-minute hike out takes you to the top of Paradise Bowl.
Bakery Trees
Rating: Black
Access from: Paradise lift
The short hike into Bakery Trees prevents this run from overuse and keeps the snow in good condition for a long time after a storm. From Paradise lift, follow Canaan to Upper Treasury. On Upper Treasury, you'll see a sign on your right for Bakery Trees. Enter the gate and take the short hike to the top of the ridge. (No need to take your skis off here. Side-stepping is the way to go!) You'll find gently rolling terrain covered in medium-density to thick trees. Enjoy the quiet and the soft snow. You'll end up at East River lift.
Double Top Glades
Rating: Black
Access from: East River lift
Double Top Glades is easily the most popular run for tree skiing off the East River lift and perhaps the entire mountain. Avid skiers race here on the morning of a powder day to make fresh turns among the widely spaced trees. As the name suggests, there are two entrances to this run. The trees on skier's left tend to be a little tighter, but there is no wrong way down Double Top. There are many different lines to take on this run, so you might find yourself coming back for a second or third run to explore all Double Top's nooks and crannies.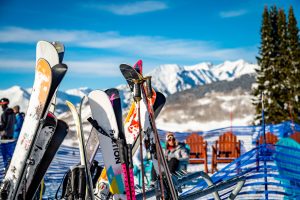 More Crested Butte skiing tips
Looking for more info about skiing at Crested Butte? Here are seven reasons to visit. Need some ideas for easier runs than the ones listed here? Peruse this collection of the best intermediate runs at Crested Butte. Ready to pull the trigger on a ski trip to Crested Butte? Check out this page with details on hotels, flights and other travel tips.