What to bring on a Colorado mountain bike trip
MTB gear
Trying to decide what gear you need to go on a Colorado mountain bike trip? If you are planning a dream mountain biking vacation, there are a lot of choices for MTB gear, and it can be hard to know what you will need out on the trail. This guide will help you decide what kind of bike to bring or rent. You'll also learn what gear will be appropriate for the beautiful and challenging Rocky Mountain terrain. We've covered everything from mountain bike apparel, to tools, to safety equipment. Come prepared with the right MTB gear on your Colorado mountain bike trip!
What kind of mountain bike should I ride?
Hardtail vs. full suspension mountain bikes
Do you need a full suspension mountain bike, or a hardtail? The good news is, either one will work! Most mountain bikes built for trail riding have dual suspension (full suspension). The rear suspension allows for bigger drops and more shock absorption on bumpy roads or trails. A hardtail mountain bike, which only has front suspension, will give you a little less flexibility on drops and a slightly bumpier ride, but you'll be able to ride trails much the same.
How much travel do I need on my mountain bike?
Downhill vs. trail bike
Most of the MTB trails in the Gunnison Valley are best suited to a trail bike. Trail bikes have around 130-150mm of travel in the suspension. Because most trails here include a sustained ascent before the downhill section, you likely won't want too much travel for the uphill segment. Too much travel makes riding uphill inefficient. If you plan on riding the lift-served downhill trails at the Crested Butte Mountain Bike Park, a downhill bike with 150mm or more of travel is appropriate.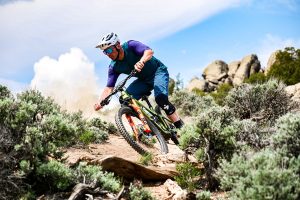 Brice Shirbach rides Bambi's at Hartman Rocks. 
Bike rentals
Many bike shops in Gunnison and Crested Butte rent out mountain bikes. This is a great opportunity if you just want to give the sport a try before committing to buying a bike, or if you don't want to deal with bringing yours from home for your Colorado mountain bike trip.
Other types of bikes
Mountain biking isn't the only way to get around the Gunnison Valley on two wheels. Need some motor assistance? Try out an e-bike. Looking to explore the 1,000-plus miles of dirt roads around Gunnison and Crested Butte? Check out gravel biking. In winter, fat biking is a unique way to travel over snow.
Mountain bike pedals
Flat vs. clipless pedals
There are two types of mountain bike pedals—flats, and clipless. Flat pedals are simply a flat platform that your shoe rests on. Confusingly, clipless pedals are the kind you clip into. Beginners should start on flat pedals.
Mountain bike packs
Hip pack vs. backpack
Some riders prefer hip packs, technical fanny packs designed specifically for mountain biking. Others stick with a more traditional backpack. Both work equally well, though a hip pack might offer less capacity.
Frame bags
Another option for carrying MTB gear is a bag that attaches to the bike's frame. For mountain bikes, these are generally very small and fit underneath the seat or under the top tube.
Internal downtube storage
Some mountain bikes have a storage area in the downtube. Again, space is limited. The internal storage is great for emergency tool kits.
Water bottle vs. hydration pack for mountain biking
Another matter of personal preference is the best way to carry water while mountain biking. Water bottle holders mounted on the frame offer space for one or two small bottles. A hydration pack is less convenient but can hold significantly more water. For long rides, you'll likely need a hydration pack.
Different types of MTB packs on Doctor Park Bonus trail near Almont.
Mountain bike apparel
MTB shoes
Shoes are the most important piece of MTB apparel because they determine how well you'll be able to connect to your pedals. Your mountain bike shoes will depend a lot on the type of pedals on your bike. You can wear any shoes when using flat pedals, though a shoe with a flat, grippy sole will give your feet better traction on the pedals. There are many options for shoes made specifically for flat MTB pedals, but in a pinch, a skate shoe works just as well. Clipless pedals require special shoes. Clipless shoes have a cavity on the bottom that can be set up with hardware that clips into the pedals. All MTB shoes tend to be quite stiff, which allows energy to transfer efficiently from your leg to the pedal.
Mountain bike helmets
A helmet is mandatory for mountain biking. Although any bike helmet will suffice, mountain-bike-specific helmets have more coverage than road bike helmets. Most also have large visors. A helmet should be less than 10 years old.
Full-face vs. half shell helmet
A half shell helmet is what most people picture when they think of a bike helmet. It covers the top half of your head and is sufficient for most riders. A full-face helmet is appropriate for downhill or freestyle mountain biking.
Mountain bike jerseys
Pretty much any weather-appropriate shirt will work for mountain biking. A mountain bike jersey is a bit more breathable and may offer better coverage of your neck and back. Jerseys are available with long or short sleeves. For cooler days in spring or fall, a technical flannel offers warmth and protection.
MTB shorts and pants
Mountain bike shorts are usually knee-length. They are made of tough material that can withstand bumps and scrapes. They often integrate with a chamois, which is a padded under-short that protects your butt from the hard bike saddle. MTB pants are an option for cold days or spicy rides that might require more protection. Mountain bike pants are usually baggy in the knees to accommodate knee pads.
Mountain bike gloves
MTB gloves give sweaty hands a steadier grip on your handlebars and protect the backs of your hands from the intense mountain sun.
Protection from the elements
Weather changes quickly in the mountains. Bring sunglasses, a rain jacket and sunscreen on every ride. Any sunglasses will do, though in recent years many mountain bikers have adopted large, wraparound sunglasses that protect their eyes from wind, bugs and debris.
Mountain bike tools
What tools should I carry with me while mountain biking?
The most important bike tool is your brain! Before you head out on a ride, learn about how your bike works and how to fix minor mechanical issues that may arise on the trail. The most common mechanical issue is a flat tire. This can happen even with tubeless tires. Always bring a spare tube (make sure it's the right size for your tire!) or patch kit and a set of tire levers. A hand pump or CO2 cannister is also necessary. A multi-tool is another important tool to have in your bike kit. Most mountain bike components, like the saddle and shifters, are adjustable with Allen keys. There are mountain-bike-specific multi-tools with chain breakers and spoke wrenches, but a simple set of Allen keys will suffice if that's all you have. A set of quick links is a lightweight solution to a broken chain, which could be catastrophic on some of the Gunnison Valley's more far-flung rides. A small set of needle-nose pliers can come in handy, too.
Bike racks
A bike rack comes in handy when transporting your bike to the trailhead via car. There are many different types of car bike racks, but the most popular and durable are roof racks and hitch racks. There are also inexpensive racks that clip onto a trunk or hatchback door. These are much less secure than other types of racks but will do in a pinch. Another option if your car is big enough is to take the front wheel off your bike and place the bike carefully inside the back of the vehicle. The public buses in the Gunnison Valley are also equipped with bike racks.
Protective mountain bike gear
Most beginner and even intermediate riders have no need for protective gear. However, as your skill and speed increase, it might be something you choose to add to your ensemble. Protective gear is commonly used for downhill riding at the bike park. The most popular piece of protective gear for mountain biking is knee pads. Knee pads protect your knees from rocks and your own handlebars in case of a crash. Aggressive riders and racers may also wear chest protectors, back protectors, shin pads and elbow pads.
MTB first aid
A simple first aid kit is a good thing to keep in your mountain bike pack for long or remote rides. The contents depend on personal preferences and first aid skills, but many riders include gauze, medical tape, a splint and a tourniquet in their kit. A backcountry bathroom kit can also come in handy.
Food and water
The high elevation, dry weather and intense sun of the Colorado mountains can create conditions that are hostile to unprepared mountain bikers. Stay hydrated with plenty of water before, during and after your ride. Electrolytes or sports drinks can help. Take frequent breaks to eat snacks, especially salty ones.
Planning a Colorado mountain bike trip
Now that you know what MTB gear to bring on your trip, it's time to start planning everything else. Start by finding answers to all your burning questions about traveling to Gunnison or Crested Butte. Then make a lodging reservation, find things to do and get to know the valley's mountain towns using this trip planning guide.