Underexposed: Gunnison, CO
Underexposed is a self-filmed and produced series by Pivot Cycles athlete Brice Shirbach dedicated to showcasing trail advocacy and stewardship while exploring a variety of trails in places that may be unfamiliar to many. Join Brice as he explores the personal motivations behind the effort that goes into mountain bike advocacy while sampling the trails they work so hard for in this mountain biking film.
Gunnison, Colorado can easily be mistaken as one of those places you have to pass through – or by – en route to a more well-known, and highly regarded neighboring community, which in this case is the high-altitude resort town of Crested Butte. In the winter, Crested Butte is famous for its stellar backcountry access and its steep and deep in-bounds terrain. In the summer, it's known for its wildflowers, its abundant trails that weave in between the towering peaks of the Elk Mountains, a subrange of the Rockies, and extremely expensive homes. Like, insanely expensive.
Gunnison, on the other hand, is situated along the floor of its eponymous valley, surrounded on all sides by a much less dramatic compared to its well-to-do resort neighbor 40 minutes to the north, but still quite eye-catching high desert landscape. It serves as the seat and most populous community of Gunnison County, and is really the gateway for adventure in the southwestern slope of the state. Still, for years it has lacked the same level of recognition and reverence compared to scores of other western slope communities, including Crested Butte, Durango, Fruita, Telluride, and more. Hopefully, that notion will soon be a thing of the past as we explore Gunnison in this mountain biking film.
What Gunnison might lack in purely mountainous terrain it more than makes up for in many other ways. First, it's home to Western Colorado University, a public university home to 2,600 undergrad students as well as 400 graduate students. Western has over 90 courses available to students, as well as some truly progressive resources available for research and creative development. Facilities include the High Altitude Performance lab, a sport performance and exercise physiology facility equipped to assess the major fitness parameters, and the Innovation + Creativity + Entrepreneurship (ICE) Lab, a collaborative and modular workspace to help promote economic development on the Western Slope of Colorado. There's also the Outdoor Industry Engineering program at the Rady School of Computer Science & Engineering at Western, a program allowing students to pursue careers in the technical side of the outdoor industry through outdoor gear design and testing. It's as if they're specifically cultivating an outdoor industry-wide takeover, and of course I would have been a willing participant while in school myself. While the University itself offers loads of innovative methods of learning for its students, it has also proven to be a cultural boon for the town it calls home. There's a palpable, creative energy that has been infused into the community from Western, and it's not something lost on locals.
Gunnison also has the infrastructure in place, along with much more affordable home costs, that makes it a much more viable place to call home for those seeking a gateway to the abundant recreational options throughout the Gunnison Valley as well as the rest of the Western Slope. A quick search on Zillow reveals that the average value of a house in Crested Butte is at a staggering $1.2 million, while those in Gunnison come in at $500,000. Gunnison is also served by a small airport, and is easily accessed by a state highway.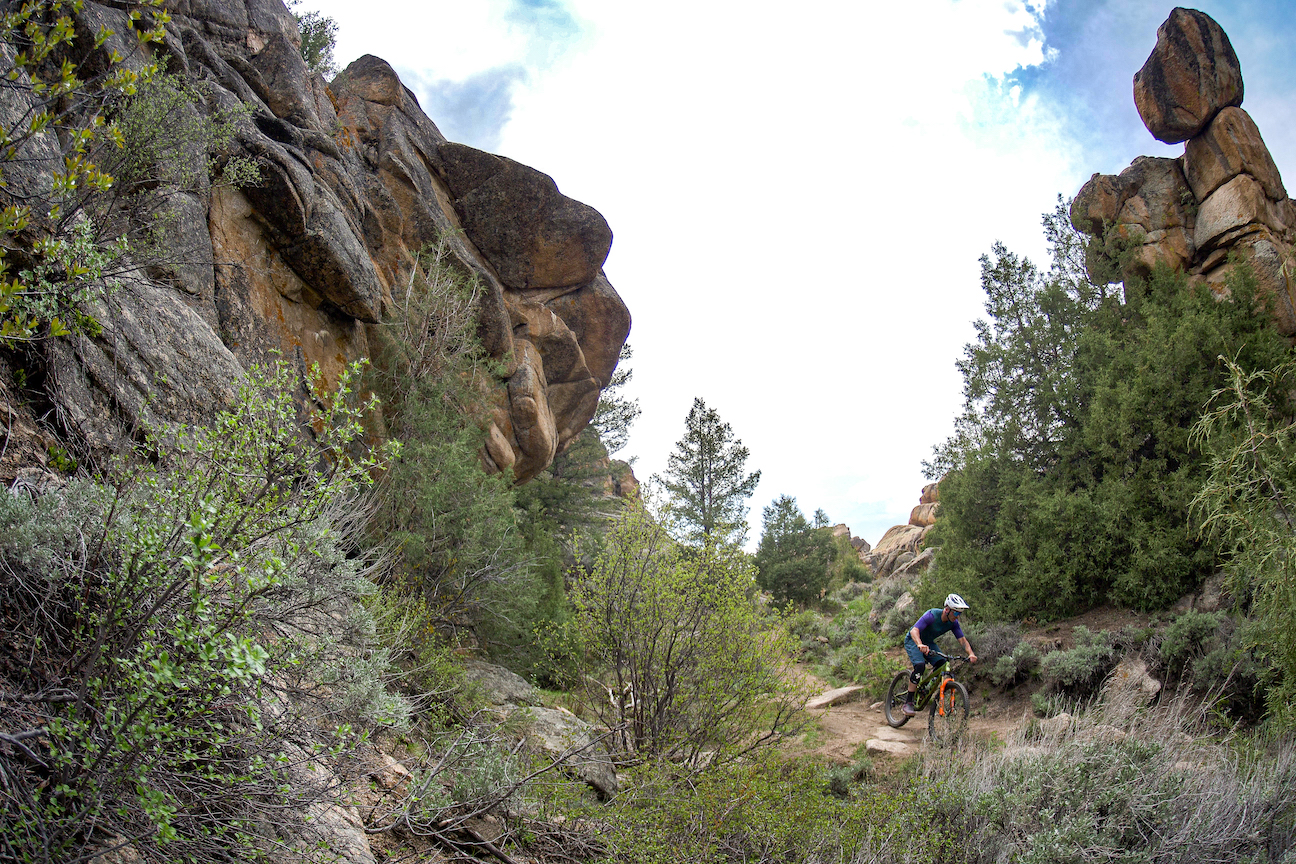 Of course beyond all of this lie some truly amazing trails. Gunnison Trails, the local non-profit advocacy organization, was founded in 2006 by the current IMBA executive director and Gunnison local, Dave Wiens. Gunnison Trails works closely with the Bureau of Land Management (BLM) as well as the National Forest Service to help build and maintain over 60 miles of trails between two primary networks: Hartman Rocks and Signal Peak.
Hartman Rocks is home to over 40 miles of fairly robust and technical terrain throughout the BLM managed, high desert playground. The trails at Hartman are almost entirely composed of decomposed granite trails that weave between massive granite slabs, save for the handful of forested spots in the southeast corner. The nature of this terrain lends itself to trails that are largely impervious to rain, and the abundance of line choices allows for incredibly creative and technical riding for those willing to push their boundaries. It's unbelievably fun, to the point where I find myself wanting to spend as much time there as I do on the trails that surround Crested Butte.
Signal Peak is the area's newest trail system, offering riders massive 360 degree views of the valley as well as the Elk and San Juan mountains. The over 20 miles of singletrack at Signal are the result of a decade's worth of advocacy by Gunnison Trails with the BLM, resulting in a fast and flowing network of trails adjacent to the campus of Western Colorado University.
You know the trails in and around Crested Butte are more than deserving of all of the recognition they've received over the years, but sometimes I feel like too often the trails in and around Gunnison are overlooked as a result, and that goes for the town itself as well. The people who call this place home truly have a lot of love for their town, and even as a guest here shooting this mountain biking film I can absolutely see why it's so easy to fall for this place. Love makes for one heck of a foundational tool when it comes to trail and community building, and there's certainly no shortage of that stuff here.
Learn More
Check out Pivot Cycles, Brice Shirbach, Gunnison Crested Butte and Gunnison Trails on Instagram to learn more. You can also find Pivot Cycles, Brice Shirbach, Gunnison Crested Butte and Gunnison Trails on Facebook.