Crested Butte Glade Skiing from East River Express Lift
The glade skiing on the East River Express Lift at Crested Butte Mountain Resort are beloved by locals and visitors alike. Here you'll find gorgeous Colorado scenery and intermediate to advanced terrain. The trails are short but sweet. This high-speed lift fits four people per chair. All terrain and lift openings are dependent on snowfall, but East River generally opens around Christmas. The best runs on the East River Express Lift are highly debated, but we've put together a list of our favorites to get you started.
Are the ski runs off East River groomed?
The ski runs off Crested Butte's East River Express Lift range from intermediate (blue) to expert (black). Floresta and Lower Treasury are groomed blues. Black Eagle is also a blue run and is partially groomed. Middle Gallowich, the last blue run off East River, is ungroomed. Resurrection is the only clear-cut black run off East River. The rest of the expert ski runs—Bakery Trees, Git Some Glades, Double Top Glades and Gully Glades—is glade skiing through mixed conifer and aspen trees. Peruse Crested Butte Mountain Resort's trail map to get a lay of the land.
How to get to East River Express lift
East River's location on the lower edge of Crested Butte Mountain Resort shelters it from the wind and tends to keep this area slightly warmer than the rest of the mountain. However, the location of the lift can be confusing if you've never skied Crested Butte before. Here's how to get to East River: From the base area, ride the Red Lady or Silver Queen lift. Ski towards Paradise lift but continue past it. You can get to East River via Conundrum, Gallowich or Treasury. The lower terrain off The North Face lift (Sock-It-To-Me Ridge, Phoenix Bowl, Third Bowl, etc.) also exits into terrain served by the East River lift.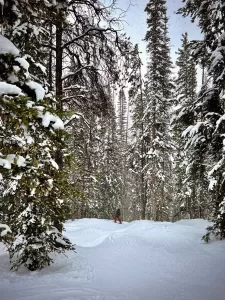 Why is it called East River?
The East River Express Lift is so named because of its proximity to the East River and the East River valley. This beautiful, winding river cuts through the northeastern section of the Gunnison Valley, eventually flowing into the Slate River and then the Gunnison River. From the top of any ski run in this zone, look east and you'll see the West Elk Mountains towering over the scenic East River valley.
Best runs on East River Express Lift
Resurrection
If you love bumps, Resurrection should be on the top of your list of runs to ski at Crested Butte. This thigh-burner lies directly below the East River lift. Moguls cover the run from top to bottom. Don't be fooled by the low-angle pitch at the top of Resurrection—the run gets steeper lower down. If you enjoy skiing moguls—or if you want to become the kind of person who enjoys moguls—Resurrection is for you.
Bakery Trees
This seldom-skied run is a playground of rolling, steep pitches and fairly low-density trees. Get to Bakery Trees from Paradise or East River lift. First, ski down Daisy, the cat track that runs north from the top of East River lift and down to the base of Paradise lift. Just before you get to Paradise Warming House, you'll see the Bakery Trees entrance sign. Side step up the short hill and traverse through the trees for about 100 feet. Then the downhill begins through wide, sprawling glade skiing. Eventually you'll hit a cat track, which separates Upper Bakery from Lower Bakery. Lower Bakery has more aspen trees but the same glade skiing vibe.
Middle and Lower Gallowich
Looking for an easier mogul run than Resurrection? Head to Gallowich. If you ski down Daisy towards Paradise, this is the last run on your right before hitting Paradise Warming House. The run is clear-cut, but there are many small trees, especially at the top. Bumps tend to be small and manageable, and the run is much less steep than Resurrection.
Double Top Glades
Double Top, which is named after a local peak, is a large glade with two entrances. One entrance is on skier's right side of Resurrection. The other is at the top of Black Eagle. Whichever way you enter the run, you'll have your choice of sparse, medium or densely spaced trees for glade skiing. Double Top is a locals' favorite on a powder day.
Black Eagle
Can't decide between a groomed run or a bumpy one? Black Eagle is both! The skier's right side of the run is groomed, while the left side remains ungroomed. Despite its name, Black Eagle is rated blue. It's the least steep run off the East River Express Lift. If you are learning how to ski moguls, Black Eagle is the perfect classroom. You can practice your technique on a few bumps and bail out to the safety of the groomer if you need a break.
More awesome ski runs at Crested Butte
The ski runs off the East River lift make up just a fraction of Crested Butte's terrain. If you're interested in skiing the extreme terrain off the North Face and High lifts, you'll want to check out this guide to the best double-black runs at Crested Butte. That's what Crested Butte is famous for, after all! If you're not quite ready for the steeps, there are plenty of great intermediate ski runs at Crested Butte, too. And while Crested Butte isn't usually known for its tree skiing, there is some great glade skiing if you know where to look.
Crested Butte, Colorado travel inspiration
You've probably stumbled across dreamy photos and videos of Crested Butte and Gunnison on Instagram, Facebook or TikTok. Whether you're planning a spring break trip or a weekend adventure, it's time to make your dream vacation a reality. Start planning your trip now!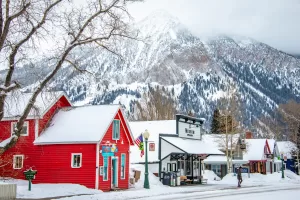 Do you need reservations in Crested Butte and Gunnison?
To plan a successful winter visit to the Gunnison Valley, you'll likely need to make reservations in advance. First and most important, compare prices on lodging—you might be surprised at how affordable the Gunnison Valley is compared to other Colorado ski destinations! Next, plan your activities. There are tons of things to do in Gunnison and Crested Butte. Not surprisingly, most of them involve enjoying the great outdoors! Both Gunnison and Crested Butte also have fun downtown scenes suitable for a night on the town or a dinner out with family.
Questions about visiting Crested Butte and Gunnison
Do you still have questions? We've got answers to all the common inquiries about Crested Butte. We answered all your questions about Gunnison, too!