Vail Versus Crested Butte
Thinking of Vail – Beaver Creek or Crested Butte for a Colorado ski vacation? When looking at Vail vs Crested Butte they both offer Colorado skiing experiences, though they are different. Crested Butte is a quirky ski town known for its steep and extreme terrain. Vail is the biggest ski mountain in Colorado with 5,317 skiable acres. To see Vail versus Crested Butte check out this guide of comparisons and differences while planning your 2022 Colorado ski vacation.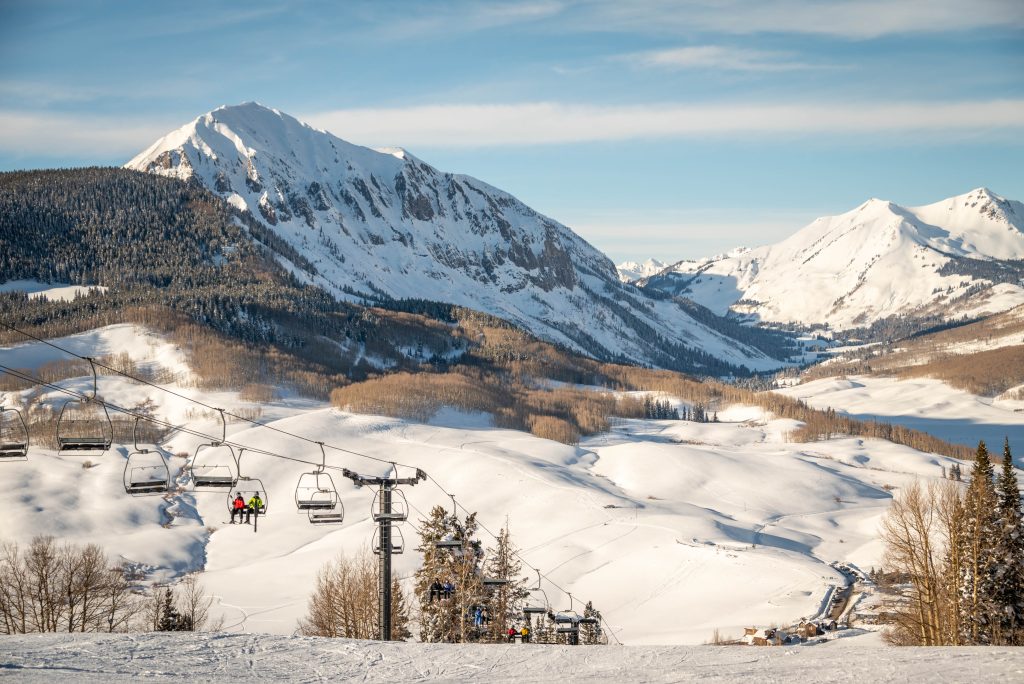 Where is Crested Butte, Colorado?
The town of Crested Butte is located at the literal end of the road in the Rocky Mountains of western central Colorado. It's in Gunnison County and has an elevation of 8,909 feet. Crested Butte Mountain Resort (CBMR) is just up the road in the town of Mt. Crested Butte, Colorado. Gunnison, Colorado is about 30 miles south on Highway 135. On average, Crested Butte receives 234" of snowfall annually.
Where is Vail and Beaver Creek in Colorado?
Vail is in Eagle County, Colorado with an elevation of 8,150 feet. It is in White River National Forest in central Colorado. Denver is about 100 miles away. Vail Ski Resort is just a few minutes away from the town of Vail. The average annual snowfall in Vail is 350".
How to Get to Crested Butte, Colorado
You can fly or drive to Crested Butte. The Gunnison-Crested Butte Regional Airport (GUC) is about 30 miles away in Gunnison, Colorado. You can spend less time traveling and more time skiing with new flights this winter. There are direct flights from Dallas (DFW) to GUC via American and Houston (IAH) to GUC via United, and there is also a flight from Denver (DEN) to GUC via United. To get to Crested Butte from Gunnison you could rent a car or take a shuttle. Once in Crested Butte there is a free shuttle bus system that runs through town and up to the ski area. There is also a free bus that runs between Gunnison and Crested Butte, making staying in Gunnison an option for your trip.
Which is easier to drive to from Denver: Vail versus Crested Butte? Crested Butte can be reached from Denver without driving I-70. Take U.S. Highway 285 S to State Highway 306 and then County Road 209 to County Road 742 and finally State Highway 135 N. I-25 S to State Highway 115 S to U.S. Highway 50 W to State Highway 135 N is another option for avoiding I-70.
How to Get to the Vail Valley
Vail is 30 miles away from Eagle County Airport (EGE) and 100 miles from Denver International Airport (DEN).
Vail can be reached by car from Denver via I-70 and is about a two-and-a-half-hour drive, traffic and weather dependent. Stay on I-70 W for 95 miles and take exit 176 to get to Vail.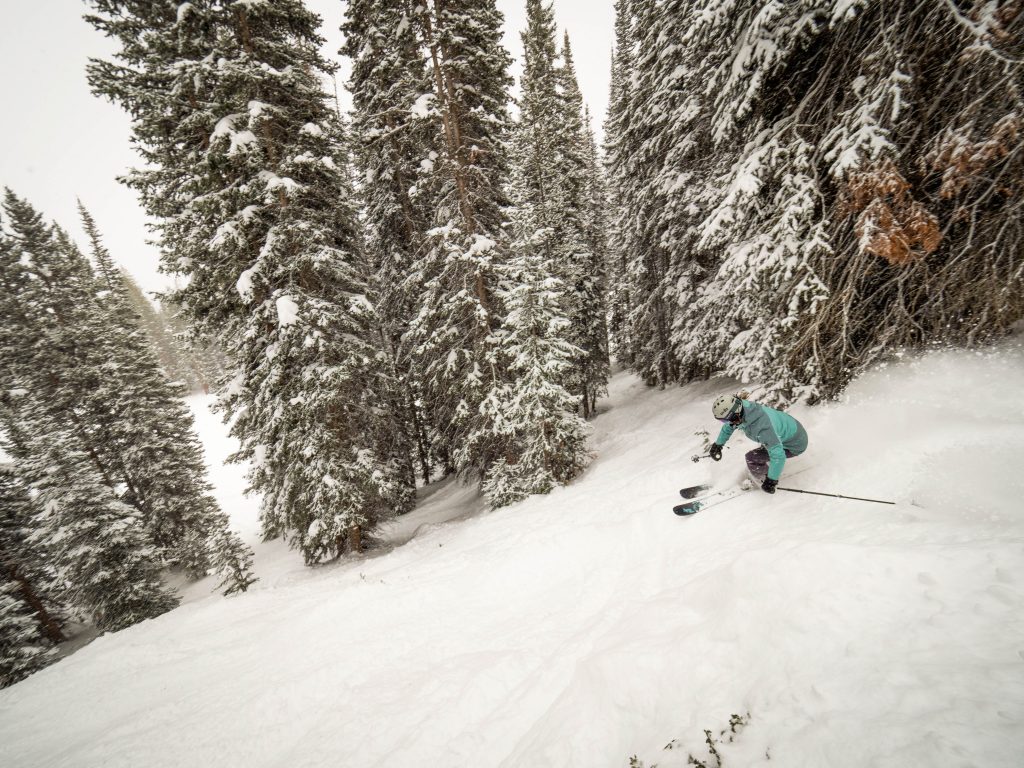 Skiing in Crested Butte, Colorado
Though skiing has been part of life in Crested Butte since the beginning as a form of transportation, recreational skiing gained popularity more recently. CBMR has been open since 1961. There's no better place for extreme skiing than Crested Butte. Not only was extreme skiing pioneered in Crested Butte, the mountain also has some of the steepest in-bounds ski terrain in Colorado. Expert skiers will love exploring the 32% of the terrain rated expert that draws visitors from all over the world. There is plenty of terrain for skiers of all abilities though: 18% of the runs are beginner, 29% intermediate and 21% advanced. Crested Butte is on the Epic Pass with no blackout dates for the full or local pass.
There isn't backcountry ski access at CBMR, but there are many options for backcountry skiing in Gunnison Valley because of the vast amount of public lands in the area. There are several guide services in town that offer backcountry skiing tours. Please be certain that you possess the education, skills and gear necessary to safely navigate through avalanche terrain.
Skiing in Vail, Colorado
Vail Mountain Resort is the ski area in Vail. It was opened in 1962 by 10th Mountain WWII veterans. With over 5,000 skiable acres, Vail is a large resort. The terrain at Vail is 18% beginner, 29% intermediate, and 53% advanced/expert. When considering Vail versus Crested Butte, Vail is lacking in steep and extreme terrain but has many options for bowl skiing. There is also a lot of skiing for beginner and intermediate skiers. Nearby ski areas include Beaver Creek, Breckenridge and Keystone. Vail Mountain Resort is on the Epic Pass, but there are blackout dates depending on the pass you purchase.
Vail Mountain Resort offers guided backcountry ski tours. There are a number of guide services that also offer tours around Vail. If going out on your own, please be certain that you possess the education, skills and gear necessary to safely navigate through avalanche terrain.
Nordic Skiing in Crested Butte, Colorado
Crested Butte is the Nordic Ski Capital of Colorado! Crested Butte Nordic grooms over 50 kilometers of classic and skate skiing trails; many are also dog-friendly and snowshoe accessible. When considering Nordic skiing in Vail or Crested Butte, Crested Butte has 1200+ miles of trails that are available for hiking and mountain biking in the summer and many of them can be Nordic skied in the winter too. Slate River Road, Washington Gulch Road and Gothic/Schofield Pass are a few. Not all trails with summer access are open in the winter, so be sure to check the rules before you go. Gunnison is about 30 miles down the road. Hartman Rocks is a unique area that can be skied and Gunnison Nordic grooms several areas around town.
Nordic Skiing in Vail, Colorado
Vail Mountain Resort offers a Nordic school on the mountain. These are guided skis tours in the backcountry around the area. The Vail Nordic Center offers 17km of groomed trails for classic and skate skiing. They also have 10km of snowshoeing trails. Other Nordic ski areas include The EagleVail Nordic Track and the Willow Creek Nordic Training Facility for young skiers.
Fat Biking in Crested Butte, Colorado
Being the mountain biking destination Crested Butte is it is no surprise how popular fat biking has become since the sport's birth. Local trails organizations have worked hard to devise a grooming technique that is sustainable for fat bikes. CBMR allows fat biking before and after the lifts are spinning with an uphill pass. A good option for those wanting to try out fat biking is the Crested Butte Nordic Center. There are a few groomed and flat trails available to fat bikes with the purchase of a day pass. Hartman Rocks is groomed for fat biking in Gunnison.
Fat Biking in Vail, Colorado
The Vail Nordic Center and EagleVail Golf Course are two places to fat bike in Vail. Vail Nordic Center requires a pass and has fat bike rentals available. EagleVail Golf Course is free and open to the public.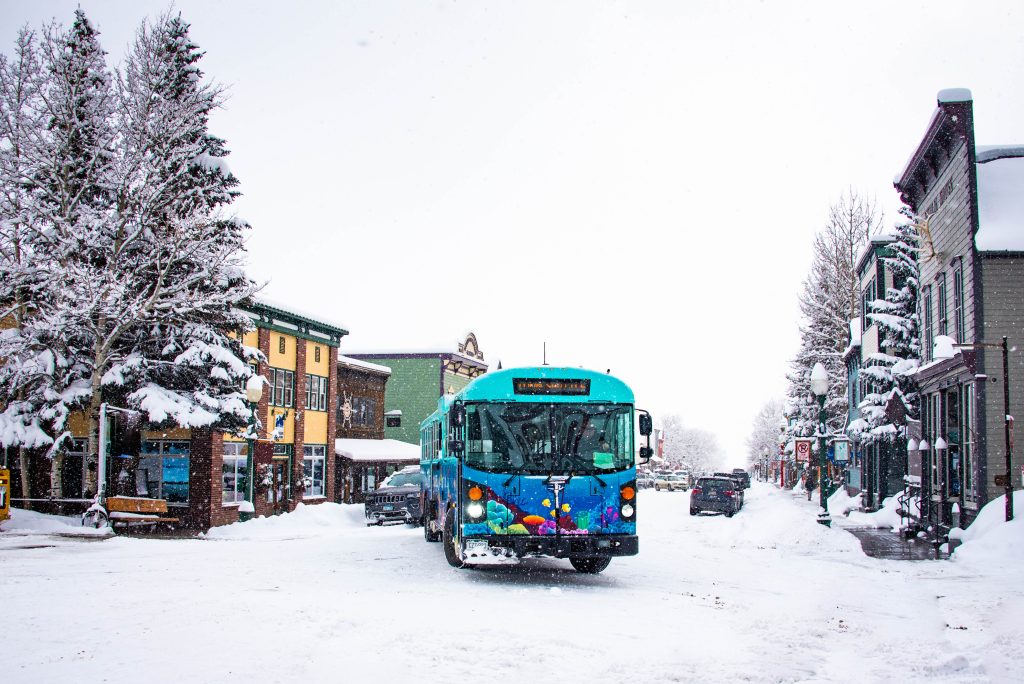 Culture of Crested Butte, Colorado
Crested Butte is known as a surf town in the mountains and the last great ski town in Colorado, and it is a true ski town. When comparing Vail vs Crested Butte the town of Crested Butte offers a unique experience. With roots as a mining town its historic buildings are colorful and quirky. Elk Avenue, the main drag, puts this on full display. You can experience diverse après options that offer pizza with innovative toppings, locally distilled rum and down to earth bars. A vibrant arts scene can be experienced in the various art galleries downtown and at the Center for the Arts. Shops full of outdoor gear and locally made goods are fun to explore when you're taking a break from skiing. Other winter outdoor activities to do in Crested Butte include snowmobiling, ice skating, sleigh riding and dog sledding.
Culture of Vail, Colorado
Vail was modeled after Bavarian style architecture. The town was built after the ski area opened and was created to support the resort. Vail has an arts scene that includes dance, art shows and galleries and music. There are many spas and high-end places to shop in town as well.
Events in Crested Butte, Colorado
If you're looking for something a little different to do in your downtime Crested Butte has a full calendar of events all year. There is also a variety of unique annual events that happen every year. Any one of them will give you a look into the culture of Gunnison Valley and chances are high at least one of them will be a costume party.
Crested Butte Hotels
Accommodations in Crested Butte range from cozy bed-and-breakfasts in town to traditional slopeside hotels in Mt. Crested Butte. Learn more on our Lodging page.