Move to Designated Camping in Crested Butte is Complete
The Forest Service, the Gunnison County Sustainable Tourism and Outdoor Recreation (STOR) Committee and the Crested Butte Conservation Corps (CBCC) have now completed the years-long transition to vehicle-access designated camping in much of the Gunnison National Forest land surrounding Crested Butte. The goal of the project was to reduce the impact of cars and humans on the land by requiring campers to stay in designated sites marked by signs. Sites were also outfitted with metal fire rings.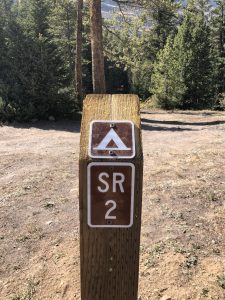 Designated camping near Crested Butte
In 2021 the campsites in the Slate River, Washington Gulch, Kebler Pass and Brush Creek drainages moved from dispersed to designated camping. This year the Cement Creek and Gothic drainages made the transition. Visit the Crested Butte Mountain Bike Association's camping page for maps and more information.
Why the change?
It's tough to make dispersed car camping sustainable, especially in a place like Crested Butte, which hosts thousands of campers every summer. Many other popular camping destinations have made similar transitions away from dispersed camping. Dispersed campsites widen over time, and cars drive into new places, crushing flora. New fire rings are constructed even when old ones exist. Designated camping reduces the number of places where vehicles can drive off-road, which concentrates cars' impact on a smaller portion of the delicate alpine landscape. Metal fire rings offer an obvious campfire location and reduce additional campfire rings being constructed out of rocks. Metal fire rings also contain fires more effectively than rock rings.
What about campsites that aren't accessible by car?
These changes are just for sites accessible by vehicles. Backcountry campsites have not been impacted. Check out our backpacking and hunting pages for more information on those activities.
Results of the move to designated camping
The CBCC has reported that nearly all campers are respecting the changes. The Forest Service and CBCC worked together to make camping outside designated sites and having a fire outside metal rings in this area punishable by law, which will help promote compliance. Vegetation is returning to the sprawling former dispersed camping areas. Campfires are now relegated to metal fire rings, which has reduced the number of homemade fire rings. This project is just one example of how multiple organizations have successfully partnered to promote land stewardship in the Gunnison Valley.
Where to camp in Crested Butte and Gunnison
As you're planning your trip to the Gunnison Valley, keep in mind that these changes might prohibit you from camping in a spot you've camped before. Whether you're tent camping, traveling in a van or staying in your RV, it will save you time (and gas) to plan where you want to camp before you get here. Visit our camping page for info on dispersed, designated and developed campgrounds in Crested Butte and Gunnison. If you're considering staying in a hotel or vacation rental instead, visit our lodging page.