Cross-Country Skiing in Crested Butte and Gunnison
Cross-Country Skiing in Crested Butte and Gunnison
Gunnison Valley is a well-known Colorado downhill skiing destination because of the epic steep terrain at Crested Butte Mountain Resort. Crested Butte and Gunnison also have dozens of miles of Nordic skiing areas! In fact, Crested Butte is known as the Nordic Ski Capital of Colorado. Some of Gunnison Valley's 1200+ miles of trails are available for cross-country skiing, and a number of those are groomed as well. If you enjoy mountain biking or hiking these trails in the summer, you might enjoy skiing them in winter! Or if you've chosen Crested Butte for downhill skiing over other options like Vail or Breckenridge you could also try cross-country skiing while you're here.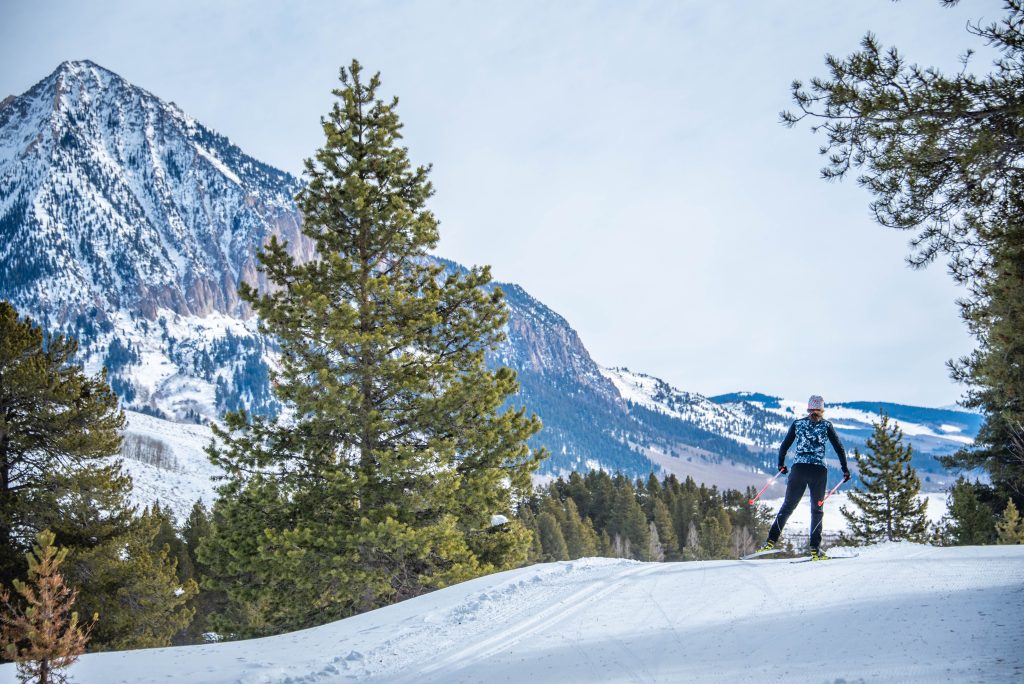 Cross-Country Skiing Organizations in Crested Butte and Gunnison
Gunnison Valley has a Nordic center and Nordic club: Crested Butte Nordic Center and Gunnison Nordic Club. Crested Butte Nordic grooms private trails in Crested Butte and offers lessons and ski rentals. Gunnison Nordic grooms public trails in Gunnison, offers programs such as conditioning training and lessons, and puts on events such as group skis.
Types of Cross-Country Skiing to do in Gunnison and Crested Butte
Cross-country skiing includes classic and skate. Classic is done by gliding the skis forward parallel to each other, often in groomed tracks. Skate skiing is done with a motion that looks like roller skating or ice skating and is usually done outside of tracks.
The History of Nordic Skiing in Gunnison and Crested Butte
Nordic skiing has been around Crested Butte and Gunnison since the 1880s as a form of transportation brought over with Scandinavian immigrants. Miners who settled out West found getting around in winter difficult or impossible because of all the snow. Early versions of skis, or snowshoes as they were known then, were the answer. Today cross-country skiing is a popular form of winter recreation in Gunnison and Crested Butte.
Leave No Trace and Etiquette for Cross-Country Skiing in Crested Butte
There are special considerations with trail etiquette and Leave No Trace when it comes to winter recreation. Trail etiquette is important because it helps ensure all users have a safe and enjoyable experience. Following etiquette in conjunction with practicing Leave No Trace also helps preserve trails for future use.
Land Access and Trail Etiquette for Cross-Country Skiing
If you're on a groomed track, make sure you're using the right part of the trail for the kind of skis you have. A parallel track is for classic skiing, and the corduroy-like snow is for skate skiing. Not every trail that's open for summer use is open for winter use as well. It's important to know the differences between summer trail use vs winter trail use in Crested Butte. Know the rules before you go and purchase any necessary passes. If you need to stop, step off the trail to not block other skiers and yield to downhill skiers. If you fall, fix your divot by filling in the hole with the loose snow from your fall. If you damaged the classic track, use your skis to reform the track walls. If you're approaching another skier in the track, use common sense and communicate about who is getting out of the track to let the other pass.
Etiquette for Cross-Country Skiing with Dogs
If you plan to bring your dog, make sure you take a trail that allows dogs. Abide by all leash laws, and always clean up after your pet. Never leave waste bags on the side of the trail, even if you intend to come back for them.
Cross-Country Skiing in Gunnison
Mill Creek
Mill Creek can be reached by turning left on Ohio Creek Road from Hwy 135 north. After nine miles turn left on Mill Creek Road. The parking area is in three miles. Cross-country skiing at Mill Creek in Gunnison will reward you with epic views of the Anthracites and a rock formation called The Castles. There are many trail options that go through pine and aspen groves. Please be aware of avalanche hazards. Gunnison Nordic grooms some trails in Mill Creek.
Hartman Rocks
Hartman Rocks is outside of Gunnison off Hwy 50; westbound if you're coming from Denver and eastbound from Montrose. Hartman Rocks is high alpine desert with unique rock formations and fields of sagebrush. The trail network allows for short trips or trails can be pieced together for longer day trips. Gunnison Nordic grooms Hartman Rocks.
Black Canyon of the Gunnison National Park
Part of South Rim Road at Black Canyon is closed to cars in the winter and groomed for cross-country skiing. The South Rim Visitor Center is just north of Highway 50 between Gunnison and Montrose. This is a unique and free way to experience one of America's least-crowded National Parks. While Black Canyon isn't the most visited canyon in the U.S., it is known for being the steepest and narrowest when those traits are combined. The road has a mellow grade that is doable for all skill levels. Call before you go to inquire about conditions.
Spring Creek Road
Spring Creek is a tributary of the Taylor River. Spring Creek Road, also known as County Road 744, begins seven miles up the Taylor Canyon Road (County Road 742) after taking a right off Hwy 135 north towards Almont. Spring Creek Road provides a scenic cross-country ski in Gunnison that can be as long or as short as you want it to be. The first mile is pretty mellow, but the trail is not groomed. It is steep in several spots after the first mile and more suited for the intermediate and expert skier.
Van Tuyl Loop
The Van Tuyl trails are situated just northwest of the city of Gunnison. There is a working ranch on this property, and part of the Nordic trail goes through cattle pastures. Though it's close to town, it feels secluded and offers a nice view of the Palisades. Please note dogs are not allowed on the groomed trails within the pastures.

Dos Rios Golf Club and the Western Practice Field
These are two good options in Gunnison if you're learning to cross-country ski or looking for something flat. Gunnison Nordic grooms them both. In total there are about 4.5 miles of trails at Dos Rios. It is a good place to practice that is mostly flat with a couple small hills. The practice field is a flat loop with one small hill that's great for practicing downhill form on. Dogs are not permitted on either of these trails.
Cross-Country Skiing in Crested Butte
Crested Butte Nordic Center
The Crested Butte Nordic Center grooms 50 km of trails for Nordic skiing with the purchase of a day pass or season pass. Some trails are also dog friendly. Please purchase passes ahead of time, for you and your dog, and know all the rules before going out. The Nordic center also offers lessons and ski rentals.
Slate River Road
To get to this trail head north on Gothic Road before taking a left onto Slate River Road. The trailhead is 2.6 miles down the road. With Mineral Point towering ahead, the view on this route is truly spectacular, which makes it no wonder it's such a popular spot to cross-country ski in Crested Butte. Cross-country skiers, snowshoers, snowmobilers and backcountry skiers all use this trail, so it is important to be cautious and practice good trail etiquette.
Washington Gulch Road
Washington Gulch Road is a left 1.7 miles off Gothic Road. The winter trailhead parking is 2.4 miles down the road. The first part of this trail is on private property in Crested Butte, so be sure to stay on the road. This out and back cross-country ski trail is scenic, with views of Gothic Mountain on the way in.
Gothic/Schofield Pass Road
To get to this road take Gothic Road for 4.3 miles to the Snodgrass Trailhead. Located in the East River valley of Crested Butte, this trail is not open to motorized vehicles so offers skiers more solitude than other trails in the area. A rolling downhill you take you to the townsite of Gothic, which is also the home to Rocky Mountain Biological Laboratory. Please stay on the road and keep dogs restrained to avoid interfering with research projects. If you plan to ski past Gothic be certain that you possess the education, skills and gear necessary to safely navigate through avalanche terrain.
Cement Creek Road
Cement Creek Road is in Crested Butte South. From Crested Butte head south towards Gunnison on Hwy 135 and turn left onto Cement Creek Road after seven miles. The winter trailhead is in 3.8 miles. This trail begins with a steep climb but opens up into a meadow that usually has a groomed classic track. Depending on what time you go out, you and your cross-country skis might have the place to yourself!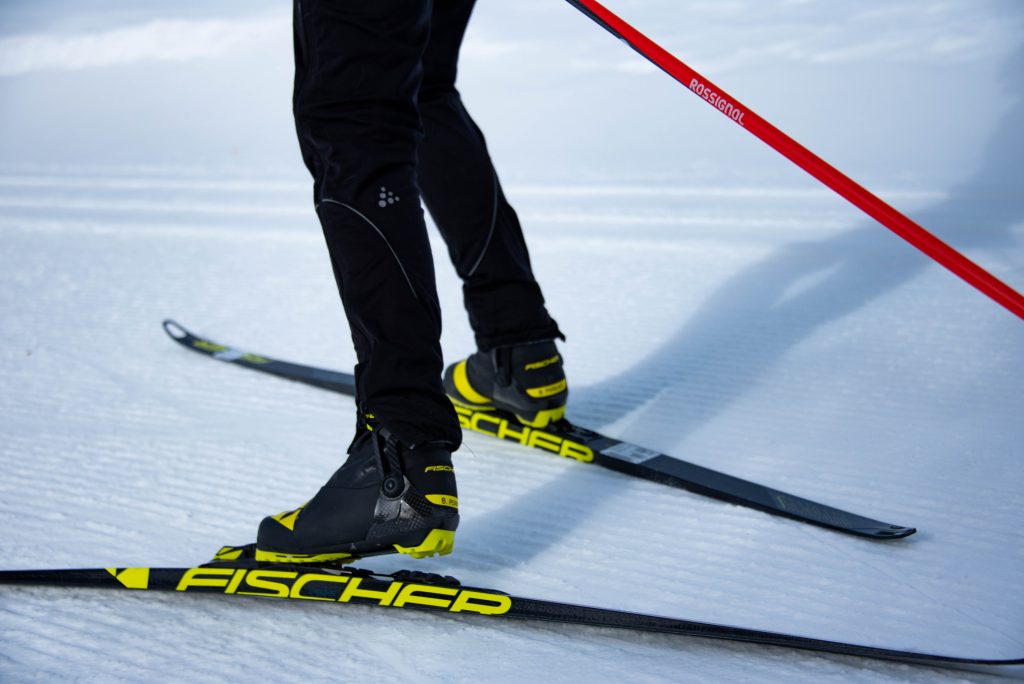 Brush Creek Road
To get here head south on Hwy 135 for 2 miles and turn left on Brush Creek Road. The trailhead is in 2.5 miles. There are two ways you can ski Brush Creek Road. The Ditch Trail along the back of Crested Butte Mountain is a pretty easy cross-country ski in Crested Butte. You could also follow Brush Creek Road. There are ranches along this road, so you will have to park at the trailhead and walk along the road until the trail begins. Though this trail starts out easy, you will need to have the necessary skills and equipment to navigate avalanche terrain as well as a defined route plan after crossing Brush Creek. This drainage was the traditional winter route from Crested Butte to Aspen for over 100 years!
Other Winter Activities in Crested Butte and Gunnison
While you're here check out Crested Butte and Gunnison's other winter activities: downhill skiing, fat biking, snowshoeing, snowmobiling, ice skating, dog sledding and sleigh riding!
Lodging in Gunnison and Crested Butte 
You have so many options for places to stay during your Colorado cross-country ski winter vacation to Crested Butte and Gunnison! From cozy inns and converted mining houses in Crested Butte, to ski-in/ski-out and resorts in Mt. Crested Butte, to riverside cabins in Almont, and traditional hotels to a hostel in Gunnison, your lodging options are varied and numerous.