Crested Butte Backcountry Skiing
As the snow begins to fall here in the Gunnison Valley, backcountry skiing in Colorado is at the front of everyone's mind. We've put together a list of resources and information to help you prepare for the Crested Butte backcountry ski season. Whether you're a visitor or a local, we hope these resources will help you stay safe and informed as you venture into the Colorado backcountry this winter.
Basic Crested Butte Backcountry Skiing Information
There are more than two million acres of public land in Gunnison County. This means that it is relatively easy to access backcountry skiing terrain near Crested Butte, Gunnison and the surrounding areas. Due to the abundance of skiable land, the Colorado backcountry here is rarely crowded. However, the pandemic has changed everything' even skiing and snowboarding. More and more people are turning to outdoor recreation. With that, we expect to see an increase in Crested Butte backcountry skiing traffic. Having respect for the land and for other backcountry users will be more important than ever.
Basic Crested Butte Snowmobiling Information
Snowmobiling is another popular winter activity in Crested Butte. Colorado residents must register their snowmobiles with Colorado Parks and Wildlife. Visitors who bring their sleds into Colorado must purchase a permit. It is illegal to take a snowmobile into a wilderness area.
Avalanche Safety in Crested Butte and Beyond
Whether you're ski touring, splitboarding or snowmobiling, avalanches are a real concern in the Rocky Mountains. Avalanche danger can also be a factor for nordic skiers, snowshoers and anyone who travels on or under steep, snow-covered slopes. The two best safety resources for Crested Butte backcountry skiing are Crested Butte Avalanche Center and Colorado Avalanche Information Center.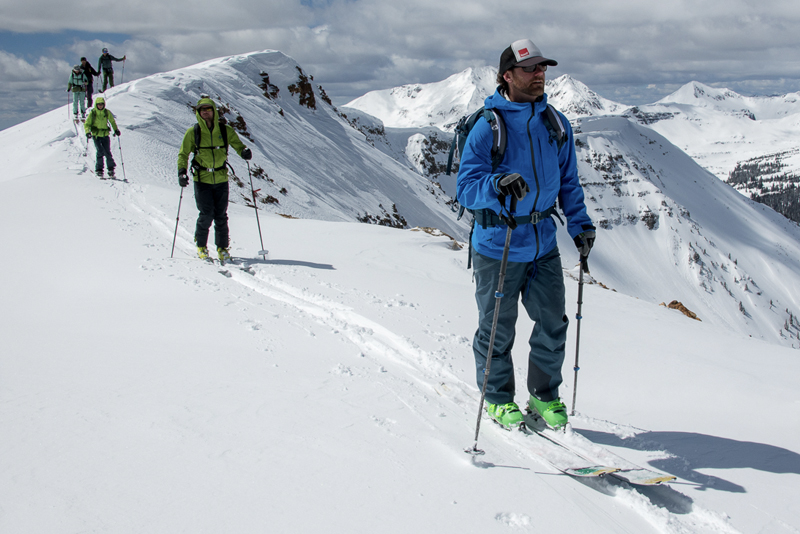 Crested Butte Avalanche Center
The Gunnison Valley is fortunate to have our very own avalanche center. The Crested Butte Avalanche Center (CBAC) offers an abundance of resources that helps backcountry skiers make decisions about suitable terrain and how to manage avalanche risks. The most important of these resources is the daily avalanche forecast. The forecast describes the avalanche danger and conditions based on how the weather interacts with the snowpack. It outlines the type of avalanches that may occur, their location in the terrain, along with their likelihood and size. Ultimately, the forecast offers specific travel advice on how to identify and avoid avalanche problems. CBAC also dedicates part of the website to observations, which are reports and photos of avalanches or snowpack observations from around the forecast area.
Crested Butte Avalanche Center Zones
The CBAC splits the valley into two regional forecast zones. One zone is called the Northwest Mountains and will include the Anthracite Range, Kebler Pass, the Ruby Range and Paradise Divide, which tend to have a deeper snowpack. The other zone is called the Southeast Mountains and will include the Cement Creek and Brush Creek drainages, Gothic, Red Lady, Climax Chutes, Coneys, and Snodgrass, which tend to be relatively drier. (The Monarch Pass avalanche forecast is provided through CAIC.)
Crested Butte Avalanche Center Events
The CBAC also hosts two free events every winter, both in early December. The first is Avalanche Awareness Night. This fun and festive event is designed to raise awareness about avalanche danger and promote safe backcountry use by both new and experienced backcountry skiers and snowboarders. The other main winter event is a beacon brush-up clinic. This event is appropriate for people with any level of backcountry experience who want to practice using their beacon in different rescue scenarios under instruction from CBAC staff.
The Crested Butte Avalanche Center is a nonprofit organization that survives on donations and sponsorships. Please consider donating to CBAC on their donations page.
Colorado Avalanche Forecasts
The Colorado Avalanche Information Center (CAIC) offers a wide range of news and information for backcountry users, including regional forecasts, observations, accident reports and educational resources. The CAIC asks you to take the pledge to check the forecast and danger rating every time you venture into the backcountry this year.
For more avalanche safety resources in Colorado and beyond, visit the CBAC's informational resources page.
Colorado Winter Backcountry Safety
To kick off Backcountry Winter Safety Awareness week this December, the Colorado Tourism Office released an online educational resource guide for backcountry users. Whether you're skiing, snowmobiling or fat biking, the guide includes information on how to stay safe while keeping our state's backcountry beautiful.
Avalanche Safety Courses
Even the best avalanche forecast is useless without the knowledge to apply it. That's why avalanche safety courses are so important. The American Institute for Avalanche Research and Education (AIARE) provides training courses for both recreational and professional backcountry users. Course curriculum centers on research-based strategies for how to travel safely through avalanche terrain. In a course, a certified instructor will teach you how to analyze the snowpack and terrain in regard to avalanches. You'll also learn about group dynamics and decision-making. You'll gain knowledge and hands-on practice of rescue techniques. You'll plan and participate in at least one backcountry ski tour.
AIARE 1 has no prerequisites and teaches basic decision-making in avalanche terrain. It is appropriate for all types of backcountry users. Avalanche Rescue is applicable to beginners and experts alike and focuses on rescue techniques. Both these courses are prerequisites for AIARE 2, which expands on the skills you learned in the first two courses. AIARE 2 participants should gain at least one year of backcountry experience before taking the course. Both AIARE 1 and AIARE 2 are three-day courses, whereas Avalanche Rescue is a one-day course.
AIARE offers classes across the U.S., including in Crested Butte. View a list of upcoming courses on AIARE's course list page.
Avalanche Safety Equipment
The most important piece of avalanche safety gear is education. That being said, you'll also need some gear. An avalanche beacon, probe and shovel and knowing how to use them are mandatory. Avalanche airbags are proven to improve the odds of surviving an avalanche as well. Additionally, backcountry travelers should be geared up with appropriate layers, first aid, repair equipment, and winter survival kits. Guidebooks and maps are helpful for navigation. In recent years, phone apps have become an increasingly popular way to navigate in the Colorado backcountry.
Backcountry Skiing Leave No Trace Principles
The seven principles of Leave No Trace are a widely accepted set of guidelines that promote sustainable use of land and water while recreating. Help preserve the beauty of the Crested Butte backcountry for generations to come by following Leave No Trace principles for winter recreation.
Crested Butte Ski Guides and Snowmobile Tours
If you're not ready to venture into the backcountry without assistance, consider hiring a ski guide. They'll take you to the best snow in terrain that is suited to your ability level. In addition, they'll help teach you about safety equipment. Rental ski gear is also available. For those not wanting to ski uphill, snowcat tours are a great option.
For people looking to get into snowmobiling, hiring a local snowmobile guide is a good idea. The guide will provide the sleds and show you the best of Crested Butte's backcountry.
Other Crested Butte Winter Activities
If you enjoy backcountry skiing or splitboarding, you'll definitely enjoy alpine skiing at Crested Butte Mountain Resort (CBMR). CBMR is known for its challenging and technical extreme terrain. Crested Butte and the Gunnison Valley also have dozens of miles of groomed nordic skiing trails. Nordic skiing is a great way to get aerobic exercise and enjoy a wilderness experience at the same time. Many trails are conveniently accessible right from downtown Crested Butte. There are many other winter activities in the Gunnison Valley, too, including ice skating, sleigh rides and dog sledding.
Lodging in Crested Butte
As you're planning your backcountry ski trip to Crested Butte, you'll need a place to stay. From Mt. Crested Butte all the way down to Gunnison, the valley is filled with accommodations to suit anyone's needs. From condos to cabins to traditional hotels, we've got it all. Learn more on our lodging page.
Summary
Before going backcountry skiing in Crested Butte (or anywhere), it's a good idea to research the zone in which you'll be recreating. In addition, familiarize yourself with the local, state and national avalanche safety resources available to you, and consult them often. An avalanche safety course is the best way to gain skills and knowledge to help you make good decisions in the backcountry. Wherever you choose to ski or snowboard this winter, abide by the principles of Leave No Trace.