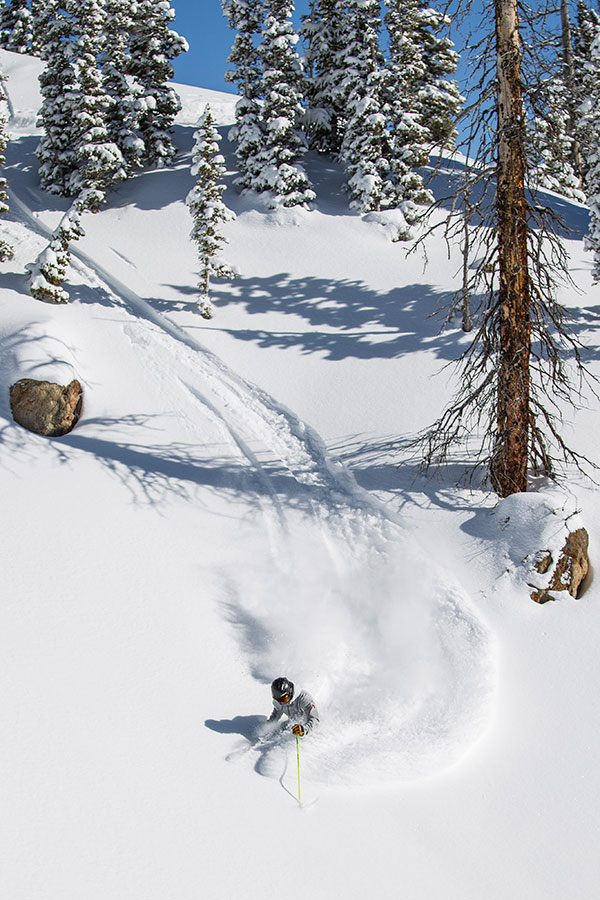 Crested Butte is home to some of the best downhill skiing in Colorado and the entire Rocky Mountain region. Crested Butte Mountain Resort (CBMR) is the epicenter of it all.
Skiing at Crested Butte Mountain Resort
Advanced and Expert Skiing and Riding at Crested Butte
The expert and extreme terrain comprises about half the mountain's acreage and is a huge draw for visitors and residents alike. The U.S. Extreme Championships pioneered here in the early 1990s and have run nearly every year since. Past competitors and winners include the likes of Shane McConkey, Seth Morrison, Wendy Fisher and Doug Coombs. Powder Magazine's John Clary Davies called Crested Butte "The High Church of Skiing" after spending 10 days here in 2014. You have to ski it to believe it.
Two surface lifts—The North Face and the High Lift—access most of this expert terrain. Depending on where you go, there may be hiking involved. Think narrow chutes (some with mandatory airs), exposure, and North America's steepest cut run— the aptly-named Rambo. If your idea of a perfect ski day includes getting a little scared at the top of a run, come see us in Crested Butte.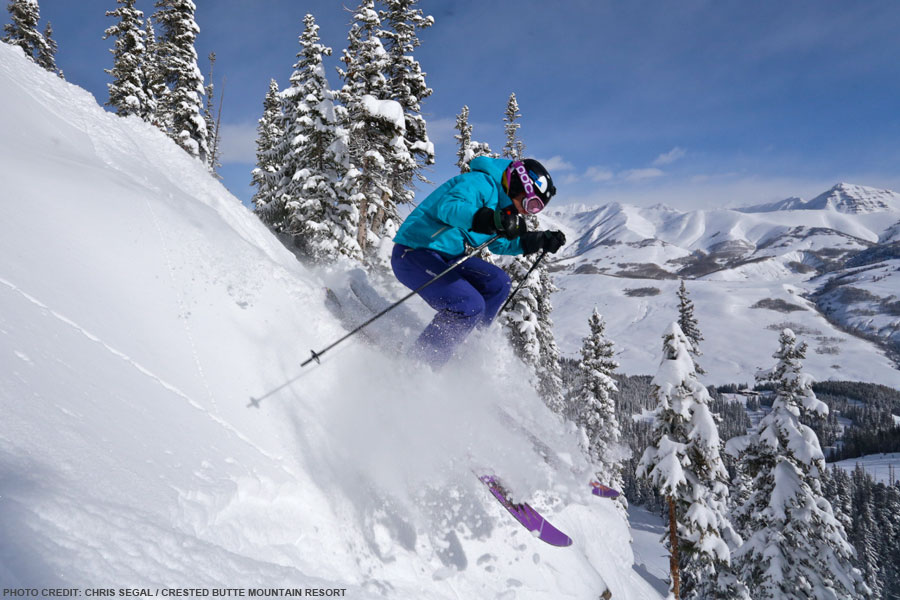 The Crested Butte extremes are a playground of rocks, trees and powder fields that can be explored for days on end. Coming for just a weekend? Check out Frank and Brittany Konsella's 6 Favorite Lines in the Crested Butte Extremes. Frank and Brittany are the fourth and ninth person to ski all of Colorado's 14,000-foot+ peaks and long-time Crested Butte residents, so you can trust their advice.
Detailed Extreme Limits terrain maps are available in print at the resort and in town.
Beginner Skiing and Riding at Crested Butte
The beginner skiing is great and can be accessed with three lifts: Red Lady, Peachtree, and Painter Boy, as well as two Magic Carpet surface lifts. There are plenty of mellow trails to learn to make turns, with the added benefit of isolated and segregated beginner runs that allow skiers to focus on learning. Crested Butte's Ski and Ride School offers great lessons for people of all ages. The Adaptive Sports Center also has lessons for people with disabilities all winter long.
Intermediate Skiing and Riding at Crested Butte
The intermediate terrain at CBMR is mostly accessible from Paradise, Teocalli and Silver Queen chairlifts. Off these lifts, you'll find low-angle bumps and corduroy, plus some nice long groomers on the front side of the mountain with great views of town below. It's great terrain to sharpen your skills. Our high speed lifts get you enough runs to wear most people out in four or five hours. Then it's time to head for the après!
Uphill Policy
Crested Butte Mountain Resort was a pioneer in the West with an uphill policy that allows uphill skinning before and after the ski day, as well as an uphill route for designated daytime usage. Partially as a result of this commitment to uphill skiing, CBMR is home to many ski mountaineering (skimo) events, including the Grand Traverse race from Crested Butte to Aspen each March.
Fat bikers may also use the uphill trails before and after the lifts are running each day. Fat bikers are encouraged to read and understand the uphill policy and how it applies to them before taking advantage of this unique amenity.
More Skiing
Crested Butte and the Gunnison Valley are a good basecamp for more than just Crested Butte Mountain Resort. Staying in the valley will put you in the perfect location to hit up a handful of other great skiing options, from snowcat tours to a local community hill. When you stay in Gunnison, Almont, Mt. Crested Butte or Crested Butte, you have easy access to the cat skiing at Irwin, Cranor Hill, the local backcountry and Monarch Mountain.
Irwin, Colorado is one of the snowiest places on earth. The
Eleven Experience
capitalized on this location when establishing their luxury cat skiing operation near Crested Butte. If you're looking for a full day of powder skiing complete with a gourmet lunch, Eleven just may be the right experience for you.
Monarch
sits atop the Continental Divide between Gunnison and Salida and offers a great family experience with consistent powder snow and more mellow terrain. They also run a cat skiing operation to some of their back bowls all winter long.
If you grew up skiing in the northeast,
Cranor Hill Ski Area
may be a great dose of nostalgia for you. This is truly a beginner's mountain, owned and operated by the City of Gunnison. With just one surface lift, Cranor is all about good times and good vibes and is frequented by local Gunnison families looking to teach their kids to ski in their backyard.
Backcountry Skiing
Our big, dramatic mountains are home to some of the best backcountry skiing in the state. However, many of our most technical backcountry lines are accessible only by snowmobile, then foot, out drainages without easy winter access. If you're hoping to spend a day in the backcountry in the Gunnison Valley, your best bet is to hire a guide and your second best bet is to visit one of the local ski shops and get current intel straight from the folks who play in the mountains every week.  Frank and Brittany Konsella also have a sweet website with tons of information on skiing the 14er's and as well as locally around Crested Butte: 14erskiers.com. Lastly, the Off-Piste Ski Atlas for Crested Butte is a good resource for a large portion of the backcountry zones around Crested Butte.
The Crested Butte Avalanche Center offers a daily snow and avalanche report during the winter ski season. At a bare minimum, your preparations should include tuning into the report in the weeks leading up to your travels to get a sense of the snowpack and current dangers. As always, we advise that you bring the necessary avalanche safety gear with you when exploring the backcountry: avalanche beacon, shovel, probe, your brain and a backcountry partner.
Avalanche Education Courses
With so much backcountry terrain and industry-leading avalanche professionals, Crested Butte is a great place to learn about safe winter backcountry travel. It doesn't matter if you ride snowmobiles, splitboards or Nordic skis, avalanche education is imperative to safe travel in the winter. If you're planning on venturing into the backcountry, consider taking an avalanche safety course before or during your visit.
Ski and Snowboard Rentals
The entire Gunnison Valley is full of fantastic outdoor gear shops. Many of them feature both biking and skiing equipment and make the swap seasonally like most residents. Others, like a growing segment of local residents, stay focused on biking gear all year long with the addition of fat bike rentals.
Regardless of their focus, you can expect to find knowledgeable, friendly Gunnison Valley locals working at shops throughout the valley who are stoked to get you fitted with the correct gear for an outstanding experience. From beginner gear to the high-end performance demos, most shops provide equipment for visitors of any ability.
If you're flying in from somewhere with less plentiful snowfall, we recommend that you consider packing your boots and helmet and renting some powder skis when you're here.
A few of our shops also offer rental backcountry gear. If you're looking to explore the Crested Butte backcountry, you can get all the equipment you need at a few shops. Just be sure to study up on the avalanche report and make good choices about where you go.
Rental Shops
The Apres Scene
Crested Butte is a surf town in the mountains. It's a laid-back, comfortable place to be, full of good energy and people who love mountain sports and sharing their passion for outdoor recreation with others.
Food ranges from Tibetan to Prime beef, with the best pizza west of NYC and the best fried chicken anywhere.
Gunnison has that same good energy as Crested Butte. Home of Western Colorado University, it's a combination of college town meets ranch town. Gunnison offers the same range of food as Crested Butte and a variety of nice lodging, usually with a smaller price tag. Free buses run up and down the valley each day, so staying in Gunnison and skiing Crested Butte doesn't require a car.
Lodging
There are cozy cabins and inns dotted around the valley that will make you feel like you're in a snow globe.
The towns of Crested Butte and Mt. Crested Butte are filled with condos and lodges and some beautiful bed-and-breakfasts. The town is connected to the mountain via a free, five-minute bus ride.
Gunnison offers a fantastic price point for a ski vacation and an uncrowded and unpretentious experience. We'd be happy eating at a different restaurant each night for a week in Gunnison, just as we would up valley.
Search Lodging