Snowshoeing in Crested Butte and Gunnison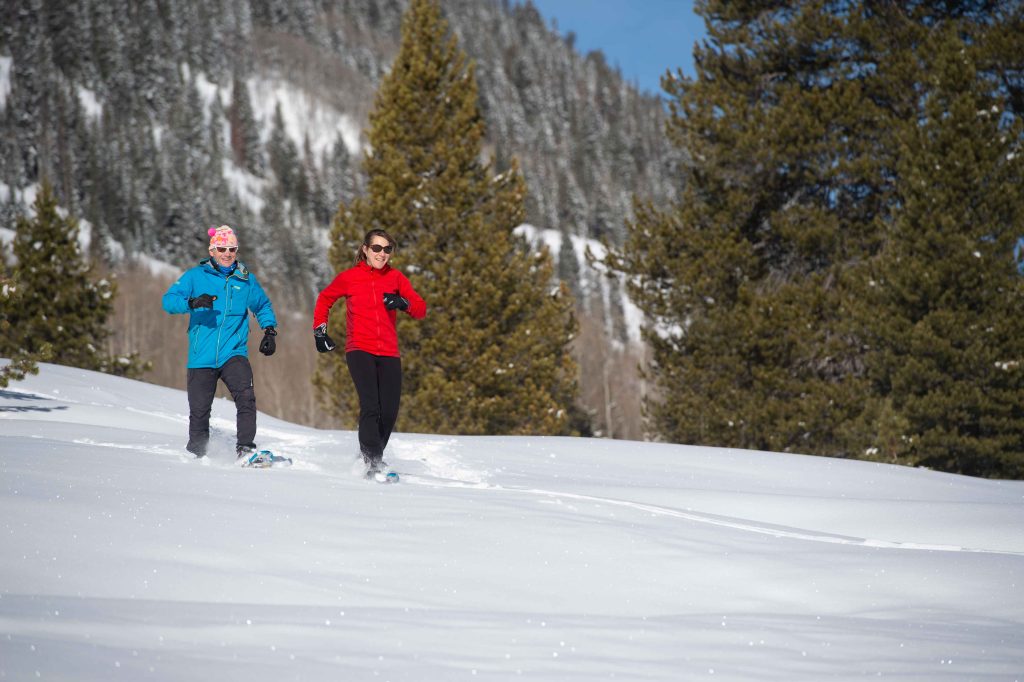 Crested Butte Mountain Resort on the north end of the Gunnison Valley on Colorado's Western Slope is renowned for its access to extreme skiing terrain. Sometimes, however, you're not looking for a challenge. Instead, you just want to walk with your furry friends. Or catch some fresh air. Or get your guests outside the house.
That's what makes snowshoeing such a safe, fun, easy and affordable option for outdoor recreation in wintertime. Snowshoeing shares of lot of simplicity with hiking; clothes that suit the weather and a decent pair of shoes are all you really need.
The Gunnison and Crested Butte area offers options aplenty for snowshoeing. Here are but just a few.
Crested Butte Nordic
Crested Butte Nordic offers snowshoeing along its vast network of groomed trails surrounding Crested Butte. Crested Butte Nordic grooms – 50 kilometers (~31 miles) of trails – for snowshoeing (along with classic skiing and skate skiing).
There are dog-friendly trails (along with dog passes and certain rules). And Crested Butte Nordic even offers men's, women's and children's snowshoes for rent, with optional boots and poles.
Directions from Crested Butte: Several in-town access points exist. Peanut Lake Road, Town Ranch behind the Crested Butte Community Schools and the Crested Butte Nordic building on 2nd Street and Belleview Avenue are the most popular.
Snodgrass
Located about a 10-minute drive from Crested Butte up Gothic Road past the ski area is Snodgrass, which is one of the easier and more popular snowshoeing trails in the area. Snowshoe an easy climb up a groomed trail to the top of Snodgrass and come back for nearly a six-mile roundtrip.
Be prepared to share the trail with skiers and fat bikers. For more info about Snodgrass, visit an excellent breakdown from Travel Crested Butte, including photos, directions and a map.
Directions from Crested Butte: From the Four-Way Stop, travel north on Gothic Road for 4.3 miles to the Snodgrass Trailhead.
Cement Creek
About seven miles south of Crested Butte is Cement Creek. The easy-medium snowshoeing at Cement Creek starts with a .75-mile climb through a scenic and rocky canyon before you exit into a large open meadow unlike any other in the Crested Butte area.
While the climb up is steep, the meadow is generally pretty easy to snowshoe. If you pick your time right, you might not see another soul on your hike.
Directions from Crested Butte: From the Four-Way Stop, travel south toward Gunnison on Colorado Highway 135. In seven miles, turn left onto Cement Creek Road. Drive straight for 3.8 miles to the winter trailhead and parking.
Mill Creek
In between Crested Butte and Gunnison is Mill Creek, a local favorite that offers medium-difficult snowshoeing. There are lots of trail options winding through the spruce and aspen groves, but judgment must be used to avoid avalanche hazard, especially in the upper canyon.
Gunnison Nordic occasionally grooms trails in Mill Creek. You're likely to see skiers, dogs and fat bikers while you're out there.
Directions from Gunnison: From the stoplight at the corner of U.S. Highway 50 and Colorado Highway 135, go north on Highway 135 for 3.5 miles. Turn left on Ohio Creek Road. In nine miles, turn left on Mill Creek Road. Follow Mill Creek Road for three miles until you reach the parking area.
Hartman Rocks
A mountain biking, trail running, rock climbing and hiking mecca in the spring, summer and fall, Hartman Rocks Recreation Area offers snowshoeing for all abilities along a trail network about three miles south of Gunnison. With acres of shrubland, unique rock formations and endless views, Hartman Rocks offers a more expansive snowshoeing experience than many places in the valley.
Long loops and day trips are easy to piece together here on the 16 miles of roads that are groomed in winter. Look for grooming updates on the social-media accounts and websites of Gunnison Nordic and Gunnison Trails. To ponder the possibilities, visit Gunnison Nordic's Hartman Rocks map.
Directions from Gunnison: Follow U.S. Highway 50 westward from the center of town. Just before crossing the Gunnison River, turn left on County Road 38 (Gold Basin Rd.). Follow this for a couple miles to the Hartman Rocks parking area on the right. Access also exists off County Road 32 (McCabe Lane) a couple miles further west down U.S. Highway 50.
Van Tuyl Ranch
Just northwest of Gunnison is Van Tuyl Ranch, which offers groomed trails through open pastures of a working ranch for snowshoeing in winter. Relatively flat, it's easy to declare the snowshoeing easy.
Close proximity (1.5 miles) to Gunnison is a bonus. To plot your course, visit Gunnison Nordic's Van Tuyl map.
Directions from Gunnison: Follow Main Street from downtown north for one mile. Turn left on County Road 13A. Turn left onto Vulcan Street. Quick right onto Tincup Drive. Parking available in CharMar Park. Cross the pedestrian bridge at the park to access the Van Tuyl Ranch trails. You can also access the trails via the north end of the Gunnison Middle School.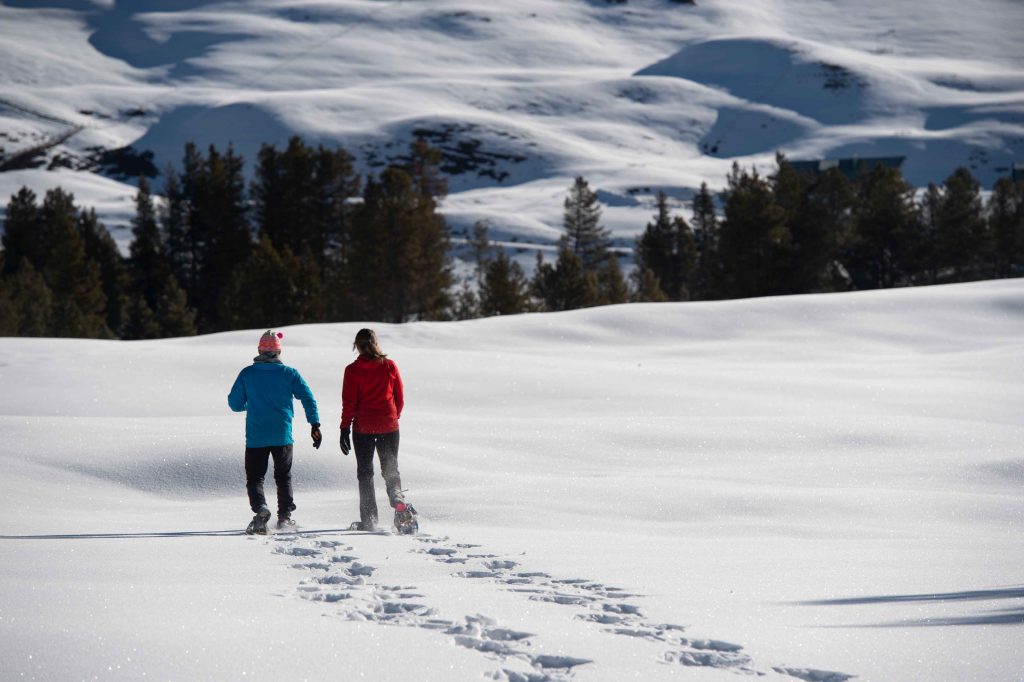 Remember that avalanche danger is not limited to the skiers and splitboarders who venture into the backcountry to earn their turns. Check the local avalanche forecast with the Crested Butte Avalanche Center. Also, be mindful as you wander off trail or approach or travel under steep slopes.