2022 Moosejaw Outdoor Accelerator Update
The Moosejaw Outdoor Accelerator (MOA) is an outdoor industry specific accelerator program hosted by the ICELab at Western in partnership with Moosejaw Mountaineering. Other 2022 sponsors include Holland & Hart, In Solidarity Project and Western Colorado University (WCU). The goal of the Moosejaw Outdoor Accelerator is to increase innovation in the outdoor industry. The MOA also focuses on diverse and underrepresented groups in the outdoors to work towards making the outdoors more inclusive and equitable. The eight-week mentorship-based program has sessions on strategy, marketing, e-commerce, financial modeling and retail. Participants also receive educational and network resources as well as access to potential investors.
2022 Participants
Over 50 companies applied for the 2022 accelerator. A panel of judges from the sponsors chose 10 companies out of the applicant pool and then Moosejaw customers voted for their four favorites. The winners were Alluvia Packrafts, Lume Six, No Limbits and Outdoor Element.
Alluvia Packrafts
Alluvia Packrafts make lightweight and packable rafts for the casual paddler. The boats pack down to about the size of a paper towel roll and weigh less than a gallon of water. They are designed to throw in a backpack and go. Alluvia also donates 3% of their profits towards programs that work to make the outdoors more inclusive, diverse and safe for everyone.
Lume Six
Lume Six is improving comfort, support and durability in sports bras. They use high performance materials and focus on key features like how the straps lay to ensure a more comfortable fit. Lume Six is also a member of 1% for the Planet, meaning they donate 1% of sales to environmental non-profits.
No Limbits
No Limbits is an adaptive clothing brand whose goal is to increase comfort, confidence and independence in individuals who struggle with clothing due to a disability. Their apparel features hidden zippers, strategic reinforcement and comfort. No Limbits founder Erica Cole is an amputee herself, giving her a unique understanding and relationship to her customers.
Outdoor Element
Outdoor Element makes outdoor gear centered around fire creation and the camp kitchen to help you explore with confidence. This affordable gear is designed to be multi-purpose. It can help you make a campfire to unwind around at the end of the day or a cooking fire.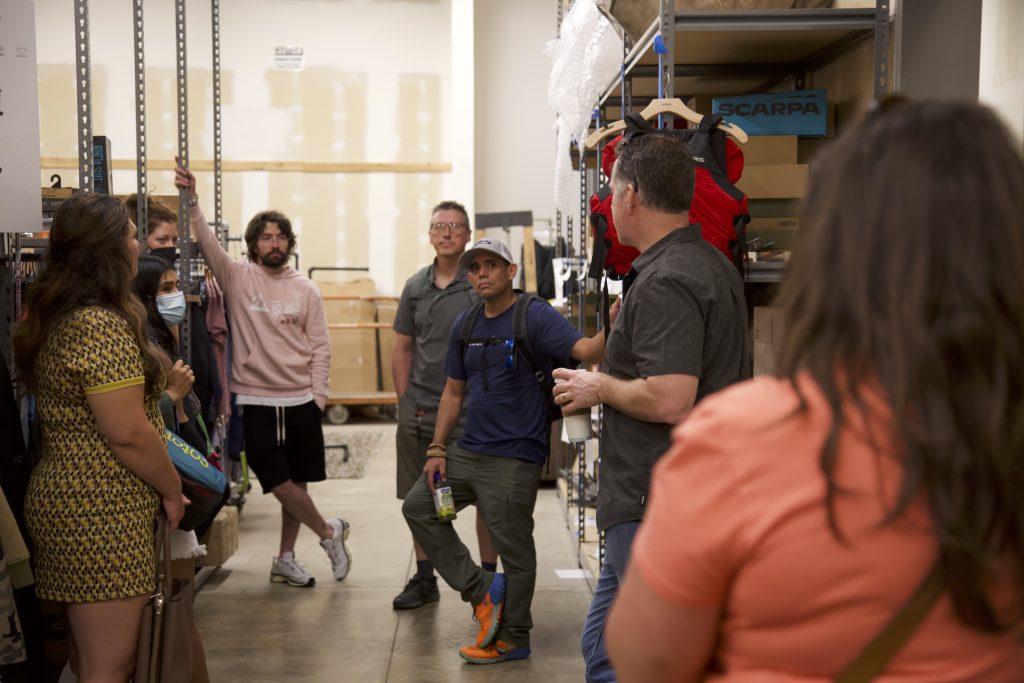 The Accelerator So Far
The program is in its sixth week. The first two weeks were virtual and introduced the teams to each other and the ICELab and Moosejaw staff who facilitate the program. After the first week, the companies traveled to Gunnison to attend sessions in person at the ICELab. They are housed on campus at Western Colorado University and will spend five weeks in Gunnison Valley. While they're here they can experience the mountain biking, hiking, rafting, fishing, rock climbing and other things to do that Gunnison and Crested Butte have to offer in summer.
Topics in the Accelerator
The CEO and head of Marketing from Moosejaw are heavily involved in the program. They have taught on the relationships of brands and retailers from several perspectives, including marketing, finances and supply chains. The program covers "Entrepreneurial Mindset" curriculum bi-weekly. Many topics have been covered by this point in the program. Financial related ones include pricing and managerial finance. Teams have also learned how to build a marketing plan and strategy. One of the program's goals is increasing diversity and inclusion in the outdoor industry so diversity, equity and inclusion (DEI) authenticity has also been covered. The teams have learned about business law from Holland & Hart as well. Each team brings a unique background from previous work experiences. Oftentimes this prior experience is related to topics covered in the Moosejaw Outdoor Accelerator. For example, the founder of Lume Six, Margaux, has been able to help explain product design and supply chains to the other teams because of her work experience at several outdoor companies.
Blister Labs
The ICELab is located on the campus of WCU. WCU also houses the Rady School of Computer Science and Engineering, a state-of-the-art facility. It is equipped with an outdoor gear testing lab called Blister Labs that is partnered with Blister Review, an in-depth outdoor gear review publication. WCU and the Rady School offer an Outdoor Industry Engineering pathway. This pathway is designed to train students to be the first generation of engineers standardizing outdoor recreation equipment. Students will test outdoor gear in the lab setting and work to develop universal performance standards. These quantitative tests are paired with qualitative tests from Blister Review to get the best data possible to the consumer. Moosejaw Outdoor Accelerator participants have met with staff from the Rady School to design tests at Blister Labs for their gear. They have also built product displays such as a plaster casting to display sports bras.
Outdoor Retailer
Unique to this year is the Moosejaw Outdoor Accelerator network Outdoor Retailer (OR) booth. OR is the largest outdoor industry trade show in the US. Moosejaw will have a booth with some past and all current teams to showcase innovation from smaller brands in the outdoor industry. OR is also a chance to network and connect with other outdoor industry brands. Past MOA participants in the OR booth include PACT Outdoors, SheFly Apparel, Hustle Bike Labs, Spruce and Geyser Systems. Former MOA participants Pact Outdoors, SheFly Apparel and Hustle Bike Labs received Outdoor Retailer Innovation Awards at past OR shows.
Boulder, Colorado
In week five participants traveled to Boulder, Colorado to attend in-person sessions with Moosejaw Outdoor Accelerator partners. They met with Moosejaw's CEO and VP of Marketing at Moosejaw's Boulder store to learn about marketing. They also had a session with Holland & Hart on intellectual property. Conor Hall, the Director of the Colorado Outdoor Recreation Industry Office (OREC), met with the teams as well to discuss their businesses.
What's Next
In the next few weeks of the program the teams will continue to work with ICELab and Moosejaw staff about specific areas of interest. Each team comes to the program with unique goals. The hope is that they leave the Moosejaw Outdoor Accelerator with the tools and skills to fulfill those goals. To achieve this the teams have many one-on-one sessions about these topics with program staff and mentors. Other topics that all the teams will learn about include PR and investor relations. The teams will also finalize their marketing plans and content. Other general goals for participants include creating a go-to-market strategy, a marketing plan and press releases. They also build financial models and hopefully make investor introductions. Lastly, companies establish retail partners and gain media coverage and attention.
The Gunnison Valley: An Outdoor Industry Hub
With 1200+ miles of trails and two million acres of public lands, the Gunnison Valley provides access to the activities that inspired outdoor brands to start their businesses. Startups in Gunnison and Crested Butte are also able to experience running a business in a place that values the outdoors and work-life balance. Business resources such as the ICELab and the Small Business Development Center also provide businesses with the support they need to grow.