Who is the Crested Butte Mountain Bike Association?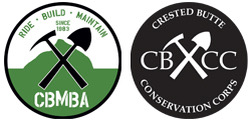 Written by Dave Ochs, Crested Butte Mountain Biking Association executive director
Crested Butte Mountain Bike Association (CBMBA) was established in 1983 in Gunnison Valley, Colorado, and is the oldest mountain bike club in the world. In the late 70's/early '80s, as mountain bikes were bursting onto the scene, they raised many eyebrows – like any new 'user' out there will do. This created the need for an advocacy organization, and Crested Butte was the prime place to see that happen. Along with Marin County, Crested Butte pioneered the sport and led the way with the advent of 'balloon' tires and rugged framed bikes that took to the hills and got off the beaten path. In 2016, CBMBA hired its first executive director. With full-time direction and energy, CBMBA stepped into a bigger role in the recreation-hungry Gunnison Valley. Thirty-nine years later, CBMBA is still at it with a full-time staff of three employees and the Crested Butte Conservation Corps (CBCC), a full-time/seasonal trail care and stewardship crew.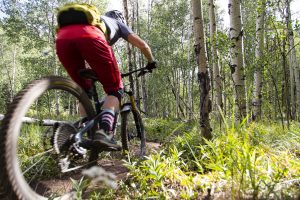 What does CBMBA and the CBCC do?
CBMBA is a 501c3 non-profit governed by a Board of Directors and is the administrative force that collaborates with agencies and stakeholders to build, maintain and advocate for sustainable trails and steward the landscape in the Gunnison Valley and beyond. CBMBA's lifeblood is the Crested Butte community itself. CBMBA works alongside community agencies and stakeholders to recognize and realize trail maintenance and trail build opportunities. It then provides community "workdays" to see those opportunities come to fruition. The greater Crested Butte community volunteer work can be likened to a "barn-raising" when it comes to workdays. Hearty volunteers show up in hordes to celebrate trail work and advocacy efforts that have helped shape and define the mountain bike mecca that Crested Butte is today.
CBCC was created by CBMBA in 2017 in an effort to go beyond mountain biking advocacy and look to greater stewardship efforts in its backyard. More than just mountain bikers, we are conservationists at heart and were dismayed at the increasing impacts in our backyard. In addition, the hundreds of miles of trails in the Crested Butte area were in need of more maintenance requirements than volunteers alone can provide. CBMBA had the foundation and structure to provide crews, the knowledge and experience to identify trail maintenance issues, adhere to trail build/maintenance standards, and the desire to make better experiences for all users. The CBCC is a six-person, full-time, seasonal crew that provides "boots on the ground" on the public lands surrounding the greater Crested Butte area. CBCC crews clean up campsites and trailheads, provide public outreach and education, support partner organizations, cut downed trees from trails and roads, and maintain trails from mid-May to when the snow flies.
Why Crested Butte?
Well, besides being one of the founding locales of our dear sport, it continues to be an iconic destination for mountain biking and trails in general. Starting with connecting existing game trails and the bandit trails made by mountain bike pioneers, present-day Crested Butte continues to deliver the goods. While some newer places on the national map are putting in stacked trail systems with machines, Crested Butte still builds and maintains trails by hand in more remote backcountry settings.  In the last 12 years alone, additions to the existing trail network have been made that would make it hard to imagine trail life in Crested Butte without them. From the Lupines to the Budd Trail closer to Town, to the remote Point Lookout Trail, to the bold and daring Baxter Gulch Loop, and the brand new Middle Cement Creek Trail, the network continues to get even better. That doesn't include the major re-routes and massive maintenance projects on some of the gems already on the ground. Additions to existing trails continue to make trail network connectivity better and provide better user experiences.  Whether you are at the behest of gravity, navigating an eight-mile descent from high alpine tundra through dark timber and aspen groves, or climbing Washington Gulch to access the glorious and resplendent 403 trail, Crested Butte will show you a slice of paradise that can bring tears to the heartiest of individuals. (From both the glory and the effort!)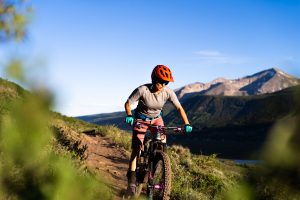 Implementing Designated Camping (2020-2021)
Dispersed camping used to be one of the perks our vast backyard could supply in addition to trails, open space, and recreation opportunities. Around 2015, our community started noticing increased visitation and use on public lands. Along with it, the negative impacts that come from those numbers and uses were very visible. Something had to be done to protect the resource and provide a better backcountry infrastructure, experience, and sustainability. This awareness of the need for greater stewardship was a catalyst for Crested Butte Mountain Bike Association creating CBCC. It also started the discussions in regards to better backcountry management at a county-wide level. In 2017, the Gunnison County Sustainable Tourism and Recreation Committee (STOR) was assembled and camping was at the forefront of the discussions. An obvious solution was to minimize the "free for all" approach that dispersed camping is predicated upon and replace it with a more manageable and resource-protecting "designated camping."  Unanimously, the STOR committee requested that the Gunnison Ranger District begin the process to get approval and then formulate a plan for implementing designated camping. In 2020, the order came from the Ranger District, along with funding and support through the STOR committee, the U.S. Forest Service (USFS) and the National Forest Foundation. Proposed sites were identified for feasibility, access and resource sustainability. Over the course of two years (2020/2021), the CBCC installed 208 numbered sites along with signage and instruction in the six drainages of the National Forest surrounding the Town of Crested Butte. The directive in 2022 from the Gunnison Ranger District is official and all camping in those six drainages must be done in designated sites. Now that it's completed and the directive is official we look forward to better backcountry management and mitigated impacts for the future of our beloved backyard and national forest.
Middle Cement Creek Trail #399 and "Riders Off the Road"
The newest trail in our network, Middle Cement Creek Trail #399, has been CBMBA's focus for the past THREE years! In September 2021, CBMBA, CBCC, and the hearty volunteers put in the final segment to finish and connect the Middle Cement Creek Trail (MCCT). In its entirety, MCCT is 4.6 miles, which is 3.1 miles of new, hand-built trail connected to 1.5 miles of the existing Fenceline trail, which is now a system route. MCCT is now entirely on USFS land and connects the Upper and Lower Cement Creek Trails, offering riders more linkup and loop options for riding in the Cement Creek drainage.
CBMBA is a community organization and our trail crew and volunteers are at our core. Crested Butte Mountain Bike Association builds are truly barn-raising events, with volunteers donating their time, strength, and/or their dollars to make trails happen. Over the past three years, volunteers spent 2,289 hours on this trail! CBMBA's trail crew, the CBCC put in a total of 717 hours of work and STOR Corps and Gunnison Trails lent a hand multiple times as well. We can't thank everyone enough for being a part of this massive community lift!
MCCT is a shining example of the work that CBMBA is doing these days to provide better network connectivity, better trail experiences, and to get "Riders (users) Off the Road."  Riders Off the Road is a short-term trails initiative that CBMBA has been working on since 2016. It is currently in the NEPA process with the name the "North Valley Trails Project" and is now a Forest Service initiative. Nine proposed trails are being scoped to provide better network connectivity, trail experiences, and safer travel.
MCCT is a great example of how these trail connections and amenities provide outstanding improvements and opportunities, not just for the users, but for the forest as a whole. CBMBA believes that recreation engenders authentic connections to the environment and seeks to use recreation as a tool for environmental awareness. Via stewardship and conservation efforts, trail users become a part of the solution. Go ride the Middle Cement Creek trail and see how a trail that's not necessarily the "dream trail" can be a "dreamy trail." As the trail connects two existing routes (Upper and Lower Cement Creek Trail), it navigates dark timber, aspen groves, and steep hillsides, and provides glorious views and experiences, all within a stone's throw from an existing impacted road (Cement Creek Road).  Crested Butte Mountain Bike Association hopes that trails like MCCT can provide more collaboration between wildlife and conservation organizations to meet the needs of the growing impacts on public lands. CBMBA worked with the STOR committee in 2017 and 2018 to bring this trail to fruition. It is a great example of how we can all work together to realize better forest experiences.