Snowshoeing in Crested Butte and Gunnison
Snowshoeing has exploded in popularity. Snowshoeing doesn't take any special skills; anyone who can walk can snowshoe. Going snowshoeing is a unique way to explore Colorado's trails and public lands that most people only visit in the summer. Gunnison and Crested Butte have many trails that are open to snowshoers. We've put together a Gunnison Valley snowshoeing guide to help you pick a trail and learn more about this fun and easy outdoor sport. Keep reading to learn how to explore this pristine corner of Colorado via snowshoes.
Colorado's best snowshoe trails
If you've been hiking or mountain biking in Gunnison and Crested Butte in the spring, summer or fall, you've seen for yourself just how many miles of trail there are here' more than 750, to be exact! Many of these trails are accessible in winter via snowshoes, fat bikes or nordic skis. The Gunnison Valley has a wide range of geographic areas, including high desert, canyons and alpine mountains. Whichever area you choose to explore, you'll experience some of the most wild and un-crowded land in Colorado. Please be aware that not all summer trails are open for winter use. Check out our winter vs. summer trail use page to learn more about seasonal trail closures.
Where to snowshoe in Crested Butte
Many of the summer roads around the town of Crested Butte are not accessible by car in winter. Instead, many of them are groomed for skiing and snowshoeing as soon as enough snow accumulates, usually sometime in early December. These areas are free and open to both people and dogs. Please clean up after your pets!
Gothic Road: Park at the north end of Gothic Road at the Snodgrass Trailhead. You can snowshoe to the town of Gothic and the Rocky Mountain Biological Laboratory, or even farther up this scenic road.
Washington Gulch Road, Slate River Road and Cement Creek Road: Park where winter road maintenance ends. Strap on your snowshoes and enjoy your day!
Crested Butte Nordic trails
Crested Butte Nordic is the nordic skiing center in downtown Crested Butte. They groom over 50 kilometers of trails around town. Snowshoes are allowed on all of their trails with the purchase of a day or season pass. Visit CB Nordic's website to buy a pass and learn more about their offerings. Trails range from flat, easy routes along the river to steep and scenic climbs on the ridge. With so many to choose from, you're bound to find a trail at your ability level.
Where to snowshoe in Gunnison
Gunnison receives less snow than Crested Butte on average, but there's still plenty to snowshoe on. These free areas are also dog friendly.
Hartman Rocks: This large recreation area, which is managed by the Bureau of Land Management (BLM), is located about five miles southwest of the city of Gunnison. Park at the main base area on Gold Basin Road, or farther east at the McCabe's entrance. Either way you go, you'll find dozens of miles of groomed roads and trails that wind through the rock formations from which the area gets its name.
Signal Peak: Access this trail system from the east side of Gunnison at the edge of the Western Colorado University. This large network of trails sweeps over many miles of rugged sage fields and rolling hills.
Mill Creek: Park at the pit toilet on County Road 727, which is about 15 miles northwest of Gunnison off Ohio Creek Road. Snowshoe up the road and onto the Mill-Castle Trail for expansive views of the Castles and the rest of the West Elk Mountains.
Black Canyon of the Gunnison National Park: Drive west (towards Montrose) out of Gunnison on Highway 50 for about 60 miles to access the south rim of the Black Canyon. Park at the visitors center and snowshoe along the South Rim Road, which is groomed and closed to motorized use in winter. Enjoy the same gorgeous canyon views you've seen in the summer with a blanket of snow.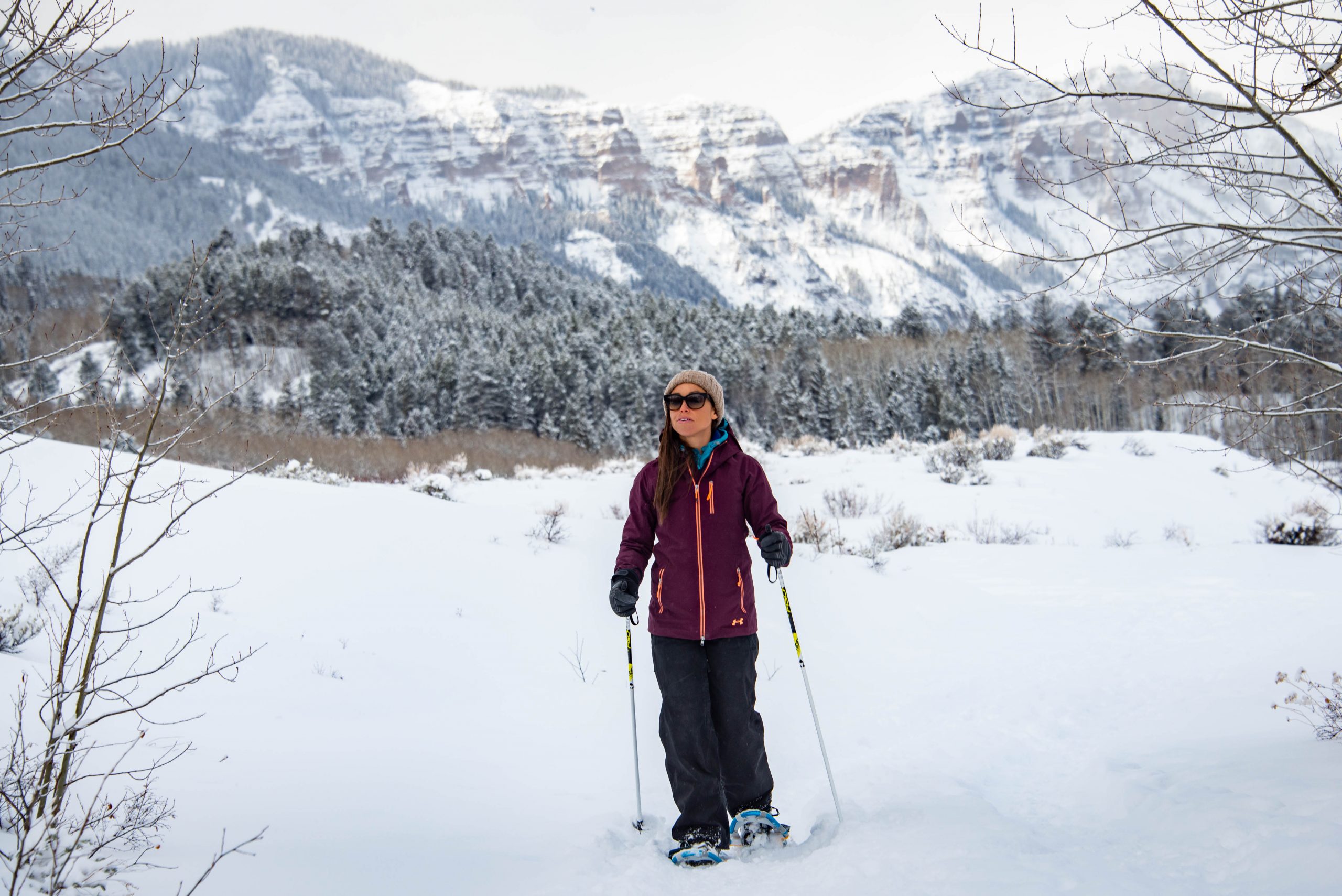 Snowshoeing on Mill-Castle Trail near Gunnison, Colorado.
What to bring with you when you go snowshoeing
Winter in Colorado is beautiful but can be unforgiving. Wool socks and waterproof shoes or boots are must-haves for snowshoeing. Be sure to pack plenty of layers, gloves and a warm hat. Most days are sunny, so be sure to pack sunscreen and sunglasses. Snacks and water are essential, too.
Where to rent snowshoes
If you don't live in Colorado or somewhere snowy, you might not own snowshoes. Luckily, many outfitters and shops in Gunnison and Crested Butte offer snowshoes for rent. The cost often includes poles, which are helpful for balance. If you decide you'd like to buy a pair, many gear shops sell snowshoes and poles, too.
Other winter activities in Gunnison and Crested Butte
NORDIC SKIING FAT BIKING SNOWMOBILING SKIING AND SNOWBOARDING
Lodging
After a day of hiking through the snow, you'll need a great place to stay. Learn more about lodging opportunities of all types in Mt. Crested Butte, Crested Butte, Almont or Gunnison.