Gravel Biking in Crested Butte, Colorado with Nick Gould
Join professional gravel cyclist Nick Gould as he explores the gravel biking in Crested Butte. Nick was training for the Gunni Grinder, an annual gravel bike race in Gunnison that is held each September.
Watch Gravel Biking in Crested Butte, Colorado with Nick Gould
The route
The route in the video begins in Mt. Crested Butte where Highway 135 turns into County Road 317. CR 317 follows the East River north through the town of Gothic and around Mt. Baldy toward Schofield Pass. Gothic is a historic mining town that is now home to the Rocky Mountain Biological Laboratory (RMBL). RMBL is one of the oldest field stations in the U.S. Many of the experiments at RMBL have been ongoing for decades. It's important to stay on the road through Gothic to avoid disturbing the experiments. After topping out at 10,707' on Schofield Pass, turn west on County Road 734, which ascends Paradise Divide. Finally, follow CR 734 south into the Slate River Valley. On the descent into the Slate River Valley, you'll pass by Pittsburg, an old mining townsite. The Slate River valley offers amazing views of the winding river and the Elk Mountains. Eventually you'll return to Highway 135, just a few miles south of where you started. This ride is mostly gravel, with a few miles of paved road on Slate River Road and Highway 135. Paradise Divide Loop is a popular scenic drive for cars, so be mindful of cars while riding your bike. This ride, like most of the gravel rides in Crested Butte, is difficult due to its steep grade, chunky gravel and high elevation. Check out this list of gravel rides for some more options.
The views and surrounding area
Paradise Divide is known for its stunning views. During the ride, you'll see the Elk Mountains in the Raggeds Wilderness. You will also see views of the Maroon Bells-Snowmass Wilderness. This high alpine ride is in the glacial zone. It is especially beautiful in summer and fall. Colorful wildflowers dot the landscape during the summer. The trees change to vibrant colors of gold, orange, yellow and red in fall. From the start in Mt. Crested Butte, you can see Crested Butte Mountain to the south. This mountain has a pointy tip and is home to Crested Butte Mountain Resort. As you go over Schofield Pass, you'll pass by Emerald Lake. This high alpine lake is aptly named for its stunning emerald-colored waters.
About Nick Gould
Nick is a Mazda Lauf Factory gravel team rider. He has over 20 years of experience racing in cross-country, marathon and ultra-marathon events.
Gravel biking in the Gunnison Valley
There are thousands of miles of gravel roads in the Gunnison Valley. Forest Service roads alone account for 1,169 miles of bikeable gravel roads. There are also Bureau of Land Management and county roads available for gravel biking. Other places to gravel bike around the Gunnison Valley include Pitkin and Tincup, Gunnison, and Taylor Park.
What is gravel biking like in Crested Butte?
Most of the gravel biking in Crested Butte is difficult. The rides in Crested Butte tend to be more like mountain biking trails. The roads and trails are mostly steep and rocky. The environment in Crested Butte is high-alpine and high-elevation. This means amazing views, but a more difficult environment to ride in.
Gravel Biking in Pitkin and Tincup, Colorado
Pitkin and Tincup are historic mining towns in Colorado. Both towns are very popular for off-roading in the summer. The areas around Pitkin and Tincup also have hiking, fishing and biking. Cumberland Pass is a gravel biking route that connects Pitkin and Tincup. The grade of the road is gentle, but there are windy turns to be aware of. Cumberland Pass is a common scenic driving route as well. Be mindful of cars. This route has beautiful and wide views of the Sawatch Range.
Gravel Biking in Gunnison, Colorado
Hartman Rocks Recreation Area in Gunnison has a vast network of gravel roads to explore. Hartman Rocks is a high desert with fields of sagebrush, rolling ridges and uniquely shaped rock formations. All the roads in Hartman's are unpaved and range from beginner to intermediate to difficult. Hartman's is multi-use and sees a lot of mountain bikers as well. Some of the singletrack is mellow enough for gravel bikers, too. Enjoy views of Colorado's Rocky Mountains from Hartman's. The San Juans are to the south, the West Elk Mountains to the north, and Fossil Ridge and the Sawatch Range to the east.
Gravel Biking in Taylor Park, Colorado
Another ride that's a mix of paved and dirt roads with excellent views is a route from Almont to Taylor Park. This ride begins in Almont and takes you up into Taylor Park through Taylor Canyon. Taylor Reservoir is also in Taylor Park. Marvel at the views of the Collegiate Peaks from Taylor Park. On the way back, you'll pass Spring Creek Reservoir and ride alongside Spring Creek as it joins the Taylor River.
What is a gravel bike?
A gravel bike is a drop-bar bike that can ride over a variety of surfaces. Gravel bike tires are wide and have low gearing and stable handling. Gravel bikes are good for rides like Paradise Divide Loop because they handle well on multiple services. You can ride them on paved roads and dirt and gravel trails that aren't too technical. Gravel bikes differ from mountain bikes with a taller headtube, steeper headtube angle and a lower bottom bracket. Gravel bikes also don't have a suspension fork or shock, which makes them more efficient than mountain bikes on long rides on dirt and gravel.
What is there to do in Crested Butte?
Crested Butte is a multi-season destination for outdoor recreation. Summer is a great time of year for mountain biking, hiking, off-roading and fishing. So many wildflowers grow in the summer that Crested Butte is widely called the "Wildflower Capital of Colorado." Crested Butte Mountain Resort is home to steep and extreme skiing in the winter. There are also over 50 kilometers of groomed Nordic skiing trails in Crested Butte, many of which are open to fat biking as well. The town of Crested Butte is a historic mining town that is often referred to as "a surf town in the mountains." Elk Avenue is the main drag and the spot where you'll find most of the places to eat, get drinks, shop, see art and more.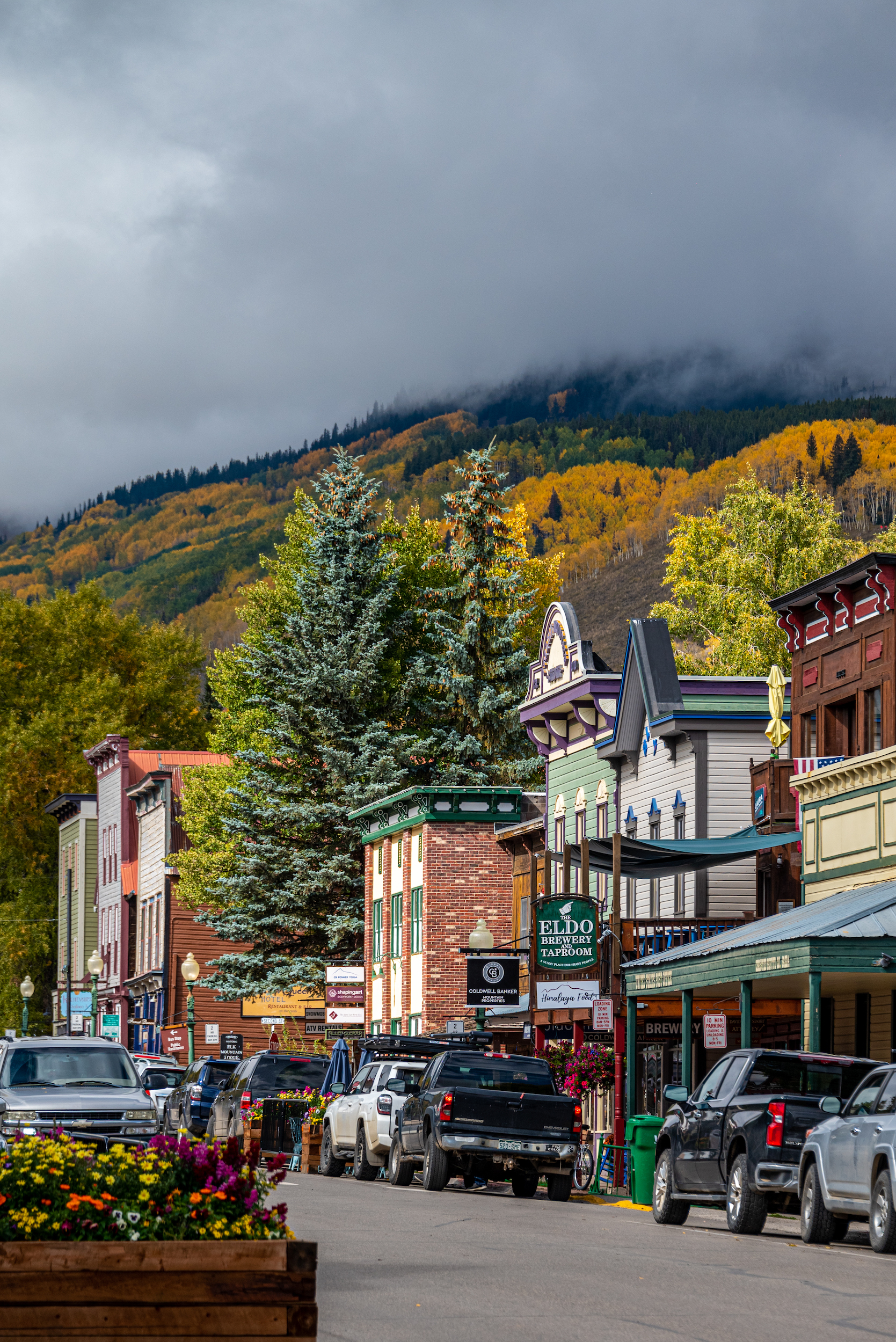 Mountain biking in Crested Butte and Gunnison
The Gunnison Valley has over 800 miles of singletrack for mountain biking. Crested Butte, one of the birthplaces of mountain biking, is known for its flowy, alpine trails. The Crested Butte Mountain Bike Association is the oldest mountain bike club in the world. It has been around since 1983 and now builds and maintains many of the trails in Crested Butte. The high desert trails in Gunnison tend to be on the technical side. Gunnison Trails builds, maintains and educates trail users on trail stewardship in Gunnison.
Visiting the Gunnison Valley
Use our trip planning guide to find a place to stay, book flights, choose activities and more for your gravel biking trip.