Cross-country Skiing in Colorado
Colorado is known for its many world-renowned downhill ski areas. Did you know it has plentiful cross-county skiing as well? If you've only considered Crested Butte as a downhill skiing destination because of the steep and extreme terrain at Crested Butte Mountain Resort, it might be time to check out cross-country skiing options too. Sometimes called "The Nordic Ski Capital of Colorado," Crested Butte has many places to Nordic ski. There are a few places to cross-country ski in Gunnison as well. Crested Butte Nordic Center and Gunnison Nordic Club groom certain trails for cross-country skiing in the Gunnison Valley. Some popular summer mountain biking and hiking trails also become ungroomed cross-country ski trails in the winter too. Learn more about winter versus summer trail use.
Difference between cross-country skiing and downhill skiing
Cross-country skiing, also known as Nordic skiing, is a type of skiing where the toe of the ski boot attaches to the binding, and the heel stays free. Most Colorado skiing is downhill skiing, where the whole boot is attached to the binding. Cross-country boots are much lighter and more flexible than downhill boots. Cross-country ski equipment tends to be smaller and lighter, which allows the skier to glide swiftly across the snow. Cross-country poles are also longer and lighter than downhill poles. They're designed to give you momentum and push you forward.
Types of cross-country skiing
The most common forms of cross-country skiing are classic and skate skiing. To classic ski you glide the skis forward parallel to each other. If the trail is groomed, you do this in a parallel track. Skate skiing looks like roller skating and is done on groomed snow that looks like corduroy. Some cross-country skis have scales on the bottom, allowing the skier to grip the snow and use the traction to glide forward. If cross-country skis don't have scales, kick wax will have to be applied to them. The wax creates the necessary friction for the skier to go forward. Some skis also have metal edges, which allows you to ski deeper and steeper terrain.
Cross-Country skiing in Crested Butte
The Crested Butte Nordic Center alone grooms 50 kilometers of trails (about 31 miles) for cross-country skiing, snowshoeing and fat biking. Many of these trails are easily accessed right from town, making Crested Butte a unique Nordic skiing destination. You can experience beautiful and remote trails without having to drive long distances to a trailhead or backcountry ski. Even though the trails begin in town, it doesn't take long to get out of town. In just a few miles you're away from the noise and people of town and roads.
Some other options farther outside town include Slate River Road, Washington Gulch Road and Cement Creek Road. You'll share these roads with motorized and non-motorized traffic.
What are easy trails to cross-country ski in Crested Butte?
A few easy trails in Crested Butte include Tony's, Pooch's Paradise and Town Ranch. These trails can be accessed from the Crested Butte Nordic Center. Please make sure you purchase a pass for Nordic Center trails and have it displayed while skiing. Tony's is a flat and winding half mile trail along the Slate River. It connects to a few other Nordic Center trails. Pooch's Paradise is about 1.8 miles and is dog-friendly. Your dog must have a pass as well. It's mostly flat but has a couple climbs. This trail is good for beginners who want to practice their technique on hills. Town Ranch is a mellow 1.8-mile loop free for people and dogs.
What are intermediate trails to cross-country ski in Crested Butte?
Snodgrass is in Mt. Crested Butte. From the town of Crested Butte take Gothic Road to Mt. Crested Butte. The trailhead is in about four miles. Snodgrass begins with a climb. The view from the top of this hill has a good view of Crested Butte Mountain. Some people turn around at this point, but you can also continue up the mountain. The path is winding and has switchbacks. When you head back, expect a long descent. This trail is 2.8 miles. Beaver Trail is a Nordic Center trail. It's mostly flat but also winds through willows along the Slate River. It's about 1.1 miles. It can easily be connected to Magic Meadows and makes a good warm-up before hitting the longer trail. Middle Earth is another intermediate Nordic Center trail. It's about 1.2 miles. Aptly named, it's on a ridge in the middle between Crested Butte and Mt. Crested Butte. It has rolling hills and makes a loop towards Skyland and the Rec Path. It's good practice for technique on hills.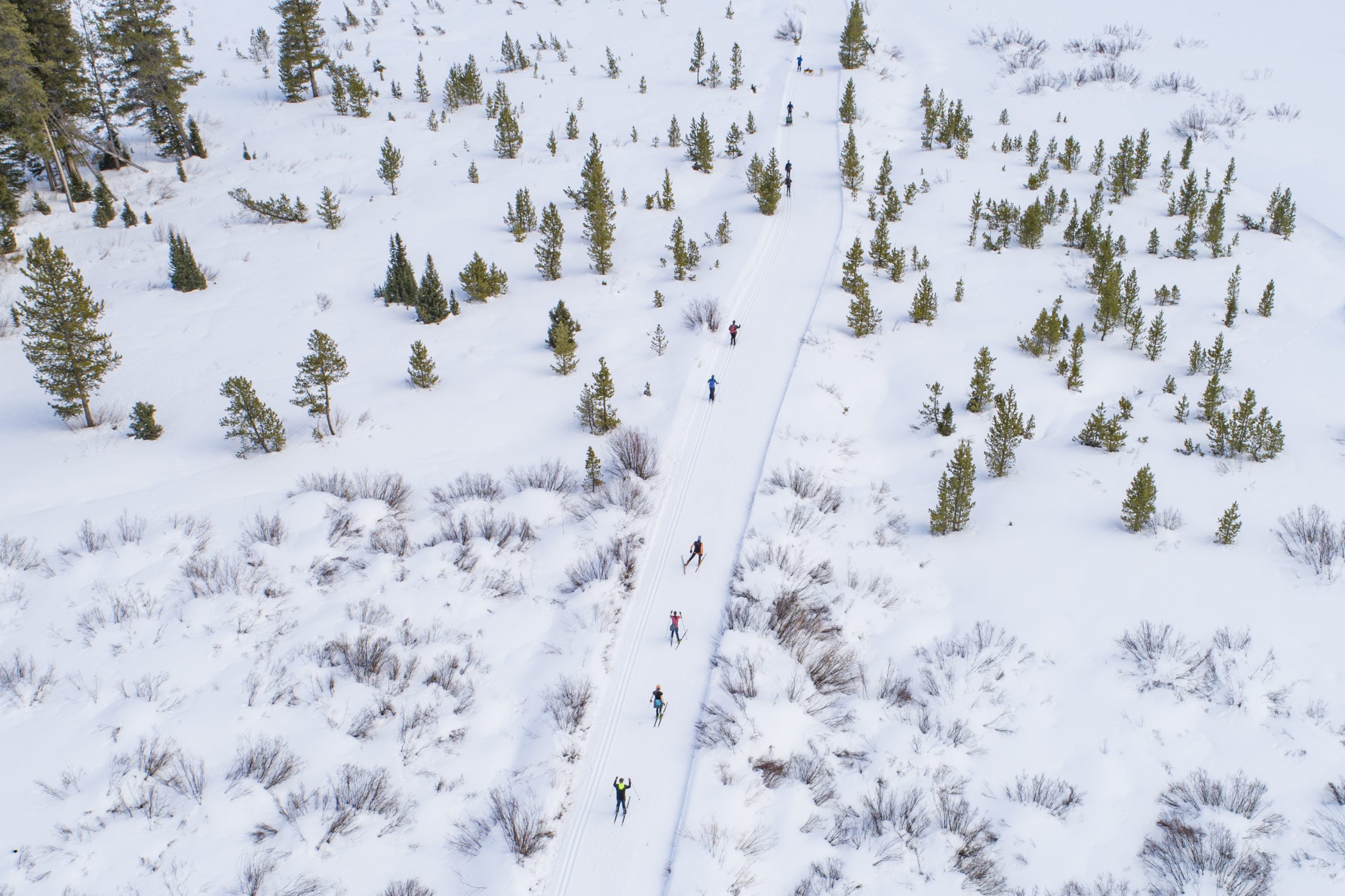 What are advanced trails to cross-country ski in Crested Butte?
Paradise Park, Gothic Road and G.B. Loop are three difficult trails for Nordic skiing in Crested Butte. Paradise Park is a little more than half a mile and is one of the Nordic Center's hilliest trails. Expect to go up or downhill the whole time. Gothic Road can be accessed in Mt. Crested Butte from the Snodgrass trailhead. It's an unplowed winter road that takes you to the site of the Rocky Mountain Biological Laboratory. It's three miles one way and has beautiful views of the surrounding peaks. Expect some hills a couple flat spots. G.B. Loop is about one mile long and is a steep climb followed by a fast downhill. This trail closes when avalanche danger is high. Please abide by all signs and trail closures.
Cross-Country skiing in Gunnison
Gunnison has a few areas for cross-country skiing. Gunnison Nordic Club grooms the practice field at Western Colorado University (WCU) and Dos Rios Golf Club. They also groom a track at Hartman Rocks Recreation Area and Mill Creek, which are both a little outside of town. Spring Creek Road in Almont is another option close to Gunnison.
Where can beginners cross-country ski in Gunnison?
Western Colorado University
Gunnison Nordic grooms a track at WCU. This track is short and flat, with one small decline. It's a good place for beginners to practice their skills and get comfortable on their skis, including going up and down hills.
Dos Rios Golf Club
Dos Rios is mostly flat with a handful of loops to ski. There are a few small hills to ski up and down. In total there are about 4.5 miles of trails to ski at Dos Rios. Dogs are not allowed on these trails.
Van Tuyl Loop
These trails are centered around a working ranch. Gunnison Nordic grooms a track in the fenced-in pastures on the property. Though Van Tuyl is close to town, the views from the trails are scenic. The Palisades rock formation towers to the west, and the Gunnison River flows along the north and west sides of the trails. Please leave your dog at home if you plan to ski here.
Where is intermediate and advanced cross-country skiing in Gunnison?
Mill Creek
Mill Creek is off Ohio Creek Road. As you drive north out of Gunnison, turn left on Ohio Creek Road and drive for about nine miles. Turn left on Mill Creek Road (#727). The parking area and trailhead is about three miles down the road. There are many trails to explore in Mill Creek. A popular one is Mill-Castle Trail. This trail provides views of a rock formation in the Anthracites known as the Castles. The snow here can get pretty deep and there are many hills, so this spot is better suited for more experienced skiers.
Spring Creek Road
Spring Creek Road near Almont, Colorado is not plowed in the winter but is open to cross-country skiers. You can get to Spring Creek Road by heading north from Gunnison on Highway 135 for about 10 miles. Turn right on County Road 742 and then make a left on County Road 744 after about seven miles. Your ski can be as long or as short as you choose. The beginning of the road is mellow for about a mile, but it does get steeper the further you go. No track is groomed at Spring Creek.
Cross-country skiing at Black Canyon of the Gunnison National Park
Black Canyon of the Gunnison National Park is a lesser-visited Colorado national park, but that doesn't mean it's not worth stopping at. Black Canyon is located off Highway 50 between Gunnison and Montrose. In the winter the road along the south rim is groomed for Nordic skiing. The road up to the visitor's center is plowed and admission to the national park in the winter is free. This is a unique way to experience one of America's national parks.
Can you cross-country ski at Hartman Rocks Recreation Area?
Hartman Rocks Recreation Area has beginner, intermediate and advanced trails and roads groomed for cross-country skiing. The trails at Hartmans are mostly used for hiking and biking in the summer, and some of them are open to skiing in the winter. The trails on the back side of Hartman Rocks off County Road 32 (McCabe Lane) are beginner and intermediate. County Road 32 is accessed off U.S. 50 West. Trails accessed from the Hartman Rocks Trailhead on Gold Basin Road are intermediate and advanced. Hartmans is high desert and marked with fields of sagebrush, unique rock formations and wide views of Gunnison. This area is multi-use, so you might see fat bikers and snowshoers on the same trails.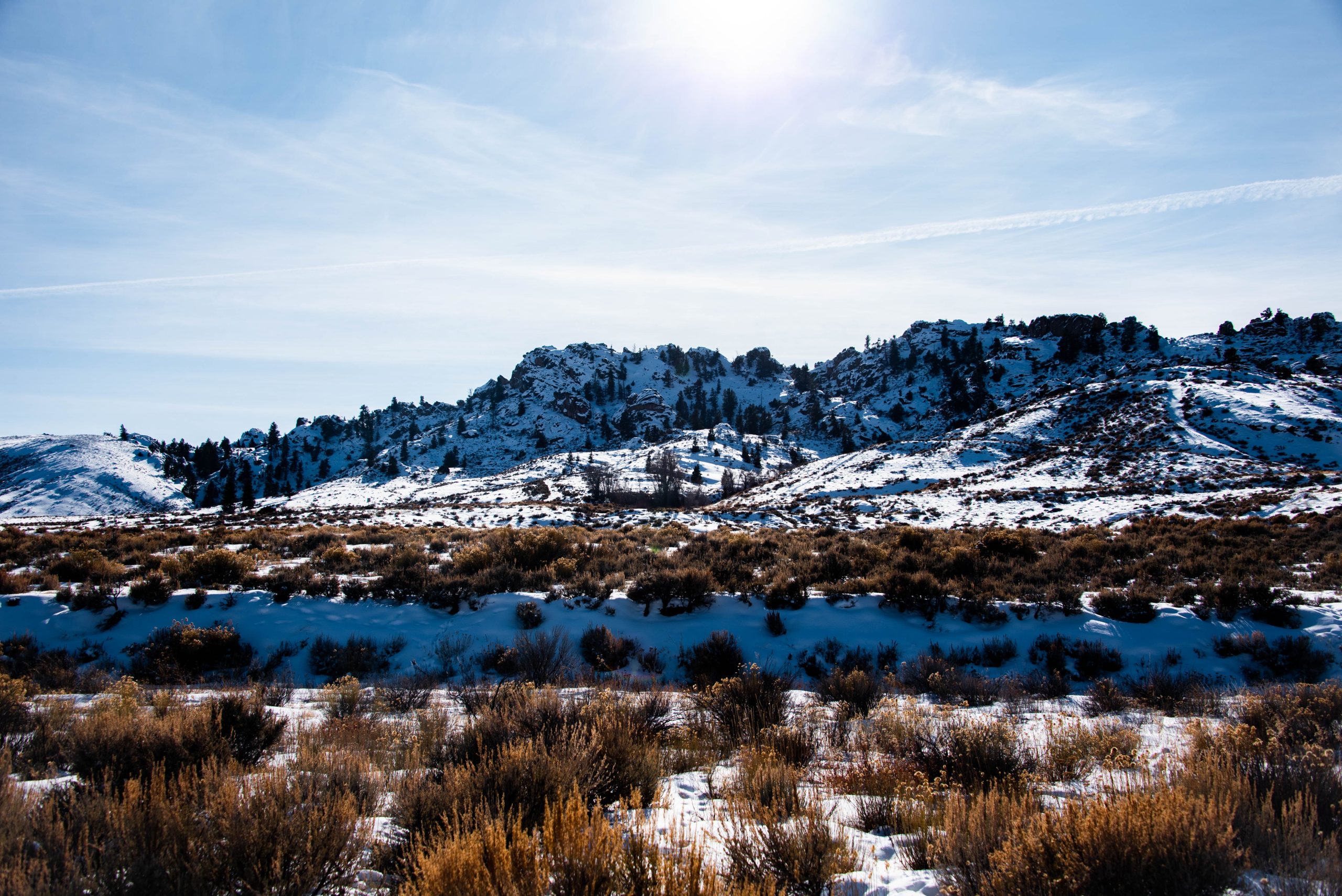 Multi-use trails in Crested Butte and Gunnison
Most of the trails you can cross-country ski in Gunnison and Crested Butte are also available to other kinds of winter recreation. It's common to see fat bikers, snowshoers, snowmobilers and Nordic skiers on the same trails. It's important to pay attention to your surroundings and practice good trail etiquette. Be courteous and communicate.
Winter Guide
Looking for other things to do on your winter trip? Our winter guide offers suggestions of things to do and winter events in Gunnison and Crested Butte. Watch Santa light the tree, ski a historic route from Crested Butte to Aspen, test gear with professional skiers and snowboarders, and more!
Plan your trip
Knowing how to get here is an important part of planning your winter trip to Gunnison and Crested Butte. To save time, skip the drive and fly into Gunnison-Crested Butte Regional Airport (GUC). If you do drive, check the weather and road closures first. Your lodging options include ski-in, ski-out resorts, traditional hotels or quaint inns. No matter what you choose, it's sure to be warm and cozy after a day of cross-country skiing.