A True Fish Story
By Shelly Steig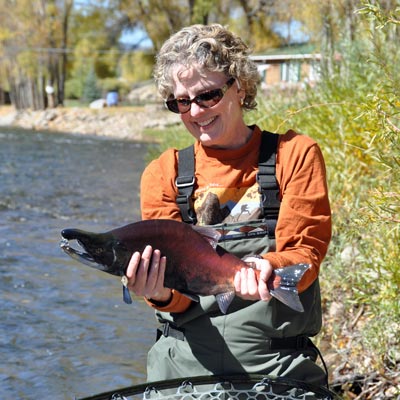 The first time I heard there was salmon fishing in Colorado — yes Colorado! I was amazed. And this isn't just any fishing — in Colorado the salmon are superlative. This state has the largest salmon population in the Lower 48 and it's got the longest salmon run in the entire United States.
I first fished for Kokanee a few years ago in the Blue Mesa with Weekend Warrior Outdoors. It was jigging season, and owner Ryan Johnson was my guide. He'd equipped his boat with sonar that showed where schools gathered. He gave me a tip — use white corn as bait. I was skeptical, until I threw a line in and got a bite within two seconds. I was the one who was hooked!
This October I headed out to the East River with guide Blake Long of Almont Anglers. It was a stunning golden day, warm and bright. I'd toyed around with fly fishing once before, but never reeled anything in. It was pretty clear as soon as we waded into the shallow waters right off the banks, that it was probably because . . . I have The. World's. Worst. Cast. Blake was scratching his head in bewilderment after the first lesson. But he didn't give up and kept insisting that I WOULD catch fish that day. In the meantime, I'm thinking, Yeah right, if only wishes were fishes.
I didn't have to wish very hard. After just a few sloppy casts, a "koke" bit. With Blake instructing, I reeled in my first fish of the day. On my own, I "educated" a few more when I either didn't set the hook, or I didn't fight the fish enough before reeling in. By the end of my half-day trip, I'd caught and released a total of five salmon. And that's not just any fish story.
Shelly Steig is a Parker, Colo.-based freelance journalist who loves being a tourist in her adopted state. Learn more about her at www.shellysteig.com.