Top 4 Reasons to Visit Crested Butte in Fall
A Crested Butte, Colorado fall vacation means great hikes, biking, fishing and fall foliage. Sunny weather and fewer crowds make late August through early October a great time to visit the Gunnison Valley. There are many fall activities in Gunnison and Crested Butte. We've compiled a few of our favorites.
1. Gunnison and Crested Butte Fall Hikes
Hiking is one of the best things to do on a Colorado fall vacation. We've selected three local hikes that would be great options for fall due to their sweeping views and proximity to aspen groves.
Beckwith Pass: Kebler Pass is home to one of the country's largest aspen groves, making it a perfect place to view fall foliage. All the trails on Kebler Pass are spectacular in September, but Beckwith Pass Trail #842 and the surrounding trails (Cliff Creek Trail #840, Three Lakes Trail #843 and Beckwith Bench Trail #845) see a bit less traffic than the others. Multiple mileage and route options are available. The difficulty of these hiking trails is low to moderate.
East River: The East River Trail #634 is a relatively flat, wide, easy trail that's fun for everyone. The trail is just over two miles long (just over four miles round-trip) and is open to hikers, trail runners and mountain bikers. Dogs are also welcome. Park at the Brush Creek Trailhead on Brush Creek Road, and enjoy the view of the East River valley and the peaks beyond.
Dillon Pinnacles: The area west of Gunnison near Blue Mesa Reservoir is home to a surprising number of aspen trees. Due to the lower elevation, the aspens in this area tend to change later than the ones in Crested Butte. The Dillon Pinnacles Trail is the perfect place to enjoy views of the trees, the unusual geology and the lake. This easy trail is about four miles round-trip.
For more information on hiking in Crested Butte and Gunnison, visit our hiking page.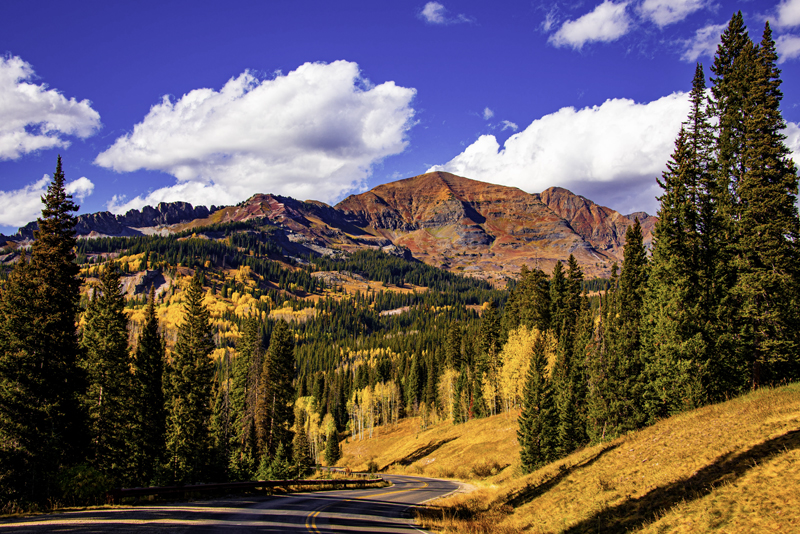 Photo by Danica Bona
2. Viewing Fall Foliage in Crested Butte
Of all Colorado fall vacation activities, leaf peeping is probably the most popular. Fall foliage usually reaches its peak color in mid-September. There are many factors that determine when and how quickly the aspen leaves change. A dry summer, cooler-than-average temperatures or early snow can make the leaves change earlier. Conversely, a very rainy monsoon season or above-average temps may make the leaves stay green longer. It's nearly impossible to predict exactly when colors will reach their peak, but we guarantee you'll enjoy a fall vacation in Crested Butte and Gunnison no matter where the leaves are in their life cycle.
If you visit the Gunnison Valley in the fall, be sure to bring your camera! Fall photography can be a fun and rewarding way to spend time outside. Scenic drives are also a great way to explore the area. Kebler Pass (dirt) and Cottonwood Pass (paved) are two options that are accessible to any passenger vehicle. Renting an off-road vehicle or taking a guided tour is an exciting way to enjoy the views from one of Crested Butte or Taylor Park's legendary 4×4 roads.
3. Fall Fishing in Gunnison and Almont
Lower water levels and great clarity make fall an ideal time to go fly fishing in the Gunnison Valley. Experience the legendary kokanee salmon run in Gunnison and Almont in August and September. During this time of year, kokanee salmon swim north from Blue Mesa Reservoir up the Gunnison River past the city of Gunnison and the town of Almont. They eventually end up at their breeding ground at the Roaring Judy Fish Hatchery just north of Almont. These large fish are fighters! Be sure to bring your heavy line and rod. Consider hiring a local fishing guide to show you around. We'd recommend stopping in to an outfitter or fly shop before you hit the river to get advice and stock up on gear.
BROWSE FLY FISHING GUIDES AND SHOPS
4. Fall Mountain Biking in the Gunnison Valley
There's nothing quite like riding through groves of golden aspen trees. Here are three of the best fall mountain bike rides in Crested Butte and Gunnison.
Hartman Rocks: Gunnison's high-desert mountain bike playground has patches of aspens that turn gold in mid to late September. Some of our favorite trails for fall views are The Ridge (difficult), Golf Course (easy), Graceland (intermediate) and Cat's Castle (intermediate).
409, 409.5 and Point Lookout: For a challenging loop with a great payoff, park on Brush Creek Road where it intersects with Strand Hill Road. Ride up the switchbacks on Strand Hill Road for about half a mile, then turn right on Farris Creek Road and continue for less than a mile. Just past the stile, the singletrack begins. Ride Trail #409.5A to Point Lookout Trail #445 and Trail #409. The loop is approximately nine miles long. Breathtaking views at the top of Point Lookout and a fun, fast-paced descent make the climb worth your while.
403: Washington Gulch Trail #403 is a four-mile expert trail that spans the ridge north of Gothic Mountain between Washington Gulch Road and Gothic Road. Connect it with Trail #401 for even more high alpine views.
For more information on mountain biking in Gunnison and Crested Butte, visit our mountain biking page.
SEARCH BIKE RENTALS AND GEAR SHOPS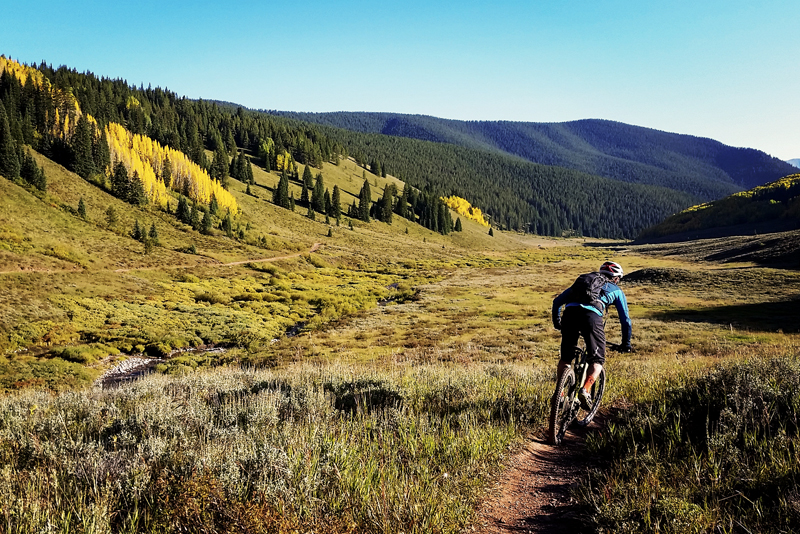 However you choose to spend your time on your fall vacation to Crested Butte and the Gunnison Valley, you'll need a place to stay and some tasty meals to fuel your adventures. Check out our partner pages to learn more about our local lodging and restaurant options.