Ice Fishing Blue Mesa Reservoir in Gunnison, Colorado
Words by Patrick Blackdale
Photos by Cam Chioffi
Every fall in Gunnison, Colorado while the aspen leaves are turning ice fishers eagerly await freezing cold temperatures to begin capping Blue Mesa Reservoir with ice. Once frozen over with adequate ice, the human-made lake becomes a popular destination for ice fishing in Colorado. Blue Mesa boasts thousands of prime fishing spots, several species of gamefish, stunning views, and relatively easy access. The variety of Blue Mesa's ice fishing opportunities also makes it an ideal destination for both beginners and seasoned ice fishers. Ice fishing is just one of many activities to take advantage of on your winter vacation to Crested Butte and Gunnison. While you're here you could also downhill ski, snowboard, fat bike, Nordic ski, snowshoe, snowmobile, ice skate, dog sled, or sleigh ride.
Blue Mesa Ice Season in Gunnison
The ice fishing season on Blue Mesa usually begins in earnest in early December. Typically, safe ice will begin to form on the eastern side of the reservoir near the Lake City bridge. The first weeks of the ice season can be very productive fishing with lots of unpressured trout attracted to the Gunnison River inlet. Anglers can find all the Blue Mesa species this time of year, but the area is predominantly known for brown and rainbow trout. As the season progresses, safe ice (4"+) will grow to the west through December and January. By the new year we can typically expect to see fishable ice conditions well into the Iola basin which opens up more opportunities to find mackinaw as well as perch and kokanee. Brown and rainbow trout opportunities are very abundant as well. By late January the safe ice continues to grow west, encompassing Dry Creek, Elk Creek Marina, and usually into Cebolla and Sapinero basins. This middle part of the season can serve up the best mackinaw and salmon action with much of the habitat now accessible to fishers. Access this time of year can get more difficult without a snowmobile due to the vast distances between spots and the potential for wind drifting and deep snow. As winter begins to wind down in early March and the days get longer, ice conditions will become unstable in areas with high sun and wind exposure, particularly around shorelines and islands, pressure ridges, and inlets. Fishing in areas with safe ice can continue to be very productive for all the Blue Mesa species during the spring, but anglers should use caution as conditions can change quickly this time of year. Most years, depending on weather conditions, the ice fishing season ends around the spring equinox.
Equipment for Ice Fishing in Gunnison
The equipment used to ice fish Blue Mesa Reservoir is all fairly standard ice fishing accoutrements with a few important distinctions that should be understood by anglers venturing onto the hard water. At minimum, fishers will need an ice auger (manual or power), ice rods and reels, an ice scoop, and preferably a portable seat or bucket to sit on while fishing. More advanced fishers may also want additional gear to help them locate and land more and bigger fish. Snowmobiles are a great tool for serious ice fishers as they allow quick and efficient travel from spot to spot. It is important to note that a minimum of 8″ of clear dark ice should be present to safely use snowmobiles. Another great piece of more advanced equipment is an ice shelter, which allows for comfortable fishing out of the elements. Heaters can be used inside shelters to enhance the fishing experience and keep fishers toasty and dry. Many anglers also rely on fish finders to help locate fish. Fish finders give anglers eyes under the water and allow them to visualize the depth of the water, the lure or bait, and the exact depth and behavior of the fish below.
Ice Fishing Safety in Gunnison
Ice fishing safety boils down to three factors: safe ice, proper safety equipment, and common sense. Safe ice depends on the quality and thickness of ice. High quality ice is characterized by being clear and/or dark. This ice is void of many bubbles/swirls/cracks, etc. Ice thickness should be a minimum of 4" for walking and dragging a pull-sled, and 8"+ for snowmobiles. To judge ice thickness in early or late season when it could be thin, it is good practice to throw a large rock onto the ice to test its strength. If the ice passes the rock test, you can use a spud bar to further test the ice strength. After the spud bar, try drilling a test hole and use your ice scoop to measure the ice thickness. If ice is less than 4″, try another area or wait until conditions improve. Watch the daily temperature fluctuations and look for temperatures consistently below freezing to produce safer ice.
Ice safety equipment should include ice picks. Ice picks are often worn around the neck and are essentially sharp picks that can be used to pull themself back onto the ice surface in the event that they break through the ice. Another piece of safety gear is an inflatable personal floatation device (PFD). Some ice fishing bibs and jackets come equipped with built in PFDs.
Common sense is invaluable when it comes to ice safety. One of the best ways to stay safe is never fish alone. Having a buddy on the ice ensures better decision-making, as well as someone nearby to perform a rescue if there is an emergency. Another commonsense precaution is to always have a dry change of clothes handy just in case someone breaks through the ice and gets soaked. It can only take a few minutes for hypothermia to begin in winter conditions and changing into dry clothes will help retain valuable body heat.
Ice Fishing on Blue Mesa in Gunnison, Colorado
The ice fishing at Blue Mesa Reservoir offers a unique outdoor experience for folks looking to try a new type of fishing. From first-time ice fishers looking to hire a guide, to serious DIY trophy anglers, this diverse fishery provides amazing experiences. There are several shops in town where equipment can be purchased. If you're new to the sport, consider hiring a guide. Guides can help you stay safe and give you the knowledge you need to have a good day fishing. There are some fantastic ice fishing outfitters in the Gunnison area. I'd encourage folks to reach out to an outfitter and consider a guided experience to learn more about ice fishing Blue Mesa. Enjoy the ice fishing season and stay safe on the hard water!
2022 Ice Fishing Events in Gunnison and Taylor Park
Think you want to give competitive ice fishing a try? There are two ice fishing competitions coming up in Gunnison. Ice Addiction is happening January 15, 2022 on Blue Mesa Reservoir. The first-place winner will receive $7,500 in cash and $20,000 in cash and prizes will be given to the 30 heaviest fish. Register through Eventbrite. For more information, visit the Tightline Outdoors website. Ice Masters Tournament will be held February 26, 2022 at Taylor Park Reservoir. It is $100 to enter and $4,000 will be given in cash prices and $1,000 in other prizes. Call 970-309-6339 to register.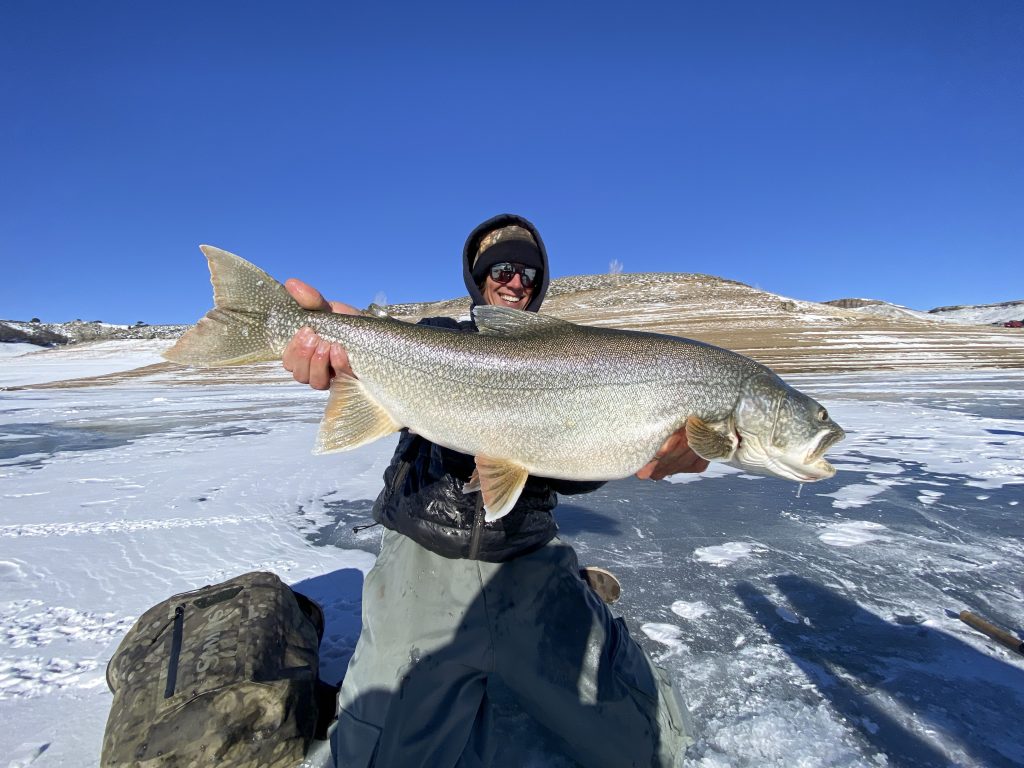 Blue Mesa's History
Blue Mesa Reservoir was formed with the completion of Blue Mesa Dam in 1966. The nearly 400-foot-tall dam took four years to build and was constructed as part of a large western infrastructure project known as the Colorado River Storage Project. The primary objectives of this colossal project were flood control, water storage, and improved agricultural opportunities in the arid Lower Gunnison and Uncompahgre Valleys downstream of Gunnison. Blue Mesa filled upon completion of the dam and became the single largest body of water in the state of Colorado at 20 miles long with nearly one hundred miles of shoreline.
Blue Mesa Recreation
From the beginning, Blue Mesa has been a hub for outdoor recreation. The National Park Service and Colorado Parks and Wildlife began managing the reservoir for fishing in the late 1960's, with a focus on trophy mackinaw potential, kokanee salmon egg production, and a put-and-take rainbow trout population. As Blue Mesa's popularity has increased over the years, CPW has continued to routinely update the reservoir's fishing regulations for these varied and diverse fish stocks. Recreation opportunities on Blue Mesa span all seasons. In the summer it is used for boating, stand-up paddle boarding, swimming, fishing, and just relaxing on the beach. There are also hiking trails in Curecanti Recreation Area around Blue Mesa.
Species and Technique for Ice Fishing on Blue Mesa
Targeting the various species in Blue Mesa requires an understanding of fish habitat, feeding habits, and diet. The most common fish in Blue Mesa are rainbow and brown trout. These fish are almost everywhere in the lake, but are especially drawn to inlets, springs, and areas that provide biomass and a food source. Effective rigs include spoons and soft plastic jigs, tipped with meal worms, wax worms, or sucker meat. Trout fishing can be good any time of day but is generally best early and late in the day and slows down during the warmest part of the day.
The second most popular fish encountered through the ice is the mackinaw, otherwise known as lake trout. The appeal of "lakers" is their trophy potential, with some specimens pushing 50 pounds! Mackinaw are predators that are often targeted with large tube jigs and sucker meat. Tubes can range from two up to 12 inches long, and are often white, chartreuse, or olive in color. Good laker habitat is typically in the 40-100-foot depth and includes ambush zones such as points, dropoffs, and channels.
Kokanee salmon are a fun challenge for Blue Mesa ice fishers. Kokanee live and travel in pods, so utilizing a fish finder is important for locating these great tasting fish. Once a pod is located, jigging with glow light jigs or pink glow lures is a common technique. Their bite can be subtle since they primarily feed on zooplankton. Using a lighter rod is a good idea when kokanee fishing to detect the subtle bites.
A Blue Mesa species that is certainly underrated but lots of fun (and great eating) is yellow perch. Perch tend to hold in shallower water of 10'-30' and are most active in the early mornings or in low-light conditions. Small jigs are common for perch since their natural forage is primarily invertebrates. Here again, bites can be subtle and oftentimes a passive technique can be more effective than aggressive jigging.
Lodging in Gunnison, Almont and Crested Butte 
You have so many options for places to stay during your Colorado winter vacation to Gunnison and Crested Butte! From cozy inns and converted mining houses in Crested Butte, to ski-in/ski-out and resorts in Mt. Crested Butte, to riverside cabins in Almont, and traditional hotels to a hostel in Gunnison, your lodging options are varied and endless.
Patrick Blackdale is a fishing guide and fly shop operator in Almont, Colorado.