Gunnison Nordic Skiing
Winter is a great opportunity to explore the XC trails and roads around Gunnison on Nordic skis. Bluebird days, lower avalanche hazard and rolling views of the San Juan and West Elk mountains mean that any day cross-country skiing around Gunnison is a day well spent.
Dog-Friendly
We'll start the list of Nordic ski routes with trails and roads that are dog-friendly. While your pooch is allowed, it's good etiquette to keep your dog on a tight leash and pick up any poop. Much of the public land around Gunnison is also winter range for deer and elk, as well as Gunnison Sage Grouse (an endangered species), and letting your dog run free is a great way to put yourself in danger from an angry ungulate or shut down access for everyone else.
Hartman Rocks
Thanks to Gunnison Nordic and Gunnison Trails there's a huge network of groomed XC roads and trails to take advantage of at Hartman Rocks. Many people park at the main lot off County Rd. 32, but for more beginner trails head over to McCabe's Lane access. Gunnison Trails grooms trails like Buddy Bear and Luge for fat bike access, but skis are allowed as well. Gunnison Nordic keeps the roads tidy and skate skiing is an option on most. Check out the most recent grooming report here.
Pole and Willow Creek
While it's not groomed, the Pole and Willow Creek drainages offer good classic cross-country skiing on BLM roads. Lots of deer and elk roam this area and spotting huge herds isn't uncommon. If you follow Willow Creek long enough you'll eventually encounter the old mining camp of Vulcan. Make sure you respect the private property, but enjoy the views and history.
To get there take CO 149 towards Lake City. The turnoff for Willow Creek is about a mile up the highway on your left.
Curecanti Recreation Area
Honestly there are too many options here to list everything, but Curecanti Recreation Area has several road options that lead to National Forest and can be fun day-long excursions. Some of our favorites are Red Creek, East Elk Creek and Rainbow Lake Rd., with all of them accessible from turnoffs on US 50.
Mill Creek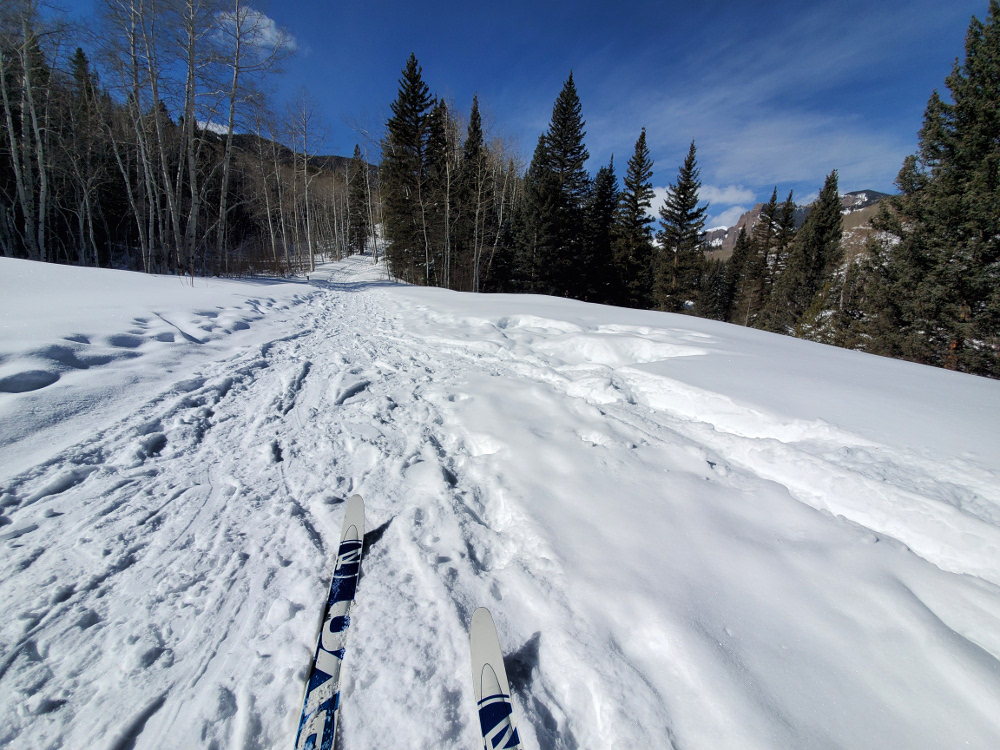 Mill Creek is a popular area for snowshoeing and Nordic skiing just up the Ohio Creek Valley from Gunnison. The scenery is a little different from some of the other routes listed here, with huge rock formations looming overhead. Kick around on the road network that's accessible from the trailhead and enjoy the scenery. With bigger ups and downs than other areas, this spot is best for more experienced skiers.
To get there take CO 135 north towards Crested Butte and turn left onto Ohio Creek Rd. At mile 8.9 take a left onto CR 727 and follow it to the trailhead.
Lake Fork Railroad Grade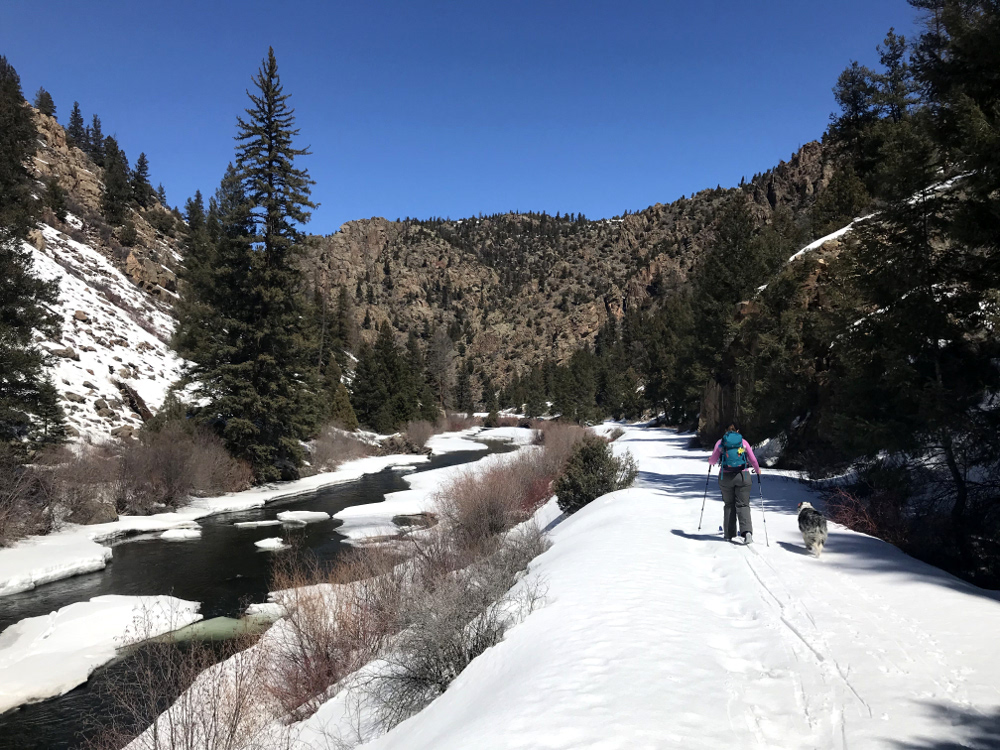 Though it's a little further from Gunnison than other options listed, the Lake Fork railroad grade is one of the best places to take beginner Nordic skiers for a taste of ungroomed trail. For 5.5 miles from the gate the road drops 250′ at a steady pace.
Take US 50 west from Gunnison until you see signs for Lake City. Turn left on CO 149 and follow it for almost 25 miles to CR 25. Turn right and follow CR 25 until you see the bridge across the Lake Fork. Park here and start skiing, following the river the whole way.
Spring Creek
Just up the road from Gunnison is the Taylor River Canyon and its tributary, Spring Creek. This creek, and the road alongside it, provides an awe-inspiring ski for as long as you want to go. Several steep spots and its ungroomed status make it an adventure for intermediates and experts, but the first mile or so is mellow enough for beginners too.
To get there go 10 miles up CO 135 towards Crested Butte. Turn right in Almont on CR 742. Follow this for 7 miles until you reach Harmel's Guest Ranch and turn left on Spring Creek Rd. You'll reach the trailhead 2 miles later.
No Dogs Allowed
Western Colorado University Practice Fields
Got kids and no dogs? Take the tykes out sledding while you get a workout in at the WCU practice fields located on campus. With one of Gunnison's best sledding hills located right on the field this is that perfect place to keep your kids entertained while you ski.
Dos Rios Golf Course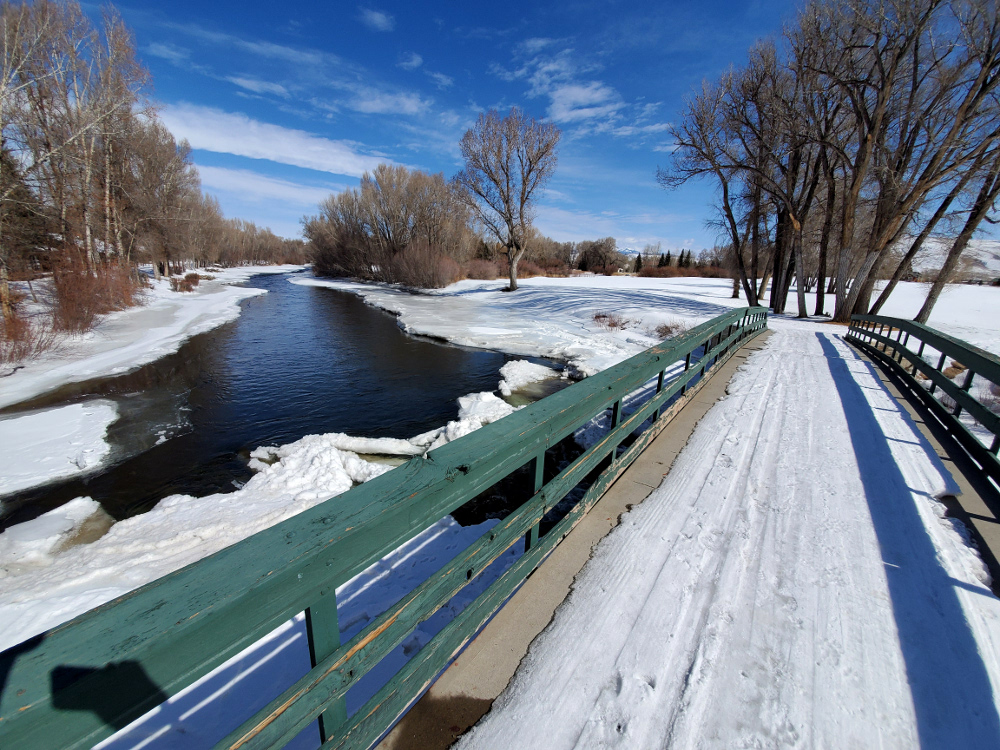 Another well-groomed amenity from Gunnison Nordic is the golf course loops at Dos Rios. Almost 8 km of trail is groomed through the course on both sides of the Gunnison River. Park at the clubhouse off US 50 to start and enjoy the track.