Four Leaf Peeping Hot Spots Near Gunnison
Fall Colors and Foliage: Every September Crested Butte + Gunnison welcomes fall with open arms. Cold nights, warm days, and trees blazing with color are all signs that autumn is here. If fall is bringing you to Gunnison, here are four of our favorite spots to view the color and take it all in.
1. Ohio Creek and Ohio Pass
This is classic Colorado aspen watching. The most famous view is on the hairpin corner near the top of the pass where you can survey the entire aspen grove, the West Elk Wilderness, and the famous Castles formation. Aside from this view, the entire drive anywhere up the Ohio Creek valley will show off the gold you're looking for. To get there take Highway 135 north for 3.5 miles and turn left on Ohio Creek Rd. Take it all the way to the pass, or stop at one of the trailheads below for a hike.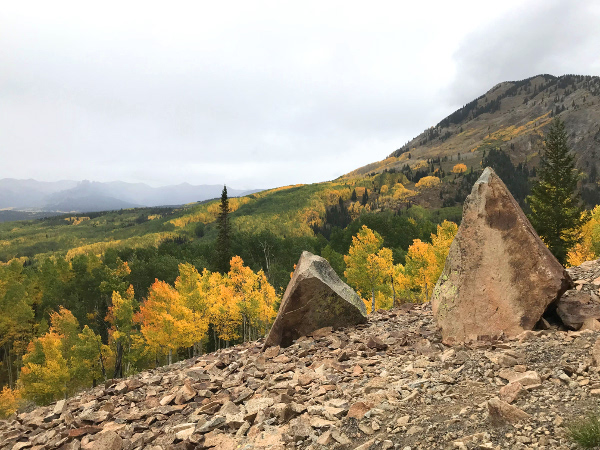 Fall Colors – Hike It:
Swampy Pass Trail: From the Swampy Pass Trailhead take Swampy Pass Trail as far as you want into the West Elk Wilderness. Aspens abound in the first section of the trail before you hit the intersection with Lowline Trail, but continuing on either of these trails will have you back in the gold room before too long.
Beaver Ponds Trail: One of the best trails in the valley for kids is also one of the best for viewing our fall colors. This .5 mile trail starts at the Beaver Ponds Trailhead and winds its way uphill through a beautiful aspen forest before you reach the namesake beaver ponds.
2. Ohio City, Pitkin, Waunita Pass, and Black Sage Pass
East of Gunnison on Highway 50 is the gorgeous Quartz Creek valley with the small towns of Pitkin and Ohio City nestled along the creek. Both of these former mining towns showcase their color well and offer great camping, hiking, and fall fishing options for those inclined. From the town of Pitkin you can take the Waunita Pass Rd. to Waunita Hot Springs, and if you want a little more color you can turn left and go all the way to Sargents via Black Sage Pass. Waunita Pass Rd. and Black Sage Pass Rd. are both 2wd friendly, but can be a little slow, rocky, and narrow. It's probably best to leave the rental sedan behind if you want to take a trip on them, but it is doable. The road to Pitkin is paved all the way will fall foliage viewing on both sides of the road.
To get there take Highway 50 east for 11.5 miles and turn left on County Rd. 76. Ohio City is located 9 miles up this road and Pitkin is at mile 15. You can find the Waunita Pass Rd. in the town of Pitkin towards the south end. Signs directing to you towards Black Sage Pass are at the end of this road near Waunita Hot Springs.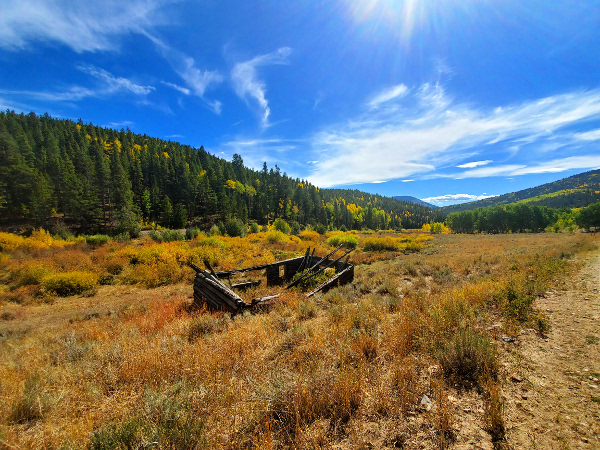 Fall Colors – Hike It:
Bear Gulch Trail: It's not an easy hike, but it is fantastic in the fall. From Ohio City take the Gold Creek Rd. north for 2.3 miles. Park at the old Comanche Gulch Campground and walk south for 100yds until you reach the start of Bear Gulch Trail. Follow it up as far as you feel like or take it all the way into the Fossil Ridge Wilderness for a backpacking trip. The best aspens are towards the top of the gulch about 1.5 miles in.
Waunita Trail: Easier than Bear Gulch, and just as beautiful, the Waunita Trail starts a couple miles east of Waunita Hot Springs and climbs through a forested gulch through mixed aspens and spruce before cresting a ridge and intersecting Canyon Creek, another fantastic trail for viewing fall colors. The catch with Waunita Pass Trail is that it's helpful to have a bit of clearance to reach the trailhead. Unfortunately, the road up to the trailhead is private property and the first place to park is the trailhead itself.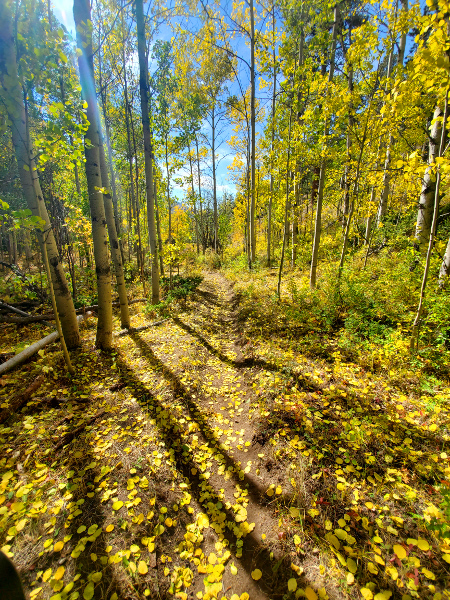 3. Taylor Canyon
Taylor Canyon is known for it's phenomenal fishing, funky granite formations, and the beauty of the river itself, but the fall color is worth noting too. While the trees in Taylor Canyon are primarily spruce and other evergreens, they provide a remarkable backdrop to the gold of the aspens found scattered throughout. Visit it in the evening between 5 and 7:30pm for your best chance to catch golden hour, highlighted color, and the caddis hatch (for all you fly fishers out there). To get there take Highway 135 north for 10 miles until you reach Almont. Turn right on Taylor River Rd. and take it as far as you want. Side trips up Cottonwood Pass Rd., Spring Creek Rd., and into Taylor Park are highly recommended.
Fall Colors – Hike It:
One Mile Rd.: You can drive up this road with a good 4wd vehicle, but most people will want to park at the trailhead behind One Mile Campground and hike from here. Once out of the canyon you'll be treated to far-reaching views out to the San Juan Mountains and a primarily aspen forest stretching as far as you can see in all directions. Take it to the Harmel Point for one of the better views of Taylor Canyon.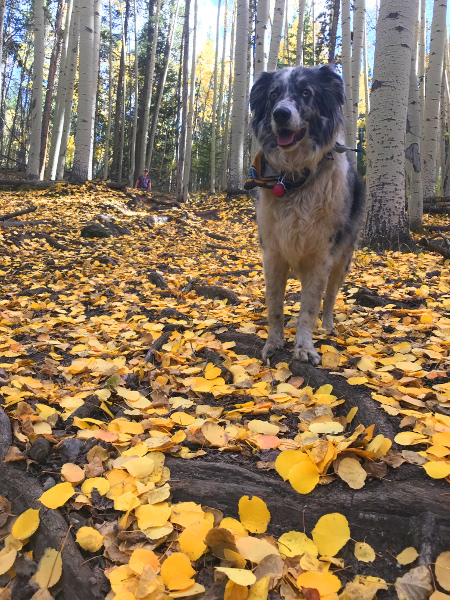 4. Rainbow Lake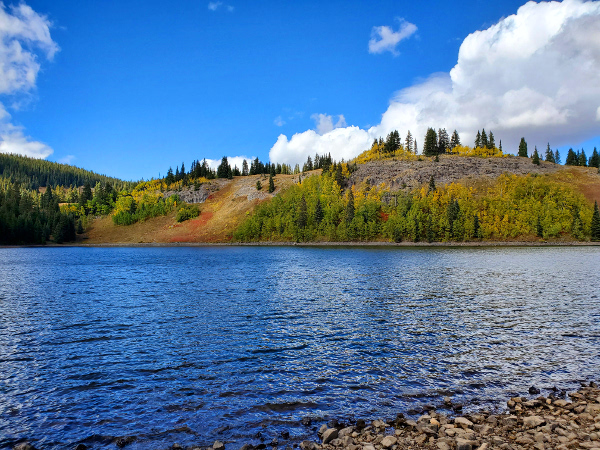 Rainbow Lake is located at the top of Rainbow Lake Rd. just before reaching the West Elk Wilderness Boundary. While the lake is certainly beautiful, the majority of color is found between miles 2 and 10 on the drive up Rainbow Lake Rd. This particular spot does the best job of mixing sagebrush, aspens, and views south towards the San Juans for a one-of-a-kind Gunnison Valley leaf peeping experience.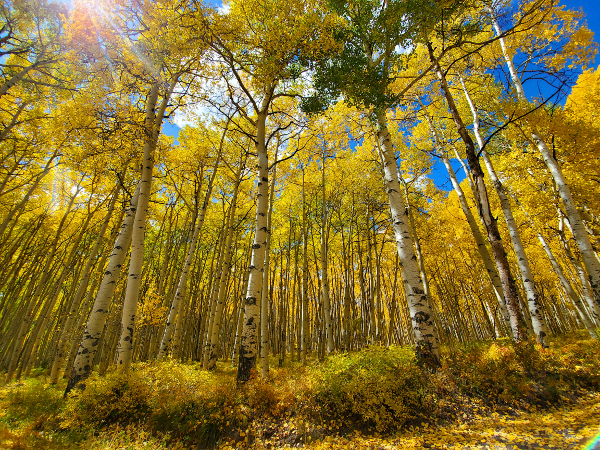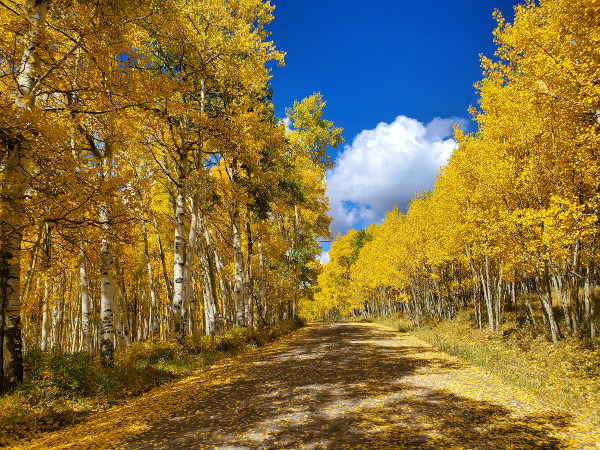 To get there take Highway 50 west for 14.5 miles and turn right onto BLM Rd. 3770 (Rainbow Lake Rd.). This road is generally good for 2wd vehicles, although there are a few rough patches and washboards.
Fall Colors – Hike It:
South Baldy Mountain Loop: This hike is about 6.5 miles. Even though it's on the shorter end the total elevation gain is about 3,000′ so it's not for the faint of heart. The reward is sweet though. To start, find the Rainbow Lake Trail near the lake. Follow it for less than a mile to an intersection with Beaver Creek Trail. From here you can go clockwise or counter-clockwise utilizing the Sun Creek Trail to connect back. Tag in a summit of South Baldy Mountain if time and energy allow for a view of the West Elk Wilderness. On a clear day you can see all the way to Utah!
Haystack Gulch Rd.: Right before crossing onto Forest Service land, you'll notice a road that heads up to your left. Park your 2wd and head out into this network of 4wd roads that snake through aspen groves near the top of Runaway Point.